Blog
Consider Online Video Therapy Instead of Text Therapy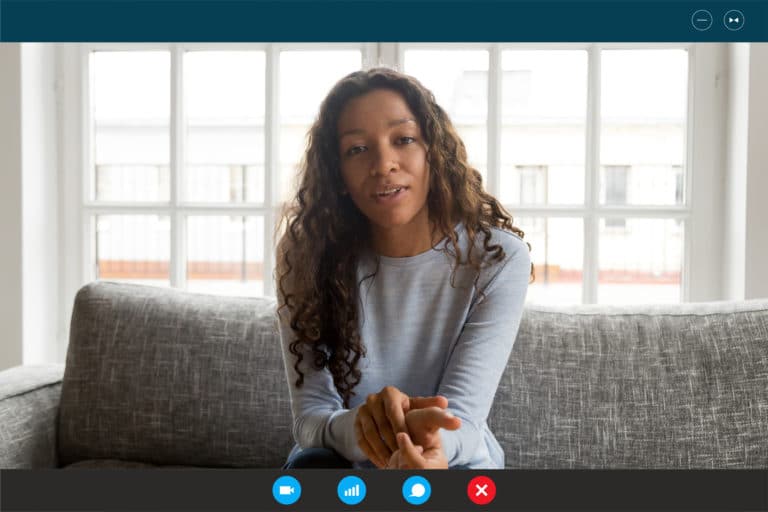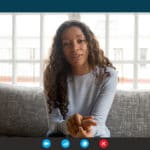 By LifeStance Health on December 6, 2020
An astonishing 98 percent of people say that online therapy is much more convenient than traditional in-person counseling. While this intuitively makes sense, it's also stunning to see 98 percent of people agree on anything these days.
But what are we talking about when we refer to online therapy? Online therapy, or teletherapy, is any psychotherapy session that takes place using internet-connected devices. Of course, we all use our devices to connect to others in many different ways; it's no different with online therapy.
The two most-used methods of online therapy are texting and video chat. At first glance, being able to text your therapist at any moment may seem like the most effective and convenient way to get help. However, live sessions with a qualified mental health professional offer advantages that text therapy does not.
Online Therapy as Self-Care
The term "self-care" is all the rage these days, and for a good reason. When you set aside time to take care of yourself, you're able to put your best foot forward in many areas of life. When you set aside an hour of therapy weekly, you are scheduling time for meaningful self-care.
While video chatting with your therapist may not be as Instagram-worthy as a nice bubble bath and a glass of your favorite beverage, it may be even more useful. Simply by setting aside time to work on yourself, you are declaring that you are worthy. Then, when you attend sessions, you learn skills that you can use in everyday life.
It's challenging, freeing, and raw, but it's also self-care.
Text-based therapy can teach you critical coping skills that can improve your life. However, it misses the important step of scheduling time for you to work on yourself. It may be more challenging to find an hour to have a conversation with your therapist, but it can also be more rewarding.
View this post on Instagram
Get Real-Time Feedback from Your Therapist
While text-based therapy allows you to send a message to your counselor at any time, there's no guarantee that they will write you back right away. By the time you hear back, you could be in a completely different headspace.
If you choose video-based therapy, it's true that you have to wait in between appointments. However, once you are in that appointment, you have the therapist's full attention. They respond to you in real-time.
This immediate feedback is vital if you want to explore a difficult topic, but you are afraid of spiraling out of control. When your therapist is guiding you through it in real-time, you can explore tough subjects. And while it can be painful at times, these discussions are at the root of therapy. A qualified mental health care provider can keep you from spiraling and make sure you're ok after these vital discussions.
View this post on Instagram
Benefit from Non-Verbal Communication
Have you ever been texting with someone and questioned how they meant something? You may wonder if they were serious or joking. Perhaps you hoped that was sarcasm, but you couldn't be sure.
These communication issues happen to everyone. But the last place you want them to pop up is with your therapist. Talking with your therapist should be a reassuring experience. You should never have to wonder what they really mean.
Video chats with therapists allow all parties to pick up on non-verbal cues, including tone of voice and body language. Not only does this help patients better understand their therapists, but it also allows therapists to understand their patients better.
Practice Skills Between Sessions
Part of the appeal of text-based therapy is the promise of reaching a qualified mental health professional immediately. Neither text-based nor video-based therapies are right for mental health crises. If anyone is in immediate danger, it's best to get more immediate help.
If you are in a mental health emergency, contact the appropriate help line or go to your nearest emergency room.
Outside of true mental health crises, such as suicidal ideation, being able to text your therapist at any time sounds appealing. However, for some people, it can become a crutch. Instead of practicing important coping skills on their own, some people may start using text therapy as a coping skill.
On the other hand, live therapy sessions force people to work on their skills between appointments. This can be important for many patients. Of course, each person must decide for themselves what works best for them.
Ask yourself whether you're more of an independent learner in need of some guidance or if you prefer a more hands-on approach at this time.
Does This Mean Text Therapy is Bad?
Not at all. Ultimately, getting mental health care is the most important thing. For some people, the best way to get care is through texting–and that's great. For other people, live therapy sessions better suit their needs.
Not sure what's right for you? You're not alone. Many people struggle to find the right kind of mental health care at first. That's why LifeStance health offers a wide variety of services. Our nationwide network of providers offers online therapy, in-person sessions, psychiatric medications, and so much more. So you can find the customized treatment plan that works best for you.
Don't struggle alone.
Our providers can help.