podcasts
The ABCs of ABA Therapy – Podcast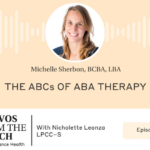 By Jason Clayden on December 8, 2022
On this episode, we discuss the use of Applied Behavior Analysis (ABA) with Autism Spectrum Disorder and how this treatment can be used in a variety of other mental health conditions.
Listen and Subscribe Here
Welcome to Convos from the Couch by LifeStance Health, where leading mental health professionals help guide you on your journey to a healthier, more fulfilling life. Hello, everyone, and welcome to Convos from the Couch by LifeStance Health. I'm Nicki Leanza, and on this episode I'll be talking with Michelle Sherbon, a Director of Applied Behavior Analysis Program from our Portland, Oregon office, and we'll be talking about the use of applied behavior analysis with autism spectrum disorder. Welcome, Michelle. Great to have you on.
Great to be here. Thank you.
Research tells us that ABA, applied behavior analysis, is one of the most effective treatments for persons diagnosed with autism spectrum disorder. So, I really look forward to you telling us more about ABA and helping us understand more about how it's used with persons with autism spectrum disorder. So, thank you again for being on.
Of course. Excited to be here.
So, let's start by having you tell us a little bit about yourself.
Yeah, absolutely. Like you said, my name's Michelle Sherbon, I'm the Clinical Director of ABA Services here in Oregon for LifeStance. I'm a certified behavior analyst, which means I'm certified at the national level, and I'm also a licensed behavior analyst, which means I hold my license specifically here in Oregon to practice. I've worked in the field of ABA, oh gosh, probably for about 12 years now in a multitude of positions and have been actually with LifeStance since 2016. I'm very passionate about the field, really involved in this field at the local level and the state level as well.
ABA, like you said, stands for applied behavior analysis. It's a therapy approach that really uses the scientific understanding of behavior, and of learning and how that occurs, to be able to teach socially significant skills that lead to a really lasting and long-term behavior change. So, specifically what that looks like here at LifeStance is we do ABA therapy with children with autism in a one-to-one setting, really working with BCBAs, behavior technicians, on skills that are really important to that specific child.
How can it be helpful for people on the autism spectrum?
Research shows that right now it's one of the most evidence-based theories out there that works really well for teaching kids with autism different skills. So, specifically this might look like teaching communication, daily living skills, maybe some independent skills as well, and even executive functioning as a child gets older, so that kind of planning ahead, self-monitoring, following a routine and things like that. It also can look like really basic support, so a young child with autism learning their first words, or maybe a teenager attending high school needing to work on a morning routine to get them there on time. So, it can be helpful to people with autism kind of across the age range and in a multitude of different ways.
Can you give us a specific example?
Yeah. So, a specific example would be recently we had a young child who started therapy with us a few months ago in our autism clinic here in Tualatin, and for this individual, they had very limited communication skills, which is just so common when we oftentimes do an intake. So, we did a really thorough assessment, we looked at what this child needed, and then we tried to prioritize the most important goals. We prioritized communication, we prioritized some social goals, and really just making sure that being around other people wasn't aversive.
Through about three months of between 20 and 30 hours a week of therapy, we saw the child show up with a big grin on their face, wanting to engage in a multitude of toys, previously they would only play with one toy, and then they were able to point, and just recently in the last few weeks, we've started to hear a couple approximation of words. And so really seeing that increase in communication. But more important than that, seeing the child's joy increase, of all of a sudden having access to different toys, being excited to be around peers, and just when they walk in the door every morning, greeting us with a big smile. Which tells us that we're doing something right, they're happy, and it's just really neat progress that's being made.
That sounds so wonderful. That must feel really good for you and your team to see the progress with the individual.
Yeah, it's definitely a really rewarding job. Sometimes challenging, of course, with any job working with children, but it has those moments where you're just really reassured that you're in the right field and are here for a specific purpose.
Now, when it comes to ABA, there is some controversy from the autistic community due to the notion that ABA can focus too much on assimilating individuals with autism and not respecting their individual qualities and strengths. What are your thoughts on this, and how does this affect the field of ABA?
Yeah, so that's a really good question. I'm really glad you brought it up, because sometimes I feel like it's the elephant in the room that people don't want to address, and I think it's really important to talk about. Sadly, ABA in the past has been misused to decrease those autistic features, as they're referred to, instead of really taking time to celebrate them and to capitalize on those strengths. So, with ABA, after hearing feedback from the autistic community and looking at research, ABA being founded in science, has really shifted towards a different approach and has improved their practice a lot in the sense of looking at individuals having their own unique qualities and that that shouldn't be something we stray away from, but really something that we do capitalize on those strengths.
A more specific example of how we've taken that feedback and utilized it in our clinic or in our practice here at LifeStance has been the use of eye contact. Previously, multiple years ago, eye contact was a big thing that we taught in the sense of thinking eye contact is necessary for communication, was our thought process. Then we got feedback from the autistic community that that was actually really aversive for them, it was not their preferred method of communication and we needed to be respectful of that. So, our field has actually really shifted its practice to not teach eye contact, but instead looking at how that child communicates naturally and working to increase that communication, whatever that is for that specific individual.
So, definitely something I think our field still is improving on, and we need a lot of feedback and incorporation of that autistic community to figure out exactly what's best practice, but I do think that we have done an amazing job of trying to shift our practice to really hear those concerns and be respectful moving forward. So, really glad you brought that up, because it definitely is the topic of conversation in the field right now.
For sure, for sure. It sounds like it's very much a strengths-based approach and that ABA is continuing to just evolve as well, hearing feedback from the community and shifting gears with that, using that feedback to shift gears for the approach. It's really great that you guys are doing that.
Yeah, and I think it's like anything, as we hear that feedback and as the science perspective shifts, as a field we are obligated and ethically need to be making those shifts as well. For sure.
So, how else can ABA be helpful outside of autism spectrum disorder?
Yeah, so that's also a great question. ABA therapy is oftentimes put in this box of thinking we only work with individuals with autism, and in some ways right now in our state, in Oregon, or in my state, that's true just because that's where the funding is. But ABA, the field is actually so much bigger than that, and so it's used across a multitude of diagnoses. ADHD, TBI, traumatic brain injury, as well as with mainstream classrooms, even specialty classrooms, so in the school districts they use it as well.
A couple unique things that oftentimes are overlooked, but ABI actually is used a lot, is organizational behavior management, OBM. That would be a BCBA coming into a company trying to improve maybe workplace performance, job satisfaction, decreasing turnover rate, those kind of things. ABA has also been shown to be a huge part of sports and fitness, and so if individuals have specific fitness goals or if there's a medical concern where there needs to be a specific behavior or lifestyle change, sometimes a BCBA is incorporated into that to look at the environmental features and what they can do.
And then one of my favorites, that I have a friend doing research in right now, is actually use of ABA in the geriatric community. So, looking at individuals with dementia and Alzheimer's and actually being able to decrease some of the effects of Alzheimer's and increase the enjoyment and behavior skills that those individuals thought they had lost, but are actually able to still capitalize on. So, just some really neat research that ABA is doing with the geriatric population as well.
Wow. It sounds like there's a variety of environments and platforms that ABA could be effective for, so thank you for sharing those. How do people get started in the program?
For ABA, it really depends on what state you live in. Right now, LifeStance has ABA services specifically in Oregon. Hopefully that will expand one day, but right now our ABA clinic is here in Tualatin, Oregon. For the state of Oregon with the funding services, an autism diagnosis at this time is required, so the first thing to get started, it would have to be an individual who either already had that diagnosis or was pursuing it. And then if an individual with autism is interested in starting ABA with us, or maybe a family member knows someone who might be interested, the best way is to give our local autism clinic a call. That number is area code 503-612-1000, and option six, and that will connect you with a member of our team here at our local clinic to be able to follow up.
If someone's interested in starting ABA but they're outside the state of Oregon, what I'd really encourage is a couple of different things. First, you can look at your specific insurance card, call the number on the back of the card, or if you have a client, encourage them to call in, and they should be able to provide a list of ABA companies in that area. So, for those of you outside the state of Oregon, that can be how you might be able to connect a client with ABA services outside of LifeStance until we're able to serve that area.
Great, thank you. Any other takeaways you'd like to share?
I feel like the only other takeaway is ABA is such a big field, we oftentimes summarize it in these elevator pitches, but if anyone has any questions or wants more information about ABA, a couple organizations that are great to look at is, for specifically Oregon, ORABA, which is the Oregon Association of ABA. There's also local state associations with every state. So, if you live in Arizona, that would be Arizona's Association of ABA. California, it would be California's Association of ABA. And oftentimes, those websites can help direct you and guide you. So, for Oregon, it would be oraba.org. For California, it would be calaba.org, and whatnot. And then if you have any general questions about ABA, I encourage you to reach to me directly as well, and I can connect with different resources in your state.
My gosh, Michelle, thank you. Thank you for sharing all that amazing information about applied behavior analysis. Our listeners will definitely probably take this in and be like, "Wow, this is interesting. I did not know this was a thing." And perhaps some of our listeners who are diagnosed with autism spectrum disorder can also check more into this. So, thank you again.
Of course. Thanks for having me. I appreciate it.
Thank you, everyone. I would like to also thank the team behind the Convos from the Couch Podcast, Jason Clayden, Chris Kelman, and Juliana Whidden. Take care, everyone.