podcasts
Mental Health and the African American & Black Community – Podcast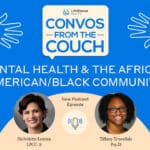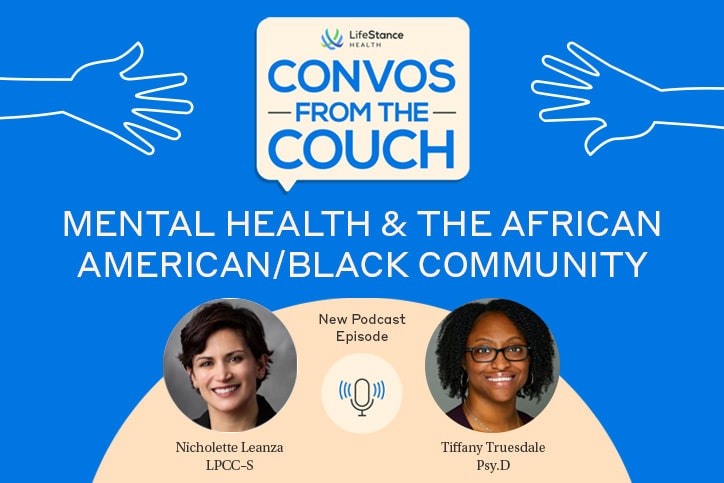 By LifeStance Health on July 29, 2022
Dr. Tiffany Truesdale joins us on the topic of Mental Health & the African American & Black community as we recognize Minority Mental Health month.
Welcome to Convos from the Couch from LifeStance Health, where each episode, you'll hear engaging and informative conversations with leading mental health professionals that will help guide you on your journey to leading a healthier, more fulfilling life.
Hello everyone, and welcome to Convos from the Couch by LifeStance Health. I'm Nicki Leanza, and I'm this episode, I'll be talking with Dr. Tiffany Truesdale a psychologist from our Newton Watertown office in Massachusetts on the topic of mental health and African American and black community. So, welcome, Dr. Truesdale. Really great to have you.
Thank you, Nicki. It's nice to be here.
Yes. Thank you. Why don't we begin? Tell us just a little bit about yourself.
Yeah, so my name is Tiffany. I'm originally from Rochester, New York, and I'm currently working at a LifeStance as a remote psychologist, like you said, in the Newton Watertown office. I worked in LifeStance since October, so in a couple months, it'll be a year. And so, let's see. So, for school, I went to St. John's University in Queens. And then from there, I went to Springfield College and studied in the clinical mental health program. And then I stayed on to complete my doctorate in the counseling psychology program. So, that's a little bit about my educational background. And so I have experience in the field, working with children. I started doing in-home therapy, working with kids three years old on up and working with their families. And then the rest of my history, I have college counseling center experience, inpatient, outpatient, as a crisis clinician, and right now as a remote outpatient psychologist.
Oh my gosh, Dr. Truesdale. You sound like you have a very broad level of experience covering lots of different mental health communities and stuff like that of working in, it sounds like… Did you say you worked in schools or in the community? You worked with the community-
Yeah. So, I have experience as well. Well, for in-home therapy, I would go to clients' home.
Yeah. And so, and then a lot of times also being a crisis clinician, I'd also be out in the community going to client's homes or going to local hospitals or community centers, as well as some of the community mental health places that I worked in. So, they're right smack dab in the community, working with people, which I love, so that's what [inaudible 00:02:51]
Yeah. I can definitely see your excitement, enthusiasm, and passion for it, for sure. So, as we talk about mental health in the African American and black community, can we start by talking a little bit about some of the important cultural values within the community?
Yeah, I think that's a really important part too, because I think a lot of times those are a lot of the positive aspects in the black and African American community. And a big part is family closeness. I think there's a huge history of just black and African Americans really leaning on their family for that support, and also that community support, which is a really big thing, and having that connection, because not always feeling connected with others in the world or in other communities. So, I think there's a really big intergenerational family support that's really huge and that's a part of the cultural values, on top of like religion. Traditionally in the community, religion, spirituality, the church is huge support in the community.
And then I think now is just being able to express blackness and what does that mean for each individual, and how we express that. So, whether that's through… And a lot of times you'll see on TV and social media, whether that's hair or outfits, music, TV, and a lot of times in food and being able to connect in that way as well. So, a lot of historical history behind a lot of those things, but I think a lot of times that's still really rooted in a lot of the cultural values that's held in the community today.
Got you. So, as we look at values, and we're obviously bringing in the context of mental health, is there a particular view of mental health within the community?
Yeah, I think it's difficult when talking about mental health in the community. Obviously a little more easy in the last couple maybe five, 10 years, but traditionally not really talked about. I can't tell you how many times I've had conversations with people and be like, "Oh, black people suffer from mental health or depression or suicide and things like that," just because of a lot of the mistrust and historical mistrust. And that continues today.
Because of the systemic issues, racism, discrimination, all of those things that's embedded in our history, and still in society unfortunately today, it makes it really hard to trust the medical field. Not just going to the doctors, but mental health as well, and even more so, really hard talking about mental health. Where a lot of times people will easily go to the doctor and be like, "Yeah, something's wrong with me," a lot of times, there's that stigma in the mental health field, in the African and black communities, just because of that mistrust, and also because just the lack of representation within the field. The difficulties of people not understanding or being either undiagnosed, misdiagnosed, or just mistreated in general. And so a lot of times it's really hard for a person of color to trust the field to actually receive that help. And a lot of times it's hard too, to even talk about it with family and friends, because of the history of the mistrust. It's like, "Well, why are you doing that?"
Or the history of using the church as kind of that support. I think a lot of times, it's hard to have that balance of using religion and spirituality as that support, as well as seeking that mental health support. And I think there needs to be a lot of conversation as how you can do both. Just because you seek mental health services, that doesn't mean that you can't continue to practice your spiritual or religious traditions and beliefs. So, yeah, I think a lot of times, that's a really big issue when it comes to mental health in the community.
Yeah. For sure. You definitely listed off all the barriers of what would keep people within the community from seeking treatment, that mistrust, because there has been obviously history of systemic racism. In a little bit will even talk about some racial, just racial trauma of experiencing just the prejudice, the murders. We can go on and on about that. And so I can see how all that can play into barriers of seeking treatment and everything. Do you feel like it's getting any better? Or what else can we do to make it better, to help people seek treatment?
Yeah. I think the growing conversations are helping, and there being more advertisement for black and African American people to seek out help, but the barriers are still there. Our country is still… We still have the systemic racism. There's still a lot of injustices that's happening, and so the mistrust hasn't gone anywhere. The availability of services and the communication about it is a little better, but there's still a lot of work that needs to be done. And I think a lot of times, the work that needs to be done, there does need to be a reform of just our country in general when it comes to laws, when it comes to just how we treat people. It's going to be really hard for people of color to trust again.
And so I think there just needs to be a whole reform of the system, and even the mental health field. A lot of times, even our evidence based approaches, they come from white, elderly-
And so it's not fit for African Americans and black people. And so those things also need to change so that services are actually individualized for that person and for this community.
Right. Right, right. No, I hear you for sure. And you hit it on the head of even looking at the various treatment perspectives that mental health professional might use even in therapy, the evidence based… It's all based… The evidence is based on white folks. It's based on white people, older. So, I agree with you 100% of being able to tailor it, for sure. So, I mentioned really briefly, we were talking about systemic racism. I mentioned racial trauma. Can we talk… Let's talk a little bit more about racial trauma. What do you feel are some of those ongoing effects of racial trauma in the community?
Yeah, so I mean, I think it's always been there, so from the start of slavery till now. And so because of that history and it continuing and different ways throughout American history, of course, there's going to be that ongoing racial trauma and that mistrust because of the racism, discrimination, and the prejudice that's been going on, and because of those experiences that black and African American people experience. Whether it's individually, whether it's systemically, all of that falls into that trauma that we're experiencing on a daily, whether small things that turn into big things, whether it's from the microaggressions to a person of color being shot by the police. These things are experiences that unfortunately we have to think about every day when either in our homes, in the community. And so it's really important for people to understand the trauma that comes with that and a person living through that and trying to navigate the world.
Of course, it's going to be hard trying to figure out, "Well, who can I trust? Where can I get this help from?" And also knowing when your counterparts, other friends and family are going through the same thing, how can we come together and help each other heal from these things while they're still happening and receive the help that we need? So, it's difficult. And a lot of times, it's difficult having those conversations with folks for them to be able to understand just the real impact that it has. It's not as easy for people of color to seek services, especially because of the socioeconomic disparities as well. There's a big percentage of people of color who don't have health insurance. And receiving services is not cheap, and the availability of services within the community is limited. And so it's like, well, where do you go? Even if a person is open for mental health services, where do you go?
And then a lot of times the first question after your name and those demographic or background information is like, "Well, what's your insurance information?"
And if you don't have insurance, then a lot of times, it's really expensive paying out of pocket. So, already it's like already first taking a big leap of faith to be like, "Oh, okay, I want to try this."
And even first identifying that, "Oh, this is what I'm dealing with," that is already hard. Then, "Okay. I need to seek services," but then the disparities start from the beginning. And then so already, it's kind of feeling like you're starting 10 steps back. And so it's like, well then, if you don't have health insurance, then paying even on a fee for service or a low scale can be expensive for people.
And so all of that, a lot of times people don't see how that's still linked to trauma because of the systemic racism that's been carried on throughout American history.
Wow. You really brought it to light of looking at, even if a person decided, "Yes, I want to seek treatment," even starting 10 steps back and seeking the treatment and all the barriers that can kind of get in the way as well, in case they don't have insurance and things like that. It almost gives me an impression of, if that's the battle moving forward, even if you make the decision to, it's almost like, well, why bother at that point? It just feels so insurmountable, I would feel.
And that's not even just it. Then it's also thinking about… Well, luckily now we have Zoom, so it's a little easier to be able to do things remotely, but traditionally you have to go to the office. So, already with socioeconomic disparities, if you don't have a car, if you don't have transportation, if you don't have child care, if you don't have other family members who can help take care of your child while you need to go take care of yourself, all of these things people have to think about when it comes to like, "Okay, well, do I have the time and the resources to be able to get the help that I want?" And if they're able to figure all of those things out, then it's like now being faced with the person who's supposed to help them. So, a lot of times I've even had conversations with other black and African American people in the field. It's that lack of representation in the field as well.
So, it's like, okay, if I've had these experiences and these unfortunate experiences from white people, or even people from other races who aren't treating me in a certain way, or who are using those evidence based practices that don't fit me as an individual, it doesn't feel helpful, or just it's really important for providers to be aware of their own biases and their own [inaudible 00:14:54] Yeah. And a lot of that also gets in the way of a person of color, a black person feeling comfortable, seeking treatment.
And you bring up such a key point there of, even the mental health professional, if they are a member of the white community, of not even maybe recognizing how inadvertently they could be very biased and just… I think working as culturally competent as you can be, to be aware of our… We all have our implicit biases, and just being aware of those and stuff like that. So, you bring up so many key points here. Any other takeaways you'd like to share?
Yeah. I think a really big thing is treating black and African American people as people, understanding that like people are coming for help, and the help is needed.
But because of all the history, I think a lot of times people have their own thoughts or ideas of how a black person is supposed to be instead of thinking about them as humans.
And so I think that's a really big thing. And obviously, of course, the need for a huge reform overall in our political culture and things like that, but even just being aware of what we can do as individuals, especially in the field. Can we take that step back and be like, "How can I help a person, especially African American and black people?" And put those prejudices aside. Put those negative thoughts and biases aside, and look at them as an individual. And say, "How can I help you?"
Actually having a direct conversation with the person instead of jumping into conclusions of what do you think is wrong or following those stereotypes or things like that, because that's not the case. It's also knowing that every black and African American person isn't the same. They don't have the same experiences. Obviously, there's a lot that's the same, but it's also not jumping into those generalizations.
So, I think for the field in general, just individually for practitioners to be able to understand those things. And then I think it's just important to actually just talk to black people and African American people and hear their stories-
… to have more of an understanding. And I think there's more need for qualitative research to be able to hear their stories. Again, therapists dealing with their own biases and assumptions, and then actually providing services that's culturally competent-
… that will be helpful is super important. So, I think those are my main takeaways of just treating black and African Americans as humans and asking them what they need.
I mean, such a basic premise there. The fact that you have to say that it kind of breaks my heart. Just treat people as people, as humans, right? That should be a given. And I know that's not always the case, so-
I mean, thank you. Thank you for sharing everything of your knowledge and kind of giving us more insights into the community and things that need to continue to get better with. I think that's the key, is that there's been some movement forward, but then there's always 10 steps back as well, so continuing to advocate and push through that things continue to get better, for sure.
No problem. Thanks for having me.