podcasts
How AI Can Support Mental Health – Podcast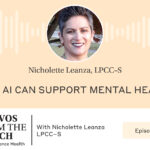 By Jason Clayden on December 13, 2022
Technology continues to provide new ways of enhancing our daily lives.
Recently, research has found that, in collaboration with medical professionals, Artificial Intelligence (AI) can facilitate early detection, evaluation and even suggest treatment options for mental health conditions.
In this episode, Nicholette Leanza interviews an AI chatbot on mental health.
Listen and Subscribe Here
Welcome to Convos from the Couch by LifeStance Health, where leading mental health professionals help guide you on your journey to a healthier, more fulfilling life.
Hello everyone. This is Convos from the Couch By LifeStance Health. I'm Nicolette Leanza, and on this episode I'll be interacting with a chatbot about how artificial intelligence can be helpful with mental health. So this episode is going to be a bit different than previous episodes because I usually interview Life Stance professionals about various mental health topics. But for this episode, I'm actually not talking to a human at all, but with a chatbot named ChatGPT that uses artificial intelligence, or AI, to answer my questions related to mental health. This technology is really astonishing as our conversation flowed just like I was talking to an actual person.
For the sake of this interview, I used a voice simulator to represent the chatbot as our interactions occurred as a written chat. I'm really excited to show you how this technology works and how it can help revolutionize the field of mental health.
So, let's jump in. My first question to the chatbot about was: tell me a little bit about yourself.
I am Assistant, a large language model trained by OpenAI. I am not a real person, but a machine-learning algorithm designed to assist with a wide variety of tasks, including answering questions, providing information and generating text.
I do not have personal experiences or feelings, and I exist solely to serve as a tool to help people with their questions and information needs. I am always learning and improving, and I am here to help you with whatever you need.
Why is mental health important?
Mental health is an important aspect of overall health and wellbeing. It refers to a person's emotional, psychological and social wellbeing, and it impacts how we think, feel and behave. Good mental health is essential for living a happy and fulfilling life, and it can help us to cope with the challenges and stressors that we face in our daily lives.
Poor mental health, on the other hand, can lead to a range of mental health disorders and difficulties such as depression, anxiety and substance abuse. It is important to take care of your mental health and to seek help if you are struggling.
How can artificial intelligence be helpful with a person's mental health?
AI, or artificial intelligence, has the potential to be helpful in many different areas of mental health. For example, AI algorithms can be used to analyze large amounts of data and identify patterns that may be useful for predicting and preventing mental health disorders. AI can also be used to develop and test new treatments for mental health conditions such as medications or therapies.
In addition, AI can be used to develop and deliver mental health interventions such as therapy or counseling. For example, AI algorithms can be used to create personalized treatment plans based on an individual's symptoms and needs.
AI can also be used to provide support and guidance to individuals who are struggling with mental health issues such as anxiety or depression. Overall, AI has the potential to play a valuable role in the field of mental health, and it is likely that we will see more and more applications of AI in this area in the future. However, it is important to remember that AI is not a replacement for human interaction and support, and it should be used in conjunction with, rather than in place of, traditional mental healthcare.
Now let's dig a little deeper. What are some signs and symptoms of depression and what can someone do to improve their symptoms?
Depression is a common mental health disorder that is characterized by feelings of sadness, loss of interest or pleasure in activities, changes in appetite or weight, problems with sleep, feelings of worthlessness or guilt and difficulty concentrating. Some people with depression may also experience physical symptoms such as aches and pains, fatigue or headaches. If you or someone you know is experiencing symptoms of depression, it is important to seek help from a qualified mental health professional. A therapist, counselor, or psychologist can provide support and guidance to help you manage your symptoms and improve your mental health. They may recommend a variety of treatments such as medication, talk therapy, or a combination of both.
In addition to seeking professional help, there are some things that you can do on your own to help improve your symptoms of depression. These may include engaging in regular exercise and physical activity, which can help improve mood and reduce stress; eating a healthy diet and getting enough sleep; limiting your intake of alcohol and avoiding drugs which can worsen symptoms of depression; engaging in activities that you enjoy and that bring you pleasure, such as hobbies or spending time with friends and family; practicing relaxation techniques such as meditation or deep breathing to help reduce stress and improve mood; seeking support from friends, family, or support groups, which can provide a sense of connection and community. It is important to remember that recovery from depression is possible, and with the right support and treatment, you can improve your symptoms and live a happy and fulfilling life.
Thank you for those tips. Now, what is mindfulness and how can someone practice it?
Mindfulness is a mental state that involves paying attention to the present moment without judgment. It is a form of meditation that originated from Buddhist practices, but it has been adapted for use in a variety of settings, including schools, workplaces and healthcare settings. To practice mindfulness, you can try the following steps: find a comfortable, quiet place where you can sit or lie down without being disturbed. Take a few slow, deep breaths and focus on the sensation of the breath as it moves in and out of your body. Notice any thoughts or feelings that arise and let them pass without judgment. If your mind starts to wander, gently bring your focus back to your breath. Continue to focus on your breath and the present moment for a few minutes and try to let go of any worries or concerns about the past or future. When you're ready, slowly open your eyes and take a moment to notice how you feel.
Thank you. Those are also some good tips. Do you think AI will ever replace human therapists?
It is unlikely that AI will ever completely replace human therapists. While AI has the potential to be helpful in many aspects of mental healthcare, it is not able to provide the same level of personalized support and guidance that a human therapist can offer. Human therapists are trained to provide individualized care based on a person's unique symptoms, experiences, and needs. They're able to provide empathy, understanding and support, and they can help individuals to develop coping skills and strategies to manage their mental health. In addition, human therapists are able to adapt to changing circumstances and respond to the needs of their clients in real time. AI, on the other hand, is a machine-learning algorithm that is not able to provide the same level of personalization or flexibility. While AI can be useful in certain aspects of mental healthcare such as data analysis or the development of treatment plans, it cannot replace the human element of fair-
My gosh. Thank you for answering all my questions today. Any parting thoughts?
You're welcome. I'm glad I could help you with your questions. As a machine-learning algorithm, my main goal is to assist people with a wide range of tasks including answering questions and providing information. If you have any other questions or need any additional information, don't hesitate to ask me. I'll do my best to help you.
In terms of parting thoughts, I would just like to remind you that mental health is an important aspect of overall health and wellbeing. If you are struggling with mental health issues, it is important to seek help from a qualified professional who can provide you with the care and support you need. Remember that recovery is possible, and with the right support and treatment, you can improve your mental health and live a happy and fulfilling life.
Thank you again, ChatGPT for sharing your helpful mental health tips with us, and our listeners can learn more about you by visiting the Open AI website at openai.com. I would also like to thank the team behind the podcast, Jason Clayden, Chris Kelman and Juliana Whidden. Take care, everyone.