podcasts
Autism: From Awareness to Acceptance – Podcast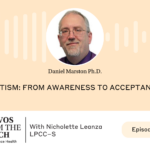 By Jason Clayden on April 12, 2023
April is Autism Awareness Month. On this episode, we welcome Dr. Daniel Marston, a clinical psychologist with extensive experience in working with individuals on the autism spectrum.
Dr. Marston helps us explore various aspects of autism, including its symptoms, diagnosis, and treatment options. We will also delve into the challenges that individuals with autism face in their daily lives and discuss ways to support them.
Listen and Subscribe Here
Welcome to Convos from the Couch By LifeStance Health where leading mental health professionals help guide you on your journey to a healthier, more fulfilling life.
Hello everyone and welcome to Convos from the Couch by LifeStance Health. I'm Nicholette Leanza, and on this episode I'm excited to be talking with Daniel Marston, a clinician from our LifeStance Doylestown office, and he'll be helping us understand more about individuals on the autism spectrum. So welcome Daniel.
Thank you. Thank you, Nikki. It's good to be here.
Yes. Yes. Same. Glad to have you on. I want to share a bit of a statistic from the CDC.
Where the CDC says that around 54 million people in the US are diagnosed with autism spectrum disorder or ASD, and more specifically we're seeing about one in 36 children identified with ASD as well. So this is a really important conversation we're having today, Daniel. So I'm really glad you're here to share with us your knowledge on this topic.
So let's begin. Tell us a little bit about yourself.
As you say, I'm a psychologist. I'm a licensed psychologist in Pennsylvania. I have been working with individuals on the autism spectrum, autism disorder spectrum for over 30 years. I have a book published on it called Autism and Independence. It's specifically a therapy book for helping teenagers and young adults with autism. I, up until the pandemic, I traveled to about 12 different states giving lectures for clinical staff on autism. So I've worked a lot on it. I'm board certified in behavioral and cognitive psychology, which is the type of psychological therapy that's most effective for individuals on the autism spectrum.
So I do a lot of work on therapy through behavioral and cognitive modalities. Right now I am, for the foreseeable future, I do exclusively video therapy, which is a modality that tends to work particularly well for helping individuals on the spectrum. I've been a licensed psychologist again for about 30 years and I also do a lot of work on sort of the intersection of clinical work and basic psychological research. So I have a Psychology Today blog on that. I teach statistics and research design at Liberty University. I do a lot of that. So in that regards, it helps me keep up to date on the scientific research is at applies to therapy and autism. So it's a big part of my practice.
Yeah, no, that's really important too, that you emphasize staying up to date with this.
So I know I appreciate that.
Yeah, because there's new, new research coming out all the time on autism and therapy. It's relatively, it's interesting that as big of an issue as autism has been in the clinical field, the research on therapeutic interventions that work is relatively new. There was a lot of time where it was just mainly on diagnostic issues and how do we decide who has autism and who doesn't, what does that mean? And now there's been much more work, a solid research work on what sorts of therapy work and not just sort of this assumption that it's sort of a one size fits all sort of approach.
And I'm sorry because we'll be going more into detail about that, looking at the psychotherapy behind it.
Can you provide an overview of what autism spectrum disorder is and what are some of the common misconceptions about it?
Well, it's interesting… Yes, I can. And one that stands out is R relates to the stat you brought up at the beginning, which is about three, the conclusion's about 3% of children either have been identified as having autism or show very strong signs of having autism and I don't, one that's a misconception, although it's a misconception that's still in the work so to speak, is that autism looks the same for everybody who has it. And the truth of the matter is, except for the specific behavioral patterns that make up the diagnosis, individuals on the autism spectrum span the gamut of almost anything. Intellectual ability ranges from severe intellectual disability to gifted. Even things like psychopathology and criminal possibility ranges. You have people on the spectrum who do very well as far as fitting into society and you have those who commit crimes and the numbers are pretty much the same as they are for the general population.
So one of the misconceptions is that autism represents sort of this limited group of people who all act the same way and behave and feel the same way. And that's not true at all. In fact, it's interesting that one of the things that the numbers represent is there's even some discussion, the literature that autism may not just be one spectrum, that it may be… Because the interesting thing about it is autism is considered a neurological condition. But if you look up what sort of neurological diagnoses are associated with autism, the specific neurological conditions, last I read there are 120 different specific neurological and genetic conditions that are associated with the development of autism. So there's some discussion of, well maybe we're being much too limited if we say it's one spectrum, that may be multiple different types of spectrum.
Now another misconception about autism is one that comes about sort of historically. What autism now represents, diagnosis that has three specific symptom categories associated with it, social differences, communication differences, and repetitive behaviors. One misconception that carried over from the past is that you can have the diagnosis with all three. That changed with the DSM5. The DSM5 is the new sort of manual of diagnostic definitions. And in DSM5 there was a requirement that it now be all three. It used to be you could have two and be uncertain about, but now that it's definitely has to be all three. And there are alternative diagnosis for individuals who have all two.
One other misconception about autism is that it's associated with things like intellectual function.
And it isn't, it's completely separate from intellectual function. A fourth misconception is that individuals with autism lack empathy. And this comes from one of the social differences in autism is, relates to maybe an inability to show that you care, probably more accurately a difference in showing that you care. But that doesn't mean the person doesn't care. People with autism have as much ability to have empathy and to care about other people as other people do. But how they go about showing it may be very limited and that can come across as not caring, but it's actually not accurate. It just looks like a person doesn't care.
I have two other thoughts as you're just sharing your answers to that first question is, one I've always heard the expression when you meet someone on the autism spectrum, you've just met one person on the autism spectrum that it doesn't represent everyone. And two, we were chatting a little bit before our recording about Sheldon and how sometimes in popular culture that people will be like, oh, okay, my kid is diagnosed on the spectrum. Why is he or she or they're not like Sheldon? Can you speak a little bit to that?
Yeah, sure. That's been something that I've noticed in the pop culture in recent years. It used to be that in the past when autism was represented in the pop culture, in whatever way it was, and it was rather, the indication was that the individuals on the spectrum were lower functioning. But in recent years I've noticed that when I talked to parents, I've had to clarify that it used to be that you had to be told if your child had autism, they were lower functioning. Now with characters like Sheldon on the Big Bang Theory and there's a character on a show called The Good Doctor.
It's almost like you have to tell parents, well it also doesn't mean your kids are necessarily going to be a genius either
It could be somewhere in between. I'll say that being very clear that I have at times when I have talked to therapists about some of the interventions that I use, I've actually used Sheldon in particular as an example of some of the things that we use. One example, it was a running joke when the show was on that someone would say, well how do you think that makes me feel? And he would say, angry and they would say, right? And he would say something like, good, no, I'm free for 3 today. That actually is almost a direct representation of some things I've done with patients that have autism, which is sort of like, okay, let's see if we can help you figure out how this person might feel based on what you see. And then you can judge how to respond based on how you know you're supposed to respond to someone who has anger. So it's interesting that it's reflected there, but sometimes you have to say, well, like you said, when you meet one person with autism, you've met one person.
What are some things that we can do to be more supportive and inclusive for those on the spectrum?
Well, I will tell you to start answering that question that I think that any discussion of how to help individuals with autism has to give a nod out to the, what's called a neuro typical movement. It's called neurotyp or neuro typical. And more recent [inaudible 00:11:30] movement, which is basically sort of a movement of mostly of individuals who have autism but also families and practitioners, which is sort of this understanding that autism doesn't have to be a problem. That autism is first and foremost a difference. Now it is considered a diagnosis and many people with autism do have problems, but it's not, in and of itself, it's not a problem just because you have autism. Sometimes autism represents a set of differences that actually serve the person well or at least help to serve them well.
So I think that's a good misconception to start with, is that someone with autism, it always means they have a problem. One of the sort of general themes of the neuro diversity movement is this whole idea of just because we don't see this importance in socializing and connecting with people doesn't mean that's a problem. Maybe the problem is with you out there, meaning people who do not have autism and your expectation that every problem can be solved by networking or that you got to have people around in order for your life to be fulfilled. Maybe that's you being scared of being alone rather than not having a problem.
That is a fair point. Yeah.
So that's a misconception and I think that's a big one. This idea that autism is always a problem. And I'm not saying it can't be, I mean, I'm not saying there aren't some people who have very major problems with it, but it doesn't have to be. And if you meet with someone with autism, even though it's a diagnosis, it could be that their symptomology, their behavior patterns is really a difference than it is any sort of problem. The other misconception I think is that someone having autism is always having, always has to be unhappy or always has to be, that having autism then unless someone intervenes, they're always going to be unhappy. And that's unnecessarily true.
People with autism may very well have very fulfilled and happy lives and may be satisfied with doing things more by themselves, which is sort of connected to the first misconception. But it's another one. It basically suggests you can't have a full and meaning life if you have autism because it takes away something you have to have. And I don't think that's true. You will notice that a lot of times I try as much as I can when I talk about autism, that at the very start I will try to reference it as a difference.
Of a symptom. Yeah. Because I think that's important.
Good thing to emphasize is it's a difference and it takes away the clinicalness of it too. It's a difference, it's a communication differences, things like that. I really like that.
And in fact, I don't have statistics on, but it's interesting if you go on any sort of website, I mean social media or I should say more social media sites for therapists, especially if you start talking about autism, you will start find, there are a number of licensed therapists out there who have autism.
So sometimes the person treating someone for a problem with autism has autism themselves. And so that's something else to keep in mind. There are psychotherapists with autism.
And that's actually a good lead in to talking about the role of psychotherapy. So when you're working with a client on a spectrum, what is some of the specific issues you're helping them navigate? And then what role does psychotherapy play in helping them?
Sure. Now I want to clarify upfront that I work with individuals, with teenagers and young adults. I don't work with children and I am going to focus what I say about therapy on teenagers and an adult primarily, not because kids aren't important, but it's almost a separate topic on how you address children. And that relates to what are some of the issues. And one of the big distinctions between children and then teenagers and young adults when you work with, is with teenagers and young adults one of the first things you have to do in therapy is help with individuation. In other words, help the person realize that they are their own person. They get to make their own decisions. This particularly becomes an issue that is very important for therapy when the person's over 18. Because one of the things about autism is very often people grow up so used to being told by other people, even well-meaning people, teachers, parents you have to be this way.
Why can't you have more friends? Why can't you do, why can't you be in activities like everybody else? This sort of thing. That my experience has been that you really have to start therapy there with making sure that you're clear with the person, I want know what you want out of therapy. I don't want to know what your parents or your teachers or somebody else told you you need to be, I want to know what you want out of it.
And my two things about my experience conducting therapy is, one is that can take a while because especially if someone's just getting into adult, even the concept of it's all up to me, it can be very…
I was going to say overwhelming perhaps if they're not used to it.
Exactly. You kind of have to take it one step at a time. The other is one distinction is someone can make a decision about what they want based on what other people are telling them. But it still has to be their decision. An example being, a lot of times I'll get young adults who'll say, well I'm fine with what I do in my free time, but I'm tired of my parents asking me, did I meet anybody. So I would like to get better with my social skills or get more typical so to speak with my social skills so I can meet more people, so at least my parents will get off my back. To me, that's the legitimate individual decision about what you want in therapy. People often come into therapy who don't have autism who say, well I don't think I have a problem, but my spouse is really upset at me and so I need to work on something.
So individuation I think is the first one. And very often my experience [inaudible 00:19:18] people then go in one of two directions. It could be that what you're helping the person do is learn better skills so that they feel more comfortable in the situations that are causing them difficulties. And some of the major areas you address there could be social skills, emotion regulation skills, and the general category of relaxation skills. Because some of the more disruptive behaviors in autism are things like perceptive behaviors where you repeat the same thing over and over again. Or even repetitive behaviors like arm flapping, physical movements, those are not caused by stress, but stress can make them worse.
So if you help them learn relaxation strategies, it can reduce that. The other direction that therapy might go is more of a cognitive behavior approach where you're helping the person lessen the impact of how other people react to them. If someone, for instance, has sort of limited social interactions, but they're happy with it, like no, I'm content with my life, then in that approach it might be helping them decrease the impact of the negative thinking about, well what does it mean if someone keeps telling me I don't fit in, but what does it mean that my parents keep asking me how many friends I have. Helping, not changing the behaviors that the other people are complaining about, but lessening how much it impacts the individual.
Because there's a message being sent to them. Okay. Kind of almost very loosely abroad, what's wrong with you that you're not meeting more people and things like that.
So I think that's great employing CBT to kind of help with those thoughts, to those messages too.
Exactly. One thing I'd like to say really quick too, that I have found very meaningful is I have a blog on Psychology Today and usually I'll get 2000, 3000 hits on a post. I made one post that had the title, why You Don't Need Friends. Last time I checked it, 400,000 hits.
So it really clearly hit a major theme that a lot of people are dealing with. Now, of course not all those people had autism, but I periodically get emails telling me how much a mental person, a person has autism. So that to me was a really major thing that a lot of people are hungry for that sort of message. It's not, because it isn't, it's not necessary for survival for you to have friends, you have to interact with people. But if you prefer to spend time by yourself and don't want to deal with all the rigor roles and whatever of trying to navigate friendships then fine. It's not necessary for survival. So I thought that was really meaningful.
What are some resources and support systems available for individuals on the spectrum and their families?
The Autism Society of America has a lot of… That's probably a good starting place because what happens is they have a lot of national offices. So if you are in a certain area, if you look up Autism Society, I always pick that as a good reference point because they have local offices so they'll know who's in your area, who works with individuals. So that's probably the one I throw out the most there, which is the Autism Society. I know it's called Autism Society. I don't know it's always, because in some areas it's called Autism Society of America. Sometimes they have different names. Autism, if you just put in Autism Society in your search engine…
… you can find local groups and that I like. Because you want local.
You don't want, and this is probably a, I would definitely say it's difficult, but the amount of services and how you navigate the services is different in Pennsylvania, different in California, different in Mississippi. There's a lot of different, and it probably shouldn't be, there's a lot of differences and it probably shouldn't be. And I'm not arguing that it shouldn't be that way. It just kind of is.
Now, one other thing I like to bring up to people is that every state has some variation of what we in Pennsylvania call, used to call wraparound services, they're now called intensive behavioral health services. Intensive behavioral health services is a good category for it. If you look that up in your state, that's also a good reference for specific what services are available in your state for autism. Because very often individuals with autism need maybe a bit more intensive services than just weekly therapy. Not that weekly therapy can't work, but if you need something sort of on the next level…
… looking up for what your state has about intensive behavioral health services or behavioral health services under medical assistance. Every state has those and those are specifically set up to help individuals with things like autism that may need more intensive services. So those are two good categories, the Autism Society and any medical assistance and intensive behavioral health.
Oh, those are helpful. Now, I know we already chatted earlier in our conversation a bit about pop culture. We alluded to Sheldon from the Big Bang. But going a little deeper in that, what role do media and pop culture play in shaping the public perception of autism and how can we promote a more accurate representation?
Sure. The media probably plays a bigger part in how people see autism than maybe even most other conditions because autism tends to be very behavioral and stands out. So it, for example, someone who has just depression, and I'm saying because it someone with autism could have depression, but somebody who has just depression sometimes it can be a little hard to represent that. Because depression tends to be more internal.
Yeah. And you might not see the over signs perhaps. Especially if a person's trying to just push through their day, even though it's there, you might not see. They might be faking it. Right. Not showing that they have it. I hear you.
Exactly. Yeah. And autism because it can be so overt and noticeable, you get a lot of, I think it's attractive to people in pop culture because it's like, oh, this is different. This can make someone stand out.
I also think, it's interesting to keep in mind that I also think if I had to pick something I would like pop culture to do, it would almost be to not point out if someone has or doesn't have autism, just let them be there. Let people make their own thing. I found it unfortunate. I make reference to Sheldon and Big Bang Theory has been off for a couple of years, although I guess the young Sheldon's still on, so it doesn't have as much of a standing as it used to, the show. But I found it unfortunate that in the second year, Chuck Lorre, who was the creator of it, actually did in interview said, Sheldon does not have autism, Sheldon doesn't have Asperger's. He said that and I thought…
Yeah. Now I don't know how much he carried that over.
I thought it was, I thought, what he did, why he did it was because he didn't want to limit the character and everybody say, oh, he's that way because he has Asperger's or he has autism. Which I agree with the sentiment and I almost wish he just hadn't said anything. Just let everybody see him and then just let everybody see him. Even the ongoing joke that was there, which was periodically in the show, someone would say, oh, you're crazy and Sheldon would say, I'm not crazy my mother had me tested.
You would assume he probably meant one thing that was being considered was autism. I think it would be better if you just leave it because that's the sort of thing people with autism run into all the time. And I don't know, I think pop culture would do a lot better if they didn't specify whether it had, somebody had autism or not. Just let them be that way. Let all make our own decisions and just maybe give more, because I think we as a society would be much better [inaudible 00:28:49] they are and not necessarily worry about the labels that we give. And I think pop culture could help that way. So since they often get it wrong, I think it would be better if pop culture just left it out…
Yeah, I hear you, for sure. Any other takeaways you'd like to share?
I just wanted to say as I know a lot of therapists listen to this podcast that I want to make clear, any talk idea or even podcast or writing a book can always make it seem like doing therapy with someone who has autism is a very…
Regimented, very structured?
Regiment, rigid type of thing that always works this… And sometimes I get calls from people are looking for consultations like, oh, I don't understand it. It's so difficult working with someone has autism can be difficult and it's not their fault, it's just that, especially when they get into a teenage and young adult years, they've been through so much, it's hard to sort of filter it all out. So it'd be very, so my takeaways as far as suggestions for therapy is you can keep it very focused. You can keep it very concrete and oftentimes it's what you have to do with autism.
Oftentimes in the end, any therapy I do with someone has autism ends up with what we call scripts, which is a set of specific behaviors that the person can use to deal with situations that cause them difficulties. But that doesn't mean getting there can't be this sort of free flowing relationship that we all as therapists try to have and that you can't get there by talking to the person as opposed to having to always have this structure. In the end you want some structure to it, but that could be a summary that could be, okay, we seem to figure out these steps worked for you, but getting there, therapy doesn't have to look any different than the therapy you have with other people with other conditions.
Right, I agree. I appreciate that. Thank you for sharing that.
And thank you for sharing your knowledge and all your best information on this topic. I find that this is really helpful, especially your focus on the misconceptions of individuals with autism. It was very, very helpful. So thank you.
All right, Nikki, thank you very much. Glad you had a great time being here.
I'd also like to thank the team behind the podcast, Jason Clayden, Juliana Whidden, and Chris Kelman. Take care everyone.