podcasts
Tips for Students, Teachers & Parents for a Successful School Year – Podcast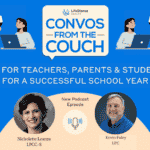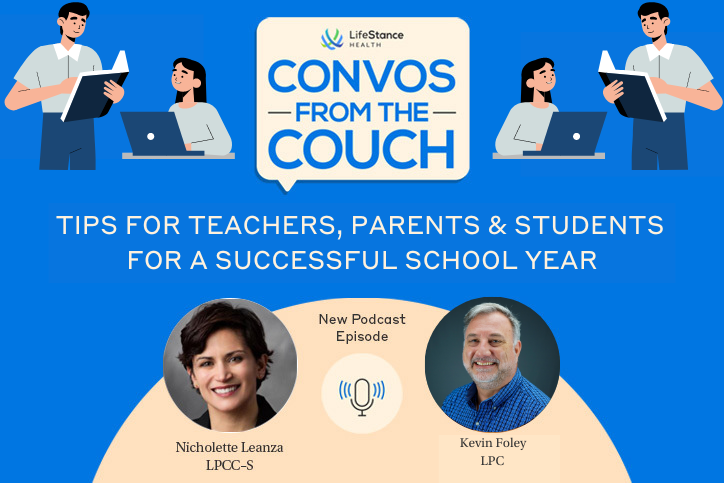 By LifeStance Health on August 3, 2022
Kevin Foley helps us navigate the Back to School season by sharing tips for teachers, parents and students.
Welcome to Convos from the Couch from LifeStance Health, where each episode you'll hear engaging and informative conversations with leading mental health professionals that will help guide you on your journey to leading a healthier, more fulfilling life.
Hello, and welcome to Convos from the Couch by LifeStance Health. I'm Nicki Leanza, and on this episode, I'll be talking with Kevin Foley, a counselor from our Tulsa, Oklahoma office on tips for teachers, parents, and students for a successful school year. So, welcome Kevin. Great to have you on.
Thanks, Nicki. It's great to be here.
Yeah. I don't know about you, but I'm a parent, I've also taught before and I know this time of year can be really, really stressful as everyone's trying to get ready to go back to school. So, I'm really looking forward this conversation because I know you'll share some tips all across the board, not just for students but for teachers and for parents as well. So, I know this will be a great conversation for us.
Appreciate you having me. I look forward to it. Thank you.
So, tell us a little bit about yourself.
Counseling is my second career. My first career was teaching, in the classroom for 25 years, and 13 years as an administrator. And I am a parent myself. I've got two children, a 14 and 10-year-old, 14's going on 30 so that's a lot of fun. Yeah. So, I've been in all the roles myself and the start of a school year can be really, really exciting, nerve-wracking, and as a parent, sometimes it's something I'm really looking forward to, to get them back in school. And sometimes you want the best for them and you're really, really hopeful for it. And you want it to go as smoothly as you can, and that bring the anxiety up as well. So, everything's all wrapped in at the same time.
Yeah. For sure. You mind telling us a little bit about what made you decide to move careers or switch careers?
Yeah, my teaching has predominantly been in independent schools. So, I grew up in Boston. My first teaching job was inside the Beltway in DC, and it was a school that was very similar to one that I had attended. So, it was a real natural fit for me. I got to coach, I got teach, I got to advise, and I had some fantastic teachers in my life. So, being able to be somebody like that for somebody else was just a nice fit for me. And then I left there and went to a school down in Dallas where I got to do a lot of the same and move into some administrative roles. And then, I met my wife, and we moved to a school in Knoxville. She's from Tulsa, and that's why I'm here now. So, Knoxville is exactly the same distance from Boston and Tulsa.
So, it's very fair. But we never saw either family because we were further this way. So, independent schools allowed me to find a school at 50 and that's really important. So, when it was time to move on again, we moved to Tulsa, and I had gotten my counseling degree actually when I was in DC and I just never went for the full licensure. I wanted all the skill work because I was teaching and I could use all those skills with parents, with my students and things like that. When I came to Tulsa, the number of teaching spots just weren't there and I'd been teaching for 25 years. I was ready for something new. I think there's a lot of crossover between teaching and counseling. I think they're both relational. It's just all about connecting, and it was time for me to try something new, and it's just been a real smooth transition for me.
Great. That's great, that it's been a smooth transition. I agree. There's a lot of crossover. 100%, there's a lot of crossover. So, as we start our conversation here, let's talk about parents. Okay? Let's start with that. What are some tips you can share for parents who are getting ready for their children to return to school?
Well, I think the first one that came to mind is thinking about preparing for today, is making sure you're checking yourself as the kids are going off to school, because we have our concerns and we have what we're nervous about, and making sure we're not putting that in their backpack as they go off to school. Because we're like, "Oh, I hope the teacher likes them. I hope that they're not too nervous about school. I hope that…" Let the child have their experience going to school, and they've got enough on their own mind. So, we're the adults. We know that there are certain things that can happen. There are certain things that they're going to be excited about, but they may be excited about different things. So, the best job we can do is to make sure that they're ready, that they've got their sleep, that they've got a good breakfast every day, that they know what to expect, and allow them to have their own experience.
I really think that's critical for the kids. We can model how to be calm in those situations and how to react to those situations. If the child expresses any kind anxiety, the second thing I would say is to make sure that we're there, and to listen to that. It's not our job to fix it every time we want to, but make sure that we're listening to that. And I think the toughest thing for the child switching from summer to school is getting that routine in place.
And I have been guilty of this myself, and a lot of the families that I deal with in my practice, they always have the greatest plans, but the night before school is always, "Okay, now we have to get to bed on time." Whatever you could do to smoothly transition into that school, sleep, and wake time, the smoother you can make that transition, the better. So, sometimes it's, depending on how varied it is, maybe knocking 15 minutes off each side, just to get back into that rhythm.
Because a good night's sleep is probably the best thing that the child can do. So, that's really quickly, check in your own stuff. Just make sure if you are nervous about something, you're not just assuming that for the child. Listening when they bring you something, and it doesn't mean you have to fix it, but you could problem solve it. Sometimes they just want to be able to say it. And then, making sure they've got a good routine in place.
You up three huge points that I think as parents, one, that when we're anxious, we can very easily project that onto our children and assume they're anxious about the same thing. So, I like that you made note that they might be worrying about different things or excited about different things too. That transition from summer to school year is key. I think starting a few weeks ahead of time, knocking off 15 minutes. I think parents sometimes forget that, starting the day before school starts is probably not the best. So, these are all really great tips that you shared. So, if we're going to shift gears a little bit, what are some tips for teachers who are preparing for the new school year?
I think teachers have really… obviously, I'm a fan of teachers, having been one and having worked with them. I know that a lot is on their plate. I was always excited for the beginning of the school year, and I know that a lot of other teachers are too. And then they get to school and it becomes all about preparing for the school. And so, sometimes they can be overwhelmed with all the preparing things, and having all these things in place and getting the classroom ready. And so, there's a kind of a tension between, there's all the minutia of the things that have to get done, and the excitement of just seeing the new faces and meeting the new kids. One of my experiences, I remember I was working at a brand new school, brand new building, literally, the construction guys were coming around and still fixing things-
… before the school was going to open, which is pretty typical for construction. They're doing the punch list and all that. And our admissions guy's walking around and asking, "So, you're ready?" And I was like, "No, not even close." And he's like, "Doesn't matter. They're coming." And I use that all the time, even today in my practice. It's just like, whether you're ready or not, it's happening. So, let's get ready for it. Let's just enjoy the moment that's going to happen. Whether or not your math is going to go the way you expect it, your attitude is going to go. And those students are going to appreciate your attitude.
I'm a middle school guy. It's my favorite division. You know, I'm 6'4″. If I work in the elementary school, I'm just a big piece of furniture. And in the high school, I love talking to them. So, middle and up is the conversations I really enjoy having. So, I know my zone, I know when I'm placed where I'm supposed to be, and in the middle school, they'll make you pay if you're not who you are. If you're not authentic, that's what they're looking for. They're trying to figure themselves out.
So, my advice when I was hiring is, be yourself, because if you're trying to be the cool, hip teacher and you're a nerd, no. They're going to say, "No, thank you."
Which is what I'm trying to do every day, is be somebody else. So, be yourself, enjoy the moment that you're having with these kids, because they don't always have a lot of real connections with it. I think the challenge I had getting ready for today is, there are so many teachers out there at different levels, teaching different subjects, it's really hard to find advice or suggestions that cover everything. And I think that's the way a lot of our teachers feel, is that there's just so much that's being asked of them. And I think they just have to boil down to, "What are my top goals that I'm trying to take care of this year?" Because that's going to be what's going to keep their sanity is, "These are the things that I'm making sure happen. This is who I am. This is what I want to make sure it gets-"
Kind of like core values that a teacher should hold for themselves.
Exactly, because that's what you have the most control over. You're going to have to hit the targets of the standardized testings. You're going to have to hit the curricular goals, but what's going to come through all of that is who you are, because that's not going to change.
And that's what the kids will remember. All those cliche things are true. They may not remember what you said, but they're going to remember how they feel in your class. So, I really do think there's a lot of value there. And take care of yourself. You're going to have to do things for yourself, and you're going to feel like you don't have the time for it.
But you really, really don't have the time not to. If you're not doing something for yourself that's enjoyable, if you're not taking care of yourself, I know the big self-care industry is a thing now, but it's coming from someplace that is valuable. If you're not actually doing something to take care of yourself, the rest really won't follow. So, find out what that thing is and treat yourself to that, show yourself that grace, because the rest will just not follow out of that if you don't.
I agree wholeheartedly. I know there could be, for some teachers, some burnout that happens. Maybe there's that excitement and anticipation of the new school year. But then maybe as the school year goes on, or maybe doing it for year after year after year, might be some burnout that happens. And I think that's the emphasizing too, the self-compassion, the self-care, all that is so critical. And I think teachers might forget about that sometimes, taking care of themselves.
Absolutely. I know when I was a young teacher or an early teacher, one of the benefits that I felt was that I had the opportunity to do something different in the summer. And it certainly isn't that you get summers off. I hate it when people talk like that-
… and they say that because every teacher understands, you do not.
But you sometimes have an opportunity to do something different in the summer, which is kind of a fresh start. You could do something and then come back to the school in the fall. Even if you're doing summer school, it's a different pace, it may be a different class, it may be a different subject, and then you get to start over in the fall. And so, that's just kind of like a little boost of something new, something different, whether it's a different grade level that you've been pushed into, or a different subject that you're assigned. And there's always new faces. So, you get to kind of get a little adrenaline lift at that point. And so, I try to run with that a little bit, as opposed to, yep, it's Monday and here's another set of reports or whatever. You get to lift with that a little bit.
So, accept that as the positive that it can be.
For sure. For sure. So, we're going to shift gears a bit. Let's talk about students getting ready to head back to school. What are some tips for them?
Okay. Well, okay, so they get all the attention, obviously. I think they're the ones with all the expectations, right? So, I think a lot of well-meaning people are saying, "Oh, you're going to love it. It's great. It's better than last year. You get to do all these things." And they're nervous, especially if it's a transitional year, right? So, now you're in this division.
Now, this is going to be expected of you, and they're feeling like they're not ready for it. And yet, they always are, aren't they?
So, sometimes it's nice to remind them of, "You've been in situations like this before." Listen to what they might be nervous about, validate those feelings. I'm back on the parent thing again, I know. But that's what we're trying to do, is allow them to find those answers. You can't just tell them it's going to be all right, because there's going to be some scary things there, some different things. To help the child deal with that, you could visit the school, take some time and walk around those hallways on the scheduled pickup days and things like that.
I've had some parents who've created reasons to go up to the school and say, "Oh, I've got to go pick up a form." And then they'll walk around a couple of extra times, just so that they feel more comfortable in that hallway. "Oh, I remember that. That's down by where the water fountain is." Or, "Yeah, that's the classroom over by the…" And they just kind of feel a little bit more at ease in that building for doing that. I know some schools will have an early back or academy or something like that over the summers. I know we're a little late on that now, but in future years you might remember that.
It's just preparation, can be very helpful.
Exactly, just being prepared for what's coming and having them think of that. I think the times to have these conversations, generally, they don't like to sit down across the table and say, "So, tell me what you're thinking of." But while you're driving someplace, they'll stare out one window while you're paying attention to traffic. And they'll say, "I wonder if…" Or, "Do you think anybody has ever actually died going to school for the first day?" And then you could say, "Gee, I don't know. I wonder what would make you think that." Or if you have to leave for a very important meeting or dinner date with some friends, that's when they'll drop these big questions on you, right?
Because they know you can't pin them down and say, "Tell me why you're so worried about it." They know when your hands are full of groceries, that's when they give you the big things. So, acknowledge that. Be ready for that and then say, "Gee, I can tell that you're really nervous about school, and I'd love to talk to you about that." And take some time when you can. For the students themselves, I want to make sure that they've got a plan for how they're going to stay organized, having a good, quiet place at home that they're going to do their homework, recognizing that homework can happen.
And that's just someplace that's regular, a good routine, free from distraction, seeing the teachers as allies and that they can go to them for help, because that's why they're there. They really do enjoy that. I always do a twofold thing when I'm working with students in my practice. It's, there's two things that can happen when you ask them for help. One, you're letting them know you care about the class, whether or not you want to be a mathematician. It's just like, "I really do want to be successful in your class." Whatever. "I want to know what the trick is to be successful here." And then the counterpart to that is, "Now I'm accountable for your class because I told you that I want to do well here."
So, the teacher will just kind of keep an eye out for you as things are going, and watch to see if you start slipping and they'll make sure that you're catching things, and that's good. That's good that they'll keep an eye out for you.
Because they won't let you just drift, and then all of a sudden it's the end of the semester and you're failing.
Right. [inaudible 00:17:46]-
They'll just keep you herded in, you know?
Yeah, which is so important. I think it's helping students recognize, you and your teacher are on the same team. You guys are on the same side. They're not out to get you or trying to make things hard for you. I think it's really helping them with the perspective of being on the same side. Same with parents, viewing teachers. It's all a team, working to support students, which leads to, I think a good question too, of looking at how the roles for parents, teachers, and students have changed over the years.
Yeah. Yeah. There's obviously been a lot of change. I think as more and more things have been put on the teacher's plate, their attention gets spread and then the knobs get turned up on intensity, and things have to happen a certain way. And then the schools get graded, and funding gets attached to it. I had a really good friend who went in first for an evaluation, and his first question was, "Is my salary tied to this?" And they're like, "Well, why do you ask?" And they're just like, "Well, if my salary's tied to this, I'm your best employee you've ever seen. But if this is for my self-improvement, then I've got some concerns that I'd love your help so I can improve." And it really changes how you do things, because generally, teachers want to do their best work, and they want to know how they can help the child.
But if my students are struggling, because that's the message you want to hear about grades, "Here's where you can improve." Then their grades aren't good, and then I'm not being seen as a good teacher, then we don't get the funding. Well, that changes the whole algorithm, doesn't it?
So, if I give everybody good grades and the parents are happy and then we get more funding, well that says one thing, but it's not accurate. And then the kid thinks he's a genius, but he's not.
So, we have to be honest about what we're talking about. Sometimes the classes are so big that it's a lot easier to think that everybody's doing well. So, when that student raises his hand and says, "I really didn't get what you were just saying," that student's saying, "I could use a little bit of help." The nine other kids in the class who are afraid to raise their hand are going to get the same help.
And the teacher's going to get feedback on, "What I thought was going to work isn't working, let's try something different." And then we're going to have better-prepared kids. The parents are going to understand there's a teacher who cares and is changing things to help my child. So, everybody's going to get along and move forward better, is what I would like to see the model be. So, the more that we can work together and communicate effectively, the better system we're going to have.
Wouldn't that be nice? So, if the parent communication comes in in a honest way, not, "What are you doing to my kid? You're failing them." How can we help Johnny do better in the class? It seems like he's not doing very well. Then we're also modeling for Johnny how to ask for help, but to advocate.
Which is very helpful, as opposed to helping Johnny see that the teacher's the problem with his success, because the teacher hates him. That's not helpful.
If we all have this goal of everything going well, then we're all going to get to a place where everybody does better. Oftentimes, there will be parents that I'll work with that have a child that struggles in school, because school is not perfect for everybody. Sometimes it's a very difficult system, for especially non, nor typical kids to find success in. And they may even already have a 504 or an IEP in place, but those are 30-page documents that teachers have to read, and they have six of those in their class of 30. How do they get all that done the two days before the school starts?
So, I've recommended that parents talk to the teachers early in the school year, but maybe not the first week. Let's let them feel each other out a little bit, but maybe supply a bullet list of, "Here are some things that work really well for my child, and here are some things that don't work really well for my child." Just-
Just make it really simple for both of them to get along well, without tipping the hand, if you will, or saying, "Oh, I've got this problem child." But it's just like, "Here are some things that we've found have helped Sally be successful in years past and maybe they'll work well for you." And then, it's kind of a bid and an opening to, "We want to communicate to be helpful in the success of Sally in your class." Again, it's to differentiate among the 30, and we're interested and we want to partner with you this year.
I think it sends a great message. As we're talking about ways for students, teachers, and parents to work better together to support one another, that parent or that student setting some bullet points of like, "Hey, this is what works for this student. Or this is what works for me." It's showing the eagerness of communicating, of supporting one another. Right?
I think it's starting off from the gate in a very positive way, and that message for the whole team, for that teacher to be like, "Okay, look at this. This is helpful for me to know what works for the students, and I'm going to try to do my best to kind of align my teaching perhaps, that we can work best for this student." And I think it's just such an excellent tip to give, that one that I know, even as someone who used to work in schools and being a parent and just currently being a psychotherapist, never thought about. So, I think that's such a great tip right there, Kevin. I appreciate it, for sure.
And I think I've seen it come very heavy-handed in the past, like, "This is what you have to do for my child." And that always puts somebody on their heels. And then, other people are just too quiet and you get three months into the school year. I didn't realize that he couldn't hear out of his left side. I've been on this side of the room and yelling at him because he's ignoring me. Well, somewhere in between there, we can find a middle road. It's just FYI, you know?
Thought you should know. It's like, "Great. So, I'll just make sure I'm more like this. If it seems like he's not paying attention, if I shift over here, I might have better luck." I'd like to know that. That's all. Yeah.
Yeah. I would think that would be a point like that example I did, that would be a very important thing, I would think should be communicated. But I can also see how stuff like that can totally not get communicated. And so, then, how that harms the whole team, the teacher, the student, and then the parent as well.
Any other takeaways you'd like to share about anyone getting ready to head back to the new school year?
I always struggle… or try to keep in mind the concept of a fresh start and clean slate, is something that always comes up at the beginning of the year. It's like, how much do I want to know beforehand? I know I personally, at the beginning of the year, I always wanted to have a lot of information, but I didn't always want to read it before I met them. You know, I wanted to have my own kind of experience of an introduction, so I didn't make any preconceived conclusions.
Because summertime is a time for growth for a lot of kids, you know? And a lot of things could change, especially when you have siblings. "Oh, you're Johnny's little brother."
And I always made it a point over, when I met siblings, I'd be like, "Oh, John's your brother," kind of thing, just trying to flip that dynamic, because I'm sure they've been hearing it for years, you know?
It's like this guy's followed somebody else for all that time, it's like, "Oh, so John's your brother." Or something like that. And just sometimes that can make all the difference in the world, if they feel like they're having their own experience. And so, just trying to have the opportunity for either yourself or the child, and this goes for parents as well. It's just like, "Oh, you have Mrs. Henderson. She's so mean." It's just kind of like, well, there's a lot of things that happen over the summer. You know, even teachers go to a different training.
Or this is a different class than that. Now they're in the 6th grade and they've always been… I've seen frustrated upper school literature teachers trying to teach grammar in middle school. And it's just, that's not what they wanted. That's not the classic… And so, now they're in the section that they really flourish. So, sometimes things just balance and they work, and sometimes they don't. But you just can't assume that.
Sometimes you have a young teacher who may be right out of school and they're amazing. And sometimes you got an old veteran who has amazing new tricks. So, give it a little bit of time. Sometimes there has to be a little shakeout. So, I think it's a matter of cooperating. I think it's a matter of giving a little road for the bugs to shake out a little bit there, and I'm a big fan of the students advocating and learning how to get through some of themselves, because if there's always a swoop and a save, and then they-
… their empowerment gets cut out. And I think the lesson there is that somebody else has to fix the situations that I'm in. So, there was a lot of word salad there, but…
But you bring up a good point, especially as you were talking before when we were talking about parents, not always swooping in to fix the issue. I think there's something to be said, a part of what we're trying to teach students is also how to navigate their own skills to improve a situation or a problem, or navigate a problem or solve a problem on their own. And not always [inaudible 00:28:18]-
I think that's so crucial. Even when we talk about mental health and how to navigate their anxiety, their own big emotions at the time. I think it's so crucial. I think that's where we come in as therapists to help them. For sure.
Right. One of my younger child's teachers had an expression that they called productive struggle. There's something about reaching a challenge and then seeing your way through it. You don't want to just have somebody being in a meaningless, just overwhelmed-
And a lot of conversations that I have is… especially with something like homework, it's like, "When am I ever going to have to use this?" Well, it's really not about what the problem's asking. It's just about managing all the work, is the actual challenge.
So, it's like, how do you manage the work? How do you take your week long schedule? Because you want to be on the lacrosse team, you want to play baseball.
So, how do you balance all the things you want to do with what the things are being asked of you?
Right. Taking that broader perspective to help the students see the bigger picture of it. I think sometimes we miss that with them, this is truly how this can help you navigate life, moving forward, navigating your job, things like that, a household. Right?
Exactly. You want to spend that time with your friends online and that's fine. So, how do we fit that in? It's not a either/or.
It's an and thing, and how do we get that done? Because right now, it's interfering. So, how do we make it so that they can both exist in a healthy way? It's not a, "No, you can't." It's a, "How do we get that so it could both work?" If we can both look at it to solve, as opposed to, it's a conflict for us, then I think it's a healthier way to approach. Yeah.
I agree. And so, I want to say, thank you, Kevin. You gave some great tips here and really coming from the point of view of it being a team and supporting one another and problem solving together, as opposed to coming at a place of pointing the finger and villainizing. I think the key part of communicating among the team of being a teacher, a parent, or a student. So, you give so much great advice there, and I know-
… I appreciate it as a parent, as a therapist, as a teacher myself, things like that. So, thank you again. I'd love to have you back on.
Oh, I'd love to do it. Anytime. Thank you so much.