podcasts
Bipolar Disorder Awareness – Podcast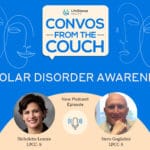 By LifeStance Health on March 27, 2022
In addition to the symptoms, people with bipolar disorder face myths and misunderstandings in the public eye. These issues can make it difficult for people to get the help they need. That's why it's important for everyone to dispel myths and spread facts about bipolar disorder.
LifeStance provider Steve Guglielmi joins us on this episode to help separate the facts from fiction as we recognize World Bipolar Day this month.
Hello, everyone, and welcome to Convos from the Couch by LifeStance Health. I'm [Nicky 00:00:14] Leanza. And today, we're going to be talking to Steve Guglielmi from our Columbus, Ohio office who's going to help us understand bipolar disorder. Welcome, Steve. Good to see you.
Good morning, and thanks for having me.
Tell us little bit about yourself.
Well, Nicky, where to start? I've been in the mental health field for, I'd say, a little over 20 years now. Like most clinicians, I started off in community mental health. I had a journey with the nonprofit world, which I really enjoyed, working in the inner city of Columbus. And then, I started working for private practice and did that for 10 years. Actually helped to develop that private practice into a pretty, I'd say, a midsize business of about 40 clinicians. And then, we had the opportunity to acquisition into LifeStance. I've been with LifeStance officially since October. It's been quite a journey, learning about the process and getting to know new professionals. And I've really enjoyed it so far. That's where I'm at on my journey. I'm a licensed professional clinical counselor. I do a lot of supervising. I do some teaching for the University of Dayton, so trying to keep my hands in some different things and keep my mind fresh. So, that's where I'm at.
And tell me a little bit about your experience working with individuals who have bipolar disorder.
But that's probably a good thing to mention. Over the years of being in clinicians, I've definitely have had the opportunity to assist many clients that have experienced bipolar disorder. For me, as we'll talk about today, helping clients understand the symptoms. And one of the things I really push in working with bipolar disorder is what I call insight development. And it can be a very valuable to help clients understand the ins and outs of what bipolar is, what it means to experience certain symptoms, and most importantly, learning how to manage it. Because I always say everyone on this earth has something about them they would like to fix or get rid of. And it's important to understand those things. And you can't just snap your fingers and make things go away. So, it's really learning about how to effectively manage things. And that's such an important part of the therapeutic process, especially when it comes to something like bipolar disorder.
Yeah. I agree, 100%. It sounds like you do a lot of psychoeducation, a lot of [crosstalk 00:02:43] clients about it.
Tell us what are some of the symptoms of bipolar disorder?
When they came out with the DSM-5, so they actually put bipolar in a different category of its own. There's actually seven classifications of bipolar disorder. The things clinicians and populations in general are going to be most familiar with are bipolar one disorder, bipolar two disorder and cyclothymic disorder. Bipolar one, which I think is going to be most commonly known is the main manifestation of what's called a manic episode, which we will talk about. And then, if you look at bipolar two, which I emphasize not to look at that as bipolar light. Because sometimes, even professionals think, well, bipolar two, that's kind of a step down. It's really just a different classification. And really what we need to emphasize with bipolar two is the experience of a major depressive episode, which can actually make it a little bit more dangerous for patients to experience.
And then, if you look cyclothymic disorder, that's when an individual really doesn't hit what we call a manic episode and really doesn't experience what we would call a major depressive episode. But really, bipolar disorder is about an experience, it's a brain disorder. People experience mood episodes where there's an intensity. And with a manic episode, which we get in a little bit more into detail, usually, it's something pretty substantial happens. Most commonly, hospitalization or someone going to jail. And it can be a pretty traumatic experience for someone to experience because they're doing something that's so out of character for them.
I think that's a good piece to note is something very out of character for them.
Absolutely. And it causes a substantial disruption in their life, and it can take a while to rebound and recover from something like that.
I think there's been so much misinformation about bipolar disorder. I think in the common vernacular, you'll hear someone say, "Oh, they're just being bipolar." And I think what someone might be trying to say is they're just being really moody and stuff. But that's not the cornerstone of the disorder at all. We are looking at it hitting… You have to have the episodes of the depression as well as the manic episode or a hypomanic episode-
… hitting those two polls, definitely. I think with depression, we often understand what depression looks like, and though it can look different for different people. But I think that manic episode or slash hypomanic episode in a bipolar two disorder, could be misunderstood, really what that looks like. And I think it is trying to describe it as really intense, excessive energy, racing thoughts, risky behavior. Can you tell us a little bit more to help us understand [crosstalk 00:05:35]?
Well, something add into that is impulsivity. Is where if you think about it, someone going through a manic or even a hypomanic episode, the brain is just processing so fast. And it really dilutes the ability to make healthy and sufficient decisions. And that's where this kind of decision making that's typically out of character happens. Some common examples are overspending. Someone experiencing a manic episode can really put their financial future at risk because they're just not thinking clearly. Or hyper [crosstalk 00:06:11] is another example of just putting themselves in very risky situations that they typically wouldn't. Often, it correlates with high drug and alcohol use. Because again, in this manifestation of a manic episode, they're just not thinking clearly and not making decisions like they typically would.
And my understanding with some manic episodes can come about for some people, a type of psychosis or a paranoid thinking. Can you tell us a little bit more about that?
Well, absolutely. If a psychosis sets in, that will automatically classify it as a manic episode. And so, [crosstalk 00:06:53] to be directly correlated with a manic episode doesn't necessarily mean they have a psychotic disorder like schizophrenia. But the manic episode heightens so much that they will have delusional thinking patterns, moments of grandiosity or other psychotic symptoms such as hallucinations, auditory or visual. Again, it can just be a very scary process for someone to go through.
I was just going to say that just how scary that would be if a first episode happened, and maybe the client didn't understand, or the person experiencing it didn't understand, or the family didn't understand what is happening here, especially because it's such a marked distinct difference in the character of the person and what they usually exhibit and stuff. Looking at the difference of what considers that a manic episode? I think what you're saying is usually like hospitalization, if there's a psychosis with it. And then, looking at a hypomanic episode, is there something that maybe it doesn't last as long as a manic episode? Is there some-[crosstalk 00:07:56]
Right. With mania, typically, symptoms can last up to a week. [crosstalk 00:08:00] mania is classified more as about four days.
All right. That helps. [crosstalk 00:08:06].
When we talk to other clinicians or clients about this, not to be redundant, but really, one of the key classifications is a substantial disruption. The other thing that's kind of interesting about mania and hypomania is sometimes, when people experience it, there's benefits to it.
Most commonly, when we see patients coming in seeking help, it's when they're experiencing the depressive components. You're not really good at see clients come into a counseling office in a state of hypomania because sometimes, their productivity is going up. And their [crosstalk 00:08:46]. Another key component is sometimes, when someone's in an episode like this, they only need like three hours of sleep. When I talk about insight development with clients, that's one of the key things that you help them understand is how important consistencies are. I'll tell clients, it's like, "When you have consistencies in life, you can recognize inconsistencies much faster." And a simple, simple way to look at that is sleep patterns. If you naturally have good sleep habits, good sleep patterns, you'll be able to recognize if your sleep patterns are becoming inconsistent. Which can be directly coordinated with a manic episode manifesting.
Now, because being in a hypomanic or a manic episode, it disrupts sleep, and especially if you're running so high on energy where you're only getting three hours a night, if that, is there some sort of crash after the four days of hypomanic or seven days?
Well, it's different. It's different from person to person. DSM talks about mix episode or rapid cycling. And sometimes, those mood episodes can go up and down day by day, week by week. So, sometimes, there is a crash, and that depressive episode can set in or just a wall of energy, for sure. There is sometimes this crashing component where you go through this intense period of time.
And then, really, your body can only take so much, and you naturally just [crosstalk 00:10:22].
Right. That's a good point. That's an excellent point. Tell us a little bit more about cyclothymia. I don't think that's something that people probably have heard that term very much, especially associated with bipolar.
Right. And you don't see that diagnosis too much because one of the key components is the severity is not there. It was put in the classifications under the bipolar disorders just to recognize when a person's mood is fluctuating, but it does not hit the severe point of a manic episode, but also someone that's not meeting the classifications of what we would call a major depressive episode. Therefore, that's where the classification of cyclothymic disorder came in. Like what I would call a mild mood rollercoaster.
Yeah. That's a good way to describe it.
It's definitely enough to have some dysfunctional impact, but not to the severity of someone that experiences bipolar one disorder.
This is, someone would at least have the ability to question their mood and the changes that they're experiencing. They're not feeling like themselves. They have those highs and those lows, and they're just recognizing it's just causing some patterns that they're not desiring in life.
What are some typical treatments for bipolar disorder?
Well, most common practice, well, what we would call best practice, is a combination of psychotherapy and medication. And so, and that's where for someone like me, I lean into this idea of symptom management. I'll talk to clients, and I'll say, "You know what? If I can make this disappear for you, I would. If I can set my fingers and make you better, I would do that in heartbeat. But the most important thing is that you learn about how this impacts you as an individual." It's a little bit silly, but one of the first things I try to recognize is when someone says, "Well, I am bipolar." And for me, it's just a little tweak of let's just change that a little bit. You have bipolar disorder. That is just a part of you. That's not who [crosstalk 00:12:30].
Steve, I am so glad you emphasize that. Because I think it's when someone over identifies with your mental health diagnosis, it's important to sift it out of him.
You know what? You just try to open their eyes to a different perspective of… And again, it's just part of who you are. We need to really emphasize the other parts of you. It's just part of you that we just need to learn how to manage and manage in a way that is best for you. And typically, that's where you combine psychotherapy and some sort of medication management, which I always tell clients, "I never push medication, but I want you to know what your options are." That's where you get primary care physician, which typically, with bipolar, you'll get a psychiatrist involved. There's several medications. Most commonly, it's a mood stabilizer. And what you have to watch out for, this is where a thorough assessment is essential, someone comes in, and they're in a depressive episode, they can be prescribed an antidepressant, which can actually kick someone into a manic episode.
You just have to be careful about that. And understanding and walking your client through an assessment process to understand if they've ever hit that hypomanic or manic episode is pretty important.
I'm sitting here thinking of how often it is probably very much misdiagnosed, or looking at maybe when a person's an adolescent that maybe it's being deemed as like ADHD or something like that. And just the potential for this diagnosis to be just so misdiagnosed often. Is that your experience as well?
Yeah. Well, you mentioned children. I'll say 15 years ago, when I worked with a lot of children and adolescents, it was pretty astonishing how many kids were diagnosed with bipolar disorder and put on what I would say pretty high tier drugs. For me, when the DSM-5 came out, they put in a new diagnosis of disruptive mood, dysregulation disorder. That really helped to reduce the amount of bipolar diagnoses for children and adolescents that really essentially was- [crosstalk 00:14:40]
See, talk more about that. Because I think that's another diagnosis, probably a lot of people might not be familiar.
Well, it was neat learning about the history of the development of DSM-5. And they hit so many components because of the misdiagnoses, and they got rid of not otherwise specified. And they transitioned that into more specified diagnoses to put clinicians and medical doctors in a position to be more accurate. And studies just showed that children were being overly diagnosed with bipolar disorder, which correlated with early medication management. The goal is to put therapists in a position to treat the behavior before you put a child on heavy medication, hence why they came up with that new diagnosis.
Right. No, thank you. Thank you for clarifying that.
It used to be classified as childhood bipolar disorder. That was like the lingo that was coming, that was developing. So, the psychiatrist that wrote the DSM-5 just decided to change that.
Makes sense. It does. For sure.
I want to through one other thing in there-
… in terms of a treatment component. One of the things that I found to be very interesting is the relief people experience when they get a name to what they're experiencing, especially with bipolar disorder. It's not like they're super happy and excited to find out, but sometimes, when they have an understanding, this is what I'm experiencing. I've talked to so many clients about after doing an analysis and assessment, that we come to find out that what you've been experienced for the past few years is what we call bipolar disorder.
It's just like you find out anything, if you have a broken arm or cancer, you become sad, and there's a grieving process. But at the end of that, a lot of times, I've seen clients experience relief because then, you can start to understand the commonalities of what this means and how it impacts an individual. I throw that out there just to emphasize the importance to use language with clients, developing an understanding of the specificities of what a person is experiencing, especially from a symptom perspective.
Right. Right. And again, bringing that back to just educating them about themselves in their symptom.
For sure. Is there any other takeaways you'd like to share to help people understand bipolar disorder?
My main thing is it's a manageable disorder. It is. There are managing components. I've talked to many clients about this. When I talk about the grieving process, there's a sadness sets in when we start to talk about what this is. But then, at the end of that, at the end of that, what we call psychoeducation, is that instillment of hope, of like… Some people, as they go through developmental periods, they heal from this. Albeit, sometimes, they're scared because there's unpredictability to it. You can go years without a manic episode.
Right. I think what you [crosstalk 00:17:44] is hope that someone can definitely manage this, for sure.
And the other cautionary piece, just like we see with a lot of medical, mental disorders, there's a relapse piece that's important to note. Just like anything, you start to feel better, so you stopped taking your medication.
I would. [crosstalk 00:18:05]. I had the flu, and I was taking medicine. I started feeling better, I would stop to taking that medication. But I always encourage anyone to make sure you're talking with your doctors, your psychiatrist, your therapist about any changes. Because that may mean you're doing something right and you need to keep doing it.
Right, right. Good point. And again, you're bringing up that excellent point of when people start to feel better and things are managed, that's when they're thinking, okay, I'm good. I don't need the medication anymore. That was the very thing that was really keeping them, helping them keep it managed.
Right. Yes. That means we're doing something right. We got to keep doing it.
Right. Right. I agree. Steve, thank you so much. I think you really did a great job helping us understand a little bit more deeply about bipolar disorder.
Absolutely. I really enjoyed doing this.
Helping us understand those misnomers about it and clarifying those. So, thank you so much. I appreciate you.
Absolutely. Thank you for your time.