podcasts
Birthing Parent Mental Health – Podcast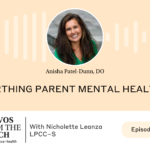 By Jason Clayden on May 17, 2023
In this episode, we are joined by Dr. Anisha Patel-Dunn, the Chief Medical Officer at LifeStance Health, to discuss birthing parent mental health.
Dr. Patel-Dunn shares valuable insights on the mental health concerns faced by birthing parents during and after pregnancy, common treatments for mental health disorders, and tips for managing mental health and stress as children grow older.
This episode emphasizes the importance of early intervention and seeking help when needed.
Listen and Subscribe Here