podcasts
Decoding Codependency: Understanding Codependent Relationships – Podcast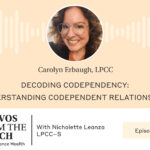 By Jason Clayden on January 18, 2023
Carolyn Erbaugh, a clinician from our Brecksville, Ohio office helps us to understand more about codependency, signs to look out for in codependent relationships and how to recognize when a relationship is becoming imbalanced or abusive.
Listen and Subscribe Here
Welcome to Convos from the Couch By LifeStance Health, where leading mental health professionals help guide you on your journey to a healthier, more fulfilling life.
Hello, everyone, and welcome to Combos from the Couch by LifeStance Health. I'm Nicholette Leanza, and on this episode I'll be talking with Carolyn Erbaugh, a clinician from our Brecksville, Ohio office, and she'll help us to understand more about codependency. So welcome, Carolyn. Great to have you on.
Thanks so much for having me. I'm happy to be here.
Codependency, I think, are one of those tricky things for people to really understand and so I'm really glad we're having this conversation to help you clarify what it is and what it can look like in relationships. So thank you again for being on.
Absolutely. It can be very complex topic.
That's a good word for it.
Complex, and it can be difficult to understand.
And that's the point right there. I think just the difficulty in understanding it, so I'm glad we're going to be diving more into that. But first let's have you tell us a little bit about yourself.
Well, yeah. Well, I've been with LifeStance for about four years. I am a DBT-informed clinician at the Brecksville office location. And I serve adult populations in various life stages who tend to be challenged by social anxiety, lack of assertiveness, boundary setting issues, emotional regulation, and communication in relationships.
So with all that, it sounds like you probably also help your clients navigate maybe some codependency issues they might have or what they're navigating maybe with others, perhaps.
Oh yeah, it's a big… It overlaps a lot of different… Cuts across and overlaps with a lot of different other issues.
Yeah, I definitely think so. So jumping in, tell us what is codependency?
Well, I think there's a couple different ways that it can be characterized. And I would also say that there are probably different types of codependency, but having said that, I'd probably define codependency as someone who find themselves in a relationship where they're giving to someone who doesn't need to be rescued inappropriate limits to giving or over-giving, often rescuing or care taking, of guilt, resentment when giving to someone. And also, in general, is defined by a relationship that usually has poor boundaries.
So I'm sure we'll be talking more about boundaries as we continue our conversation. So what are some signs people can look for that might signal a codependent relationship?
Well, there too, and in [inaudible 00:03:16], there's typically an imbalance, often an imbalance of power or respect, where sometimes we find one individual is more passive and submissive and the other might be more dominant or controlling so we'll see that. Or one in which healthy expectations for individual needs and responsibilities for one's own wellbeing haven't been established or are imbalanced. Also, we could look to things like feelings of anxiousness, trouble being alone, or feeling like their needs are selfish.
How does someone become codependent?
Well, the answer to this is somewhat complex, but I'd say the main reason this often happens is it's a result of a combination of, again, unhealthy attachments to abusive people. And I think that what my understanding is, what I see is that a lot of this is linked to adverse childhood experience, childhood experiences and attachments, which then form, you know what I mean? It then forms vulnerabilities, specific vulnerabilities out of being a survivor or witness to codependence of other abusive family relationships.
Would that be, what you're describing right there, role modeling of codependence in seeing in maybe their parents or others?
You got it. Absolutely. Where we see just like a mirroring of these, a witness to this. So there's a lot of history of trauma and abuse where we see someone might potentially come from that. I do see that there's definitely a correlation or a link to that there.
And I think a point you're bringing up of adverse childhood experiences, looking at potential trauma as one of the reasons why someone might show codependency towards others or likewise so I think that's such a key point that you're emphasizing that.
Are there other reasons you're seeing?
Well, yeah, and then just related to this and what you were saying too, certainly there becomes an excessive need for external validation and worth. Everything's externalized. We talk about self-validation in DBT a lot, which is one of the key concepts, but they tend to have a feeling of responsibility for someone else's emotional wellbeing and sometimes even a fear of abandonment, if that makes sense.
Yes. Yeah. Part of the example I'm thinking is if I'm feel… It's almost like how I've interpreted codependency, so one aspect of codependency is that I'm taking on the emotions of the other person in the relationship so if they're angry, I'm angry too. Is that how you also see it?
Yeah, absolutely. They really tend to take on others, absorbing someone else's emotions-
That's a great word, absorbing it.
So why do people stay in codependent relationships?
Realize that they're in a codependent relationships or they have a clue or have concern about where they stand or they are in the relationship. We can talk about having their own depression, their own anxiety that they're contending with, usually at that point, low self-worth. Again, fears of being on their own or… That's a big one, fear of being on their own. They've gotten used to being treated this way, so they just don't really have that perspective, kind of lost the ability to have insight or perspective on who they are so it's really hard. There's like a loss of a sense of self.
And with that, so then if you don't know who you are without that other person, is that another way of putting it?
So that's going to really keep me from wanting to leave them if I don't even know who I am without this person. So we know how complex it can be, the reasons why people don't leave relationships in general, especially if they are abusive or codependent. I mean, there could be so many layers of different reasons for it.
The financial ties of not being able to leave because financially maybe you wouldn't be able to make it on your own and stuff.
That's a good point. Like the financial piece for some people, you know what I mean? That puts them at greater risk and vulnerability in addition to everything else. That would be another area in which someone would feel codependent.
I'm thinking of a line from the film, Jerry McGuire, where the line is, "You complete me." And I think back when that film was out, that was seemed as the most romantic thing. And really what we've come to understand as therapists, what's healthy in relationships is two distinct individuals and not the melding in one, you complete me, there's a missing piece to me that you complete. And I think that's where boundaries come in. Where do I end and you begin? So let's shift gears and talk about that. How does the lack of boundaries play into codependency?
Yeah. Well, these are people who have a hard time setting boundaries. They didn't have a model of how to ever set boundaries. It could be because they're passive, they ignore or they idealize the person, right? Or they ignore, they don't see the early warning signs there. Maybe because they're attached to someone else who has poor boundaries also. But ultimately, boundaries are really important because they protect and free a person to express love without being taken advantage of or being abused. So essentially it sets up rules and healthy expectations of treatment and respect, which maintains equal power and protects safety and integrity of the individual. So this just needs to be assertively expressed and respected to have a healthy, functional relationship. And again-
And if that wasn't modeled to you in childhood or when you're younger, again, even poor boundaries that's going to play out in your own relationships as as an adult.
Yeah, to some extent. I think there's a lot of, yeah, that's what I see. There's a lot of truth to that. So this is where we're working on assertiveness, and we'll talk about that. But the lack of boundaries plays into codependency because people who don't establish this tend to wind up in relationships where they, again, feel the need to rescue, care take, responsible for others or blame themselves. And then their own needs aren't considered or taken seriously at that point. So I know I just said a lot there.
No, that was great. That was great.
It does have a lot, you know what I mean? It has a lot to do with it.
And this is the complexity to it.
Absolutely. Very complex.
What is people pleasing and how is it connected to codependency?
I see a lot of these, people pleasers and over givers. They tend to be more vulnerable to codependency because they tend to believe that their worth or value is dependent again on this external validation or approval or when they're overgiving and pleasing as maybe it evolved as a way to cope. They tend to put others first before themselves. And many of them are taught that they should trust other people more than themselves too. And sometimes they just serve the expectations of others, is really what it is at that point, if that makes sense.
That does. I see people pleasers as the ones giving and giving and giving, but then there's nothing even left for them. And even the sense of who they are. And so I think at first, look, you think people pleasing, oh, maybe that's not such a bad thing. You want to help others and please them, but this is where it gets to a point where there's giving and giving against your own what's best for you.
That's exactly it. That it gets to a point… It's one thing to be a kindhearted, giving, loving person, but not to the detriment of observing and expressing your own needs. And then if we are at the point where we're sacrificing now, we've got a real problem and other people, you got to teach other people how to treat you.
Yeah. Yeah. That's a key one right there. You got to teach other people how to treat you.
And standing up for what-
That's the assertiveness.
Exactly. So yeah, that's how it was connected to that.
Yeah. So what are some tips to help someone overcome codependency?
Yeah. Well, I think I've mentioned some things already, but I think that the main things really here are being aware of tendencies to overgive or people please. That would be one. Building insight on vulnerabilities to codependency based on excessive need for external validation. That would be another one. Working through trauma issues, that's a big one.
Working through that and/or addiction 'cause there's a lot there. That's another.
Sidebar but definitely related. Working on establishing ways to set healthy boundaries with assertiveness skills training or the interpersonal effectiveness that I focus on so much with people in DBT and a couple other things. Exploring and defining or redefining what a healthy relationship looks like to a person and how to recognize when a relationship is becoming imbalanced or abusive.
So that's a key point too. When to recognize when it is.
And then finally, building on your own sense of trusting yourself and developing healthy expectations of yourself and others in relationships.
Well, great tips. Take a lot of work to really navigate and be able to practice doing those but those are really, really great tips,
Yeah, and that's what we do. That's what I feel like a lot of what I'm doing is helping people navigate this, right, as a guide towards just like they're the experts on themselves and they're stuck and we just need to help them get unstuck.
Yes. Yes. 100%, Carolyn, 100%. Any other takeaways you'd like to share about codependency?
I think my last statement and point I want to make with this really is that developing assertiveness and being able to develop a sense of assertiveness and sense of respect, self-respect and self-worth, are essential to establish and maintain healthy, functional relationships. And is they are the antidotes to preventing or reducing codependent behaviors. That's what I think, that's the big takeaway here, I think.
That is a great takeaway. I appreciate you sharing your knowledge on this tricky topic, and I think you definitely helped clarify for our listeners more about what this is and what it can look like and the tips to overcome it. So thank you again for sharing, Carolyn.
Absolutely my pleasure. Thank you for having me here.
I would like to thank the team behind the Convos from the Couch podcast, Jason Clayton, Chris Kelman, and Juliana Whitten. Take care, everyone.