podcasts
Creating a Healthy Workplace – Podcast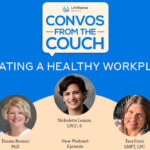 By LifeStance Health on August 17, 2022
Tianna Rooney & Tara Freni join Nicholette in discussing ways to build a positive environment at work, creating core values and cultivating positive relationships with coworkers.
Welcome to Convos from the Couch from LifeStance Health, where each episode, you'll hear engaging formative conversations with leading mental health professionals that will help guide you on your journey to leading a healthier, more fulfilling life.
Hello, everyone. Welcome to Convos From the Couch by LifeStance Health I'm Nikki Leanza. On this episode, I'm excited to be talking with Tara Freni and Tianna Rooney on the topic of creating a healthy workplace. So welcome, Tianna. Welcome, Tara. Great to have you both on.
Nikki, thank you. Good to be here.
You're welcome. This is such an important topic because many of us spend a lot of time at our jobs at our workplaces. Even if we're working virtually, we're still engaging with work environments, and we obviously would like them to be healthy. Some of us maybe work in, maybe, I'd hate to even use the strong word of a toxic work environments, but I think the purpose of this conversation is how maybe we can help create a healthy work and work environment and workplace. So it's great to have you both on to be able to talk about this, for sure. So let's actually begin. Why don't we start, let's have you guys tell us a little bit about yourselves. Maybe we'll start with Tara. Tell us a little bit about you.
Sure. Yeah, Nikki, thanks for having us. I am Tara Freni and am a licensed marriage and family therapist, as well as licensed professional counselor. But my bread and butter is really working with relationships, understanding. It started with couples and families in the therapy room, and has migrated into understanding relationships in the practice sense. Our working relationships with our colleagues and just building a really positive, safe work environment. And so, I feel both passionate about systems in the small sense, the intimate sense, on the couch, if you will, and also in the larger office setting. And so, I've had the privilege of being the Clinical Director at formerly Perspectives Therapy Services, now celebrating, being a part of this bigger LifeStance team, and so thrilled to belong to such a great group of professionals and bring my skills with me to the space.
Gosh, thank you, Tara. Wonderful. Tianna, tell us a little bit about you.
Thanks, Nikki. I was the owner of Perspectives Therapy Services, and had just the great honor of being in that role for 18 years. Tara knows when I talk about Perspectives, I beam with pride because I've mothered that organization longer than I've mothered my children. And so, watching and being part of a company literally from birth to when I launch it and I hand it over also gently to the LifeStance company, has been absolutely wonderful. I, like Tara, have moved, I think from wonderful systems work that captivated me in graduate school and applying that to individuals and couples and families in the therapy room, and really being so passionate about how to bring about change for folks and to make their lives different and better.
Now, taking that systems' lens and probably for the last 10 years applying that to organizational health, and really pouring those ideas of leadership and, really what we're going to talk about today, cultivating culture into an organization where employees feel seen and they feel heard just like we want for our clients. And so, I love this topic and you're going to have to just pull the plug on me at the end of this. I could talk about this all day.
I love the passion. Both of you carry such passion, and I love it for this topic. You also share your passion on your podcast inside Perspectives. So, let's kind of plug that. Tell us a little bit about your podcast.
So I would be happy to tell you about our really fun podcast. So I have the pleasure of being both a dear colleague and a dear friend of Tianna's. She is a really important person in my world. And so, she and I started these fun conversations during my limited license phase when she was supervising me as a building clinician. Coming on as Clinical Director, we spent a lot of time together talking about our practice and how we wanted to prioritize the health of our practice and take care of our team. Many of those conversations occurred when we were driving in the car to other clinical locations to visit the rest of our crew. And often, we would get out of the car and say, "Ugh, I really wish we could have recorded that. I wish our team could have heard this inspiration or this moment we had reflecting on the special place we have, where we've been or where we're heading."
And so, nestled into a really cool community out here in Brighton, Michigan, we have a podcast studio around the corner from Boston. So, Tianna and I were at a professional place where we decided to lean into podcasting. Try it out. Why not? And so, it's been a way for us to actually very intentionally connect with one another and be able to share a message with our larger team. So it's been a special way for she and I to connect and process ideas and hopefully inspire some folks.
I can tell you, I definitely get inspired. I listen to your podcast. It's amazing. As a therapist that's been in the profession for a while, you even have me looking at things from a different perspective. Even your latest episode, I was thinking things. It was about unlearning. It made me stop and think like, "Yikes, yeah." You hit so many points with it. You really do. So I know our listeners, our viewers, if they take a listen and they'll find something that will speak to them, for sure. You guys cover many great topics too. Tianna, anything you want to add about what Tara just shared about the podcast?
No, I think I'll just throw in the name of the podcast is Inside Perspectives. Like Tara said, we started this podcast thinking this was going to be a communication tool for the people nearest and dearest to us, the folks that we shared hallways with and we're neighbors with in the office. That was our intention. We like to be creative and innovative when it comes to reaching people, and a podcast seemed like a really good way to do that. We recorded episode one and our audio technicians said, "Yes, so this was really meaningful to me and I'm not in the field. So I think you should maybe put this in the world for some people to maybe listen into." And so, that's really how it was born. Now you could get it on Spotify and Apple and the places where you find podcasts. We so appreciate you leaning into that work. It's meaningful to Tara and I, it really represents our ways of thinking and connecting, and we appreciate you. Thank you.
I mean, just even sharing the message of you guys make a difference. You do. Again, being in the field and listening, I'm like, "Wow, some great points." So you made a difference even in how I'm finding myself doing my own practice. So I just wanted to say thank you for that, for sure.
Shifting gears, let's jump in about cultivating that culture, that workplace culture. So I think a good place to start would be, let's define what workplace culture is. So, whoever would like to begin.
I will. I'm happy to kick you off. Okay, so when I think about culture, a couple of things come to mind for me. The first is it has to be shared for it to be a culture. It has to be shared among all members that are part of that group or part of that environment. And we can think in the workplace, we have a lot of pieces, a lot of elements that we share. We share an environment. We oftentimes share an educational history and a training history, which leads to, in our world of mental health, shared passion. I think many of my colleagues, we have really good water cooler conversations around destigmatizing mental health treatment and serving underserved populations and making sure that access to care, which I love is part of the LifeStance mission, is something that remains top of mind and near and dear to us.
So, I just think a shared way of viewing the world, of interacting with one another, there become these unspoken sort of rules about: How do we do things? How do we approach one another? What are the norms and the values that start to become part of this system and part of this world? So in my mind, when I think about culture, it is this again, shared experience and one that is not stagnant. It changes over time, which makes it uniquely complex. And I think it takes great investment. Culture doesn't just happen. I think there's tremendous intentionality that comes with creating a culture that serves every member of that culture. So. That's how I vision that beautiful concept.
Tara, anything you want to add to that? That was [crosstalk 00:09:48]. Go, Tara.
I mean, she so beautifully puts together these really cool thoughts and ideas that we have, and that's something that makes her so special. I think one thing I want to add to Tianna's concept of sharing, shared traditions, shared language, shared rituals, something that's very important to us.
And healthy workplace culture is shared values. And so, in our space, we went through a very intentional exercise. If you tune in to Inside Perspectives, there's a whole episode on us identifying our core values. But when we really named that thing, that way of being that we have in our practice, and we could put our finger on it, and pointed out when it happens, saying "Kudos to you" via email, that was a moment of being topnotch, or "I really appreciated your intentionality," or "I'm really trying to tune in there. I notice that the place that I'm not showing up my best, and so I'm making a commitment to seek and seed growth."
When we started to use those values and you just heard four of them in about 30 seconds, that gave us that gave us a lot of meaning. It gave us a platform, a jumping off point to really cultivate that culture within our practice, to be able to spread this thing that felt really important to us. And really, what came out of the employees that we have in our practice, our core values were identified by sitting down and saying, "If we could clone five people at the practice, who would they be and what are the qualities that they possess?" That's how we landed on these values, was really seeing these common threads and the things we appreciated about the folks in our practice.
And so, that shared language, those shared values, that has really been, I think, the key ingredients for us in continuing to have really amazing culture even if Tianna and I aren't present in the practice. Remember we came from five office locations so we can't be in all places at all times. We needed something that could speak to itself and be spoken about even when we weren't there.
So what are the five values then, if you don't mind me asking?
Sure. Being tuned in, this is sort of where we start, which leads to the action step of intentionality. Seeking and seizing growth, so being aware of the spaces, either within ourselves, as people or as professionals, where growth needs to happen. Sometimes that means growing as a practice like we are right now, into the larger LifeStance community. Topnotch, that we really have a commitment to doing things in a topnotch way. We appreciate topnotch professionals who are competent in their craft and are willing to show up and make a difference. And I think my favorite, which is radical kindness. Tianna put that radical word on it because it goes beyond just being nice, being polite, but really takes it to a level of genuine warmth and consideration of the people around you.
I love those. It's brilliant. It sounds like you guys came together to formulate these values. As we go into really looking at how do we create a healthy workplace, that would be a great way to start. Come up with the values. Can you guys share some more tips of how to create a healthy workplace or cultivate a positive work culture?
We'll start from the very beginning, Nikki. It's not something that we wait until a new team member is onboarded to then sort of hit the ground running. It really is from the point of first contact. And so, I'll go, I'll talk about how that looks in our everyday life here.
We wanted to make sure that we're introducing our infusing our core values even during the interview process. And so, for instance, you can probably see and hear hospitality is woven into those core values. For many years, we talked about how do we do that with our clients? How do we welcome folks in this warm invitation of being vulnerable with us and being open to a trusting relationship that is eventually going to be transformative? We saw that that was working. Us being really intentional with clients, our retention was fantastic. Clients were referring other people in the community, because there was this just magic happening, and it was those core values in action. And so, we decided we're absolutely going to apply these same methods to how we bring on employees.
And so, we started looking, we started screening, we started connecting, using that language, like Tara talked, about during the initial interview. And there were a good response to that. People would call our office, talk to our HR manager, and say, "I read your core values on your website, and that's exactly where I want to work." That was happening over and over again. Tara and I have talked about how infectious these values are. I very much carry them into my personal life. My relationships outside of the office are so much more enhanced when I am top of mind thinking about: How am I being tuned into this person and my world? Am I focused on what's important, what's in front of me right now? How do I intentionally show them how much I appreciate them and how much I care about them?
It just began to work, and I think that we saw that and heard that from our employees as well that we were reinforcing these pieces that aren't just in a frame on our wall here at our clinics. We live these values. They're very much, like I said, just kind of injected into all parts of our day here.
It feels very genuine. You both feel very genuine with these values. That they're really coming from within. This isn't just for show.
It's not just for show. In fact, if I'm going to be transparent, we skipped the mission statement project. It was boring to us. We didn't see a lot of value. We didn't see a lot of mileage that that was going to get our staff, our employees here. We thought, "No, that's not it. That's not where the magic lies." It's really in focusing on what drives us, what fuels us, what fulfills us professionally. That's really where the value project.
This was a long run. This was not a weekender that we thought about and came back in. This took months to really intentionally, I think, carve out who are we, who are we as a group of individuals. Because only we believe we attract more. We attract more of those like-minded, like people who can link arms and say, "Yeah, this is us. It's fun to have people in your world who can do therapy very, very differently, but have such honor and respect and admiration for one another." And that's who we have.
That's amazing. I can see how this is a very purposeful cultivation of this. This isn't just by chance. I can see how hard you both work and the effort you put in to cultivate this. I think that's part of the key here. This is leading me to the next question of, if there is a workplace or a work environment that is maybe leaning a little bit more towards the negative, are there some tips either of you, both of you, can share of how to switch that to be a little bit more positive.
Yeah, we can definitely talk a bit about this. Now, I have to give us a little disclaimer here in that our work environment has always been a very positive one. It doesn't mean that we haven't had moments where we have struggled. We're certainly not perfect human beings. We found ourselves in moments of criticism or judgment or not being willing to flex with growth and not leaning into seeking that. But I hope to inspire folks by saying these things are what we do when we have felt that discomfort, when we've had a moment of feeling unhealthy. And hoping that in those unhealthy environments, they might be able to try out some of these things, with the first being looking at yourself. So when the system is feeling unhealthy, asking yourself, how am I showing up to that system? If it's not with radical kindness, it's not with intentionality, or whatever you've determined are your core values for yourself or your organization, then you're out of alignment with what it is that you're hoping to achieve.
And when we feel misaligned, there's a lot of distress that's being experienced. We know that as mental health professionals, when we're not in alignment with our values and how we see the world and the things that make us feel peaceful, that's usually when we're calling a therapist. And so, the workplace therapist is your core values as the model and looking at yourself about how you might be able to enter the space with intentionality.
A couple words come to my mind that Tianna knows are sort of my favorite themes, my favorite buzz words. One is with curiosity. So when I'm in a head space of skepticism, I know that I've abandoned curiosity, and I'm not asking questions from a place of, "Hey, help me understand that." I'm not listening to understand, I'm not listening to respond, "Well, this is the way that I do it." When I'm in that space, I'm not the best professional. I'm not the best teammate.
The other one that goes hand in hand with that for me is assuming positive intent or at least a neutral intent. If I'm in the head space of assuming negative intent, I have now made this an us versus them, you against me. We're no longer walking through the hallways or walking toward our next goal or walking toward our KPI, synced up as a team. We're now in opposition of each other. That just doesn't work for the environment. That doesn't work for healthy relationships. So those are a few that are deeply important to me. Tianna, talk about some of our other ones.
It's interesting. I love that I'm sitting with two therapists because I think what I have rolling through my mind right now, I've probably introduced in many clinical sessions that I've been in. But it's so applicable to the workplace environment. The two pieces for me are reactivity and personalization. When either I'm getting reactive or I see someone in my workplace team or community getting reactive, it just hit on something. Something's going on. They're being haunted by an experience or a person, maybe from their previous workplace or historically in their life, that is activating them in some way. That helps me to not personalize what's happening in that moment. Because as soon as I personalize, I get confused, I get defensive. I'm a human being. I don't understand why this person is skeptical. I'm just trying to be radically kind.
Tara has been such a good person in my corner to pause me and almost like grab my shoulders and say, "It's not about you all the time, Tianna. Believe it or not, the world doesn't revolve around you." I'm like, "Oh, okay." They have something else that has happened to them. It's going to take me a little bit long. It's going to take me some more patience and it's going to take them a little bit more vulnerability, and that can't happen overnight. We're talking about complex relationships and honoring that this is a path and a journey that we're on together. I want it to happen immediately. I am not a patient human being. I would like someone to be all in immediately into our group, into our culture, into the way we think about things. And that's just not fair. We're way too complex as human beings.
And so, I think those are the couple of things that come to my mind for me is knowing reactivity when I either see it or I feel it, and then figuring out what do I do about it. And for me, it usually is like, don't personalize that. This one's not about you, and that doesn't mean that you can't be part of the process of exploring that with this new person that you care very much about.
I agree. And I think this is also when we look at how do we build positive relationships in our workplace. A lot of these can also play into that. Can you talk a little bit more, maybe we jump back to Tara about how to build those positive workplace relationships?
So I think Tianna and I would agree that it really starts with safety. If I feel safe and I feel seen, then it's more likely that I'm going to be able to give grace when things don't go well, and I'm going to be able to have a healthy conversation and say, "Ugh, I see it a different way," or "I kind of disagree with that approach. Can we talk about that together?" But we have to start with a foundation of Gottman would talk about mutual respect and trust.
So, for me, when there's respect and trust, there are often a safety. And so, I start that off in working relationships by just getting curious, of course, and asking questions, like, "Tell me about where you live? How long was your commute? What do you like to do in your free time? What made you decide to be a therapist?" Trying to just, again, that word, cultivate a relationship with this person. So that way, there there's some foundation, there's some depth, there's some substance. When we need to talk about the hard stuff, when we form new relationships with friends or partners, we usually don't have the hardest conversation first. Right? We have the fun conversations. What's your favorite ice cream? What's your favorite book? Where do you like to vacation?
And so, again, these are colleagues and I don't expect us all to be best friends or to have the most intimate relationships, but there needs to be a little something there that we can connect on, that we can fall back on as, "Okay, that person just validated me" or "shares a love for kayaking." Those little things help me see them as a whole person. That's the hope.
Great. Tianna, anything you want to add?
I absolutely do. Nikki, I want to use this platform right here to give so much gratitude and praise to Tara Freni for doing just that. She is an amazing role model, teacher, when it comes to being that person that can invoke feeling seen, feeling heard, feeling safe. I hear that from the people in our community here. I also know that they try to replicate that. That because Tara ignites that in them, that they're better coworkers, that they're better therapists. It's really inspirational.
And so, the reason I want to point that out, you give a lot of credit to Tara, is because I think that being a strengths finder, that is part of what we do in the workplace. And when we're looking for genuine connection, when we're trying to just really meet someone new, if they're not exactly like us, we have to dig a little bit. We have to figure out, "Oh, what motivates them? What fuels them in their world?" Then we start to see their strengths and how it leads to them being a topnotch professional. They may do it different than I do, but boy, I can really learn from them along the way. So shout out to you, Tara Freni. You're outstanding.
You are so good for my confidence and wellbeing. I'm a words of affirmation human, and when you pour it on like that, I feel great.
I just experienced such a genuine moment between you two. Just the appreciation between you both as colleagues, as friends, as people, as humans. That was just such a sweet, wonderful moment. I can sense your gratitude for one another, for sure. Any other takeaways you would like to share on creating a healthy workplace?
Can we talk about being neighborly for a minute?
There's this thing, I think, I'm going to assume positive intent here that companies do where they talk about being a family. I think it's well intentioned to say, "We care about you. We know you're a human. We want to celebrate with you. We want to be here to support you when things are difficult." I think as a family systems person, I think, "Well, wait a second, we're taking that too far. We're actually not family."
I don't have that same point level of responsibility to you. I don't come to the hospital when you are ill and I don't celebrate your birthday with you. Probably with most colleagues, you may have a couple that you really connect with and are that close with. And so, I thought, okay, but I love the sense of belonging. That's really important to me. That's really important to the workplace, in my opinion. I think what I like to gravitate toward instead is this idea of being neighbors or of being a community. If I'm taking care of my lawn, if I'm watering my flowers and picking out my weeds, I'm doing my part to keep the larger community really healthy and thriving and being our best. And so, when I do that on my block, and you do that on your block, we have the shared thing. The shared larger system.
And I know I can come next door and say, "Hey, I run out of gas for my lawn mower. I need some sugar. I trust you. I know that you'll be kind to me." But there's not the same expectation, I think, or the same burden perhaps that maybe comes with familial relationships. And so, some might say, we're just getting hung up on semantics. For me, it makes a difference because it helps me put in check where to sort of, "I end, and you begin, and how do I have this healthy responsibility to you instead of for you." So people, just being intentional or tuned into how they use that language and why they use that language, something else might fit better for someone else's organization, but that has been helpful for me when I think about how I lead and I show up for our team.
Oh my gosh, I love that. Love that. Tianna? Any other takeaways you'd like to share?
I think the last takeaway is going to be just a, gosh, a nod to my roots. So I grew up in Southern Minnesota and we have a big farming community. Tara, use your community word here. When I think about culture, it takes me back to that notion of cultivating. And cultivating, I watch farmers work really hard, and that's what cultivating is about. It's an intentional process and it doesn't just happen once. It's a continual process. Even in the off seasons, you're cultivating. You're readying your land or you're readying the earth to be ready to create something fantastic. And so, that's the piece for me that is so embedded in culture, is that the Latin root word of cult means to grow. That one sticks with me. I am a semantics person. Tara knows this. Language is really important to me. I will oftentimes say, "Language matters."
I think that's why this word resonates so, so much at my core is because I feel like I have some power over that. That I can help this process and this outcome become something really special. This is a very active process. I just adore the idea of linking arms with, again, people that I care about or am moving to care about as neighbors, as Tara said. And we get to do this thing together and we get to create something and grow something that is unique and special and all ours. And so, no matter where you are across the country in a LifeStance setting, I think that this is the beauty of us having multiple levels of systems. We have the big system of LifeStance, which comes with this beautiful umbrella of safety and of resources and of systems and of leadership.
We've got amazing leaders in this country.
We really do. Hats off to the folks that care for us at that level of the company. Then we've got local leadership and we've got the clinics that are scattered around this country that have uniquenesses and have these special elements to them where no two are the same. Even in our five, we know that they all had sort of these unique systemic personalities, and we loved it. That wasn't something that we wanted to crunch out of them and let's all be homogenous and uniform. No, that makes this exciting.
And so, I would just say, wherever you are in our LifeStance world, really think about what your individual culture is. What does it look like? How do you want it to be? Because as a neighbor, as a team member, you have influence, and that's something that I think should not be underestimated. And I'm talking right now about the front office coordinators. I'm talking about, for sure, the therapists and the prescribers. Look, I get excited and then I have to remember to breeze when I'm talking. We all matter. We cannot operate without one another in our system. And so, that level of relevance to one another's day and satisfaction at work matters so, so much. I think that's the last tidbit that I wanted to share today.
Oh, my gosh. Thank you. Thank you both. I mean, you have me really moved here because I really do at every level of where our team, we are neighbors. It's cultivating. You really have me like, "Yes, yeah." I'm snapping, I'm clapping here. So thank you both. This was an amazing episode. I'd love to have you both on again. Thank you and welcome to the LifeStance family, community, cultivating neighbors. We'll put it all out there.
Ah, thank you, Nikki. We appreciate the invitation so, so much.
Converse From the Couch is produced by the amazing team of Jason Clayton, Chris Cowman, and Juliana Whedon. Please subscribe to Converse From the Couch on Google, Apple, Spotify, or from your favorite podcast platform. Thank you for listening.