podcasts
Triggers Around the Table: Developmental Trauma & The Holidays – Podcast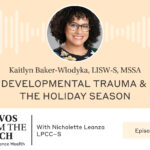 By Jason Clayden on December 14, 2022
The holidays can be a very triggering time for many. LifeStance provider Kaitlyn Baker-Wlodyka helps us explore what is developmental trauma and and how does developmental trauma affect our relationships with our families during the holiday season.
Listen and Subscribe Here
Welcome to Convos From The Couch By LifeStance Health, where leading mental health professionals help guide you on your journey to a healthier, more fulfilling life.
Hello everyone and welcome to Convos From The Couch by LifeStance Health. I'm Nicki Leanza, and on this episode I'll be talking with Kaitlyn Baker-Wlodyka, a clinician from our North Olmsted, Ohio office. And we'll be talking about navigating the effects of childhood trauma around the holidays. So welcome, Kait. Great to have you on.
This is a great topic to talk about as we have the holidays coming down the line here, because for some people, perhaps their families maybe weren't the best at times and maybe there is times that they've had to navigate trauma within the family or abuse or just resentments or dysfunction and we could probably add lots to that list there. And so I think this will be a great conversation to help people visiting with family over the holidays or going home or whatever in how to navigate sometimes just difficult interactions. So you're going to be our expert in helping us navigate the table, right?
Yeah, absolutely. I'll do my best.
So let's start by having you tell us a little bit about yourself.
Well, I am a therapist here at LifeStance. I specialize in working with couples and families, particularly folks who are experiencing high conflict situations, whether that's from traumatic experiences with abuse or domestic violence, but also difficult divorce dynamics, bonded family issues. And I'm also a trauma informed therapist so I work with a lot of folks who are coming in wanting to work through past trauma.
So it sounds like you probably are often giving guidance to your own clients in how to navigate this time of year with some of their families.
Sure. So as we start with our questions for you about this topic, we're looking at childhood trauma from the point of view of people experiencing it. And when we look at trauma, we often call childhood trauma also developmental trauma. And so can you tell us a little bit about what is developmental trauma?
For developmental trauma, I use Bessel van der Kolk's description, which is it's any child who's had experiences where they don't feel safe and secure with their primary relationship, and it causes them to experience the fight, flight, or freeze response in order to cope. Really though, I take a more through an attachment lens, but also just in a way that I can describe it to clients so it makes sense, if they've ever had an experience of loss, betrayal, abandonment, and powerlessness in their early development, that would qualify as experiencing some trauma.
And I like how you bring up the idea of the attachment because with those loss, the betrayal, it affects the attachment one has with others as well.
I like that you emphasize that and educate your clients on that as well. I also want to make note that you mentioned Bessel van der Kolk. He is the author of The Body Keeps the Score, which is a classic book for those who have struggled with trauma, and as well as even us clinicians. I know that's a book that I have on my shelf at home as well. So definitely a great resource if you're someone who's had to navigate trauma, for sure. So thank you for mentioning that.
It's a great way to actually define what developmental trauma is as well. So how does this developmental trauma affect our relationships with our families, specifically during the holidays?
The question I hear is, "Okay, well, how do I navigate these relationships? What if it's trauma around Mom or Dad, stepdad? What do I do? Thanksgiving's next week."
"What do I say or do I say anything?"
It's definitely something that comes up and I just try to tell people, just to back up, I think the first thing we need to acknowledge is we're already starting to have a sense of discernment when we're naming the trauma. When we're really taking that step for ourselves and really putting things together, we're using that discernment, and saying something around we have been harmed. So I think with that, though, there's already this piece of honesty that's there, and with that, so with the combination of like, "I'm aware something's going on and I'm being honest about it," we can then take a step back and realize that there's usually two different type of people who have caused harm to our lives.
And that is something that I do talk with with folks because I think sometimes we jump through these conclusions of like, "Oh, my mom meant to leave me alone," or, "I can't go home for Thanksgiving. I'm immediately going to cut this person off." And really, so I think with, going back to honesty and having a little bit of kindness for ourselves, we need to look at that really, for the most part, I feel like a lot of people in our lives who've caused harm didn't intentionally do that.
With unintentional harm, I think that those people are more willing to have conversations with us. Oftentimes, even with family counseling, I see folks say, "I had no idea. I had no idea that this impacted you the way it did. Thank you for telling me." Or, "I want to understand better," or , "I want to do better."
And I think when we're working towards healing, healing for ourselves, absolutely those are the types of conversations that I think a lot of people wish they had or were waiting to have.
You're emphasizing something about healing and repair to relationship, especially if the person who maybe did do the harm maybe did it inadvertently, so this is what it makes me think of. A client of yours or mine going home for the holidays, visiting with family, and maybe there's been ongoing issues where Mom has been very verbally abusive to them throughout their lives. And so maybe Mom didn't realize how harsh those words were to you because maybe that's how Mom was parented and Mom was parented with that harsh verbal abuse. And so maybe there is that place of where clients speaking up to say, "Look, those words hurt/" And Mom maybe didn't realize like, "Oh my gosh. Maybe I am sorry. I didn't realize. I thought maybe I was being hard on you to make you a tougher, more independent person or something."
I think that's where you're describing that maybe there's an unintentional harm that was being done. Does that make sense?
Right. Or even, I think that, again, I look towards repair, right?
And even with the individual I'm working with. Part of the work is recognizing that you yourself are human and made mistakes.
And it's not to make an excuse, but it's just to have, it's really, it's acceptance.
And then I see with folks who are, with our family members, so even with time. And again, I tell folks all the time, you can't expect anybody to run a marathon immediately, right?
We have to train ourselves and we also have to train other people too with how we want to be treated and how we want to repair some of these things. So ultimately, though, if you have people in your life who are willing to do that with you, that's wonderful. And that is, I think, it's one way of seeing, certainly the rewards of your own work, but then also really you're healing a lot of family stories.
But then going back to discernment and with intentionality, and again, we have to be clear on that. There are other people who can't do that.
There are people who lack the willingness, maybe aren't at a place to have those conversations. And there are people who can't take self-responsibility.
And it takes two to engage in any relationship.
And it's unfortunate, but those people are people who I think need a little bit more, well, and let me add something else to this.
We also are looking for a persistent pattern too. When we're looking at our own story, and we're looking at harm, and especially looking at family of origin stuff, and we've seen that these things have been repeated over and over and over, the same information.
And there's persistent pattern of harm done. There's a persistent pattern of limited, no repair attempts. Nothing.
And I often tell people, "When you feel stuck, when you feel crazy, and you feel like you're second guessing yourself after having a conversation with this type of person? You're not getting a repair. You're not getting what you need."
And that's, I think, where some more, in therapy we call it, rigid boundaries come in. But I really, it's a more public declaration of, "I'm stepping away from something that is really, it's not going to repair in the ways that we would like them to."
So is that inferring a bit, because we are going to talk more about boundaries here, that maybe for some relationships, the boundary that's set is maybe distancing yourself from that relationship? Is that a little bit of what you're referring to right now?
So, here, let's tackle boundaries here. So how does this type of trauma effect how we set boundaries with our families, specifically over the holidays?
Well, so I think, with the first example, if there's a willingness to repair and genuine desire to improve the relationship, I think boundaries are easier to navigate.
So even around the holidays, I think that really the holidays can be a really good opportunity for some healing. Again, we're not asking for marathons, but just even the idea around making an observation on, "I'm feeling differently this year. What do you think?" Or putting little things out there to see if there's opportunity.
Gauging it? Gauging to see-
Is that a good word for, it sounds like?
Yeah. I mean, I'm just thinking of one example would be, "This Thanksgiving feels differently and I've been doing my own self-reflection and I'm feeling better." And if those around us are receptive to that, that's a step forward. That's somebody who is curious. And it feels good when we don't feel threatened.
And we know that it's genuine.
We're looking at our own own heart and needs first. And I think that that's another part of boundaries as well.
Yeah, for sure. So it's gauging it or setting out feelers. Is there a chance here to do some repair to this relationship? Right?
And hopefully yes, but maybe other times, maybe the other person isn't ready. I think a lot of what you're saying is the person's work within themselves of them accepting in where they're at with things. And as they're putting out feelers or gauging, I guess, being aware that the other person, it might be something that they're ready for too, but then maybe not. You refer to two types of people here, one may be open to the repair, but then the other person who's not. And I think this is where I had alluded to setting the boundary of, "Okay, maybe this can't be repaired right now because of wherever the other person's at. I'm at maybe a better place with this, but maybe they're not and I need to be self-protective, to pull back."
How would one navigate that if they are setting a boundary of, "Maybe I need to distance myself?" Or especially around the holiday table where maybe you have pulling back from a particular family member because they haven't been helpful in repairing the relationship. Is there specific things we can say or do around that table in engaging or not engaging with them?
Yeah, I mean, again, I think to put your point around protection.
First, it's important to protect your own heart.
And I think there can be kindness. Kindness for yourself. But boundaries are supposed to be in that spirit of protection and protection with love. It's not a limit, it's not a rule.
But with the second example, I do think there needs to be more of a public declaration. And by that, and when I talk about that with clients in my office, I say things like, it is something around letting people know, "I'm not having particular conversations with this person. I'm not going to this event."
You don't have to explain yourself.
But letting them know, "I'm not going to participate." I think sometimes we shy away from this idea around shame. I know that shame is really so deep rooted for folks in talking about trauma.
However, sometimes the way in is the way out. And really putting it out there with somebody who is not listening, loud and clear, there is an element of shame in that. "I am not going to this event."
"Because it's not a good time."
Or, "This isn't good for me."
And that's the boundary and that boundary, sometimes people feel that when they do set a boundary like that, it feels very selfish to do, but it's self-protection, and sometimes that is the best decision that I'm going to choose not to go to this event because I need to make sure I'm mending myself and taking care of myself.
And the other specific takeaways you might have in navigating this?
So, with the caveat of sometimes, "Oh, it feels weird," like you said. "Oh, I feel selfish for doing this." Or, "I can't believe I'm saying this. I can't believe I'm taking this step."
The good news is I don't think anything's final. So there's no person we can judge with finality.
The story can change at any time. And that's really, I think, a cool thing.
There is always opportunities for repair because we're human beings. We want that.
So we can't overgeneralize or assume, jump to conclusions, "Oh, this person's ever going to change." We don't know that.
We need to be, I think, again, going back to that kindness, we just need to be mindful of our own heart first. And that's okay to do.
Yeah. Giving yourself permission to allow yourself to be mindful of your own heart. And I love that message is there's always opportunity for repair. I think that's a great message for sure. So thank you, Kait. Thank you for sharing your knowledge on this topic with us. And I know our listeners are going to step away really probably thinking a little bit deeper of their own interactions during this holiday season with their families, for sure. So thank you again.
And I'd like to thank the team behind the Convos From The Couch Podcast, Jason Clayton, Chris Kelman, and Juliana Whedon. Take care, everyone.