podcasts
Nourishing Balance: Eating Disorders & The Holidays – Podcast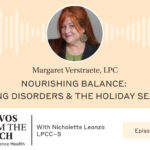 By Jason Clayden on December 21, 2022
Holiday times such as family gatherings, social interaction, food focused gatherings, and performance related gatherings can be daunting and require additional navigation strategies for those who struggle with eating disorders.
Margaret Verstraete shares some ways for improved coping , and self compassion during increased triggers and times of heightened symptoms.
Listen and Subscribe Here
Welcome to Convos from the Couch By LifeStance Health, where leading mental health professionals help guide you on your journey to a healthier, more fulfilling life.
Hello everyone, and welcome to Convos on the Couch by LifeStance Health. I'm Nikki Leanza, and on this episode I'll be talking with Meg Verstraete, a clinician from our St. Peter's, Missouri office, and she'll be sharing her insights on eating disorders and the holiday season. Welcome Meg, great to have you on.
Thanks, Nikki. It's great to be here.
I know this can be a very difficult time of year, the holiday season coming up for those struggling with eating disorders, and I recently came across a statistic from US News and World Report which states that 30 million people have struggled with eating disorders at some point in their lives. Eating disorders affect way more people than I think we even realize, so it's great that we're having this conversation around this time.
I agree, Nikki. It's all ages too, and it's all genders included as well. It's not specific to any one age group or gender.
I glad you're emphasizing that. That's such a key point there, for sure.
I'm hoping today we can help just a few people either reach out for help or say "hey, I'm struggling" to somebody, maybe what's the next step? Hopefully that's what today will bring.
This is definitely what today's going to bring, for sure. Let's jump in. Tell us a little bit about yourself.
Nikki, I'm a licensed professional counselor for 19+ years. I hate to say how long. My experience has included residential settings, hospitals, education support, crisis intervention teams, and then here at LifeStance in a clinical setting. Loving all of it along the way, even though I didn't realize it at certain times, it was a little more active, running after certain kiddos that were maybe elopers in the school buildings, spectrum kiddos maybe, but all an adventure and brings me to this place full circle, for sure.
Definitely, definitely, definitely carry with you lots of good experience surrounding this topic. As we jump into our conversation, let's first start with having you tell us a little bit more about the different types of eating disorders and their symptoms.
Sure, Nikki. Classically speaking, if we were to look at the Karen Carpenter's story way back in the seventies, I think that was pretty much the biggest awareness socially of anorexia nervosa.
Let me say, Karen Carpenter was a really prominent singer in the seventies who had died, and that was probably the first time I ever heard… Yes, I am a child of the seventies, so I do remember Karen Carpenter, even though I was young. But that was probably the first time even that I had heard about anorexia nervosa, so thank you for bringing her up.
Same. So sad, being a high performer and things like that. I had all her records, of course. I'm dating myself, as well.
No, beautiful voice she had for sure.
Yes. That classically looks more like restricting, overexercising, and the negative thoughts of self, that sort of thing. Then there might be the bulimic type, binge purge characteristics, which classically it might look more like college students, high school students, athletes. There are a lot of athletes and performers who struggle, as well. That's been pretty much brought to light in the last probably couple decades, where athletes are saying "I had to make weight" or "I had to be a certain speed, so therefore I was binging and purging". And then they had to up their weight maybe for football players or for track people, even volleyball.
Wrestlers. Wrestlers are a big one, too.
For sure wrestling. There's a variety. There's the chewing and spitting, and you get involved with more of the behavioral part of the chewing, but spitting it out and people are not realizing, "Hey, maybe I do struggle with this, because instead of allowing myself to go ahead and fully taste and be present when I'm eating, I'm not. Therefore, I'm going to punish myself by having to get rid of it in any way I can."
So, those are just a snapshot of some. Of course, there's more according to the DSM-5.
I think you did a great overview of the ones that are more prominent that we often hear a lot about. What are some of the core issues behind eating disorders?
Just backstepping a little bit, the DSM-5, it describes eating disorder. It's a behavior with conditions characterized by severe, persistent disturbance in eating behavior, and it's associated with distressing emotions and thoughts. This type of a disorder can affect physical, psychological, and social function. With that said, Nikki, it's pretty much all encompassing. Core issues might include social anxiety, it might include performance based like we had just spoken about. It could just be the inner critic thoughts of self or body dysmorphia, which is where people are looking at themselves in a mirror, maybe they don't particularly the way something is fitting them, or maybe it's just their thoughts are provoking these negative self-talk things to themselves. It could be also be related to trauma, need for control. It's a variety, Nikki, and each one is just its own journey, for sure.
Right. If we tether these symptoms and core issues into the holiday season, which we know could be very triggering as well, we know that holiday season just can exacerbate these issues. Even looking at holiday movies, Hallmark movies, holidays. Can you share with us some ways that even holiday movies can be very triggering?
Of course. One thing that really stands out to me, Nikki, it's probably my most favorite holiday movie of all. I also love him as an actor as well, but the movie Elf. I think as calm and as playful as that movie is, to people who struggle with eating disorders, there is a scene in the movie where Elf is engaging in his fun bowl of spaghetti and m&ms and chocolate syrup and maple syrup, and putting it all in a big bowl. And then he's basically binging the food bowl, but he's enjoying it. To somebody who struggles with an eating disorder, that can be very triggering. A scene like that can just be so triggering that it lasts and it lingers maybe hours, days, weeks.
I have to say, Meg, I would never have thought of that. I do recollect that scene and I think many of people see that scene as very funny. But to someone with the eating disorder, I can see what that would be very triggering of binge eating there. This is a great example of how this season be very triggering. Can you share with us other examples?
Sure. Let's see. Another movie possibly could be, I'm not going to say the specific movie, but it's a cookie baking contest. That is a Hallmark movie, I think it's called Cookie Contest, basically. Because I [inaudible 00:08:18] Hallmark movies. It's about the mixing of the batter and the making cookies and all the happiness that goes with it. But again, somebody who does struggle with a relationship with food or food aversions, that's going to trigger that.
Other movies that may or may not trigger, or say body image movies that might be related to, again, those in the athletic spotlight, or gymnasts, or people with a high profile modeling. Of course modeling, always. Models for a reason, they fit the clothes, but they do struggle. I had worked with those in a previous career, so I do understand what that's up close and personal. Again, that's the type of anorexia where they're restricting behavior shines through. Anything to do with maybe body hugging things, or when people are just not comfortable with who they are, their core self is. Because we are all encompassing mind, body, and soul. So to somebody who struggles with body dysmorphia, it's like, no, they are more linear and funneled into that "I want to look like this". And that may be a distorted image of self.
Do you find some of your clients during this time of year also get more triggered with their eating disorders in regards to their family dynamics or spending time with their families? Can you tell us a little bit about that?
Sure. Having to engage socially, food-focused gatherings, and maybe people that haven't seen them in a while. Maybe you have somebody who's been away at college, they've either gained or lost weight. Or high school kids, you haven't seen those relatives in a while, and somebody may say a comment seemingly harmless like "oh, you should probably eat something" or "I hope you're going to have some pie". Some of the comments that are made are not really made with intention to harm the person, but yet the person who's struggling is really going to hold on and linger to that. Therefore, it might trigger a whole chain of events emotionally, like negative self-talk when they're only trying to get through the day. They're trying to engage socially, but it might really encourage behaviors such as isolation, maybe leaning more to their phone, which is a whole other thing.
They could be triggered then by social media. They're in a hot box, if you will. If you've ever played baseball, there's a hot box, you're between two catchers and you're trying to find freedom, so they can't really get reprieved. It's always good to have a point person, somebody that you can say, "hey, I'm struggling" or just have a code word if you need to maybe step out, go outside, go onto the porch. It's always good to have a plan B, and then come back and they can stay fully present. That's when engaging strategies such as "what matters is", what matters is being present. What matters is just showing up today.
Right, right. To continue talking a little bit about families here, I know there's a specific treatment perspective, Internal Family Systems or IFS, and I know this is one of the treatment perspectives that a therapist will use when working with clients struggling with eating disorders. Can you tell us a little bit more about IFS?
Sure. IFS, it can be a very successful strategy and a very successful modality, working especially, maybe with trauma-related systems. Basically it's parts work. In a nutshell, Nikki, it's a very complex modality. However, I do like using it with specific clients. Parts of self might include an exile, a manager or firefighters. The exiles are those parts of self that hold onto the hurt, pain, or shame. They want to be seen and heard, but they also have protector parts, their worries. Then they overwhelm the whole family system, if you will. That's when you see things like painful emotions that have been isolated from the conscious for protection of the whole family system there.
Instead of looking at that family as its own system, it's like a living, breathing system there.
It's all part and parcel to the one. So then the managers, they run the daily life. Those are the people that, "Oh sure, I'll do this, I'll work, then I'll go to the gym, then I'll meet with this, then I'll do my service project." Those are your managers. They want to stay in control of everything. Control also is another core issue of eating disorder behavior. That way, I don't have to deal with anything unexpected, which that is a huge trigger, the unexpected plans, such as the holidays. "Oh, we're not going to Aunt So-and-So's, we're going to go to Uncle So-and-Sos." Unexpected things happening and inflexibility, they're just very perfect storms for behavior. But getting back to how the managers, they're the judgers, they control, they're the planners. They're self-critical, they're connected. They also can be, at their core self, compassionate, confident, calm and creative.
Okay, so there's the other side there that's a healthy, positive side as well, you can say.
Balance, right. Key term there.
All about balance? And then we go to the firefighters parts of self. Those are the reactors. Firefighters are first responders, so if any of those feelings do come up, whether those good or bad… Sometimes when you are engaging in an IFS session, you might ask that person to have the firefighter step back, so then the exile can talk. Basically, so they can process "what am I feeling" and to stay present enough. This is the pain of the past, this is trauma of a broken relationship within a family, losing a child, things like that. Those are more reactive parts, and they work to put out the fire or the pain. But that can also be a maladaptive strategy, as well. That's when you see cutting, suicidal attempts, OCD, trying to obsessively, compulsively… I'm sorry, OCD Behavior.
It's all good, I hear you.
That's when you see addiction, you might see increased sexual activity, constricting in diet. That's when an anorectic would be more active, like, "Okay, I need to really control because I'm starting to feel and I don't like how it feels, because it would hurt." You could also see rage, self-harm, and then the binging as well.
Got you. Do you see things with people who struggle with anorexia of obviously control, and then those who struggle with bulimia at times, a lack of control? Is that too simplistic to describe either disorder?
Well, at times, yeah. It sounds like sometimes people that binge is, "Because I don't have balance". I don't know how to start, I don't know hunger fullness cues." There's something we used to do, a pre and a post meal. Pre-meal of course being, how are you feeling going into a meal, post-meal then would be how do you feel after the meal? Addressing the feelings, and then having to really stay present enough to look at those. You're right, with binging, it's more like, "I'm out of control. I am just not refined enough, not balanced enough there."
All right. Thank you for clarifying. What are some things that specifically a person can do to navigate potential triggers during the holiday season?
There is some wonderful stuff that can happen. Just a few off the top of my head, asking for help. I think we touched on that just a little bit. Have somebody know that you're struggling. "Hey, can you talk to me? Can we just go outside? Can we look at the trees or do something that would be more calming?" You can remind yourself of the value of the nutrition for your body. That's also helpful. Instead of focusing on the content of your plate, you're looking at it more like, "I need to fuel my body so my mind, body, and spirit can function the way I'm supposed to."
The great reframe. Definitely a good reframe.
Right, reframing that there. Engaging in healthy boundaries, for sure, like we talked about with the comments or phrases, food talk, trying to remind yourself again that food is not dangerous. Rather challenging the feelings and assigning maybe new thoughts and behaviors. So like, "Oh, this is kind of fun. I never knew the color of broccoli was so vibrant, I never knew that this cookie icing could be so creamy." Just trying to maybe approach feared foods with a different set of internal tactics, if you will.
That's a great tip right there, just observing it in a different way, perceiving it in a different way. It's a great tip, for sure.
And people that like art, people that might approach colors with different sensory skills too, like, "Oh wow, that is a pretty color blue." I don't know many blue foods, but I think there probably are some blue jellos.
Right, right. Got you. Gosh, those are some great tips there, Meg. Any other takeaways you'd like to share on this topic?
Sure. I'm just thinking, Nikki. There's something I like to try with some of my clients, and I think it's a very portable exercise. I have so many different ones that we use, but I think this one, yes. We're going to go with the bag exercise.
It's called the bag exercise, it's more of a guided imagery. I ask questions such as your favorite color, favorite texture, size. Once we get that established, the person in mind is going to think of something that they love, if it's soft, a velour or velvet, if it's corduroy, if it's something crunchy like a taffetta, if it's leather, whatever bag. For different genders, of course they might choose a different type of texture, just based on what they like. And color, when they visualize the color. So then they're engaging all parts of sensory skills as well, and we're not just focusing on feelings anymore, we're focusing other senses as well. What it feels like, how heavy is it, how soft is it?
Sounds like using all five senses, I guess engaged with it.
Yeah. And in that sense, Nikki, it's a lot like a grounding technique.
You know might say, is there anything in there that smells? Is there an orange in there? Is there something that you can feel texturally? Is there anything cold or hot? Once they have that bag, and I'll use for example, a big blue velvet bag, because of course it's just soft and plushy. But if it's heavy Nikki, then I have the client say, what is the heaviest parts of that bag? What is in your bag that's heavy? Somebody might say, "Well, I had a fight with my mom so that that's in there." "Well, I have to fit in this dress for a choral concert." Well that's in there. Those thoughts. "Well, I'm going to meet so-and-so for the first time, I've never met them." That's heavy in there. As we start to maybe talk and process feelings a little bit more, they might take out something when they're ready to take that out, so that their bag feels manageable.
My gosh, that's a great technique, Meg. Wow, that's really, really good. Wow.
Oh, thanks. We call that the bag exercise, just because it's portable. So if somebody, say, is going to someone's house, they might be able to do a quick body scan "where am I feeling the anxiety", of course. And then say, "Okay, what's in my bag today? And then what can I take out and leave? And then maybe if I need to pick it up later, I can pick it up and then bring it to therapy, or I can bring it in journal about it or whatever."
My gosh. Thank you, Meg, thank you for that tip, that technique. Thank you for all your insights that you shared today on this topic of eating disorders in the holiday season. And so, thank you again.
You're welcome/ Thanks Nikki, it was great to be here. I hope it helps us understand a little bit more how we can help.
I think it definitely did.
I would also like to thank the team behind the Convos from the Couch podcast.
Which is Jason Clayton, Chris Kelman, and Juliana Whedon. Take care