podcasts
Facing the Odds: Understanding Gambling Addiction – Podcast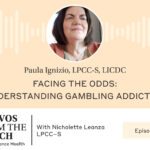 By Jason Clayden on March 1, 2023
Gambling addiction is a serious and often overlooked problem that affects millions of people worldwide. It can lead to financial distress, relationship breakdowns, and mental health issues such as anxiety and depression.
In this episode, Paula Ignizio, LPCC-S, LICDC helps delve into the root causes of gambling addiction, the signs and symptoms to look out for, and the devastating impact it can have on individuals, families, and society. We will also provide practical tips and resources for those struggling with gambling addiction and their loved ones.
Listen and Subscribe Here
Welcome to Convos from the Couch by LifeStance Health, where leading little health professionals help guide you on your journey to a healthier, more fulfilling life. Hello everyone, and welcome to Convos on the Couch by LifeStance Health. I'm Nicholette Leanza, and on this episode I'll be talking with Paula Ignizio, a clinician from one of our LifeStance Cleveland, Ohio offices, and she will be helping us to understand gambling addiction. So welcome, Paula. Great to have you on.
Thank you. Appreciate it.
I'm really glad we're having this conversation today because from my understanding, gambling addiction can affect millions of people within the US alone. So it's so important that we're talking about this today.
Yes, that's very correct. So understanding what gambling is, so it's anytime you are putting down money or items for a game of chance, for any type of chance, where you're expecting some type of a payout or prize. So that can be just about anything. There are so many different things that fall into that, raffles, the lottery, the casinos, the racinos, all of that. So there's lots of different ways that people gamble.
And so that's interesting that I think people just think traditional gambling going into a Las Vegas casino, but this could look way more extended than that with raffles, Bingo, maybe even. So we'll be definitely talking more about that. To begin though, let us have you tell us a little bit about yourself and what made you become interested in specializing in gambling addiction.
Sure. So I'm an addiction counselor, so I do alcohol and drug addiction counseling. And so the interest in behavioral addictions and having someone that you can talk to about that, that became an interest of mine. And out of that offshoot came the gambling addiction, gambling disorder is what it's actually called medically. And so knowing that it's a big problem. And in Ohio, we're assuming with the online sports gambling that just started January 1st, there's going to be more people that are going to be gambling and maybe end up with a problem with it.
You and I both work out of our Ohio LifeStance offices here, and so this is a big deal for Ohio because this just happened in the new year for there to be sports betting and things like that. I'm not actually sure how many other states allow this, but I know for here in Ohio, it was a pretty big deal. And I do agree. I think we're going to see a big increase in this type of addiction for sure. So is there a particular common age range that we see people struggling with gambling addiction?
The biggest risks are for people 65 and over, and then people like 14 to 24. We know that they gamble two to three times more than adults. And that's interesting to think about teenagers gambling, but they're using gaming. And some of the gaming has loot boxes. I don't know if you've ever heard of loot boxes.
I have not. Tell me more about them.
Yeah, so loot boxes are something that you can pay money for to get extra lives, extra things.
Oh, yeah. So I didn't know that's what the name of it was. Oh, interesting. Okay.
And in some countries they've banned that because they do know that it seems to be connected with gambling addiction. So it starts really young with kids, and then they already have this interest in putting money in and getting something for it, a prize or whatever.
So it's interesting to see the strata of who is more likely to struggle with this. We have seniors on one end or definitely sounds like adolescents and into young adulthood, so that middle age, where I actually thought we would see a lot of it there, but that's not the case at all. So that's really interesting to me.
And a lot of times with the 65 plus, they have buses where they'll take into casinos. So that becomes a way of having a hobby or something, well, where they get out with other people. And so there's a big problem with that with the seniors.
Very true. Very true. I know my own grandparents used to do that quite a bit, so that is a good point. On one end, it's great for making friends and socializing, but not so good on the other end here with the actual gambling piece of it.
Yeah, a couple of other interesting things as far as people at risk, veterans. Interesting side note is that gambling addiction therapy started in Ohio.
At the Brecksville VA in the seventies.
The Veterans Administration started it in Brecksville.
And for our listeners who don't know Brecksville, Brecksville is a city in northeast Ohio, Brecksville, Ohio, and there's a large veteran administration's hospital there. So I actually did not know that's where it started. That's really interesting.
So a lot of times you'll hear when you're learning about gambling addiction is the Ohio model. So it is directly from our area.
Wow. So this is definitely very poignant that we're having this conversation about even the Ohio motto here, and we're both practicing clinicians from Ohio. Interesting.
Another group of people that are at risk of gambling is the Asian community.
Okay, tell me more about that.
Well, they do a lot of games of chance in their homes, and a lot of times they go to the corner store and buy the scratch-off tickets and that type of thing, so we see a lot of that. Also, people in recovery are at risk. They already have that addictive personality, and so they can have problems as they're in recovery picking up another addiction.
Yeah, I can see that. So if we're looking at specific signs or some common signs that someone might have in a gambling addiction, can you tell us more about that?
Sure. So one of the signs would be that they're more irritable, especially if they're not gambling. So if they've trying to stay away from it, you may see more irritability. You also find them asking to borrow money because they're not able to pay their regular bills. They'll even hide bills. So if they live in a family and there's other people and they're not paying the bills because they're using the money for gambling, they may hide the bills. They won't tell how much they've lost. So you see a difference in how they act at work even. They may be preoccupied, they may be irritable, having trouble concentrating, problems with relationships, family, friends. So a lot of the same things that we see in other addictions.
That you'll see with gambling addiction as well.
Got you. So what are some strategies you found to be most effective in helping individuals overcome their gambling addiction?
So first of all, getting the gambler to come in and actually admit to it is one of the biggest issues. A lot of times it comes out when you're talking about other things, because gamblers tend to have comorbidity, other mental health issues, maybe addiction, depression, anxiety. Personality disorders is very common amongst those that gamble. So getting them in and at first doing some motivational interviewing where we're talking about how do you feel about this? And do you feel like you can make some changes? And getting them to make small changes to begin with. In order to be able to do any of the actual work, they do have to abstain for a while so that they're ready to make some of these bigger changes that we ask. A lot of the things that I do are the same things that I would do with somebody with a substance use problem. And we talk about the brain and how the brain works and the reward center, because it's the same thing that lights up in the brain for gambling as lights up in the brain for alcohol and drugs.
And that might be something people don't recognize is that when you're working in addictions, that there's a similarity to how the brain is working with that addiction and the reward centers and stuff like that. So be it being addicted to food or sex or gambling or you name it, it all is wired in the same, is that correct?
Yes, that is correct. Yeah. And one of the interesting things is that gambling disorder is the only behavioral addiction that is recognized in the DSM, which is our diagnostic manual that we use. So they're looking at gaming, also, it's something that they're considering, but it's not actually a verified diagnosis, whereas gambling disorder is.
And again, another good point is that with the DSM, you just see the gambling addiction there. I just named a few others that oftentimes clinicians will help people navigate through, but that's really only the formal behavioral addiction.
Correct. I think it's the opening door into some of this other stuff. The problem is that some of the other addictions, they're not able to quantify as well.
Good point, very good point there. And so it sounds like the overall approach is more of a motivational interviewing approach. Is that how you navigate it?
Yeah. We also use cognitive behavioral therapy because there's a lot of thinking, unhelpful thinking that goes into gambling where they're always chasing their losses. So I go and I gamble and I lose $3,000, I'm going to go back the next day to make that up. They think that certain machines have luckiness to them, and we know from the way that they're set up that it's a computer and so there's no luck. You can sit there all day and it's going to spit out what it spits out.
It's programmed to keep you sitting there if you're talking specifically about a slot machine or whatever. It's programmed to keep you sitting there. So it might throw a little bit out at you every so often just to keep your butt in that seat to keep playing it. That's really what it's about.
Most definitely. Yeah, so some of the strategies that we use are harm reduction. So if somebody isn't having some of the major problems with money and paying their bills, we may talk about just harm reduction, so lowering the amount of time you go, only taking cash with you, making sure that you're not overdoing it or going with somebody who's going to keep you at that place. Some people need to go cold turkey. They just need to abstain. They can't go near a casino, they can't go online, they can't do any of those things. There's also Gamblers Anonymous. Some people find that very helpful. And then we also have things online. So if you have a problem with gambling online, there's some voluntary things that you can do. GamBlock is one of them and Gamban, and what they do is they will set it up so that anytime you try to go to a gambling site, it will not allow you.
So that's voluntary. There's also a voluntary exclusion program, which is for casinos and racinos. And so you can go in and have them block you for one year, five years, lifetime. And what that does is you sign a paper that says if you come on site, if you come to one of those casinos, they can charge you with trespassing.
Wow. I didn't know this was a thing that racinos or casinos will participate in this in helping the person not continue to gamble at their site. So they'll charge you with trespassing, it sounds like. Wow.
Yes. Yeah. So it becomes very serious because of the legal ramifications of it. So it's got to be somebody who's ready to do something like that.
So tell me about how you address some of the underlying issues or triggers that contribute to a person's gambling addiction.
Sure. So there are a lot of things that are underneath all of this. What we know is that 96% of people with problem gambling have another co-occurring disorder.
Yeah, 96%, yeah. 73% have an alcohol or drug use disorder. 60% are dependent on nicotine. 50% have a mood disorder. 41% have an anxiety disorder. 77% have suicidal thoughts. So the suicide attempt is the highest rate of any addiction. One in five people with gambling disorder will make a suicide attempt.
Paula, that was something else I was not aware of, how high suicide rates, one in five.
So making sure that while you're treating the addiction, that you're also looking for these other things because these are the underlying things that oftentimes lead people to having a gambling disorder.
Right. So then how do you work with individuals to develop a plan to prevent relapse?
That one's difficult. I think one of the things is the support group, the Gambling Anonymous. There's other support groups that you can find too. Knowing that they have to learn to forgive themselves, being able to understand that this is not something… After a certain point, it's the brain taking over and not them. Also understanding that relapse can often be part of recovery. That happens. Learning what their triggers are. Stress is often time a big trigger. Problems in relationships can be a big trigger. So looking for the support system, the people that are really there for you, family and friends, that can help too. And then depending on how deeply they've gotten in debt, having a financial advisor sometimes is an important thing to do.
You mentioned having family and friends or loved ones as part of the treatment process. How do you involve them into the treatment process?
Yeah, so the Gamblers Anonymous has Gam-Anon, which is for family and friends. So that is something where they can go and learn more about it. There's also open meetings with gamblers anonymous where family and friends can go with the person that's having the issue and work on it that way. Understanding just in any other addiction that it doesn't just affect the person who has the disorder, it does affect the whole family. We know that children who live in a household with folks that have gambling addiction oftentimes have physical and mental health issues. They also may have problems with school. So looking at, is there other family members we need to look at and treat?
Right. Again, I don't think people would recognize that this could be a family dynamic issue going on as well.
So how do you address the financial consequences of gambling addiction in treatment?
So they can't be addressed until the person actually believes they have a problem.
Okay, so that would be step one.
Right. That is definitely step one. And then recommending that someone else in the household pay the bills perhaps. And then having that person just set up with maybe a weekly cash budget so that they don't have any of that temptation. There's a credit card that you can get, which is called True Link credit, that only puts so much money on the credit card and will link it to another family member so that they know what's being charged and they can see if there's any problems with them going someplace because you can walk into a lot of bars and there's Keno and there's other machines, so watching where the money's going is important.
Well, you are giving some really great resources that I know I wasn't aware of, so I know I appreciate you giving these very specific resources.
What advice do you have for loved ones of someone struggling with gambling addiction?
Number one, don't lend the gambler any money or pay off their debts. That would be giving somebody money to go and buy cocaine.
It's just enabling the behavior even more.
Right. You're making it easier for them. Remove your name from joint accounts. That sounds like a lot, but it's going to save your credit rating and your ability to know where the money is going. Check the mail for bills, get to them before the problem gets to them, or have the bills sent directly to you through the internet. That can do that too. And then if things are really in a bad way, get professional help to protect family assets.
So a lot of this is about protecting family assets, protecting oneself, it sounds like.
SO The person with the gambling addiction doesn't take away all the money or gamble all the money, it sounds like.
Yeah. So a lot of it has to do with finances, but also a loved one needs to practice some self-care. That's where Gam-Anon can help with that because you have somebody who's going to be in the same boat as you, and so sharing those kind of things with each other is helpful.
Right. My gosh, Paula, thank you. Again, you gave so many amazing resources and just sharing your knowledge on this very difficult addiction has been so helpful, and I'm sure our listeners will walk away with a lot of good resources and tips on how to help either themselves or loved ones that they know might have this issue. So thank you again.
Sure. You're welcome. It was a pleasure.
I also would like to thank the team behind the podcast, Jason Clayden, Juliana Whidden, and Chris Kelman. Take care, everyone.