podcasts
Word of the Year: "Gaslighting" and How to Protect Yourself – Podcast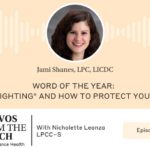 By Jason Clayden on December 2, 2022
Merriam-Webster's dictionary has made "gaslighting" its 2022 word of the year. Jami Shanes, a clinician from one of our Cleveland, Ohio offices discusses this trendy topic, how to recognize it and ways to protect yourself from this form of abuse.
Listen and Subscribe Here
Welcome to Convos on the Couch From LifeStance Health, where each episode you'll hear engaging and informative conversations with leading mental health professionals that will help guide you on your journey to leading a healthier, more fulfilling life.
Hello everyone, and welcome to Convos From the Couch By LifeStance Health. I'm Nicki Leanza, and on this episode, I am looking forward to talking with Jami Shanes, a clinician from one of our Cleveland, Ohio offices on the very interesting and trendy topic of gaslighting. So welcome back, Jami.
Thanks for having me back.
You might already know this, but I found out yesterday that Merriam-Webster's dictionary had made gaslighting one of their 2022 words of the year.
So this is a great topic for us to be talking about. Right?
I was not surprised. I was thinking it was either going to be gaslighting or toxic. I hear both of those words probably 15 to 20 times a week.
So was not surprised that they chose this one.
And we'll probably having a bit of a conversation about toxicity and how it relates to gaslighting as well.
Yes. And I learned were the term gaslighting comes from, as well, the last couple of days.
So here, let's first start with, tell us what gaslighting is and then tell us where the term comes from.
So first and foremost, gaslighting is a form of abuse. It is a form of emotional abuse. It is a tool that abusers use. It comes naturally from these folks. It's not like they plan to do it. It just kind of happens naturally. So gaslighting is when person A is going to use different techniques in which person B then starts doubting their own reality. They are questioning themselves in every way possible. So it is a form of manipulation. Like I said, it is a tool that's used by, typically, an abuser. So in the mental health world, if a client tells us this is going on, we would view this as a form of abuse. And it's-
I don't think people realize that, that this is a form of abuse.
Yes. Because it is. Because this word is also hot topic word, it is very overused, and people don't realize it's actually very, very serious, and it's not … Your average Joe is not just turning this on, so to speak, when he's trying to get his way. It's much more than that. We'll get into that.
So where does the term come from?
Yeah, so this is what I learned in the last few days. I had no idea. So the term gaslighting comes from a 1938 play that was turned into a movie in which the husband in this play/film was kind of manipulating his wife and making her question her reality and doubt herself because he wanted to have her committed to a mental health institution so he could steal her inheritance, hence the form, so gaslighting.
And this is a based on a 1938 play and movie?
Whoa. Wow. So who would've thought the terms comes from that?
[inaudible 00:03:16] 15 to 20 times a week. And I had no idea where this word comes from.
Wow. No, that's really super interesting, for sure.
Yeah. And that's exactly what happens, where a person A will make the person B totally doubt their reality. And they question their whole being. Am I actually feeling this way? Am I not feeling this way? If I'm the gaslighter and you're the gaslightee, you can tell me right now, "Jami, I'm freezing cold right now," and I'm going to sit here and just totally try to convince you that you in fact are not freezing cold and that you're hot. And you might at the end … I be so good where at the end, you're going to be like, "No, I'm actually sweating right now. I'm hot." The people are that good.
Wow. I was going to say that almost sounds like a talent. It's a very, not a positive talent, but holy crud.
Definitely not. Definitely, definitely not.
Wow. So I'm guessing there's different forms of gaslighting.
There's a couple of different forms. I mean, if you would google what the forms are, you're probably going to get a bunch of different things. But one of them is trivializing. So that's going to basically just belittle someone and tell them, "You're being overly sensitive." But pretty much like, "You're just being too sensitive." That's basically the best example of that one I can think of. The other one is countering. That's going to the gaslighter is going to convince the person that their memory is wrong.
Yeah. So that's also a very common one. Withholding, so this we might see the silent treatment, which people also don't realize in an extreme form is a form of abuse. So basically the gaslighter is refusing to engage in the conversation. "I'm not talking about this now," pretending to sleep, walking away from the conversation even if the person is trying to have a cool, calm, and collected conversation. They're just withholding and will not engage.
Another one is stereotyping. So the most common example I could think of this one is a man calling a woman crazy or saying, "You must be on your period. It must be that time of the month for you. You're crazy." So using, it could be someone's race or gender, religion, using something like that against them to make them doubt themselves. Like, "Oh, you're right. It must be my hormones. It must be that time of the month." Yeah. And us women, we just love that.
I know. You're seeing my reactions, but I'm literally physically cringing right now as we're saying that.
Yeah, we love that. Yeah, we really love … Keep calling us crazy, men. We love that. Definitely not. And then denial. That's pretty much the gaslighter saying, "That didn't happen." That's pretty self-explanatory. And then diverting or deflecting changing the subject. "Oh, that's something your friend said," and then onto the next topic. So those were-
What's interesting is that there's so many different forms of this.
[inaudible 00:06:31] usually combined. Usually it's not just one of them. So a person might initially give the silent treatment, and then if they feel like they're being cornered enough, maybe they will engage in a conversation, but they're going to change the subject. Or they're going to tell you, "Your memory's wrong," or that you're being overly sensitive. So normally they're all combined.
And the theme here is definitely a misleading, misleading the person into questioning their own perceptions as well as just invalidating feelings and stuff like that.
Yes. Totally making someone feel invalidated, minimizing what they're feeling, whether it's physically or emotionally, just totally denying it, 100% denying it. Like I said, it's not just something someone turns on. It's really an innate part of them.
So if I'm in a relationship with someone, and I'm not sure if I'm being gaslit or not, can you give some specific signs or other examples of it?
Yeah. So some good signs are if you're asking yourself, "Am I going crazy?" That is probably a question that a lot of people end up asking themselves when they're in these kind of situations or in a relationship with someone who's doing this. And gaslighting, it can occur in any kind of relationship.
It can occur in a romantic relationship. It can occur between friends. It can occur between coworkers. But most commonly, it is going to occur in a abusive, romantic relationship. But it really, anywhere, any person can do this.
Another kind of flag, if you are wondering if you are being gaslit or not is, do you feel as though you need to start writing down your conversations or recording them? Are we walking into the conversation, your phone's in your pocket and you hit the record button? Good sign that you're being gaslit.
Very, very good sign. Or if you feel like you need to constantly write letters to this person or email so it's in writing, and you do that so you feel like you're not being interrupted. But what's going to happen is you're either going to get a gaslit verbal response, or maybe if they do respond to you via email or letter, it's just going to continue.
It's almost like you're collecting evidence-
Yes. [inaudible 00:08:56]
… to kind of prove that this is happening, to have a paper trail, recording. That's all evidence to prove it, it sounds like.
Yes. Did this really happen? Am I going crazy? Did this really happen? I need to start documenting what I said and what this person said, because they're telling me everything I'm saying is wrong. I'm being too sensitive and that my memory's wrong. And then after some time, we really start to believe that, that our memories are never right, and it's our partner's memory who's correct.
Got you. Gosh, again, that feeling of … There's probably so much mix of emotion, of frustration, anger. I can see how this would even contribute to someone who might already struggle with some low self-esteem that this has got to be definitely that even more complex to their self-esteem.
Yes. If you weren't struggling with confidence, this individual will make you start struggling with your [inaudible 00:09:46] esteem and confidence.
And I guess that's probably part of the tactic for it.
Almost like tear down the other person.
Absolutely. Absolutely. It's because the individuals who are doing these techniques, they may appear to be grandiose or very confident themselves but they're not. [inaudible 00:10:04]
So that leads us to then why do people do it?
Yeah, so people do this not because they feel good about themselves, but because of the opposite, because they have very, very low self-esteem. And gaslighting is part of a bigger picture. And it relates to our last podcast that we did together, which is narcissistic personality disorder. So this is often seen with those who have this personality disorder.
Like I said, it's part of a bigger picture. No one's just turning this on. They're not doing it like, "Okay, I know Jami's about to have this conversation with me. I better turn this on right now to make her doubt everything." It just happens. It happens. And then before we know it, we're sitting there scratching our heads being like, "Wait, am I feeling frustrated right now? Or should I not be? Because apparently my memory's wrong." But no. So it's totally the persons wants our reality to be incorrect and skewed.
Yes. Yes. Exactly. Exactly. So typically, this is not just your average Joe, like I said, who's doing this. It's someone with, generally speaking, narcissistic personality disorder can, other personality disorders can display this, but it's typically narcissistic personality disorder.
So what are some ways that people can respond to gaslighting once they recognize it's happening?
So once they recognize it's happening, which sometimes takes longer than we would hope, is really to end the conversation. That first and foremost is to end the conversation. We have to remember we cannot fix people. This is a trait that really someone was born with. And we are dealing with someone who has narcissistic personality disorder. As we talked about in our last podcast, they're very unlikely to seek help. So it's not that there's no hope or that there are no treatments. They are just because they don't think anything's wrong and that they're perfect and amazing and everyone's jealous of that, that they're not going to get help.
So unfortunately, if we want to work on something, first and foremost, we have to be able to acknowledge it. They are unlikely to acknowledge this. So really we want to end a conversation. And really depending on who the person is … Is it a romantic partner? Is it a friend? Is it a coworker? It might be time to reevaluate your relationship with this person.
So if a coworker, can't change your coworkers, it may be helpful to talk to a boss or maybe even someone in HR to ask what they think would be beneficial, especially if you have to frequently interact with this person. If it's a romantic partner, you may want to reevaluate do you want to continue your life like this? That's a hard pill to swallow. Do you want to continue to question your whole life? Because like I said, you cannot fix people. They are not going to change, especially if they do not want help. So just to summarize, really just reevaluating the relationship.
Because as you're reevaluating that relationship, you're coming to, hopefully in a lot of these cases, the determination that it's time to maybe distance yourself from that person, to maybe end that connection or that relationship with them.
Yes. It may need to end, absolutely. May need to end. And that's hard. That's hard.
Because you care about this person, but this is who they are. And unless they are willing to acknowledge their wrongdoings and to seek help, they are very, very unlikely to change. And it will continue, and typically it gets worse.
I can see it might maybe possibly be a little easier to distance yourself or end a friendship or something like that. I would think this would get even more complicated if this is your parent doing this to you. Or maybe you've been many years with your spouse or partner, I think that's where things get a little bit more tangled in.
Yes. Oh, absolutely. And if it is a parent, you can't choose who your parents are. It's not always feasible or not that someone would necessarily want to totally end the relationship with a parent, but that's when you have to set boundaries. And be aware, when you set boundaries with people who have narcissistic personality disorder slash are also gaslighting, you're going to get a lot of pushback … a lot, a lot of pushback. They are going to get very, very defensive. So something to consider and be aware of.
I think you did a great job helping people understand that if they have hope that, "No, no, they can change, they'll get better," that you're saying it very clearly. No, they're not going out to seek help. They're not running to the therapy to be like, "Hey, let's work on me." That is not happening. They're not taking responsibility for their behavior at all.
I would say in terms of a romantic relationship, if you've noticed asking yourself, "Am I crazy? Do I actually feel like this? Is my memory really that bad?" run for the hills. Run for the hills. This person probably this is just their way of being. They probably interact with their friends like this. They probably interact with coworkers like this. And again, if we're dealing someone who has narcissistic personality disorder, it possibly it has worked for them.
Like I mentioned in the podcast on narcissistic personality disorder, it's not uncommon to see those who have this who are CEOs. It has gotten them to the top by manipulating people, by putting others down, by telling people they're too sensitive, by telling people they're crazy. It's worked for them.
So this is basically a behavior that's not just done in one environment or one interaction. You'll see this at multiple levels-
… in the gaslighter's life, at their job, in their personal relationships, maybe in their parenting, things like that.
Right. Yes. So let's say you're in a romantic relationship with a person who's doing this, you are likely the number one target. They are likely to do it in other areas of their life, but you are for sure their number one target. You're in their crossfire.
Oh, gosh. Gosh. I think you're probably opening up a lot of our listeners' eyes and ears to a lot of this, and maybe even some who are like, "Holy wow, I didn't realize I was even being gaslit."
Yes. Yes. I think it's a lot of people don't realize they're in a relationship that's like this. And then a lot of people are overusing this word just because maybe they had a disagreement or an argument with someone. It's much more complicated than that. And again, this is something that a person who is gaslighting is going to do naturally, and they've been doing it their entire life, that this term … I don't know when this term … I don't know if it was this year or maybe the last couple of years where I really started to hear this word. But this year for sure, like I said, between that and toxic, most two common words I have heard this year.
Right. Oh, same here, Jami, same here. As we wind down our time together, any other takeaways you'd like to share about gaslighting?
Any other takeaways? Let's see. Well, really just, if you're finding yourself that you're writing things down when you have a discussion with someone, if you're questioning am I crazy or not, the person's giving you the silent treatment, which is really kind a separate form of abuse, but the silent treatment is a form of psychological abuse that people are not aware of. And listen, we've all done it, and we've all been the recipients of it. It's not effective. It's not going to solve anything. It is not effective whatsoever.
So I think depending on who this person is to you in your life, it's worth trying to have some conversations. We all do things out of our awareness, but just remember, we cannot fix people. We cannot solve their personality disorder. We can't take this away from them. They have to want to change.
Thank you, Jami. Thank you for enlightening us about this topic that many people are-
… are definitely hearing a lot about these days. And you definitely helped many people understand it more and where it came from. So thank you again.
Thank you. Yeah, I want to watch the movie now.
Yeah, same here, same here.
Yes, I'm sure it's … maybe good, maybe not so good. [inaudible 00:18:13]
I guess I'll have to check.
Right. Questionable. But we'll see if we're seeing it on Netflix or Hulu or Amazon coming up here.
Right. Exactly. Streaming now.
Thanks for having me back.