podcasts
The Importance of Gratitude & Understanding Toxic Positivity – Podcast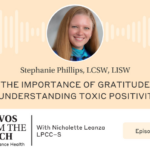 By Jason Clayden on November 22, 2022
Thanksgiving is a time for us to reflect and recognize all that we are grateful for. Stephanie Phillips, a clinician from one of our Cleveland, Ohio offices discusses the importance of gratitude, ways we can practice gratitude and understanding toxic positivity.
Listen and Subscribe Here
Welcome to Convos from the Couch, from Life Stands Health, where each episode, you'll hear engaging and informative conversations with leading mental health professionals that will help guide you on your journey to leading a healthier, more fulfilling life.
Hello, everyone, and welcome to Convos from the Couch by Life Stands Health. I'm Nikki Leanza, and on today's episode, I'll be talking with Stephanie Phillips, a clinician from one of our Cleveland, Ohio offices, on the importance of gratitude. She'll also help us understand toxic positivity. So welcome, Stephanie. Great to have you back on.
Thank you. It's great to be back.
I love that we're talking about gratitude. Thanksgiving is coming down the way here, so great topic to talk about.
I'm also excited for you to help us understand more about toxic positivity because I'm not sure if a lot of people know what that is, so I'm really looking forward to that conversation as well.
So, let's start off. Tell us a little bit about yourself.
Okay. So as you said, my name is Stephanie Phillips. I'm a licensed independent social worker in the state of Ohio. I graduated with my MSW, my Master of Social Work from the University of Kentucky. I started my career down in Kentucky and then relocated up here to the Cleveland area about four years ago. So, I've got about a little over a decade of experience practicing clinical social work now.
My areas of specialty include trauma, specifically trauma and PTSD in the perinatal period, which is during and after pregnancy. I also have a special interest in spiritual abuse. My primary treatment modalities are eye movement desensitization and reprocessing, EMDR. I also like to use ACT: acceptance and commitment therapy, which is very mindfulness focused. I also have training in exposure and response prevention, ERP. So, those are my kind of three big modalities that I really like. I tend to use kind of an eclectic approach, where I'm kind of pulling and borrowing from each. Yeah.
I think that's one of the best approaches, right?
You definitely sound like you're knowledgeable in several different approaches and that you can pull what you feel is best for the client you're working with, that you can tailor it probably just for them.
Absolutely. Yeah. Because of course, like I always say, and I'm sure you would agree, nothing works for everyone.
So, sometimes it's important to make sure that we're not being kind of zeroed in on one specific treatment modality and saying, "Okay, well, if this specific thing isn't working for this person, then what can we change up? What can we bring in? What else can we try?"
Yeah. I'm sure lots of your clients are thankful for you for that, and that's probably a good segue into our, very corny segue, into talking about gratitude. But…
… let's talk about it. Let's start by tell us a little bit about what is gratitude? How would you define it?
Yeah. I guess the way I conceptualize gratitude is just an attitude of appreciation and thankfulness and cultivating that attitude of appreciation and thankfulness for things in our lives.
I think it can be very easy for some of us to fall into the negative or the things that aren't going right for us.
I think to help us shift our mindset to a place of being more gratitude, of being thankful for maybe the things that are going right in our lives. Why else do you feel like it's important?
Well, it definitely has a lot of research around it. A lot of researchers have studied what is gratitude, of course, and how is it useful. They've determined that people who have some kind of practice, have some kind of ritual, at times, where they focus on what they're grateful for and what they're appreciative of, actually tend to be less resentful. They tend to be less envious of other people. They tend to have fewer regrets than other people who do not kind of focus and aren't intentional about a gratitude practice and are just kind of happier and more content, generally, with their lives.
I think that's the key of how to help lead happier, more content lives. I actually like that word better, content, than striving just for happiness, just being more content. I think practicing gratitude could definitely help people more on that track, for sure.
Absolutely. Yes, definitely.
Can you give us more specific examples of how someone can practice gratitude?
Yeah. One way that you can practice gratitude is sometimes, not for everybody of course, but if you have some kind of faith, if you have some kind of spiritual practice or if you are a religious person, oftentimes that gratitude takes the form of prayers of thanksgiving. If you believe in God or some kind of higher power or the universe, however you conceive of that, sometimes that's the way we can practice gratitude.
Sometimes in a religious context, sometimes in a more secular context, sometimes just setting aside some time, a few minutes each day, to meditate and just notice what we're thankful for in that moment. The cool thing about gratitude, too, is that it can be something that's very big or it can be something that's kind of relatively small.
One thing, of course, here in northeast Ohio, we have these amazing fall leaves that have been so beautiful over the past few weeks. So, that's something that I've really noticed that I feel thankful for is just how beautiful everything is this time of year. Again, like just a kind of brief flash. It doesn't even have to be something that feels very big and grand and significant. It can just be something that is relatively small. Go ahead.
I love that you said that because I too live in northeast Ohio. We do. We're so blessed with some really gorgeous autumn foliage. I too will just take it in and be grateful for it. I think your point is it could be the small things. It doesn't have to be the overarching huge things. It could just be appreciating a very beautiful fall day per se, some…
Yeah. Another really good practice, too, that I think is really helpful is just keeping a gratitude journal. Again, doesn't have to be really big and long and involved. It can just be two or three things that you jot down that you're grateful for every day. Handwriting, again, they've done research that says that if we write something by hand as opposed to typing it out on our phone or our laptop, that it kind of sinks in and resonates with us in a deeper way. So, I think handwriting in a journal kind of helps us focus that a little more.
Yeah. Yeah. So having that just kind of be like, okay, I'm going to think of a couple things. Try to make them different things. Again, when it can be literally anything, the air I'm breathing right now, the fact that I have access to clean water, if that's something that I have access to; my friends, my family. Anything. Just writing it down and taking a few minutes to think about those things and focus on those things, and then moving on with your day. Just kind of incorporating it into a relatively small, not even really time-consuming practice, can be super helpful.
I think a lot of what you're saying is incorporating it into a daily thing you do. It can be just small things. We talked a little bit about how it can help people feel a bit more content in their lives, is one of the benefits. Are there other benefits of practicing gratitude in our lives?
Well, I think that sense of contentment is a pretty important one because what we do know is that when we start to be more intentional about focusing on certain things, kind of like you said, if we are focusing on bad things that are happening, unpleasant things that are happening, then that tends to wire up our brains, simply, to start noticing more of those negative, unpleasant things that are happening to us. The good news is we can do the opposite by being very intentional about focusing on positive things that are happening, on what we're grateful for.
Officially, it's called the Baader-Meinhof effect, the red car syndrome, where it's like, okay, if I start thinking about a red car or noticing red cars, all of a sudden I see red cars everywhere. It's one of those things where we can use that kind of quirk, so to speak, in our brain, to say, "Okay, once I start being intentional about noticing the positive things, noticing things that I'm grateful for and that feel good and feel comfortable, then I'm more likely to be drawn to those things. I'm more likely to spot those things when they come up." So, that can kind of rewire our brain a little bit and help shift our perspective so that it is easier. It's not so tough all of a sudden when we sit down with our gratitude journal to come with things that we're thankful for.
Yeah. I love that you're linking it back to a mind shift. The neuroplasticity, we can rewire our brain. If we are used to having very automatic negative thoughts per se, and it's automatic and they're negative, and when you started being aware that you're doing that and you make a sort of effort to practice gratitude, practice trying to see things from a different perspective, you will change your brain and you will start noticing those red cars or that positivity more in your life, too. So that's great.
Now, shifting gears a bit, is it possible to do it too much? I'm coming from the point of view of where we're shifting gears to talk about toxic positivity. With that being said, actually let's talk, what is toxic positivity? Why don't we start with that.
Toxic positivity is a term that I really love because I think it sums up this kind of idea so well. Basically what toxic positivity is, kind of focusing on positive things, but doing that at the expense of recognizing that anything unpleasant or bad ever happens to us or that we even ever have any kind of uncomfortable or emotions that we view as undesirable: so sadness, anger, frustration. Any of those emotions end up getting assigned these are negative, these are bad, we don't want these.
In toxic positivity, we don't make any space for people to have any of those feelings. We shut those feelings down in the name of saying, "Well, you've got to stay positive." As we've talked about, positivity and gratitude has a great function in our lives. But, to go back to the term, it can very quickly turn toxic if we are just shutting down, suppressing, especially often it happens when we are interacting with another person, they're kind of bringing that hammer down, so to speak, and saying like, "Nope, there's no room for any kind of upsetting, sad, complicated feelings here."
So, what I think I hear you saying, it might be an individual that is so positive that they really do disregard and ignore what they might perceive as negative emotions. So, if someone's telling them that their dog recently died, they might be like, "Oh, but you had them for so many years and they were a great dog," and maybe invalidating the feeling that that person, that friend might be feeling sad about their dog.
Yes, absolutely. I think that word invalidating is the key. It's invalidating somebody else's experiences or feelings in the name of, quote-unquote, positivity and, quote-unquote, good vibes only, and all of those kinds of things where it's like… To me, what it's doing is it's shutting down the full range of human emotion and experience. We have bad days sometimes. Sometimes we have bad weeks or bad years. Sometimes things happen to us that are really, really hard to deal with, and if we get cliches thrown at us, like, "Well, everything happens for a reason," or like you said with the dog, like, "Oh, you had them for so long; they're in a better place." All of that kind of language that is just glossing over when we're hurting or upset or having issues.
I think part of what makes toxic positivity so toxic, too, is that it frequently creates this sense of guilt in the person who's trying to talk about, "Hey, I'm struggling," if the response that they get from somebody else is that kind of, "No, there's no room for talking about that. Just focus on something pleasant. Don't think about what you're struggling with." It can unfortunately give that person a sense of, "Well, it's my fault if I'm struggling, if I'm sad," up to and including if I have clinical anxiety, if I have clinical depression, sometimes even like if I have PTSD; it's my fault. It's my responsibility. You get into that self-blame cycle and it's just really nasty.
I think the person who's doing the toxic positivity, I think they're interpreting themselves as coming from a good place of being the cheerleader for this person, and not meaning to intentionally harm, which is why we're having this conversation, to make people aware of you might be unintentionally harming someone by being so positive and invalidating. We don't know what else the person whose the recipient of the toxic positivity might be telling themselves. It might be nurturing their own sense of guilt and shame and things like that.
Yes. Yeah. Yeah. Unfortunately, I think a lot of times those people are very well-intentioned. As you mentioned, calling people's attention to the fact that it's like, well, no, this isn't helpful. It's painful and it's harming people. I think another one that gets thrown out there a lot is, "Well, other people have it worse, or it could be worse," and bringing up that sense of comparison.
Going back to the gratitude thing, I think one important point, too, is a gratitude practice is best when it's just focused on what we have, what we are thankful for, what we appreciate. Not that comparison of, "Oh, I have this, which kind of positions me better." I don't mean in a kind of malicious way or anything, but just anytime we get into that comparison game, it's a slippery slope into, again, that kind of self-blame of like, "Well, I don't have it as bad as other people. There's something wrong with me that I can't just snap out of this and be positive and be happy." Yeah. It can really start to create some problems in and of itself if we're being told or it's being implied that we should just be able to be positive and shut all that down.
I like the point that you're bringing up of gratitude being individual and not using it to compare. I think when we talk about that difference between toxic positivity and bringing in the idea of gratitude, so that's one of the key differentiating between the two is that with the toxic positivity, it's like, "Hey, it could be worse for you. Somebody else had their dog die and their grandmother die." And it's like, "Oh, well, geez." So, I liked how you differentiated it. Are there other points in how we can differentiate the two with gratitude and toxic positivity?
I think if there's any one takeaway, it's that gratitude is a specific practice that still leaves room for, "Oh, I'm sad." I can be sad and grateful. I can be sad in this moment if I've just experienced a significant loss. If I've just experienced some kind of trauma, I can still say, "Okay, as part of my gratitude practice, I'm going to figure out what I'm grateful for in this moment." But that doesn't have to come at the expense, so to speak, of my grief. I can still be sad and I don't have to prove, so to speak, that I am staying in touch with any kind of gratitude or positive things or positive feelings by shutting down all of the sadness. I think that's the biggest thing, is if we're doing gratitude right, so to speak, if we're not veering over into toxic positivity, we're still leaving room for those other emotions that we tend to think of as more uncomfortable and difficult.
Got you. Got you. How can somebody who might be doing toxic positivity, how can they avoid doing it or improve from doing it?
Well, I think probably the main key is that word you brought up, I guess the opposite of the word you brought up, which is validate. It is so powerful to just say, "Ugh, I'm really sorry that you're dealing with this." Or, "I see that you're really sad right now. I see that you're really angry. I see that you're struggling," and try to… Because a lot of times, again, well-intentioned, a lot of times what we're trying to do with those cliches and think positive and all of that kind of thing, what we're trying to do is make the other person feel better. But sometimes it's also about our comfort level because nobody likes to see somebody that they care about be…
So kind of keeping in mind, "Okay, what does this person need from me in this moment?" If that person is saying, "Hey, help me get some perspective. Help me think of things to be grateful for," then sure, go for it. But if the person is just really kind of expressing how difficult they're having it right now, how much they're struggling, and honestly, this kind of plays into the holidays as well because the holidays can be really tough for some people.
I think recognizing if I just help this person feel seen and validated and say, "I see that you're sad," or, "I hear that you're sad," sometimes that is just… It seems very, very simple. It is very, very simple. But sometimes it's just what somebody needs in that moment, to just see that somebody understands that they're hurting, and I'm going to kind of sit down beside you and sit with you in this moment where you're sad and I'm not going to feel any pressure to try to make it better for you or try to quote-unquote fix it. I'm just going to validate what you're feeling.
My gosh, Stephanie. Thank you so much. I'm very grateful to have you back on and sharing your knowledge…
… on this topic of both gratitude and toxic positivity. Because I think you gave a lot of great examples of what it is and how it can be harmful and how to be more aware when someone might be doing it and how to switch that by validating, for sure. So thank you again for being on.
Yeah. Thank you again for having me. I'm always happy to be here.