podcasts
The Gender Gap: Exploring Healthcare Bias – Podcast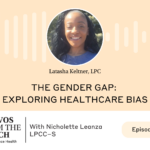 By Jason Clayden on August 1, 2023
In this episode, we sit down with clinician Latasha Keltner from Illinois to discuss the issue of gender bias in the treatment of women's health concerns. We explore psychological impact of this bias and explore how it affects women, particularly women of color.
Latasha shares her personal experiences and observations, highlighting the challenges women face when seeking medical help from doctors who may not fully understand or dismiss their concerns.
Listen and Subscribe Here
Welcome to Convos from the Couch By LifeStance Health, where leading mental health professionals help guide you on your journey to a healthier, more fulfilling life. Hello everyone and welcome Convos from the Couch by Life Stance Health. I'm Nicholette Leanza, and on this episode I'll be talking with Latasha Keltner, a clinician from one of our life stance Illinois offices, and we'll be talking about gender bias in the treatment of women's health concerns. So welcome, Latasha. Great to have you on.
Hi Nicholette. Thank you so much for having me.
Hi. I found several studies that report that women's health conditions tend to be more dismissed or downplayed by medical professionals than for men. So I definitely look forward to this conversation as we discuss the psychological impact of this issue.
And one of the things I want to add as well is that when we talk about women, we're recognizing as anyone who identifies as female or of course a woman. So let's kickstart ourselves here. Latasha, tell us a little bit about yourself.
All right, I'm pretty open book. I am a clinician here in Illinois. I got a master's in forensic psych. I thought I was going to work on Criminal Minds for some reason, but I love what I do. I'm a former police officer, mom of four.
And yeah, I enjoy every day seeing who I can help, how I can help, and pretty much it.
Nice. Love that. Love the fact that you used to be a police officer as well. That's pretty cool.
Yeah, lots of fun, lots of learning experiences.
Probably a good way to put that. Lots of learning experiences, for sure. So tell us some of your observations of how women's chronic health concerns or conditions were typically dismissed than in men and attributed to psychological issues. Tell me more about that.
Yeah, absolutely. What I learned from my own personal experiences is that when you go in and you meet with your doctor, majority of doctors, maybe just most are men. They outnumber female doctors. It's men and women. We don't think alike. So when you go in and you meet with the man and you're giving these concerns, I think that their thought pattern is that, "Okay, these might be concerns," but it may not be something that rises to the level that we may think is very important or is serious. And because they think that way, it hinders a sum of the process of you really attaining the information or the care that you really need as a woman. And of course because we know women's health, especially here in the US, is disproportionately less than what it should be. I'll put it that way.
I see you're trying to tiptoe around saying it, but that's it. We know that. We definitely know that.
And as we dig in a little deeper, let's talk about more specifically how this affects women of color. Tell me more about that.
Okay. So there's gender bias, right? You have male doctors and women, there's a pay gap, right? Male doctors make significantly more money than female doctors, about $2 million over the course of their career. And so if you look at, okay, you have these gender biases and then you add the layer of a race bias, there are so many racial biases, especially in medical, where they believe that we can tolerate pain more than I guess my white counterpart. And even when it comes down to equipment, you put it on your finger, it gauges how much oxygen you're moving, and it tells, "Oh, okay, you're good. 98%, 80%." Hope it never gets that low. But for people of color, when they wear those, the device can't read it as well because of the melanin in our skin. So the darker you are-
It's actually a fact, people can go look that up. They're holding a whole meeting, convention, whatever it is to address it. If I go in and I'm having difficulty breathing and they can see me gasping and I'm having trouble, but the pulse oximeter says I'm at 98%, they're going to take that over looking at me and how I'm presenting, and it's extremely frustrating. So not only do I have to come well-prepared for these meetings or these appointments, but I also have to overcome the additional challenges that are presented because of misinformation in medicine look like that they're teaching doctors every single day that are coming out, and if they aren't careful and they don't want to do extra research to see, "Hey, okay, is this actually an issue?" We're beholden to what's in front of us.
Excellent point. You already named a few of the possible reasons for this. Gender bias and racial bias. Any other ones you want to add to that?
Mostly, I don't think that it is malicious intent. I think it's just a lack of knowledge. I think it is the way our system, the way our government is set up and medicine is, it's built for a certain thing. They have certain partnerships, and we honestly have to be our own best positioning, knowing our body and being able to advocate because if not, you get lost in the shuffle and it can be very frustrating and very overwhelming.
Yeah. Oh, definitely. I agree. So how can therapeutics be helpful for women who may have experienced some dismissive attitudes from medical professionals?
Okay, so from my personal experience, what helped me the most was me learning as much as I could about what was concerning me or what I felt my symptoms were, and then advocating for that in a very fact-based way. When I work with my female clients who are having this issue, I say, "Okay, so unfortunately what we're going to have to do is we're going to have to remove the emotion out of the room." Because if you go in, it's the first thing that you're going to be labeled for. You're upset or you're emotional. This is difficult for you, and so maybe you aren't seeing things clearly, right? Take the emotion out of the room and write things down.
Write everything down. Have questions based on what you're experiencing. Have examples. You may need to take pictures of something that presented. If you have hives or if there's something else, take pictures so that you can provide that proof when you go in to meet with this individual. And also, don't hesitate to use the little MyChart. They all have these now and you sending messages through those apps in writing, I have a paper trail and I want my questions answered, and if you're not going to offer me the quality of care that I'm supposed to get, I'm going to keep pursuing it, and you are going to be held accountable for it.
I love the fact that what you're doing with your clients is coaching them, right? Coaching them how to address this. And I think one of the keys is taking the emotion out of it because we're emotional about it. We're feeling we're not being heard. So of course the emotion's going to amp up a bit. And also when our emotions amped up, then we might not be thinking as clearly. So writing it down is very clear too. Plus you have evidence too that you've been sharing your concerns. So I can see where it helps on both ends. How do we create greater awareness for this issue?
You know what? I always feel like it's just getting the word out. It's so hard. So technology's everywhere. We have so many social media platforms and things, and it's like the more we talk about it, I think the more aware people become. Women right now are, there's so many things that are being decided for us with regard to our bodies. So this is just another piece, which I honestly was the piece that came first just about talking about how we're treated when we walk into these offices and these spaces, and to just really let every other woman know, "Hey, you don't have to deal with that. You don't have to tolerate it. There are things that you can do. There are steps that you can take to make sure that you're holding professionals accountable how they are working."
It is that key of what you say is advocating for yourself and being assertive, which could be difficult for some people, but it's so crucial with this.
Any other takeaways you'd like to share?
Really just be kind to yourself, and if you're going through this and you're not getting answers, your quality of life is already greatly depleted in your eyes and think it is. So being kind to yourself and just letting other people build you up and pour into you and you don't help you. I was a person that I didn't like a lot of people helping me because I was very independent and my body was strong, and so I felt like I could do all these things. But when your body is the one that's attacking you and you're not as strong, you need that community. So I would just say make sure, have a community. Let a community of great people surround you and help you through the process so that you can endure what you need to while you're waiting for your healing.
Gosh, Latasha, thank you. You are so inspirational. You have me hyped, like yes. No, I think this is going to be such a helpful episode.
Good. I hope so. I'm still going through it. I'm three years in and the battle is still waging, but I am healing. I've taken a lot of things from my own hands, so I appreciate you allowing me to be on here to talk to anybody else that might be going through this as well.
Thank you. We'd love to have you back on someday.
I'd also like to thank the team behind the podcast, Jason Clayden, Juliana Whidden, and Chris Kelman, with a special thanks to Jason Clayden for editing our episodes. Take care, everyone.