podcasts
Hear and Now: Ineffective Listening Habits – Podcast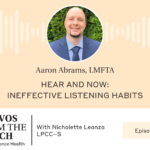 By Jason Clayden on February 15, 2023
Listening is an essential communication skill, but unfortunately, it is often underestimated and not given the attention it deserves.
On this episode, LifeStance provider Aaron Abrams explores some of the most common barriers to effective listening, the different types of ineffective listening such as selective listening, defensive listening, and offers tips on how to overcome them.
Listen and Subscribe Here
Welcome to Convos from the Couch by LifeStance Health where leading mental health professionals help guide you on your journey to a healthier more fulfilling life. Hello everyone, this is Convos from the Couch by LifeStance Health. I'm Nicholette Leanza, and on today's episode I'll be talking with Aaron Abrams, a clinician from one of our Seattle, Washington offices, and he'll be sharing with us some ineffective listening habits. Welcome back, Aaron.
Thank you so much, it's great to be back on here.
We all know how important good communication is in any relationship, but we all have habits that get in the way of truly listening to others. Aaron, I look really forward to our conversation today as you share with us what some of those ineffective listening habits are, and also probably some tips on how to improve those too.
I know you were on before. Can you just tell us a little bit more about yourself?
Totally. I am a licensed marriage and family therapist associate so I'm going to be taking my test in the near future, and then once I pass that test I'll be fully licensed. I've been doing practice for roughly four years including internships. Actually, on this topic, I go every quarter to Western Washington University and I actually lecture on this topic-
On listening. So this is something that I've known pretty well. I did a lot of work of it in undergrad. A lot of the content that I'll be getting is from a communication class that I took is Communication Theory with Jason Lynch. Shout out to Jason if you're listening. And I was able to TA for him so I created this lecture and I was able … I've been able to do this for eight quarters or something like that so I know a lot about-
[inaudible 00:02:01]. That is cool. So you are definitely going to be a wealth of information on this topic for sure.
For sure. No doubt about it.
So let's get started. First question to you. What are some common ineffective listening habits that people tend to have?
There are technically seven. So the first one, which is probably the most common one, it's something called pseudo-listening. And pseudo-listening is the process of acting like you're listening, giving the appearance like you're listening but actually nothing's going through. A lot of people are just like "Sure, totally." And this happens a lot, especially when you're trying to multitask or you're thinking about something else. Some people will do this process, it's called an autonomic nervous system, that takes over. When you are driving and talking to somebody on the phone, one of the two things is going to take over, right? A lot of people will say, "Sure, totally" and they have no idea what the other person said.
Is it almost like it's automatic that you're just like and you're not really … More like an automatic driver where it's just taking over.
Totally. And a lot of people will pay attention to the conversation that they're having and then just go through their autonomic stuff with driving too. But that's like another psychological thing. Going back to the communication things. So pseudo-listening is again, giving off the appearance that you're listening but actually, nothing's coming through. That is what a pseudo-listener is.
Or the second one is something called stage hogging. So what stage hogging is, is a process where basically they want to change the topic and do something that's more interesting to them. Basically, somebody is talking about "Oh man, I've had a really rough day." "You had a rough day, you should listen to what I had to do." They're taking control of the conversation. This can also be termed as a conversational narcissist.
I won't say self-absorbed but very much wanting to take over the quote-unquote stage and tell people what they want to say and disregarding what the other person wanted to say.
It sounds like this is a little different than someone trying to one-up you but that could be a part of it. You think you had a bad day, I had a bad day even worse because of this and that happening. Okay.
Yes. In another way, it could be something like oh, I'm not really interested in this topic so I'm going to change this to something more interesting to me, right?
That's one of those ineffective listening behaviors. Again, you're not really processing what they're saying, and they're just going to jump to the gun and be like "This is not important, what I'm saying is more important." That is me talking. So that's again, disregarding in the listening process instead of having … Because in communication you're simultaneously playing sender and receiver so basically you're just playing sender and not receiver.
So the third one. So we've gone over pseudo-listening, we've gone over stage hogging. The third one is called selective listening. Now, selective listening is basically parsing out things that somebody said in whole and then basically only taking what you feel like is interesting. Today was a good day but I also had a really tough time in the computer lab today or something like that. Some people can be like "Today was a pretty good day." And so they're like "Okay, cool." So then we got it was a pretty good day, there's nothing else here, right? You're just focusing on that small little part. Selective listening, you're basically da, da, da, da, da, da here. Oh, okay, they had a good day da, da, da, da, da. And when you're out for the other contextual clues and things like that.
I'm actually chuckling a little bit to myself right now, Aaron, because you covered three and I think some of our listeners are like "I know someone who does selective listening, I know someone who does stage hogging." I bet you even with these three there's someone out there like "I know someone who does that." These are really, really great. Go ahead and keep going. What's number four for us?
Number four. So number four is actually something called insulated listening. This is a topic that you just do not want to hear and you're just like la, la, la, la, la, la, la, la, la, la, la, la. This is something that you are just going to internalize something else and you're just going to not … I do not want to listen. That's what insulated listening is. A big topic in terms of looking at statistics and things like that is politics so a lot of people are just like "Okay if the topic of politics comes up I'm just going to put earmuffs on" so to speak. Not literally, but they're going to check out, right? And so-
I'm picturing almost like a little kid sticking their fingers in their ears like la, la, la I'm not going to hear this, I don't want to listen to this imagery. What it evokes from this insulated listening. Okay.
Here is verbatim. Instead of looking for specific information, these people avoid it. Whenever a topic arises that you would rather not deal with, those who are insulated listeners simply fail to hear or acknowledge it. That's from Adler in 2013 or 2012 or something like that. So yes, that's the process. Again, not in the physical form of la, la, la, la, la way doing it but again you're just going to check out-
And just not even listen. Again, we got pseudo, we've got stage hogging, we have done selective listening, and we have done insulated listening so far. The fifth one, this one they call defensive listening. Now, basically, this is one where somebody hears a remark that somebody communicates as a personal attack and they're going to basically … When they're hearing it they're thinking … They're going to be defensive and they're going to respond in the receiving and communicating back roll of okay, this is a threat and I'm going to defend myself, right? For example, "Hey, how's your day going today?" You hear that and you're just like "What's it to you? Why do you want to know?" So that's that defensive listening example of saying, "Hey, how's your day today?" And somehow some way, even though it's objectively from other people's perspectives, not a threat, that person is somehow some way taking it as a threat and so they're becoming defensive and they're going to react that way.
Makes sense, makes sense.
A listening technique. This next one is probably the one that frustrates the most and is called ambushing. This is number six. Number six it's called ambushing. Now, ambushers are really good listeners, but they're listening carefully to you but only because they're collecting the information so that can you use it as an attack against you at another time. You can say something one day and you think that the conversation's over or the argument's over and that it's resolved and everything like that, and then it gets used against you in another conversation or in another argument.
So this is called ambushing. And again, this is the one that probably frustrates the most people. I know that when you spoke about this earlier, they're going to be people that are like "Oh, yeah, I do pseudo-listening, I do selective listening." I think all of us have intentionally or unintentionally used these ineffective listening behaviors.
And it's tough to overcome to … I mean, sometimes yes, we are personally trying to … In this case, I feel like ambushing might be a thing that you are more intentionally doing rather than-
Because again, you're saying, "Okay, I'm collecting this information." And sometimes people will use ambushing when they are in an argument and maybe when they are defensive, right?
So "Oh, okay, well, you're going to tell me that I'm not doing this right, well, you didn't do this right." "Well, I thought we already talked about that." It's like you get into this game of Pong like I like to say, this back and forth and back and forth and back and forth when nobody wins.
Ambushing. Again, carefully collecting information because you want to use it against them at another time. Again, the one before I did, the last one, I just want to recap. So we got pseudo-listening, we have done selective listening, we have done stage hogging, we have done insulated listening, we have done defensive listening, we have done ambushing. And then the last one which is one that I wouldn't say is super common but it definitely is around, it's something called insensitive listening. Insensitive listening is basically taking what somebody says at face value and not responding or not … They're just honestly completely missing the important emotional information or the important emotional context that's around. For example, "Hey, how are you doing?" I guess I'm okay." "Great, you're okay. That's great to know you're here." You see. So you can see it onwards. I guess I'm okay. Again, taking that phrase at face value and not saying, "Oh, he's actually looking down and having a somber tone," right?
That's the insensitive listening. It's taking at face value and not getting into the important emotional information that is being presented to you as well.
It sounds like missing out on the body language. I'm okay, but really the body language is showing otherwise. Words are saying one thing body language is saying another. The emotion behind it. Like that?
Sometimes called a mixed message.
There you go, mixed message for sure
Something called a mixed message where you're … Whatever is being said can look a certain way but the body language or vocalics or semantics or whatever are showing something different. Those are the ineffective listening behaviors that I wanted to go through. I actually, in my lecture, I use a lot of How I Met Your Mother examples.
Or, pop culture examples. I would use some from other sitcoms like Big Bang Theory, The Office, Parks and Rec, things like that.
Well, that's great because that's another way of really portraying it to your students of really being able to see it, what it looks like in the media.
Those are great, those are great. And who would've known there's so many?
So how do these habits impact communication and even relationships?
It's a great question. Again, we have a tendency to do something with these ineffective listening behaviors, it makes us shut down and not really want to communicate with our partners anymore, right? Their tendencies are always to be defensive whenever you're just trying to have a conversation with them, it'd make you not want to really talk to them, right, or have to feel like you have to walk on eggshells with them. Pseudo-listening. Whatever I am saying doesn't really matter to them. Or, I can't really say anything to them because they won't ever … They could use it against me like ambushing, right?
It does definitely get out of that trusting nature in romantic relationships, and friendship, and familial relationships, and so on and so forth. We want to be able to trust our people, but it also is going to be really hard if again, there's a tendency or there's a theme of, I don't know if I can trust this person, their tendency … They have a tendency to just try to one-up me in stage hogging, or they try to … They just don't want to even hear me. Even though I really like to talk about politics they're just like "Nope."
With the ambushing, it makes me think that if someone's going to use your own words against you that really doesn't help you to feel very emotionally safe with that person.
Or just feeling very invalidated if they don't want to hear you, or shutting down the conversation, putting their head in the sand, things like that. This all feels very invalidating. We can definitely see how this would affect relationships, communication in relationships too.
Gosh. Shifting gears in, so what would be some of the benefits of effective listening and how can it improve communication in relationships?
Well, let's talk about building trusts versus … It seems like there's a universal truth that people want to be heard, understood, and valued, right? And I think that when you are able to do this emotion-focused or relational listening or things like that when you are actually processing … You're showing that you understand. There's a four-step process that I like to do which is … And I know I might be skipping the question or something like that.
It's all good don't worry about it. Keep going this is good.
A four-step process as listening to really listen, and understand, and value this person rather than listening to fix or using an ineffective listening thing. First paraphrase. You want to paraphrase what they're saying so that again, you want to … They're going to feel hurt. "I want to make sure I'm hearing you right. Did you say X, Y, and Z, right?" "Yes, I did." "Okay, cool." The second step is identifying what the emotion is for that person. "Okay, I can understand why your partner on your class projects said that they went behind your back and said that they did all the work even though you did all the work. I hear that. What emotions are you feeling?" "Well, I'm feeling really hurt, and betrayed, and whatever." Okay. Let them be the ones to tell you what emotions that they're feeling rather than trying to just put words in their mouth, right?
Third step, again, I want to focus on not trying to put words in their mouth here, but empathizing … Using empathy. What those emotions that they're feeling? "Well, if I were in your shoes I'd probably feel those emotions too. I also might feel this or that, do you feel that too?" Right? And again, we don't want to shift this to us. This is continuing being that realm of curiosity of saying, "Hey, are you also experiencing this too?" Because not only are they're not only just going to feel heard they're going to feel understood.
And it's also a sense of valued in what they're saying because you're really attending to what they're saying. And then the fourth one is honestly probably the most important one which is just asking what they need. What are you needing at this time? Do you need space? Do you need to talk this out more? Do you need me to go get you some ice cream? What is it that you need at this point? Again, if we're going to shift from ineffective listening behaviors to this model, right, again, you're paraphrasing so that people are feeling heard, and you're identifying and empathizing with those emotions which are making them going to feel understood and valued. And then getting their needs met as well by asking them, "Hey, what are you needing right now?"
And I love this because it's the four steps. Do this it will help you build trust in your communication with others. This does shift it into more effective listening. And that last one of what is it you need? Asking them what they need, not you assuming what you think they need but just asking them. I think that's so key. And I think that's ultimately helping someone really feeling heard. What is it that you need? I think that's really, really great, Aaron.
Totally. I went to grad school at Seattle Pacific University and they have a method called ORCA which is openness, respect, curiosity, and accountability of the power. Or accountability in general. And so I always like to use the big C here of ORCA, which is curiosity, throughout all my communication and all my listenings practices. Let's be real, I am a bald white guy, and I come from the Seattle area, and I'm not going to know what it's like to be in a different culture or a different city or have a different ethnicity or different backgrounds. And so because they have unique perspectives, I'm curious of what that is like and so that I can learn more about them and learn more about the world honestly. I think that's really important as well to get that context. When you're going through this process, try to really keep that in the lens of curiosity or your curiosity glasses on.
Love that. What are some tips to help people practice these listening tips, these listening skills in their daily life?
It's a great question. What I like to say a lot when we're trying to get to communication devices or these listening devices or these skills that we're doing … Just like if you become a good basketball player, you just have to shoot a lot, you have to practice it a lot.
If you want to become a good therapist you have to get a lot of time in and you have to do a lot of … See a lot of the population that you want to. Obviously, read up, and be studious, and know the theories that you like. Sorry. Do that. If you want to be a good carpenter … Again, there's a lot of repetition that comes with it. And so yes, there might be some trial and error at first, but the answer to your question is practice, just keep trying. And I think that there's going to be really good intentions at first and maybe a weird impact, but I think that if you continue to have communication … Talk about that and maybe even have meta-communication of "Hey, this is what I was trying to do in my communication with you in my listening practices with you. Was that noticed? Or, how did that come off to you," right?
I think that there's going to be a lot of, again, practice, and then also … I don't think, you should be afraid to have meta-communication about the communication that you're having with your partner, right? Because again, sometimes we intend something but that's not necessarily the impact that's happening on your partner or on your friend or whoever else is involved. You want to very much be on the same page. I think sometimes that takes time, and practice, and effort.
Now, how can you help us navigate if we're recognizing maybe someone we're talking to is maybe reflecting some poor listenings habits or things like that, or even some misunderstandings? What are some things people can do to navigate that or to bring that up with them to make them aware of it?
Again, if I'm going to use the ORCA method. Let's say that I am trying to listen and somebody's trying to stage hog or whatever. If there's three of us. I could be saying something along the lines of, "Hey, I hear that you're really interested in this subject and that you really want to speak about it but Mandy was talking here so I really want to focus on what she's saying." And if it's in the diotic, the interpersonal communication, then it can be like "Hey, so I feel like" … "Correct me if I'm wrong but I feel like you're checking out. Is it because of something that I said or is it because you just got distracted by something else? What's going on?" That's something called a perception check, by the way. I think that's going to be calling it out a little bit.
That's what it sounds like, calling them out a little bit.
But in a soft way, right? Because then you get into this really big you language, and then we get into defensive listening, and we play this game of Pong like "Oh my gosh, you never listen to me. See, you're checking out again." Or, "You know what? You always use whatever I'm saying against me and I don't like it this is really dumb," right? Again, then people are going to get defensive and then we start escalation and all that. Again, if we can try to come from this very open spot of hey, I want to be open and honest with you, this is what I'm seeing. This is the impact that I'm having and I want that to be known, right? So I can see that you're really taking only little tidbits of what I'm saying you're not seeing the whole context and not seeing everything that I hear. So I want to say this again and can you really be with me here and maybe repeat what I say?
You did a lot of I statements there. I think a lot of giving feedback to someone who you feel maybe isn't listening the best to you, you want to come at them where you're not putting them more on the defensive so a lot of what you just gave is an example. I feel this. Using those I statements. Just I know it's pretty cliche when we talk about communication, use those I statements, but you gave a total example of that. So I think it's just emphasizing that importance of I feel this way, as opposed to, you do this and you do that. I think that's really pushes people back on putting them on the defensive.
Totally. Going a little further with that, with I statements. I feel this way when this happens, right, instead of I feel this way when you do this, right? And I think that you can do the latter for sure. But again, I think that tone and context are going to be really important. "I feel really hurt when you never tell me blah, blah, blah." "Okay, I hear that you feel hurt." And now I'm going to feel defensive because you say I never do this, that, or the other thing, right? That whatever was said first is not going to be as important as me having to feel defensive of me doing this, this, and this, right?
Being able to say, "Hey, when somebody just checks out or where when somebody is just acting like they listen to me but nothing goes through, it makes me feel unheard and unwanted, and not really seen." You're right, using I statements is … Yes, like you said, it's communication 101, very cliche but-
We're just providing skills and we're providing information for our listeners to take with them, right, and to become aware of, right?
Right, right. Any other takeaways you'd really like to emphasize on this topic?
Yeah. If I want to just go just really quick over those different ways for informational listening and for relational listening. Ways that we can gather information more so that again, we try to have better understanding. Being able to talk less, trying to get rid of distractions, don't judge prematurely, look for key ideas, ask sincere questions. Being more active trying to learn more. Sometimes you should use aids so writing stuff down if it's something really important. And like I said, paraphrasing. Restating what the other person said or meant in your own way. So that's ways to gather information.
And then relational. Again, a lot of people will think of ways to fix, right? I think it was an insane stat in 2009 or something like that where 95% of guys listened only to fix things. And sometimes you want to listen to listen. The reason why I say that's the first one for those type of response for relational listening is advising which is fixing something, offering a solution. But again, that's not the end all be all here because you can also analyze meaning you're interpreting the situation. You can evaluate what's going on. What's your mindset in here? What's going on? Is there any other contextual thing? This is called judging here but I think it's more of a … You're not judging the person, you're more being curious of what other context clues are really happening.
Supporting and then questioning. Again, asking questions, being curious, supporting that person, trying to show some sympathy or empathy and solidarity, show that they're not alone. Prompting. Some of these non-verbals of continue, I want to hear more, right? And again, going back to paraphrasing, continuing … Confirming what is being said. I want to hear that I heard you right. And again, context and gender play a big type in these responses. The way that we do respond, and maybe not such a harsh way but maybe in a soft way, is going to really impact that interpersonal communication. And again, the trust and the feeling just safe with that person, right? Those are some things of okay, what are some key points of how to combat some of these ineffective listening behaviors? Or what are some opposite things that I can work on? You can hopefully reread or rehear all of those things I was talking about.
My gosh, Aaron, you did a great job covering what we shouldn't be doing when we're not listening as well as what we can do to be better at it. I mean, thank you. I mean, this was a very thorough discussion because I think you gave a lot of going more in-depth tips of how to do it. We were talking about I statements. And often if you just Google online how to communicate better it'll give a little list of five things like use I statements and blah, blah, blah, blah, blah, blah. And you went beyond that. And I know I really appreciate that and our listeners will as well.
Like I said, I got to give a lot of credit to Jason and to the people … Me being able to do this a lot during undergrad and being able to come back every quarter and teach this lesson. I'm glad that this was a topic that was important. And I do think it's important because sometimes … Even me as a so-called expert fall into this category. Sometimes-
I think because we all can fall into this category, right?
No doubt. My wife was speaking about something, I think it was regarding a pickleball team or something like that, and I was just trying to fix it right away. I'm just like "Oh wait, what am I going to be talking about tomorrow? I probably need to scooch back and whatever." Again, even with us professionals, we will mess up sometimes and we will not necessarily be perfect all the time. So you can give yourself a little bit of grace and be like, "Hey, Mr. Bald therapist guy Aaron Abrams was saying these are all the things that you're supposed to do and so I need to take this verbatim." Well, you can try your best, right? Try your best. Do the best you can with what you got and live with the results. That's I guess my final takeaway.
That's great words of advice right there. So thank you again, Aaron. Love to have you back on.
I'm sure that I will be. Thanks, Nikki, I appreciate it.
And I would also like to thank the team behind the podcast. Jason Clayden, Chris Kelman, and Juliana Whidden. Take care, everyone.