podcasts
What is an Intensive Outpatient Program? – Podcast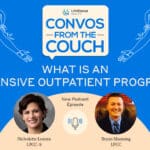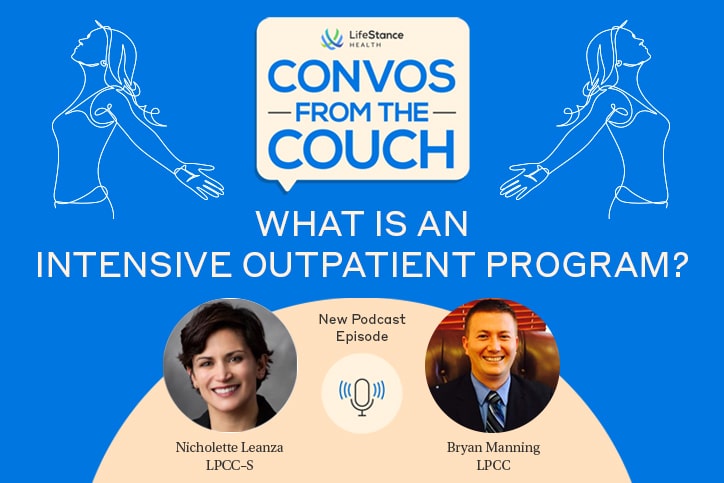 By LifeStance Health on July 21, 2022
LifeStance Health provider Bryan Manning breaks down intensive outpatient therapy. Considered a higher level of care than individual therapy, an intensive outpatient program helps clients feel less alone and breaks down the stigma of mental illness.
Welcome to Convos from the Couch, from LifeStance Health. For each episode, you'll hear engaging formative conversations with leading mental-health professionals that will help guide you on your journey to leading a healthier, more fulfilling life. Hello everyone, and welcome to Convos from the Couch by LifeStance Health. I'm Nicky Leanza. And on today's episode, I'll be talking with Brian Manning, Professional Counselor from our Lexington, Kentucky office, and he will be sharing some information about his intensive outpatient program. So, welcome Bryan. Great to have you on.
Thank you. Thank you for having me.
Yes. This is something that I've been wanting to talk about for a while on the podcast. You run a great program down there in Lexington, and I happen to run one up here as well. So I know you and I are going to have lots to talk about. I know we're calling in terms of the intensive outpatient program, but it's also known as IOP as well. So throughout the episode, I know we'll be referring to IOPs. So, as we jump in, let's first, let's have you tell us about you. Tell us a little bit yourself.
Absolutely. Absolutely. Well, I guess, I'm down in Lexington, Kentucky. I'm at the [inaudible 00:01:22] location. And so, running the IOP, the intensive outpatient program. So I've been doing that for a little while now. But, prior to that I've been in the field for over 10 years now in various settings. I've worked in outpatient, of course, community mental health, rehab, and I've done a couple other group work things. So I've been doing a lot of things in a variety of places. But now, I'm running the IOP and intensive outpatient program. And then I do again just general outpatient. I do see adults for various mental-health issues, depression, anxiety, and substance use, individually as well.
It definitely sounds like you carried the experience with you to run an IOP, because I think running groups, it's a different type of specialty than you would do as a professional counselor just running individual therapy. So, you definitely sound like you carried that experience with you, which is really great, for sure. So, tell us what is actually an intensive outpatient program.
Right. Well, intensive outpatient program is what it sounds. It can be intense at times, but for me, I like to think about IOP on the continuum of care. So, another way to think about it is like receiving medical attention and care. If you have a medical issue, you go to the doctor. You might see them once a month, maybe a couple times a month, but if things aren't progressing, then you're going to increase treatment. You might again be seen more frequently or [inaudible 00:03:06] labs. Or, potentially go to a rehab or a hospital. Well, for mental-health purposes, IOP serve something very similar, in terms of increasing your level of care. So, in many cases individual, one-on-one counseling is enough, working through issues, developing coping skills. But, at times we're going to need more resources, support, frequency of sessions. And so, that's what the IOP does to help increase somebody's level of care.
And so, is there specific criteria you are looking at to determine if someone is appropriate for an IOP?
Mm-hmm. Yeah. Absolutely. So, thinking about the IOP on a continuum of care, on this end here we have individual treatment, and then on the far end we have more inpatient or long-term care. And so, IOP sits in the middle of that. And so, if somebody's needing more intensive treatment, we want to make sure we assess for safety. So, if there are safety concerns, then we may want to consider an inpatient setting. Or, if somebody's going through detox or withdrawal, they may need to go to detox to make sure that they are safe. Number one.
And then, after that, we want to make sure that the IOP serves the needs of that particular individual. And so, that will look at what are their goals? Whether they're wanting to you'll work on coping skills, if they're struggling with substance abuse, do they need that extra accountability? Like weekly drug screens? And so, we look at their goals and make sure that the IOP would benefit them, because each IOP has its own personality, but they also has a different treatment course. And so, we want to make sure that the care is what they'll receive.
Right. No. That's very important as well. I think looking at that level of care of IOP you mentioned before, it's a bit of a higher level on the spectrum of care than just individual therapy. So if someone's really struggling in their individual therapy and they're needing even more care, that's where the bump up would be to IOP. And then, even beyond that, is something, partial hospitalization programs. It's even more intensive than an IOP. I think generally when we look at IOPs, it could be three or four days a week for three hours at a time. But, a partial hospitalization program is going to be more like five days a week and pretty much all day, or six hours a week. Right? It's that one step below hospitalization. Right?
We want to make sure we get that patient to the right level of care.
Exactly. Exactly. And sometimes that might take some time working as a team trying to determine that. But I agree with you, it's really making sure you're getting that person at the right level of care. So, in your particular IOP, are there specific topics that you cover?
Yeah. So each IOP will have their own again, personality. But, for me, a lot of my experience has been CBT, cognitive behavioral therapy, as well as for substances, like motivational interviewing, stages of change, things of that nature. So my particular IOP does focus on both, both mental health, depression, anxiety, as well as substance abuse, alcohol, cocaine, heroin, opiates. So, we do address both issues concurrently. And so, for me, I do a lot of CBT, cognitive therapy again. And so I really look at and work on managing our negative thoughts. And so, we call them ANTs, automatic, negative thoughts. And so, we spend a lot of time looking at those ants, trying to identify where they come from as well. But, a lot of thought-stopping skills, a lot of coping skills to challenge those automatic negative thoughts. So there's one element there. And then, other ones include really working on emotional regulation skills of working through either an intense emotion or particular [inaudible 00:07:53]. And so, other topics I include working on boundaries, [inaudible 00:07:57]
Absolutely. And so, that may also include identifying our triggers or warning signs, how we engage in either refusal skills, but setting healthy and assertive boundaries with others.
So, how can it benefit a person to go through an intensive outpatient program?
Yeah. Well, as we've said, really increasing that level of care. Individual treatment, you can see maybe once, but maybe four times a month, once a week or so. But sometimes, again, we need more. And so, that intensity comes from, like you said, that three or four days a week, three hours a day. So, you're really putting a lot of more focus and attention into yourself, your mental health and wellbeing. So, that really puts a lot of, again, attention on those coping skills and a lot more consistent … Even accountability. Coming in the next day is different than coming in the next week about however you're doing, how's this coping skill going. So, really that intensity, that focus helps drive home some of those skills to be successful in coping with whatever may be going on at the time.
And can you also talk a bit about the group dynamic, of how just the supportive group can be of being a client in a group with other people who struggle with mental-health or substance-abuse issues?
Yeah. Absolutely. Yeah. And this may be one of the biggest reasons why I do love IOP. I've been doing it for a while now and love to see the growth that happens during that time. And so, it is a really good way to expedite treatment and to, again, work on those skills. But, one of the biggest factors, and again, probably one of my favorite factors is seeing that group dynamic. People come in, they're nervous, they're scared. "What am I going to say?" "What am I going to do?" But, after maybe a few sessions they start to realize, "Hey I'm not alone." "Oh, you did that?" Or, "You thought that? Me too." There's that moment there where we realize that, hey, "It's okay to struggle. I'm not struggling by myself. Other people are working on this too. And, it's okay to have these concerns."
Yeah. I agree with you wholeheartedly. One, of it being one of my favorite parts of running group therapy, and then two, that notion of like, "Gosh, I'm not the only one struggling. I'm not alone."
And when you see that happen, I think there's instant … That's definitely helpful to the healing process too, to recognize you're not alone in your struggles with things. So-
Yeah. Especially maybe more so with substances, but just in general, we're getting better, but there's a lot of stigma around mental health and substance abuse. [inaudible 00:11:02] So, that leads people to maybe hold back, not really come forward or share what they're feeling out of shame or some other repercussion. And so, going through the IOP really does help, I think, break that down, to realize, "Hey, I'm not alone. Other people struggle as well." And I think it really helps take down some of that stigma that keeps people from treatment, honestly.
Yeah. Yeah. I agree, for sure. And we definitely know we need to continue to break down that stigma. Absolutely. So, are there any other takeaways you'd like to share about IOP or an intensive out-patient program?
I mean, I do love the IOP. I love that group work, as we discussed. It really is a great way to increase outcomes. They're a little bit quicker in terms of focusing on your mental-health or substance concerns. So, it's a great way to really increase treatment frequency, really sharpen those skills. And, like we said, just get with other people who are thinking and feeling the same way you are. And so, it really helps expedite that treatment and to get people better, which is what it's all about, taking care of the mental-health and substance concerns.
Right. Oh, for sure. Gosh. Well, thank you, Bryan. Thank you for sharing some information about your program. And it sounds like an amazing program, for sure. So, thank you again. And I would love to have you back on.