podcasts
Mental Health & The Latinx Community – Podcast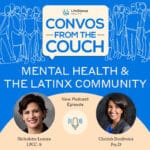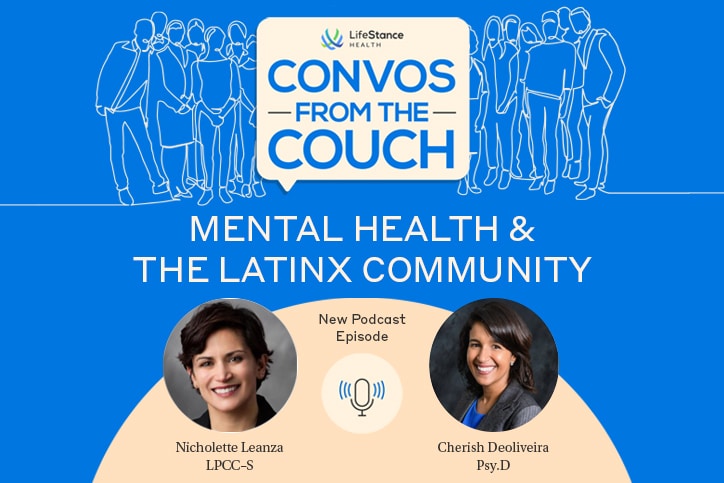 By LifeStance Health on July 13, 2022
Cherish Deoliveira, PsyD joins us to discuss the many communities that make up the Latinx community, the cultural values that are central to the community and barriers to mental healthcare as we recognize #MinorityMentalHealthMonth
Hello, and welcome to Convos from the Couch by LifeStance Health. I'm Nicki Leanza and I'm so excited to talk with Cherish Deoliveira, a psychologist from our Chandler, Arizona office, on the topic of mental health in the Latinx community. So, Cherish, I'm so happy to be here.
Thank you for having me, Nicki.
Yes, no, excited to have you for sure. So let us begin. And let's have you tell us a little bit about yourself.
Sure. So I'm a clinical psychologist. I'm originally from Boston, Massachusetts, and now I'm practicing in Arizona. I was born to Brazilian parents. So my parents moved to the US some point in the eighties and really what they were looking for at that point was safety and financial opportunities. Really things that they couldn't get in their home country at the time. As far as clinical work goes, I have a lot of training and background in therapy with children and with families. Given all the transitions with telehealth, now I'm actually really working exclusively with adult women. And then some areas of focus and specialization, so I work a lot with intergenerational trauma and also identity development is another area of focus. And then as far as communities go, there's really a large portion of my client base that I would say would be LGBTQ+ members of the community and also the Latinx community.
Great. So your clinical experience, your cultural experience, all definitely I can see shapes you to be just probably just a brilliant and excellent clinician all around for sure.
So let's start talking about the Latinx community from the point of view of what communities make up the Latinx community?
Yeah, yeah. So the term itself, when we're using the term Latinx, we're really talking about people that have Latin American descent or origin. And really naming that group as they live in the US. So really it's a term that's used most to describe that population within the US. The more, I think, familiar term to most people would be either Latino or Latina. And the Latinx really comes in here as more of a gender neutral term. So we're really moving away from that gender binary that has the O and A ending connected to the language. And rather than Latinx being based on either just one language or one cultural root or background, we're actually looking at a variety of nationalities and races and ethnicities. So it does include a lot of Spanish speaking countries. So we have have Mexico, Guatemala, Cuba, Peru. But it also includes countries such as Haiti and Brazil, which are not Spanish speaking countries, but really have a very similar kind of cultural root, if you will, and so kind of gets grouped in with Latinx.
I think for people who are working within that community, understanding, important not to make any assumptions. So if you are seeing someone and you think and you imagine, oh, they identify as Latinx. Not making that leap, not making that jump. And instead, really working with people. Because a lot of the times what you'll find is that there's a lot more comfort in identifying based on the nationality or the nation of origin. So Latinx is such an umbrella term. And so a lot of times when you're really working with people one on one, they'll actually pull from here's where my parents are from, or here's where I'm from. And then usually it's kind of like that more narrow if you will, or defined identity.
And so when we talk about some of the important cultural values within the community, again, we're using Latinx as that umbrella term. So as we talk about values important to the community, again, I think there's some nuances with some of the different communities within. But I guess if we're going with a general approach, just for the sake of this, can you share with us some of the important cultural values?
Yeah, absolutely. So one of the ones that I think really stands out has to do with something that they've named kind of familisim, which essentially is saying that family ties and family connections are central. So it can be very common to actually see families living in a multi-generational household. A lot of connection and just really building those bonds between extended families. So a lot of things that involve the grandparents, the aunts, the uncles, the cousins, and really that all of that is really family. Whereas a lot of times in the US, when we say family, we're talking about the nuclear family. We're talking about parents and siblings. And within this Latinx community, there's a much broader kind of term if you will, that says, hey, this is what family looks like. So that, I think, would be one of the ones to understand. Another would be really understanding work ethic.
So we're really talking about peoples who have survived generations of colonization and many times a lot of significant oppression and marginalization. So this kind of drive for work being what saves you and what gets you out of poverty and gets your family to a better place, it's very deeply rooted. So that is common across, again, many, many, many of the different countries that we kind of see under that umbrella term. And then the third component would be understanding that there's still a great degree of patriarchical hierarchy. We're really looking at this idea or notion of respect and that there are certain members of the group that are somehow seen as deserving more of that. So there's a kind of tendency towards adult men being seen as the ones who others need to be respectful towards. And disrespect is a huge issue also that comes kind of within that. So we know that there's still a very gendered way in which boys and girls are being raised, which then ultimately affects how they function in the group as men and women as adults.
So I can see the importance of knowing these values, knowing that it leans a little bit more towards patriarchy and how family is so important and things like that are so key, the work ethic, for mental health professionals to be aware of if you are someone who, as a mental health professional, are not part of the Latinx community.
Yes, yes. And trying to ask those questions to get at the that better understanding. So an example might be if you're working with a teen and they're coming out of this Latinx community, and you're asking them questions of what do you do after school? Do you swim? Do you do dance? Do you do basketball? And the answer being, no, I take care of my little cousins. That's what I do. That's the expectation. So there might be this misconception of, oh, well what's going on there and?
While that's really following a very, very normative cultural practice. Which is, the older you get kind of within that family system, you have certain responsibilities towards other family members.
I can see that being so misinterpreted by a mental health professional not within the community of thinking what's going on? Why are you not in swimming and all that? And snooping down a rabbit hole that is not really, maybe even important. They're missing the cultural value.
I hear you for sure. So speaking of mental health, and again, we're talking in general terms. But generally, how is mental health viewed within the community?
So I would say, in general, it's still seen as somewhat of services that are connected to privilege and also almost an element of luxury. So if you are in a place in your life where you are able to set aside the time, the finances, the resources, in order to get that kind of help, it really is seen as well, that's bonus, that's extra, right? Because it's seen mostly as something that's still predominantly part of a white group, let's say that dominant group, versus it being something that fits within the Latinx community. So I would say one of the primary issues would be how do they even identify mental health symptoms? Because a lot of times the presentations are a lot more physical. So what we typically see is there's limited understanding of what mental health even is and what services are available. But when people are struggling with what we in the mental health community would call anxiety or depression or trauma response, they're going to their primary care physicians.
That's where they're showing up and they're saying, hey, I can't sleep. Or I have these migraines that won't go away. I have all these stomach issues that are just really bothering me. And so sometimes it really takes that added layer of someone within that medical community being able to say, hey, maybe there's something going on beyond that you ate something and your stomach is just upset. There may be something to this. And being able to connect those dots. Because I think there's still a lot of mistrust and just misunderstanding of what mental health is.
So with that being said, the mistrust and the misunderstanding of it, I'm guessing there's some stigma to it then in the community. Is that correct to say?
Yeah, absolutely. What I hear the most is this fear of it takes a lot for people to even get into therapy, right? So when I see them, that means they've already jumped through many, many hurdles and barriers. But typically they'll get in and say, I can't tell my family that I'm doing therapy. No one can really know about this. I'm really worried. What if they think I'm quote unquote crazy? What does that mean? And so there is a lot of fear of, okay, if the person is already seeing themselves as being in this situation where maybe they are being discriminated against, maybe they are being marginalized, to add this other layer of stigma around mental health, it just may feel like this is just too much. I can't hold all of this at once. So yes, a lot of fear, unfortunately, and it is tied to that stigmatization.
So then that's going to feed into barriers to probably seeking treatment and getting treatment and everything.
Are there other barriers that also might get in the way?
Yeah, I mean, I think if we're really understanding that mistrust, and another thing I would say would be lack of representation.
So when you're really trying to, you're looking for help and let's say you land on a page where you're searching through therapists and you're scrolling and you're trying to figure out all these things, it's really difficult to look at and say, wow, no one looks like me. There is no one that is saying that they understand my culture and my background. They don't speak my language, whatever that issue may be. So that also presents, I think, as an additional barrier. It's just that lack of representation. You know, something that hopefully is shifting as we're seeing that Latinx community is just growing tremendously in the US. And the hope is that with these newer generations, we also have people kind of moving into some of these fields, that just there isn't enough for representation at this point.
So that would be one of the things of, if we can have more of a draw to people in the Latinx community choosing to become mental health professionals, would be really helpful.
Yes. It would make such a difference. Absolutely. And I hear that all the time where sometimes someone found me because they said, wow, I saw you and you looked like me, and no one else on that search page did. And that helps just to have that bridge, that connecting point, and already some sense of feeling understood or feeling like they belong. Because that's true for any of us. If we go into a space and no one looks like us or thinks like us or talks like us, we immediately feel, okay, we don't belong. And that's a similar experience when you're just trying to seek treatment. And so really being able to kind of draw in, like you said, more people from this community into mental health services and professions, it would make such a difference.
Oh, for sure. So do you feel like some of the barriers to getting treatment, do you feel like it's going in a better direction and it's decreasing some of the barriers perhaps?
Yes, I think so. And what I would say is at least what I found helpful is working collaboratively with the primary care offices. So creating that referral base. So if you are kind of working with the primary care physicians for them to start to notice and identify, okay, this person keeps coming back, they're coming in every three months, four months, six months, and here's what's going on for them. Maybe it is a mental health issue. Maybe it's something that therapy would be more supportive of rather than just coming back and checking in with me as their primary. And being able to shift that thinking and then create a referral. So if you have that doctor saying to their patient, hey, here's what I think is going on and here's who I think can be helpful, let me refer you to this person. Then the therapist already has at least some trust being transferred.
Right, right. It's so important.
Yes. And it increases the chance that the patient then follows through with the referral and gets the mental health services. So I've definitely seen a positive change. And I would have to say that that's been one of the shifts is that once the primary care physicians are able to identify some of these things as, oh, this would be really important to get mental health services on board, and then creating that referral path, it's really helpful.
Oh, for sure. Can you share with us some other takeaways to help us understand the Latinx community in mental health?
Sure. So some of the things that we've already talked about, I think knowing some of those cultural values. Like if we're thinking about family and the idea of family first, all of that can work really as a double edge sword. So when you have an environment of extreme support and care and nurturing, you can see how having all of those family connections, it just is going to lift you up. You're going to really feel that sense of belonging through and through because you always have a place to land. You'll always have help. You'll always have somebody who's there. The flip side of that is when those family environments are not so healthy, because a lot of times we are looking at significant intergenerational trauma. And then for the individuals kind of feeling trapped in that, there's such a sense of guilt and this sense of loyalty to the family.
So it's difficult to speak up. It's difficult to get help. So a lot of times I'll hear from my clients, well, I don't want to say that because it feels like I'm talking bad about this family member or like I'm gossiping. And to kind of help them work through and say, no, this is part of what therapy is about. We have to work through it. And in order to do that, we have to talk about it. We have to name it. So they really will struggle with that sense of guilt or obligation and loyalty to the family.
And really a lot of times at a disservice to themselves. So being able to kind of name that. Or for clinicians to kind of watch for that too, I think would be important. And then lastly, understanding for any clinician in that dynamic, knowing that they do hold a lot of power and authority. Because again, just how that Latinx community is structured, those clients are coming in and seeing the therapist as an authority. So do a lot of work to really create more of this kind of reciprocal relationship. So there may be a lot of things that they'll feel really uncomfortable doing because they may think it's disrespectful.
And that's really important to know. Wow.
Yes. And it really does apply to something as simple as if they want to change their time of when they're normally seen on their day. They may really struggle to bring that up with a therapist because what if that's disrespectful, right? It's not the therapist leading that change of that conversation, they have to bring that up. So knowing that idea of respect, of how do you speak up for yourself, that sense of agency, it's not really fostered growing up. And so it's something that then later on as adults navigating a work environment and how do you ask for a raise and how do you stand [inaudible 00:17:57] to a certain job expectations that actually just go beyond the scope of what you're doing. And so really there's that advocacy piece where internally the person might just feel like I can't, because that would be disrespect. This is my boss, this is my manager. This is someone in a position of authority. So doing some of the work to break that.
And so I could see where that would be some cognitive dissonance for someone within the community, because it's a cultural value of the respect. And so if in therapy, per se, so this is either setting boundaries or it's about being assertive. You can see where that would kind of go counterintuitive to how they were brought up or the cultural values of it. Wow, that's really interesting.
Absolutely. Yeah. So even the idea of boundaries themselves. If you think about that shift in difference in some other kind of cultural groups in the US, if children are being raised to speak up for themselves, piece of advocacy. But then within the Latinx communities, those same children are told, hey, don't talk back, that's disrespectful. Now you're getting completely different frames of reference on how to be in the world and how to speak about your needs. And then that's going to carry into adulthood into your relationships, into your professional development. So yes, the idea of boundaries can feel very foreign. And being able to do a lot of that work, just saying, no, this is okay. You know, you as an adult, here are the things that you're able to do for yourself and speak up for yourself and advocate. And again, like you said, it may create a lot of that cognitive dissonance.
Yeah. I would imagine so. My gosh Cherish, thank you so much for sharing your knowledge on this. And you really opened my own eyes in recognizing, I do pride myself on being a therapist that works very hard to be as culturally competent as I'm able to be. But even today of like even the kind of dissonance of setting boundaries with assertiveness, things that would be typical within US society of throughout therapy of helping a client do, how that can run against the cultural norms of someone in the Latinx community. So, I mean, you just brought up so many key points here. So I thank you for kind of opening my own eyes with that and being more aware of it.
Thank you again. I'd love to have you on, and I want to say [foreign language 00:20:31].
Thank you for having me. It's been a pleasure.