podcasts
Promoting Body Positivity in the LGBTQ+ Community – Podcast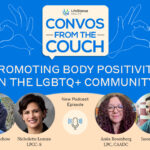 By LifeStance Health on June 6, 2022

According to the National Alliance for Eating Disorders, LGBTQ+ individuals are at greater risk for eating disorders than cisgender heterosexual folks and have unique and nuanced experiences with food and body.
In this panel discussion, we explore some of the challenges the community face today, how social media contributes towards body image issues and ways to promote body positivity.
Welcome to Convos from the Couch from LifeStance Health. For each episode you'll hear engaging and informative conversations with leading mental health professionals that will help guide you on your journey to leading a healthier, more fulfilling life.
Happy Pride month, everyone, and welcome to Convos from Couch by LifeStance Health. I'm Nicki Leanza. I'm excited for this episode today because we'll be having a panel discussion on the topic of body image and the LGBTQ+ community. Our guest panel includes Jason Clayden, Anita Rosenberg, and Jaden Wischow. So welcome everyone. So great to have you guys here.
Hi, Nicki. Thank you for having us Happy Pride.
Yes, for sure. Very excited. I think one of the most important things of why we're having this conversation is because according to the National Eating Disorders Association, the LGBTQ+ community is at a greater risk for eating disorders than the general population. So it's so key that we're having this conversation today. So thank you again for joining me on this conversation and actually let's get started. Why don't we start with having you guys tell a little bit about yourselves and what you do for LifeStance. So let's start with Jason. Jason, tell us about you.
My name is Jason Clayden. I'm the director of social media for LifeStance, been with the company for a year. Definitely appreciate you bringing me on Nicki for this episode.
You're welcome, Jason. Thanks to have you on for sure. Anita, tell us about you.
I'm Anita Rosenberg. I'm an LP safe and I do individual therapy with adults and teens, and then also couples counseling.
Thank you. Jaden, tell us about you.
I'm Jaden Wischow. I am a front office coordinator for the Colorado division. I am support staffer providers. My pronouns are zey/zem, been with LifeStance for a year and some change. So I'm excited.
Great to have you on with us today as well. So let's jump in and talk about, why are body image issues so prevalent in the community?
I mean, as a trans person I know that I have friends who have used or ended up with a really unhealthy relationship with food because of their gender dysphoria and how much they don't feel okay in their own skin. So it ends up translating to this really either disordered eating or more often I saw anorexia nervosa rather than overeating and binge eating. But that's what I would think of first.
We as gay men often compare ourselves, not only have to look good, but look the best in the room. I certainly think that this is largely brought on by the rise of influencers. Social media has certainly perpetuated that as well.
We'll be talking about that social media piece in a bit for sure. Anita, what do you think?
I also think that there's an aspect of if you're a member of the LGBTQ community, there is so much pressure internally and externally. We automatically don't fit into the social norms. So as a means of grasping some sort of control, if we focus on what our body looks like or what other people think of our appearance, that might help us to fit in, in ways that we don't believe that we're able to otherwise.
Excellent point. For sure. So that brings us circling back to social media. Digging a little deeper, how does social media perpetuate these issues in the community?
Great question, Nicki. It has a lot to do with the algorithm. Many of us follow influencers, many of whom have washboard abs, great bodies. They're at the gym five, six days a week, trying to look their best and oftentimes try to look the best in the room. What happens is based on who you follow, a lot of these accounts will actually show up first in your feed. So you're getting fed this time and time again, multiple times during the day. So that frequency I'm sure has a lot to do with anxiety and negative thoughts.
For sure, Jason. Jaden, Anita.
I think one of the issues with the social media influencers is that there's no end point. You're always seeing somebody that is on to the next thing or has set a new goal for you, even if you were never interested in it to begin with. So you can never achieve perfection because once you've attempted to achieve something, something new is available to you. It's this constant revolving door of an unrealistic beauty standard for every community.
I think that's that key, that hamster wheel that you're still striving for something that's not attainable. There's always a next thing that's going to be put out there too.
We have to keep in mind that, oftentimes what we see on the feed is not real. They may have great bodies, but oftentimes there's a filter that's placed behind it, tons of editing. We know that there's so many apps out there. I've been guilty of using a few of them in the past myself, but that's certainly something that we have to keep in mind that as we're using social media, a lot of what we see is not really true.
That's the key and I think it's so easy to forget that. I like those Snapchat filters. Those are fun. Going on Instagram, looking at some of those, it makes me look so glowy and so young, but that is not really what I look like. It's very easy to forget that.
It's interesting because at least in Texas was the removal of some of the beauty filters. The reason why is because the authorities are not able to actually pinpoint facial recognition. So definitely want to point that out because it made the news pretty recently. So it's very interesting to see where that's headed.
We're going to have another aspect too, of not just what beauty should look like, but if heaven forbid a really popular celebrity or influence is seen without all of their makeup on or without the professional lighting and they have even the littlest wrinkle or little bit of cellulite, that is blasted all over social media too. So it's not just this heightened standard of beauty, it's how ostracized you're going to be from the group if you're not following it.
It's such a key point. That's true. We do jump all over celebrities or it's so fascinated when celebrities aren't wearing makeup and what they really look like and stuff. I think that scrutiny is so vicious at times, for sure. So setting that standard is really severe for the rest of us.
This is your body. This is your unique body. It's hard to change that comparison mode, but I think it's important to really look after yourself. Because when you look good, you feel good. I think it's a great model to live by, but when we start to compare ourselves, I think that can get a little tricky.
That's the kicker right there comparing ourselves.
You mentioned plastic surgery and this reminded me hilariously of someone I follow on TikTok, but they went through this whole recovery from an eating disorder and are beginning to love their body again, and coming out as non-binary and this whole thing. A lot of times you'll see trans people and queer people coming out after, or as they are recovering from an eating disorder.
Because it's now, "Okay, I don't hate my body because of some intrinsic thing. I hate my body because it's not mine." Then you mentioned again, the plastic surgery that then can be used in a healthy way. I feel like reframing it in a way for a lot of people would be a really good thing because like you want to slightly masculinize your features because that's a way for you to help recover from an eating disorder. But I don't know if there would be a way to go and more healthily reframe. So Jason, your part of the community no longer is stuck in this, "I have to be youthful." It's like, "Okay, how can we maybe use this as a tool to recover?"
I love that Jaden. That's great. A tool to recover.
Because I hated my body and then I had top surgery and I suddenly didn't want to kill myself. Like, "Wow, shocking." So I don't know. Interesting ideas like a therapeutic tool even to go and discuss.
100% can certainly see where that has its benefits. Because at least in my experience, I think once people do go or undergo certain procedures, they feel like a new person. They feel, "I am myself now." Completely understand where you're coming from with that. The other thing worth mentioning is that, at least as gay men and bisexual men in my experience, there are certain cycles that we go through or different phases in our life. For many of us in our 20s, it's very appealing to have a very slender body. A very thin physique, that twink body is certainly something that is appealing.
Once you get in your 30s, that switches. Now you have to maintain those abs still, but there's pressure for you to go to the gym and develop muscle tone. So that puts added pressure. So when you're finally like, "Oh, hey, I now have these washboard abs. I'm thin." You hit your 30s and there's additional pressure. Now you got to put on 20 pounds of muscle. So I'm sure a lot of people undergo a lot of stress because of that.
Let's talk about eating disorders in the community. As we started this episode, we talked about the alarming rate of eating disorders within the community according to the National Eating Disorders Association. Why do you think that is? Why do you think we have such high rates of treating disorders? Anita, do you mind starting us off with this conversation?
Absolutely. I think Jaden made a really good point before about this idea of not understanding why you dislike your body so much. Then as you get to know yourself, if it happens to be that my gender does not align with the way that I was born, that is a whole different level. There are multiple right answers to why it is so prevalent in this community. One of the things is that it doesn't often have to do with your body to begin with. A lot of times, eating disorders are initially established as a result of a traumatic experience. The LGBTQ community has a higher likelihood of experience personalized trauma. So that automatically correlates to a higher rate of this.
We also have the idea that we spoke of earlier of, "I don't fit in because of who I am, but here's a sense of control I can have. If people are not going to accept me for my gender identity or my sexual orientation, will they maybe accept me if I look a particular way? Can me doing this distract from the underlying issues? If people that care about me are focused on my health, they don't have to talk to me about these other issues that I don't even want them to know about because they're never going to accept it." There's so many different ways and toxic thoughts that come along with an eating disorder and so much of it is irrational.
If you heard somebody else say it, you would be telling them like, "But that's not true." But when you're in it yourself, it feels like this is the only form of reality. "Something is wrong with me, that I don't have control over, but here is something that I can control."
Excellent points. Jason or Jaden, anything you like to add?
That's literally a pattern that I've seen in my friends and peers since I was 16.
No, I can certainly relate to that Anita, 100% and one of the biggest struggles that I felt at least in my early 20s, no matter how often I went to the gym or I ate as much as I could. One of the things that I really had to really understand was there's a certain degree of genetics that plays a role in terms of how your body changes. We really have to acknowledge that and keep that in mind. So really understanding, use what you can control, accept the body that you're given. It's taking you this far and some of those idiosyncrasies or flaws that you find, maybe you'll learn to love them down the line. Because in many cases, what you find to be unattractive is certainly very attractive to other people. So that's something that I have found to be the case in the community.
You end up finding your people and that's the biggest thing, because there's a lot of crap out there. There's a lot of crap people.
Sometimes those people maybe replace your family because your family [inaudible 00:14:36].
Exactly. The whole concept of found family is so strong in our community because a lot of the times the bio family just is like, "Nah, nah, you're wrong. That's not who you are." It's like, "Watch me."
For sure. Let's talk about barriers to assessing treatment for eating disorders. Oftentimes people within the community will be hesitant to seek treatment for it. So let's talk a little bit about what would get in the way for people to seek treatment. So I'm going to jump back to Anita since this is part of your specialty. Tell us a little bit about that.
So one of the biggest struggles is that there's limited eating disorder treatment for the general public. It's a very specialized care. Not everybody is comfortable with treating individuals that struggle with these issues and there's just limited providers available. But then we add in that somebody who has an eating disorder, will just use a cis female, for example, heterosexual cis females perspective and personal issues that are contributing and triggering the struggles with disordered eating are not going to align with the struggles of a member of the LGBTQ community. Will there be similarities? Of course, there will be, but right from the beginning, you're coming in with a different set of core issues and values and life experiences that make a struggle to relate to one another.
So I'm a member of the LGBTQ community and if I were to seek eating disorder treatment, while it would be wonderful that everybody here can relate to these disorder, thoughts and behaviors I have around food, can they really understand the triggering events related to my own sexual identity that have created some of my struggles and have led me on this path or led me to choosing food as a coping mechanism?
I think that's so key of finding clinicians who understand the struggles within the community. To have such a specialty of being a specialist in eating disorders and understanding community is so key. There's not a lot of individuals or clinicians who have that very specific specialty either. So that could be part of the barrier.
Like there's those that specialize in eating disorders, those specialize with helping out members of our community here. But not a whole lot of those that have that combined understanding.
Very true. I was going to shift gears again. Jaden, you mentioned earlier talking a little bit about gender dysphoria and I wanted to take the conversation to, how does gender dysphoria complicate body image issues in trans individuals?
Let's just take all body image issues and then times 10, and you said it's that triggering event and then coping with food, but then also just not feeling okay with the body that you ended up with. Then there's the outside influence of, "Okay. What does a trans person look like?" Because if you're non-binary a lot of times you're expected to be androgynous. Androgyny is closer to looking like a cis man than it is a cis woman. So then you end up with a lot of fem non-binary people trying to go and navigate that. Then so now you're attempting to go and shift your locus of control inward and you're dealing with the pressures.
Again, this is specifically for fem indies that is placed on feminine people. Then you're dealing with the fact that you occasionally just don't feel comfortable in your body. So it's like, "Cool, let's make the whole thing way more complicated." Then imagine going to a therapist like Anita said, who maybe can do one of the things and trying to go and educate the therapist is what you end up doing.
Jaden, that's true. It's literally you educating the therapist then. That's a very good point.
I now go into doctors with like, you get tested and if you don't pass, I don't come back.
So you have your own gauge when you're working with healthcare professionals.
Oh yeah and that's something that I actually work with clients on, is I help them make their own personal tests what's important, but that's beside the point. So dealing with that compound issue. Then you just feel like you can't go anywhere, because it's like, "I can barely deal with this. How am I going to explain it to another person? Who do I even start talking to, to go and find a therapist? A lot of us wouldn't have insurance because we're unemployed and poor and a lot of us are homeless. So it's really messy and really complicated.
No. Thank you, Jaden. Thank you for sure. I was going to shift gears one more time here to talk about toxic masculinity and how that contributes to body image issues among now identified individuals. So let's talk a little bit about that. What are you guys' thoughts on that?
Great topic, Nicki. One of the things that we find at least in the gay community is you can open any app, any one of those dating apps, and one thing that is very prevalent is phrases like no fats or fems. Very toxic way of thinking. So now not only do we have to have the perfect body, the ideal body, we also have to be masculine. I think that, that is certainly the case even today. There's this pressure to be very masculine. If you are a person who may be more on the feminine side, there's a lot of pressure to obtain that kind of a deal. So I think that there's certainly an element of toxic masculinity in the community.
I always think of like GI Joe versus Barbie. Over the years, Barbie has evolved to all these different shapes, colors and sizes. However, GI Joe's waist gets smaller, his [inaudible 00:21:26] his biceps get bigger. There's not a version of him that's a different skin tone or questioning of gender. There's a Barbie that is in a wheelchair, but there's not a GI Joe that is in one. So made the shift for females at least in some areas I know Barbie is not the example that end all be all, but that has not happened as much for men in general. I think I struggle to comprehend where did these ideas of masculinity come from? Who decided that how tall you are, the size of your biceps and your sexual conquest have anything to do with how much of a man you are or not?
I never thought about that with GI Joe. You just blew my mind with that. I was like, "Oh my gosh, you're a 100% correct with that." Never thought of that or considered that. Wow. So I think this is a good point in our conversation to talk about what to do about all this. How do we bring more body positivity to the community? There's such a need for this. So how do we do it?
I mean, a lot of it comes down to like Jason said social media, but also advertising. I every year because I think it's funny look at the Target Pride collection because it's a good litmus test, honestly. It's like what body types are being shown, what clothes are put on those body types, the plus size models do not get cute stuff. Let me tell you there it is. So it's like accessibility in clothing and that kind of thing. So it's like, "Okay, how can we push to go and show more size inclusive?" We're talking extra small to 7X designers because we're not getting that in corporate. It's not happening, but let's go and elevate smaller designers. Let's go and elevate queer designers. So the more people that we can put on the radar of our community and show, "Your body is okay. Here is something for you."
It's really meaningful. Because fat is not a bad word. My fat friends struggle to find clothes. I have won is a bad phrase, but the genetic lottery and I am a gangly little bean pole. So finding clothes is a lot easier for me. I want that experience for them because that makes you feel better. You want to be cute, come on.
Yeah, I 100% agree. I think one thing that I would suggest is learn to appreciate different bodies or types of bodies in social media and the media. There's not just one type out there. I think especially with the rise of influencers, there's also a rise of different types of influencers. It's not just one ideal. Learning to appreciate that, I think is key. The other thing is take interesting pictures of yourself that show that your body is amazing. Learn to appreciate that because your body has taken you this far and perhaps somewhere down the road, you can actually reflect and say, "You know what? I appreciate this and it's certainly something that I think will help to at least reframe some of those thoughts." Also learn to consider that good health and a perfect body are different things.
Jason, that is so true. We do, we think perfect body, great health, but we need to reframe that thinking. Yes, for sure. Anita, anything you like add?
Yeah, I have a couple of thoughts. I think that it doesn't have to be so black and white as like body negativity versus body positivity. There can be that stepping stone of neutrality where you're not just focusing on what your body looks like, but focusing on how your body feels. Also, it's not just about the appearance. It's about what my body can do. There's so many miraculous things the body does on a daily basis. We also forget that the brain is a part of the body. The ability to automatically think about things, make decisions quickly in a difficult situation, to be able to stand up and walk across the room without having to focus or concentrate on it. There's so many things we take for granted on a daily basis that prove that our bodies are miraculous regardless of their physical appearance.
Love that. Our bodies are miraculous regardless of our physical appearance. So true. I want to thank each of you, Anita. Jason Jaden. Thank you so much for sharing with us today your thoughts on body positivity within the community. It's so important. So thank you all and Happy Pride.
Happy Pride. Thank you, Nicki.