podcasts
Ken's Quest: Unpacking Male Fragility – Podcast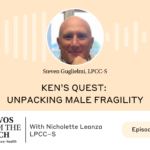 By Jason Clayden on August 24, 2023
On today's episode, we take an unexpected twist as we explore the theme of male fragility through the lens of the new Barbie movie. Join LifeStance providers Nicholette Leanza and Steve Guglielmi, as they unravel the layers of Ken's journey to self-discovery in the film and how it highlights the complexities of male identity and societal expectations.
With humor, insight, and a touch of nostalgia, Steve and Nicholette delve into the ways in which the Barbie movie sparks a conversation about modern masculinity.
Listen and Subscribe Here
Welcome to Convos from the Couch by LifeStance Health, where leading mental health professionals help guide you on your journey to a healthier, more fulfilling life.
Hello everyone, and welcome to Convos from the Couch by LifeStance Health. I'm Nicholette Leanza, and on this episode, I'll be talking with Steve Guglielmi, a regional clinical director from our LifeStance Columbus offices, and we'll be talking about male identity and male fragility. So welcome, Steve. Great to have you back on.
Thank you, Nikki, for having me here. I appreciate it.
Definitely. The Barbie movie has surprisingly really brought the topic of male identity and male fragility to the forefront. In the movie, we see Ken struggling to figure out who he is outside of his relationship with Barbie and get swept up in quite a bit of male fragility along the way to finding himself. So Steve, I'm really looking forward to our conversation today as we talk about this topic and you help us understand more about male identity and male fragility. So let's get started. Tell us a little bit about yourself.
Oh yeah, thank you for having me back. I appreciate your conversations and the things I've learned watching your show, so I do appreciate it. So as you mentioned, I'm a regional clinical director here at LifeStance in the Columbus area. I've been in the mental health field for going on 20 years. I've been married for 18 years. I have two boys, ages nine and 13, so they keep me very busy and I like to golf. That's [inaudible]-
Do you get a lot of time to golf, a lot of chance to golf?
Not as much as I'd like. So we're about to enter into soccer season with the boys and stuff like that, which we're looking forward to.
Got you, got you. All right. Well as we start our conversation today, let me first say that this conversation we're having about male identity, this is for anyone who identifies as male. So I feel that's very important to put that out there. And so as we kick off here, let me ask you this, Steve, how do societal expectations about what it means to be a man affect the way that men view themselves and their roles in the world?
What it means to be a man? And I tell you what, you sent me these questions ahead of time and I really started to think and reflect on this. And we talk a lot about societal norms. So my perspective is going to be obviously as a man living in society today, but also the conversations I've had as a therapist with many men over the years about the struggles with self-identity and this overall what is expected of men in our society. As I reflected on this and some of the conversations we've had, I think of one of the most prominent components is this expectation to be strong and to create a stoic presence, which creates a lot of underlying expectations in men in general.
And that ties into this underlying idea of eliminating weakness in our lives and really struggle to show when you're struggling and how that can be perceived as being weak. And that can really … you run into that not being very well accepted as a man. Then you look at the different roles men play. And this is for really everyone. We all play different roles in life but one of the more prominent roles for men is that role as a father. And where these societal expectations get tied into how you need to lead and run your life and it's your modeling behavior for your kids. And then you tie this into a different role, which I think is a little bit more interesting, when you look at career development and men in leadership positions.
One of the things that I've noticed over the years and really developing in society today is this undertone of conflict. I think there's really a developing association that in order to be a leader you need to be drawn into and sometimes even creating conflict. Now, I'm not a big fan of that. I'm not opposed to healthy conflict but I think sometimes there's an expectation that if you're going to be a man and that you're going to be leading, that you need to be able to deal with and engage in conflict. And that's almost associated as a leadership skill, which I do, like I said, I do believe that there are components of healthy conflict in relationships, but sometimes it's almost expected that men stir up and engage in conflict. And to me that can be very unhealthy.
Is that an aspect of them asserting power then or something? I
I think so. I think some men struggle with this idea of if I'm not causing and engaging in conflict, I'm not leading.
I totally agree that there's that undertone of expectation of being powerful, just almost being a bit domineering. And I know we're not really talking about leadership but I do believe that there are other ways to lead other than dominating. And then obviously [inaudible].
That's the word. I think that's a better word than power. It's the domination, it's dominating.
Yeah, I definitely think I've seen that quite a bit. And that might also play into, as we get into more male fragility as well, but we'll get to that part in a minute. I think in what it means to be a man, we do males a disservice because we give them a very limited view of what masculinity should be. And I think what you're saying, they're strong, stoic, but then we're not allowing men to actually feel their emotion and then we hold it against them when they don't share their emotions. So I think we just really back men into a corner.
Have you seen that as well?
Yeah. You're getting into one of I think the key components that we're talking about is the shoulds. The shoulds and should nots of being a man. That causes, and as we get into the fragility component, we'll talk a little bit about the undertone of anxiety and really fear and how that really translates into what I would call maladaptive behaviors.
Got you. Got you. We were chatting just a little bit right before our episode and I was saying how I was feeling men were going through a bit of an identity crisis of what does it mean to be a man? Because I think there's so much mixed messages now. I think because we're seeing … If we're going with heteronormative gender roles, we're seeing a shift here where I think if we're looking at families, we're seeing both parents, mom and dad, if we're going that route of heteronormative, working outside the home. But oftentimes if dad decides to work from … or decides to be the house husband, how that could be ridiculed or seen some kind of way. And it can be very seen as emasculated for the male. So I think we, again, back up men into the corner. Or if a man is perceiving maybe his wife is making more money than he is, how that might be seen. Your thoughts on some of these examples?
I just like how you described that concept of identity. And from a societal perspective, how things are shifting. More we're talking about the role of what it means to be a man and those expectations and how they are changing. And some men are really struggling with that right now. They wouldn't admit it but-
Right. But that's the thing, doesn't that just-
[inaudible] whole thing. We're laughing about but that's very true. Probably won't talk about it, which is why we're having this conversation now.
Do you want to jump over to male fragility? Talk a little bit about that now?
What is it and in what ways do you see it manifest?
I'm reading off some notes because I did a little bit of research on this.
But what I picked up on from my understanding is really this peculiar anxiety experienced by men who feel that doing certain things causes them to fall short of perceived societal … what a societal ideal manhood is. Why it's really not regarded as … If you look at the DSM, it's not a mental health condition, but it definitely can manifest into, some would say, some substance abuse concerns. Definitely. As we talk about fear and pain, that really there's an undertone of anxiety and in some men even depression.
But again, Nikki, going off this idea of this shift in identity of what men are going through. And so it definitely can create some concern and that fragility piece for some we'll see even goes a little bit deeper than that resistance to weakness or emotion. But it can really manifest for men to really struggle to accept this concept of no or when … If a man is being perceived as being mocked or ridiculed, that's where some of that, and this is an outlier, but some of that really maladaptive behavior such as anger and unfortunately sometimes even that violent or aggressive, intimidating, dominating [inaudible] that can really come out.
[inaudible] when they really struggle with that more deep-rooted stuff per se.
No, I agree. I think it is such a deep-seated insecurity about their own masculinity. And I think part of that is their own misaligned perception of what they feel like they're not measuring up to societal expectations of what a man should be. So I think that's going to fuel a lot right there. And I think maybe for some males they might overcompensate that, which can even maybe bleed into some toxic masculinity that we might see, which is a whole other topic we could talk about.
Absolutely. And so obviously being a therapist, I'm biased on this. I think anyone could use some time to talk and process different things out. But I really think it's the men that lack their own insight and struggle with a willingness to see that they struggle with these things as opposed to … It's almost like some men are placed in this position to feel like they have to prove something.
Yeah, proving, Definitely.
And [inaudible] to lead to this really, I mean, talking about toxic masculinity, not a healthy road to go down for sure.
No, I think that idea of men having to prove themselves, it might even be something that is set up. I'm thinking the role models, maybe the other male role models in the man's life of that, if maybe a father figure was like, "You have to prove that you are a man here," and making them do different things. I can only imagine the messages given to a man if your own male role models are depicting themselves in that very toxic masculinity as well.
And Nikki, I'm sure you've learned this stuff over the years, definitely going through school, we learned that a lot of our identity, our roots, are in that early childhood development. And early childhood meaning where we'll say two to six years old. And our biggest influence in our life is the same sex parent. And that's different for everyone. [inaudible] boys, if they have a domineering or very rigid father figure in their life, it creates this idea of struggling for self-acceptance.
Good word. Self-acceptance.
If you're consistently told that you're not good enough, it's something that fragility or toxic masculinity really can stem from. And then we've talked a little bit already about that undertone of anxiety and fear can really present itself through anger and aggressive, being aggressive towards others.
Which does make me, jumping back to the Barbie movie, there was a part in the film where you're really seeing Ken really trying to prove himself and prove his love for Barbie for her to notice him. But towards the end there's a shirt he's wearing that basically says, "I'm Kenough." Meaning I'm enough. And I think if we could give that message more to our men, it would be … Because I don't think men are getting that message, especially most recently. That's for sure.
So when I talk to clients that I work with, particularly that are men, they struggle to be enough. The question is, I always pose this, it's like who decides that?
Who's in charge of that? And not only men struggle with this but a lot of times it's in our psyche that it's external and someone needs to tell me I'm enough. We obviously need to change that. We need to be enough through our own eyes. Now, I won't go on a tangent, but a lot of times self-acceptance is often associated with giving up, if that makes sense. If I accept who I am, therefore I'm going to stop trying.
No. Fair point. I have seen that.
I've seen a lot of people get that misconstrued and, "I need to be hard on myself or I need to be demeaning to myself or therefore I'll stop trying."
"I have to be hard on myself to make myself even better," when it's actually oftentimes the opposite case because you're beating yourself down too.
Absolutely. I totally agree with that.
So how do the consequences of societal expectations and male fragility affect men's mental and emotional health, do you think?
Yeah, I know we've touched on this, but when you look at true identity development and true self-acceptance, if you have this internal we call them thought patterns. Everyone has this self-talk and it's consistently negative. If you have an individual, we're talking about men, that is consistently telling themselves they're not good enough, they should be doing things different. Especially when you look at failure, and in the therapy world, we talk about the difference between guilt and shame. Guilt is about something you've done. Shame is about who you are. For men, it turns into and translates to shame, and so that has a great, a substantial amount of impact on their mental health.
I still want to emphasize that because I know part of our topic is male fragility. But I really … It is looking at men's shame. I think you just hit it right on the head there with saying that, Steve, I appreciate you saying that. And I don't think men realize it.
I totally agree. They've developed this perspective of themselves that they just are not good enough. And for some, they've had external evaluation or validation or being told that they're not good enough consistently. And that really can transcend into a negative self perspective. And I see it going one of two ways. For some individuals, it causes them to be very discouraged and shut down. In other ways it can be more hyperactive, either maladaptive, external aggressive behavior. Or some that can transition into really healthy motivation and actually, if that's dealt with and processed in a healthy way, you can actually have a little bit better results.
It's different per individual.
I think if an individual can understand just the effects of male fragility and what it means to be a man, just how it affects them, I guess I'm bringing it to insightfulness about themselves to see how it plays out with them. It is really key is … If we're looking at … If you're guiding one of your male clients, or even myself, making them aware of what they're doing in order … When you know better, you do better. And so being aware and so then hopefully you work from there to do better within yourself and how you perceive yourself. Does that make sense?
It's like the layers of an onion.
Pull back that layers. We all have that core. And I think anyone can benefit from this idea of what are your core values? We look at that for the clients that we work with as a therapist in terms of to really challenge them on how do you truly see yourself? We learn about this concept of projective tendencies, which I also use the analogy of projection is thinking that you're looking out the window but you're actually looking in the mirror.
On the topic of the male fragility, that can transcend to that toxic, really toxic relationship patterns and really treating people poorly [inaudible] the insight to understand that you might have a little bit more control over this than you think you do. [inaudible] healthy to look at yourself. [inaudible] therapist, it's really rewarding when I see men come in to work on themselves and it's increasing. I don't think it's where it needs to be, but I think men are taking the time to understand, not only societal shifting, but this change in expectations on how they see themselves.
I agree. Any other takeaways you'd like to share?
You know what, Nikki, you hit one of the things on … you said it earlier, we could all use a little bit more patience with ourselves for taking time to accept you for who you are. And that doesn't mean that doesn't transition into complacency. That doesn't mean [inaudible].
But really understanding who you are as an individual can actually transition into what it is you're trying to achieve. I think what we're all looking for is just a little bit more happiness in life.
Of course. Of course. Definitely. My gosh. Thank you, Steve. Thank you for this great conversation on this very important topic. Appreciate everything you've shared.
And I want you to know that you're kenough too.
I would also like to thank the team behind the podcast, Jason Clayden, Juliana Whidden, and Chris Kelman, with a special thanks to Jason Clayden who edits our episode. Take care everyone.