podcasts
The Masks We Wear and How our Thoughts Can Haunt Us – Podcast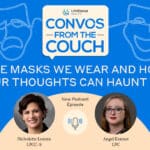 By LifeStance Health on October 26, 2022
Angel Kramer, a clinician from one of our St. Louis, Missouri offices joins us on this special "Halloween" episode as we explore the masks we wear and how our thoughts can haunt us.
Welcome to Convos from the Couch from LifeStance Health, where each episode you'll hear engaging informative conversations with leading mental health professionals that will help guide you on your journey to leading a healthier, more fulfilling life.
Hello, everyone, and welcome to our Halloween episode of Convos from the Couch from LifeStance Health. I'm Nicki Leanza and on today's spooky episode, I'll be talking with Angel Kramer, a clinician from one of our St. Louis, Missouri offices. And we'll be talking about the masks we wear and how our thoughts can haunt us. So welcome back, Angel. Always great to have you on.
Hello, Nicki. I'm so glad to be back on for the Halloween episode.
And let me say for our listeners who maybe can't see us right now, Angel, can you describe what you are wearing?
Yeah, so I'm in my Halloween costume that is Sam from the scary movie, Trick or Treat. Sam is a little boy in the movie who dresses as a scarecrow with a pumpkin straw head. So I kind of look like a scarecrow.
It's a great, great costume for sure. And I'm just wearing a witch's hat, so there we go. All good fun for Halloween, for sure. I think this is a really great topic because we're looking at, and we'll get more into this, some of the masks that we might wear either to protect ourselves, or maybe even as defense mechanisms, or just to present ourselves in a different way to others. Also looking at overthinking. So we have a bit of a hodgepodge, but I think this is so appropriate for our Halloween episode, for sure.
So as we're diving in, we know that wearing costumes and masks are an important part of celebrating Halloween, but why may people wear masks to hide who they may be in their everyday lives, Angel?
Yeah. So first I want to start off by giving a little bit of history on Halloween.
… wearing costumes and masks because as we discussed on a previous episode, I have a huge interest in evolutionary psychology. And having an understanding of where we come from with the history of Halloween can give us a little bit of insight on those same kind of masks and costumes that we wear today. So Halloween stems from an old Celtic holiday called Samhain, spelled Sam Hain. And the holiday is at least 2,000 years old, if not older.
Okay. I didn't realize it was that old. Okay.
It's been around for a minute. It has looked very differently over the years. For the Celts and the Druids, they practiced celebrating their new year on Samhain. Let me take a step back. Samhain was actually their New Year's Eve. And for the Celts, they believed that on this day, this marking of the end of the harvest, the coming winter, the veil between the worlds was the thinnest. The world's being the land of the living and the land of the dead. And when that veil is that thin, all sorts of spooky, wicked creatures can cross through and wreak havoc and cause destruction and fear on earth.
So the Celts would dawn costumes and mask made out of bones, and skins, and twigs, and dirt, and whatever they could put on to be scarier, to ward them off. To get them to leave their village, to leave their land.
And this was their defense. That was what gave them a sense of control, gave them a sense of protection and power. Wearing those masks and those costumes still plays the same role today, 2,000 plus years later. Whether it's putting on that costume on Halloween, or cosplaying our favorite movie character, we feel a little empowered, a little different.
… when we put on those other outfits or those other masks. Even today, I walked into my office slightly differently because I'm in my Halloween costume.
And we can split that over into the abstract a little bit in that we continue to wear masks to project a certain image of ourselves.
That's a great way to describe that. Tell us more about that.
Yeah. So like me walking into the office this morning, I probably had a little bit more pep in my step. A little bit more hitch in my giddy up, to get a little southern here. Because I'm not presenting as myself, I'm presenting as another character.
And we can stuff down our insecurities, we can stuff down our fear of judgment, of rejection, because right now I'm not Angel, I'm Sam. I'm Sam from Trick or Treat. And if we take that out of the holiday, we do the same thing in our day to day lives. We wear that mask to feel more accepted because we feel like some part of ourselves isn't going to be. Or maybe it's lesser than, or we're afraid of that judgment, or we're afraid of being hurt. So if we put on that front, we put on that, just an example, that tough kid persona, we're less likely to get hurt. Or at least we feel like we're less likely to get hurt.
And not all masks are necessarily to cover up our hurts, heartaches, and hangups. Sometimes we have to wear those masks to get through day to day life. We all put on that customer service mask.
Our voice raises a little bit, our body language changes a little bit.
And we start to word things a little differently because we're in that customer service role. Or like for us, we put on our therapist hat when we come into work every day.
We usually don't do our attending skills, and pull out our modalities and therapeutic approaches when we're talking to our friends or family members.
But we come in our office and we're reflective listening. We're saying, "Mm-hmm. Yeah. Mm-hmm." We're nodding. We're engaging in a very different way than we would people in our day to day life.
So these masks are adaptive. We've learned to do this, to project a certain way, to show up in a certain space in a certain way, whether it's protection, empowerment, a need for control, a trauma response. And we're just trying to survive.
Or even to do our job, to show up and do the task that we need to get paid. Our masks become more maladaptive and less adaptive when we lose ourself in them.
When suddenly Angel's no longer Angel. And Angel doesn't know who Angel was to begin with, then it's maladaptive and then we might have something to work on.
So if it doesn't become maladaptive, and it sounds like we all will do this, right? It's also situational, who I am as a therapist and how I presenting, is going to be very different if I'm sitting there watching a Netflix show or something like that. Right?
So is it advantageous to take off the mask? If it is serving a purpose for us to show our more authentic selves then?
It can be. Living an authentic life and showing up genuinely feels better for us because if we're wearing that mask and that costume to hide from rejection, to hide from judgment, those rejections and judgments are already coming from us.
We're being mean to ourselves. We might not have even given the world a chance to respond differently. And of course that could stem from a multitude of things. It could stem from small "t" traumas in childhood that just snowballed into the mask that we wear today. It could be internalized messaging that we got from society for not being skinny enough, or not being masculine enough.
Or whatever it is that society is telling us. So then we're like, "Nope. We're going to pull this mask down a little bit." And we're going to show real self for a while. And in that disconnect, we can trigger so many other things for ourselves. We can trigger anxieties, we can trigger fears and phobias. And then at the end of the day, we couldn't tell someone who we actually are when we take that mask off.
So while it is advantageous to have a mask and sometimes we need it, having those survival skills, that resiliency in those masks is there for a reason.
So we can feel very naked and vulnerable without it.
Yeah, exactly. Exactly. So sometimes we got to put on that costume.
But we also have to be able to take it back off.
Yeah. Probably one of those easier said than done. How do we maintain who we are, our sense of self, even though we might have masks that we wear throughout our day?
Mm-hmm. And like you said, it's easier said than done to get to that point of authenticity, and living our genuine lives. And finding that balance between when we need the costume and the mask and when we don't takes a lot of practice. And finding our authentic self takes a lot of self reflection, a lot of sitting with ourselves and trying on different costumes, trying on a different mask. Because we have to know, it's just as important to know which mask doesn't fit, just as important as it is to know which one does.
That's such a key thing. How would one determine that? Is it just experience with it and response to it?
Yeah. So this is going to come as a surprise, but working with a therapist can be incredibly beneficial in that process. To have that safe sanctity of an office where there's no judgment.
There's no rejection. And you can try on that different communication, you can try on that different body language and that different persona per se.
And see what fits. And process through and work through whatever those hurt, heartaches, and hangups that made that first mask so very comfortable to stay behind.
And you mentioned how comfortable… It could feel very uncomfortable as you are trying on, or using different skills and maybe even a different persona, because, maybe an example comes my way of, maybe you're trying a different persona of how you navigate arguments. Maybe typically you might yell and scream and just really lose control of your emotions per se, and you're trying to do something different. But I think sometimes it could just be a bad habit in how we maybe behave.
Is that a little bit of your illusion of how we can do it in the therapy office of practicing it, and stuff like that?
And even beyond the therapy office, one of the things that I work with my own patients on, is starting a practice of self-reflection.
Whether it's throughout the day or in the evening, whatever is most comfortable for them, where they reflect back on their day and they're like, "Did I like how I showed up in that situation? Was that me who said those things? Is that something my mom would've said? Is that something society would've wanted me to say? Or was that fully me?" If it wasn't, "Am I okay with that? What can I change and what can I do next time to show up more authentically myself?"
Gosh, Angel, I loved that. That's actually really key right there. And I love that you emphasize self reflection. So it enables people to take a step back, really reflect on the behavior, and if they did not like how they were presenting, what do they need to do to shift that, to change that, to present differently.
And that gives us the grace to practice. Oh, you know what, I didn't respond the way I wanted to in that argument. I got upset, I started cussing, I started yelling. I don't like that, that's not me. Here's how I can do that differently next time. And there's also some behavioral things that we can try as well. For a lot of us, those behavioral changes, how we physically show up can be easier to change and try on, alter…
Than that abstract mental and emotional work. With my teenagers, I work with them a lot on figuring out how they are physically in the world. What do you look like? How do you want to look? And sometimes that can be as simple as wearing those clothes that feel like you.
Having your hair, the way that feels like you. That matches that internal image of yourself, who you would be on your ideal day.
And I love that you're emphasizing that with your teens. We know developmentally exactly where adolescents lie is looking at trying to figure out your identity and who you are. And so you're definitely empowering your teens to do that. Now I think where the issue might come up, if their idea of how they want to express themselves maybe doesn't quite gel with maybe their parents or their caregivers, right?
Mm-hmm. Absolutely. And then we have another beast to grapple with.
With these costumes and masks. And sometimes, as long as it is a slow progression or maybe still meeting in the middle… Maybe your parents don't want you to be that 100% eighties goth kid, but maybe they're okay with you wearing Doc Martins.
It's the compromise to it. Okay, Okay.
Exactly. Because we still have to fit in. Mm. That's not the right wording. We still have to be courteous and respectful and not mean. And sometimes that means meeting in the middle, making those little changes. Like wearing Doc Martin's rather than going full on black face paint, white face paint.
And in that regard, we're right back at adaptive or maladaptive. When are our costumes adaptive? When are the maladaptive? And where can we tweak it a little bit?
I think this is, you're giving really great feedback here and I want to jump back to something you said alluding to how, these aren't your precise words, but how we can be our harshest critic.
And that definitely shifts me into thinking of often our harshest critic, is overthinking, is what we're telling ourselves. And for some people it might be just intrusive thoughts. So as we're shifting gears and even looking at how our own thoughts can haunt us, let's talk a bit about that. So here, let's start with, can you share with us the difference between overthinking and intrusive thoughts, just to help clarify.
Absolutely. So intrusive thoughts are unwanted. They can be sudden and seem random. They're distressing and they're outside of our control. Whereas overthinking is a little bit more along the lines of ruminating. We have a stressor and we hold onto it. And continue thinking about it, whether it's replaying scenarios, replaying conversations in our head, exploring all of the "what ifs" and going down all of those little rabbit holes of thoughts. And we struggle to let go of that thought process.
So I think when we look at intrusive thoughts, oftentimes, not always, it could be tagged down to what someone might be struggling with obsessive compulsive disorder perhaps. Right? With overthinking, I think overthinking for some people it starts off with just trying to problem solve.
They're trying to roll through, figure out a solution to a problem, but it becomes maladaptive because it just keeps spinning, and spinning, and spinning.
The analogy that I like to use in my office with people is that of a bonfire, which also goes back to the Celts and their bonfires are on Halloween. If we are sitting by that fire and all of a sudden the wood and the fire pops, we're startled, we're a little stressed, we did not want that to happen. That is an intrusive thought. We didn't do anything to trigger that popping. We didn't want it to pop, intrusive thought. Whereas if we're sitting by the fire, we might need the fire. The fire might be adaptive, but we just keep putting wood on it, putting another log….
Okay, that is such a great analogy.
And all of a sudden that fire is bigger, it's going to take longer to go out. And while we want it, and needed at that fire to begin with, it is no longer a need. And it is no longer adaptive because now we're just throwing more and more fuel on it.
Again, that's such a great analogy. And so appropriate for our conversation of just Halloween, as well. You got to definitely got it set up here. So again, great example. If we're going to look at how does one help with the popping, intrusive thoughts coming out of the fire… Let's start with intrusive thoughts.
Yeah, absolutely. So with intrusive thoughts, less is more. It feels counterintuitive to not do anything about it, but sometimes doing too much actually fuels those intrusive thoughts a little bit more. And putting too much focus, too much energy in analyzing those intrusive thoughts, trying to find meaning, trying to make meaning, trying to push them out of our head, can actually lead to ruminating. So now our intrusive thoughts have led to rumination and overthinking, and now we're going to have those intrusive thoughts more often. When sometimes recognizing that those thoughts aren't us, we didn't want those thoughts, we didn't put them there, being able to separate from it a little bit while also just ride the wave. "Oh, I see you intrusive thought. I know you're there, but you are not my thought. So I'm going to let you hang out in my head for a minute and then I'm going to go back to do it when I was doing."
Great. Great example there. And it's definitely distinguishing yourself from your thought. It's definitely teasing it out, separating it from you. I think it's something that most people have a hard time, especially when you share, you are not your thoughts. Well it feels like we are, because it's in our head and we have this constant tape playing. We haunt ourselves with our stuff like that.
And so I think the language itself of, "I'm not my thought…" I think definitely I love the example of teasing that out and separating it from you. Do you have other examples of how one can do that as they practice it?
Yeah, so just like anything else we talk about, it takes practice. So having that grace with yourself and doing it consistently. It's okay if it fails a couple of times because we aren't trying to perfect it, we're just trying to improve it.
And mindfulness can help. Having those times of day, having those grounding skills where we can practice sussing out which thoughts am I in control of, and which ones are just that little gremlin hanging out the back that popped in when that veil was thinnest?
And we practice that, we start to recognize the difference more and more. We start to recognize what is our own voice, what is our own thought? And what is something that gremlin is just throwing out there to try to derail us? And over time it can be a little easier to recognize because those intrusive thoughts are so distressing and so unwanted.
That when they pop up we can be like, "Oh nope, there was that crack on that fire."
"I'm not going to put this log on there. We're going to let that fire simmer for a minute."
Great. If we're going to use that fire analogy, so what about adding fuel and wood to the fire? So if we're looking at how to help with overthinking, is it a similar? Obviously needing practice to do it and do it consistently, are there tips of how you help with overthinking?
No longer putting that wood on that fire?
Right. And sometimes it can be so appealing to put that wood on that fire because we have convinced ourselves that if we put more wood on that fire, it's going to keep us safer. We're going to be more prepared for the next fire.
So that fire doesn't transfer. Once that log is on that fire, there's not moving it to the next one. And it can feel advantageous to run through all of those thoughts over and over. How do I be prepared for the next one? How would I respond differently? How would I show up differently? And that can be adaptive to a point. When we're self reflecting, it is contained. We have that moment of self reflection and then we leave it in that moment and we try to implement it later. Whereas with overthinking, excuse me, or ruminating, we're just holding onto it. We have taken that big stuffed animal of anxiety and fear, and we are just cuddling it. When we really need to let it go. And we can let it go by using some of those same mindfulness techniques, visualizing a blue sky, and fleshing out those clouds, and sitting in that moment. Excuse me. It doesn't necessarily get rid of that stressor.
But it does give us a moment of peace.
To maybe recoup and regroup, and approach it a little differently.
I think if you could just afford us that, right? Sometimes it is just a momentary break to give us, like you said, a sense of peace.
Which might be enough time to help push the reset button and regroup, too.
Exactly. And externalizing those thoughts, whether it's the intrusive thought or the ruminating, getting that thought out our head. So it's not just bouncing back and forth, it's not creating that atmosphere where we want to throw another log at the fire. And that external lighting could be putting in a journal, it could be sharing it with someone in your support system. It could even be just sitting in your room and just verbalizing it, just to get it into a different space than up here.
It's basically, it sounds like getting out of your own head.
Yes, yes. And there are even other ways to get out of our own head. Going outside, getting some fresh air, being around trees, or plants, or pets or even other animals, gives us a moment of reprieve to get out of our head and be in the moment. We have something tangible around us to be in the moment.
And maybe a more lighthearted note, another thing that can help us is singing.
So music is one of the few things we experience that can activate multiple parts of our brain. And when we are singing, much like the banshees on Halloween night, there's no ability for those ruminating thoughts to be taking place. Because we're singing, we are verbalizing, we're hearing the beat, and that is activating multiple parts of our brain. So once again, while it doesn't get rid of the triggers, the stressors, anything that is creating that intrusive thought or rumination, it means we aren't going to be doing it for a minute.
Right. It gives you that much needed break.
Mm-hmm. And music and singing is a mood booster.
It will help release all of those feel good hormones. And that in and of itself can help us to separate from those intrusive thoughts, and from that ruminating.
And it doesn't matter if you don't think you're a good singer or if you're an opera singer, it doesn't matter. Just do it.
It doesn't matter. Just do it.
And if you're trying to sing a song from memory even better because now you're actively trying to remember the lyrics and beat.
Meaning there are no ruminating thoughts happening.
And like you said, it doesn't matter. We could sound like that banshee on Halloween night, or we can be Tina Turner.
It doesn't matter because we're not doing it for other people.
We are doing it for ourselves.
And that's the key right there. Definitely. Oh my gosh, these are such great tips. Angel, anything else you'd like to share about this topic or even about Halloween?
Nicki, I could talk about Halloween all day.
It's a great topic to have you on for. I want to thank you again, love to have you back on. Maybe you'll be our holiday guest as we move forward in the… I know we had you on for, I think our holiday episode and our New Year's episode, as well.
So I want to thank you again. Always appreciate having you on.
Thanks Nicki. It was great to be on again.