podcasts
The Importance of Men's Mental Health – Podcast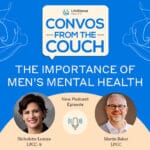 By LifeStance Health on June 9, 2022

This Men's Mental Health Month, we are joined by Martin Baker who shares why it's important for men to be vulnerable, why men tend to hide their emotions and paths to support.
Welcome to Convos from the Couch from LifeStance Health, where each episode, you'll hear engaging and informative conversations with leading mental health professionals that will help guide you on your journey to leading a healthier, more fulfilling life.
Hello, everyone, and welcome to Convos from the Couch by LifeStance Health. I'm Nicki Leanza, and on this episode, I'll be talking with Martin Baker, a clinical counselor, a professional counselor from our Colorado Springs office, on the importance of men's mental health. So welcome, Martin. Very great to have you on today.
Hi, Nicki. It's great to be here. Thanks for inviting me.
Yes. Yes. And one of the things I want to make note of before we get started with our conversation is that we're looking at explaining the idea of men's mental health as anyone who identifies as male. So, definitely encompassing the whole community of anyone who identifies as male. So thank you again for being on, and I'm sure we're going to have a great conversation about this.
So let's kick ourselves off with this. Martin, tell us a little bit about you.
Yeah, so I've been with LifeStance for about a year almost to the day now. I've been in mental health for several years working in different agencies: substance use, community and mental health. Have had a lot of male clients: different ages, different generations. And definitely am a man myself, and so I bring to this work a lot of, I guess, life experience that I've gone through some of the trials and tribulations of what it means to be a man or male in culture and learned a lot along the way. And worked in real estate and in corporations in [inaudible 00:02:05] life and so kind of have a broad background. Lot of exposure, lot of experience and really felt called to bring some of my learnings to maybe help some folks along the way. And so, that's why I'm here today with you.
Yeah, no. Great. That's wonderful. And so, in your experience, have you seen that men tend to deal with mental health differently than maybe women and individuals that identify as female a little bit differently?
Yeah, I would say so, generally speaking. So with men there's this sense of the isolation of keeping secrets, of sort of being an island unto one's self in terms of emotional health and emotional struggles. And men aren't very proactive in seeking out sort of help for emotions, and there is a deep sense of fear of vulnerability, I think. Maybe there's a fear of the feeling of shame that comes with that keeping of secrets, right? And so, men will tend to isolate themselves, hope things go away, distract themselves, do all sorts of things that isn't proactive. And their emotional health kind of compounds, and there are reasons for this, right? They go way back.
I think it's different, generally speaking, for women or folks that identify that way, that there is a stronger connection to emotional health, maybe a [inaudible 00:03:55] sort of ability to talk about emotional suffering with supports and friends and that sort of thing. And so, although women struggle emotionally, it doesn't have that sort of stigma that's been with us forever but seems to be changing a little bit, so that's good news. Right? But that's my sort of take on what the key difference is with treating mental health.
[inaudible 00:04:27] leads us into, as you were speaking about some of that shame or the vulnerability that men might carry, that might be also what interferes with them from seeking treatment as well. Can you tell us a little bit more about that?
Definitely. Definitely. Yeah, that's exactly it, right? So it's that reactivity. When men come to me in the counseling room, a lot of times things are very much awry in their lives. So they're having relationships breakdown, or they're struggling deeply with substance, or depression is getting a hold of their souls pretty strongly. And so, they're kind of kicking and screaming to the room, and I think what's keeping them there is this very deep conditioning that happens to men, generally speaking, of if you're a boy and you show your emotion, you talk about your fears, your goofiness, your tears, whatever it may be, your true self, a lot of times boys are embarrassed and shamed by that reveal. And they get this messaging that it's not okay to be yourself from a very young age. And that comes from Mom and Dad; it comes from a sibling; it comes from friends, bullies, culture, media [inaudible 00:05:51]-
Yeah, society, right? It's like, "It's not okay to be emotionally weak." That's the perception, and that's kind of fed again and again and again for a boy as he's going through and growing. It's not safe to sort of access that emotional healing function. And so, boys will adapt themselves to culture, and it's the provider, protector roles that are dominant. That's been with us forever, but it's really still true today. And success for men is defined by culture. It's like you have to be a certain provider, a competitor productive animal in order to be acceptable. And in that process, men lose that soul, that life energy, that authentic you, that true self that is with you from birth to the lifespan. They don't have a connection to that, generally speaking. And that's where a lot of these problems come from. And so, seeking treatment for them isn't a go to; it's not safe. So, that I think is the roots of it.
And you had mentioned that you feel like it's getting a little bit better, maybe with the younger generation. And I do agree that it seems like it's seeming to be a little bit better. I guess the question is, why is that? I don't know if it's just in the media we're seeing just more portrayals of it's okay for men to cry or… I think that always helps that they [inaudible 00:07:34]-
… what we see in the media-
Yeah, that's a really good question, isn't it? I think it's somewhat complicated but, yes, it is improving. The stigma is going away. My clientele are… over 50% are male, and I don't advertise as being a men's sort of specialist. It's just I am seeing more men in the room, and that is encouraging. Why that is, I think it is this loosening up of the rigid gender: role provider, protector. Women are definitely engaged in the workforce and taking on a lot of provider roles, even protector roles. And so, part of that is giving men maybe a break a little bit on having to hold it all together all the time.
And so, I think that's part of it, and like you say, the cultural messaging for sure is softening up a little bit. It's like, "It's okay to be who you are. It's okay to be sad." Right?
I think once we see toxic masculinity really dissolve itself, which it's still there. We're hearing a little bit of a softening of that message. The fact that we're calling it toxic masculinity I think is a key point there. Seeing how unhealthy, how poisonous that can be for males.
Yeah, and I have to say to that that's a really tough word, isn't it?
It's pretty strong, and I don't necessarily think it's fair. There are toxic men for sure. There are toxic women too, right?
So it's sort of a broad brush, and men are taking that messaging not too well, honestly. They're a little bit afraid of being, again, sort of… in culture, what does it mean to be a man now? Nobody really welcomes me. I don't belong. And so, you're seeing younger men in particular being lost in that messaging and not knowing how to find meaning and purpose in their life. And a lot of them are… they're quitting school, dropping out, leaving jobs, not in relationships. All of these sort of cultural markers of maturity are falling away for men, and it's not a good thing for us culturally together. It's not a healing sort of message. Now, there are reasons for it, and I definitely think it's good that the examination is happening. It's like, "Why is the masculine power structure so hard on people?" Why is it so competitive and maybe immature?" Those things definitely need to be examined.
But you can't throw the baby out with the bath water, I think.
And that also makes me think, we know, studies have shown that when it comes to suicidality that men are more likely to actually complete a suicide. And so, I'd like to talk a little bit more about that. Why are the suicide rates higher for men?
Yeah. Yeah, I mean, I was looking at the recent statistics. It's pretty rough. It's like three and a half to almost four times men committing suicide to women. Almost 4:1, and so that's a big, big discrepancy. And it is true that women tend to have more rates of suicidal ideation, suicidal thinking. Women do tend to attempt suicide more often than men but like you say, they don't, generally speaking, use these highly lethal means. Whereas men do, and when they're considering and doing the act, they're more successful. About four times more.
So considering in that statistic too is that you have this group of men that are white, middle-aged men who make up 70% of all suicides in this country. Huge margin, right?
And it's like, "What is that about?" What is it about mid-life, obviously Caucasian… you're supposed to be the privileged class in some respects. And men at midlife… midlife's very hard on a lot of men for various reasons, but it's rooted in suffering on that island in quiet desperation for so long and having relationships finally fall apart or having addictions really take root. All of these patterns that have been there for years and years, maybe decades, really come to roost at that time. And it's an existential crisis at that point. A spiritual crisis for a lot of men. It's like, "I know half my life is over, and I'm not happy; I'm not satisfied; I don't know who I am." And that's not a good place to be at midlife.
No, not at all, which is definitely going to feed into rates of depression, which then feeds into rates of suicide and everything else, for sure.
Yeah, definitely. Definitely. Yeah.
So what can men do to improve their mental health?
Yeah, so I think it's really boiled in that isolation piece and really finding the courage and the conviction to tell the truth about how they are feeling really. And accessing their emotional sort of that feeling function again that they eroded many, many years before because of culture. Human beings, but men I think in particular, really are mostly driven by meaning and belonging and purpose. And if that's eroded in a man, then of course they're going to have serious mental health and emotional struggles. And so, having the opportunity to be vulnerable, to fight through that sense of being shamed for being weak and coming out on the other side and connecting in the counseling room about what they're all about. What's wrong? What's troubling them? Who are they? What's your purpose? What's your meaning?
I've run men's groups in the past, and a group therapeutic session in particular, can be very healing for men, because that island motif again… It's like, "Oh, I'm the one that's broken. Nobody else is suffering like I am." And all of a sudden, they're in a room with other men, and the stories are coming out, and there's this shared experience of loss and grief and suffering. And that does wonders to help the man understand that it's okay; it's okay to be you; it's okay to have these losses, but you need to grieve them and grieve them properly. And it's okay to feel like you're missing something, but you can find yourself. And so in the rooms I've seen it, in the individual counseling as well. It's very healing for a man.
I would think in those groups that are all-male that there is a certain amount of each individual giving themselves permission to be vulnerable, and that among the group that was the dynamic of like, "It's okay. It's safe here. It's okay to show your emotion." I think that was probably so key that it was maybe even an unwritten dynamic of there's permission here to be vulnerable, to rely on this group of other men or individuals that identify as male, that it's a safe space; it's okay to show this emotion. I think that would be so key for a group like that.
Yeah, you're right about that. That is the key I think because for us in psychology, we talk about facing your fears a lot, because a lot of times we build up in our minds and hearts that these fears are bigger than they actually are. And so, when a man can talk about woundings and broken relationships and all these things, it's like, "Yes, I understand, and I don't judge you for it." And then all of a sudden, that façade drops, and there's a real connecting to [inaudible 00:16:21] reality [inaudible 00:16:23], to community, a sense of belonging. All the things they've been missing for so long. So yeah. So that's what it is, right?
Martin, any other takeaways you'd like to share on the importance of men's mental health?
Yeah, I would say the picture is good and bad or positive and negative for men or those identify that way. Culturally, it's more confusing, I think, for the male rite of passage, the maturing process. I see this a lot in young men where, and we touched it on it earlier, but there's this sense of, "I don't know what it means to be a man, and how do I become a man?"
And in culture we see what immature masculinity is like. We've had it in leadership, in politics. We've seen these sort of narcissistic, immature kind of men, and that is not, I think, the right path forward for a man. And that's why the toxic masculinity label is true to a certain extent, but examining this and understanding the male perspective I think is key.
Having men be shunned by culture is not a good way to go. And I think we see this in violence and aggression; we see it in these horrific tales of shootings and these incidences where it's typically a younger male who's angry and is taking it out. So, I would just encourage more conversation like this to understand men and the women and other men who love them, and we should do the same for the female perspective too and really try to understand and try to bring it together rather than pull it apart. Right?
Thank you. Oh, my gosh. Martin, no, thank you. That was very well put.
And thank you for your time today and sharing the importance of men's mental health. And I know people listening to this podcast, people watching us on social media, are definitely going to walk away being more mindful of this, really thinking about this. And I agree with you that this has to be part of the conversation. It's really important. Especially looking at what does it mean to be a man? I think that such a key point too.
Yeah, [inaudible 00:19:13].
So, listen, thank you again.
I appreciate it very much. Yeah, thank you for your time.