podcasts
Unwrapping the Present: Creative Tips for Mindful Living – Podcast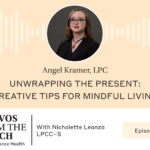 By Jason Clayden on January 3, 2023
On this special New Year's episode, Angel Kramer shares some mindfulness tips for the new year and how to practice mindfulness throughout each day of 2023. 
Listen and Subscribe Here
Welcome to Convos from the Couch, by LifeStance Health, where leading mental health professionals help guide you on your journey to a healthier, more fulfilling life.
Hello everyone. This is Convos from the Couch, by LifeStance Health. I'm Nicholette Leanza, and on this episode I'll be talking with Angel Kramer, and she'll be giving us some mindfulness tips for the new year. So, welcome back, Angel. Always a pleasure to have you on.
Always a pleasure to be on. I'm so excited to be back on.
Same here, same. It's always exciting to have you on, and especially with this topic. Mindfulness is one of those buzzwords that many people are aware of what it is, but what makes it tough is how to keep it as a practice throughout any time of our daily lives, or even a whole year. Which is why we're having this conversation today of, how do we make this a daily habit throughout the new year? I'm really looking forward to our conversation about this today.
Mindfulness comes with its own burden, in that since it is a buzzword, people are like, "Ugh, mindfulness. Here we go again."
They know what the word is, they hear it all the time, but they don't actually know what a practice of mindfulness entails.
Which is what we're going to be talking about. You'll definitely help us understand what it actually looks like. So, even though most people know what mindfulness is, let's just get ourselves started by you explaining again what is mindfulness.
Absolutely. So, ultimately, mindfulness is paying attention, being present, and that's all it is in a nutshell. But then as we expand upon it, it is being present, accepting what we are experiencing, without judgment. That's where it goes a little bit deeper than simply paying attention. It is a practice of retraining the brain. We are relearning how to live our life, how to be in the moment. We live in a culture and society of hustle. We are told to hustle, we're taught to hustle, we're expected to hustle. Whether that means working multiple jobs, working when you're sick, always being on the go, doing something, being in action. The technology all around us keeps us extra stimulated. So, we are super connected, but disconnected all at the same time. I can pick up my phone at any given point in time, and Google search whatever question I have, whatever thought comes to mind. But in doing so, I'm taking myself out of the present moment.
That's the key part of, because we're hustling so much and feeling the need to be so productive, we're always thinking ahead perhaps. Some of us might be worrying about, "Okay. Am I going to get this done?" Or some people might be thinking about, "Okay. Did I do that? Did I not?" It takes you out of the present moment, which is the cusp of mindfulness, of really living in the present moment.
Yeah. Absolutely. One of those examples would be, we're at the end of the year and I could not tell you how many times people are like, "Where'd the time go? How was it already December?" Part of that is just getting older and not having all of those events to mark the time and create new memories. But a really big part of it is that we aren't present. We're living our life, we're going through all the motions, we're showing up, but we aren't actually present. Our brain is way out here. We're thinking about the next hustle. We're worried about the hustle we've already done. We are everywhere except right now in the present moment, the three seconds that we are in right now.
Ironically, in this moment, as you and I are having this conversation, part of our conversation is looking ahead to 2023, and how to incorporate more mindfulness. So, as we segue into that, and briefly looking ahead here, how can mindfulness help with maintaining New Year's resolutions and intentions?
Mindfulness can help in that it helps us to be present with ourselves, without that judgment. Resolutions are resolute. We are making a sweeping change, and change is difficult. Change can be painful, and change can come with the judgments and guilt and some shame, especially if we trip up a little bit and do without that resolution. Mindfulness helps us to sit with that a moment, to bring us back, to slow us down, and bring us back to the present moment. Maybe help us a little bit to be in January and experience January without it all of a sudden being December. Like we talked about last year on our New Year's Resolution Podcast last year, go check it out, we discussed what it is about resolutions that make them so difficult to keep and maintain. I'm going to forego that part of the conversation. Rewind, go watch the previous podcast.
But they're difficult, and mindfulness, part of it helps us to sit with ourselves, to sit with our shadow, without that judgment, without being overly critical of ourselves. Mindfulness also helps us to see more clearly, to feel more fully. It also helps us to make that next right choice, whatever that next right choice is for ourselves. All too often, not making that next rate choice is why we forego our resolutions, because once we make a mistake, we're less likely to pick it back up. Practicing that being in the moment and paying attention also allows us to have patience and sit with our growth. That can help change our resolutions to intentions. To touch on the difference between that for a moment, resolutions are firm expectations, there is a set point, it is rigid, we either do or we don't.
Like you said, it's resolute, just how you… Right.
Whereas an intention is flexible. It's growth. I am intending to do something, and with that comes a little bit of grace, that if we mess up one day on our resolution, it's okay to pick it back up because we're human, we make some mistakes. All too often, resolutions are about a human doing, when we are a human being.
Love that. How much of us actually navigate as human doings instead of human beings?
Absolutely. Action, puzzle.
We've got to go, we've got to get things done. But in doing so, we forget to be, we forget to connect to ourselves, and then we forget how to connect to ourselves. That mindfulness practice can really help us to reconnect with the parts that we may have lost, the parts that we may have forgotten about, or maybe even the parts that we stamp down in that hustle culture.
Let's talk about how to include some mindfulness practices that people can incorporate in their daily routine in the new year.
There are so many mindfulness practices out there, and we can go through all sorts of different ones. You can get on YouTube, you can get on TikTok and search mindfulness, and you are going to have days of information to weed through. Part of this is figuring out what's going to work for you, and what isn't. My mindfulness practice might look vastly different from yours. Some of that can be culture, it can be our spirituality, it can also just be how our brain functions. There's some relatively simple go-tos for mindfulness practices. One of my favorites, and one of the ones we hear all the time, is invoking the senses. That terminology might not be what's familiar to people. Most people know it as the five, four, three, two-
… practice. But ultimately we're just awakening our senses in that practice. We don't have to go through the five, four, three, two, one, unless we need it to be a little bit more guided. Ultimately, all we need to do is sit, or be standing, whatever's more comfortable for you, and go through, what do we hear right now? What are we seeing? What are we touching? What do we taste? That one's probably the most difficult, so we probably need to save that one for the last, and what are we smelling? That is bringing us as much into this moment as we can be. We've just awakened all parts of ourselves.
If we want to add a little bit of a spiritual twist to it or maybe even a bit of a natural twist to it, we can do an activity called invoking the elements. For some people this might actually be a little easier if awakening those senses doesn't feel as easy, as natural. When we invoke the elements, the elements being Earth, air, fire, water, we are combining a little bit of mindfulness, a little bit of meditation and grounding, as well as maybe even a little bit of spirituality, depending on what your leanings are.
When we invoke Earth, we want to make sure that we have our feet firmly planted on the floor, on the ground. We're just going to press slightly, just enough that we can feel how firm our feet are, and we're going to imagine connecting to the floor or to the Earth. That might mean some branches growing up our legs. It might mean feeling the grass. It might even just mean recognizing the muscles that we are using, and activating, to press down. To invoke air, we're going to breathe. Take in a couple of deep breaths, feel that cold air coming in and that warm air going out. That's the air all around us. We have now brought the air into our body, making us one. For fire, we just rub our hands together, and we can feel that heat and feel that friction, and we feel ourselves. For water, we can imagine having a lemon in our mouth. Just the thought of that lemon for the majority of people is going to cause you to salivate, and there is that water.
Okay. This is so good, Angel. In my practice as a therapist, we teach mindfulness skills, the five, four, three, two, one. I've never come across this and this is brilliant, this is really brilliant. Keep going, keep going.
It's a possibility you haven't come across that because that is actually a practice that a friend of mine and myself came up with several years ago.
My gosh. Seriously, that is brilliant. I love that.
It is one of my go-to activities because people are unfamiliar with it, so they're going to listen. They aren't glazing over and drooling a little bit as I'm talking about awakening the senses.
They're paying attention. That means they're being mindful. They're in that moment with you. Just like I could see you were in that moment, listening to me go through those steps. A couple of other little activities. Of course, we have the breathing exercises. We've all heard of them, most of us have tried them. A simple one is box breathing, where we breathe in for four seconds, hold for four, breathe out for four, hold for four, and we're back at the beginning. Breathing exercises is like many other mindfulness activities. We can adapt it to our own needs, our own lung capacity, our own comfort level. If you notice that breathing is doing something a little more maladaptive, a little bit more unwanted, we need to adjust it a little bit. Four seconds might be too long for some people, so let's shorten it to three. Four seconds might not be enough, so let's increase it to five or six.
I like how you tailor it for what would work for the person.
Absolutely. Because I know for myself, if I breathe a certain way, I can invoke my own anxiety. So, making sure that you are listening to yourself and what your body and lungs are telling you, that's also giving you another step of mindfulness, and learning to trust what you are experiencing. Another one that I like to walk my clients through is lighting a candle. This gives us a little bit of mindfulness, and a little bit of traditional meditation. When we light that candle, we sit there and we watch the flame dance, just paying attention to its movement, to the shadow, maybe the smell, maybe the warmth, and just letting those thoughts come and go. We're not trying to push them to the side, we're not holding onto them, we're not following that rabbit hole of what ifs. We just notice the thought, and we bring our attention back to that flame.
For so many of us, just sitting in that traditional ohm kind of quiet is incredibly difficult to do. This flame gives us just enough stimulation, just enough engagement and focus, that we can let go of those thoughts that are popping into our head. Because now we have something physical and tangible we can be like, "Oh," back to the flame. We can also do it a slightly different way in that we're focusing on the flame, but we're letting those thoughts come and go. We are letting our mind flow and process and unwind that ick of yarn, and roll it back into a ball. That one can be a little trickier and can take a little bit more practice, because we have to be aware of when we are holding onto that thought and when we are adding to it, versus when we are just letting a stream of consciousness flow in our brain.
Think that can be the hardest thing to do to recognize that, right?
Absolutely. But with practice we can figure it out. Another one that I like to do, can be used with adults, with children, with teens, as a family, and it's called wiggle and freeze.
It is exactly what it sounds like. You are just wiggling your body, no judgment, just movement. Just like you would see any two or three year old do without a care in the world. Just moving your body, and then all of a sudden, just stopping. Then paying attention to, what do your arms feel like right now? Do you feel tingly? Do you feel warm? Did you start to sweat a little bit? Do you feel a little bit more amped up or a little bit more relaxed? How's your breathing changed? What was that like to do with your kiddos? That was really fun to just let go of that judgment and move with them.
It's true. I think that theme of judgment, how we do judge ourselves, but just to let yourself wiggle, I love that.
Just like that sticker that you see everywhere, dance like no one's watching.
Wiggle like no one's watching.
Get that body moving. Be in that moment, be in your body, and then take a moment afterwards to feel. What was that? All of those little things are mindfulness. It brings us back to now, it gets rid of our judgment, it gets rid of our guilt and we can just be.
That's the key right there. You gave us some great tips. As you saw, I got very excited about some of those tips. But let's look at the challenges. So, what are some of the challenges people may face when starting a mindfulness practice and how can they overcome them?
So, to throw out some of the obstacles that people might face, it can be as simple as feeling you don't have enough time. You don't have time to add another thing to your day. It can be misunderstanding what mindfulness is, and anticipating this big sweeping change, when it can be little baby steps. It can also mean that need for instant gratification. Mindfulness doesn't change our life in one practice, and sometimes that leads us to let go of it. "Well, I don't suddenly feel better, so I guess this one's not working also," and then we push it to the side. Sometimes we set maybe a little too lofty of goals. "I'm going to practice mindfulness 10 times a day. I'm going to have a 20 minute exercise. I'm going to do this, that or the other," and it simply isn't maintainable. If you don't mind me asking, Nicki, what kind of resolutions have you set for yourself in the past?
Oh, wow, Angel. That's a great question. One that I can think of off the top of my head, this is pre pandemic, but I had attempted to spend a year doing things with my left hand. I'm naturally right handed, so I was trying to become a little bit more balanced in being ambidextrous. So, I would take time to write things with my left hand, eat with my left hand, brush my teeth with my left hand. So, that was my way of trying to balance in how I even do my daily life.
I can see where that would've been quite an undertaking. Retraining your brain, doing something a little more against the natural flow. What do you think your obstacles were to sticking with it?
So, you are correct. I didn't stick with it. Part of that is, I am someone who knows they need to slow down, and with doing things with my left hand, I often couldn't do things as quick as I could with my right hand. So, oftentimes, if I got frustrated writing something with my left hand, I just needed to get it done quicker, I would switch to my right, get it done and move along. Even with brushing my teeth, it is not easy brushing your teeth with your non-dominant hand, which takes a little bit more finesse. But in the morning, if I'm just trying to get out the door, that's going to work against me, trying to do my left hand, so I'm going to switch. So, it's for my own impatience of not being able to slow down, is what was my challenge and obstacle and worked against me with that resolution.
It was a challenge. You were going against something you have been doing innately your whole life without thinking about it.
You had all of those years of experience learning how to brush your teeth with your right hand, learning with your right hand, write with your right hand. Now all of a sudden, as an adult, you are trying to change that. That requires patience, it requires time, and it requires paying attention, which isn't something you had to actively do for a long time with your right hand.
That brings up the point of, even if we're going to just use that example of brushing teeth, oftentimes as we're doing our morning routine, we're doing them just like we're in our head thinking of what we're going to be doing for the day. We're just going through the motion of it. So, me brushing my teeth, I could do it with my right hand without even thinking about it, but with my left hand, I had to be in the moment with what it felt like brushing my teeth.
Yeah. So, you would've needed hundreds of times of practice to feel a little bit more comfortable with that. That's very similar with mindfulness and setting other intentions. That slowing ourselves down, that being in the moment to learn something new, being patient with ourselves, and understanding that this is a learning curve and an opportunity for growth. We all get stuck in that trap, all of us do. We're human. We are human beings-
… something new. I think some of that is why we give up so easily, both on our resolutions and with mindfulness practices. We want it to happen now. We've made this decision, let's do it now. Slowing ourselves down, seeing all of those times of practice as practice and opportunities rather than failures, can really change the game in how we're approaching this. It's not 800 times of failure, it is 800 times of practice. The more we practice, the more we retrain our brain.
I like how you reframed that. That was a reframe too. It's not 800 times a failure, it's 800 times a practice. It's the reframing of that. That is, like you said, that's how you retrain your brain.
Absolutely. What would've happened when we were a year, year and a half old, and after the eighth time of falling down, we just decided, well, we're not walking?
Right. That's a good example.
We kept practicing and it took years to master something so innate to being human. That same kind of grace has to be extended to other things. Mindfulness, making changes for ourselves, improving, growing, all of that is a process and a learning process. Mindfulness can help us to be patient with ourselves, and sit with it, and let go of that judgment. Sitting with how sweeping of a change that can be, can be overwhelming. "I have to do mindfulness for 20 minutes. Where am I going to find 20 minutes? I have to do this over and over in order for it to work?" But mindfulness doesn't have to be something that major. Even the examples that I gave, those don't necessarily have to be your mindfulness practice.
It can be as simple as, I'm taking a moment right now, to just be in my office, to feel what I'm feeling, to see what I'm seeing, and to bring myself to right now. I'm not worried about what's coming this afternoon. I'm not thinking about what happened yesterday and what I could have done differently. I'm just right here, right now, for these 30 seconds, a minute. Even 30 seconds is an opportunity for growth and for practice, and we can incorporate mindfulness in what we do day-to-day. You can practice mindfulness while you're brushing your teeth. If you want to slow yourself down, use your non-dominant hand and pay attention. What do those bristles feel like right now? Why does my hand feel so weird moving this toothbrush around? Why is it so easy with this one and not this one?
Why is there toothpaste all over my face?
That brings us in the moment. We are paying attention to something we do every morning that we don't pay attention to.
It could be being mindful while we're having our morning tea or coffee, whatever you drink. Checking in with ourselves, what does this taste like this morning? What's the temperature? How does this mug feel in my hand? Feeling that warmth of the drink going down your esophagus and into your stomach. Connecting with yourself and with that cup of tea. Smelling it, being there with it, rather than gulping it down and running out the door. That can add 30 seconds. It could be being mindful when we're eating. You're already going to eat, paying attention to what your food tastes like, what it feels like, what it feels like to be full, to feel satiated, and just paying attention. Rather than, taking bites, barely chewing, swallowing it, and looking back at your phone. Because I would venture to guess that most of us are guilty of trying to disconnect and we're just scrolling through our phone while we're eating, and that means we're not connected to anything.
Very true. My gosh. Angel, these are great tips. I mean, this is all so… These are gems right here in what you're sharing.
As we're winding down our time, any other takeaway points you'd like to share about making mindfulness a practice for our new year?
I think reminding ourselves that we are human beings and giving ourselves some grace, and giving ourselves that same understanding that we might extend to a friend, or to our pet. We give them grace, we give them understanding and support and all of those positive reinforcements, and we need to bring that back to ourselves. Letting ourselves reconnect without that judgment, without that harshness, without that critique. Maybe in the new year, trying to set an intention rather than a resolution.
That can allow for flexibility and process and growth, and be mindful and present in your life. In a world where it is so easy to not be present, that might be our own gift to ourselves in the new year.
That would be a great gift to give ourselves. Thank you again, Angel. Always lovely to have you on. You provided us with such great tips for mindfulness, reminding ourselves to be patient with ourselves, to give ourselves grace, that we are human beings and not human doings. So, thank you again, and I wish you a happy New Year.
Thanks. Same to you, Nicki. Thanks for inviting me on.
I would like to also thank the team behind the podcast, Jason Clayden, Juliana Whidden, and Chris Kelman. Take care everyone.