podcasts
Music to My Ears: The Healing Power of Music Therapy – Podcast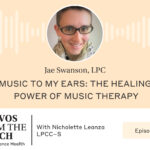 By Jason Clayden on January 25, 2023
Music plays such a special role in many of our lives. We can hear a specific song and be transported back in time to a specific moment or memory.
On this episode, Jae Swanson, a clinician from one of our Philadelphia offices helps us explore music therapy, how it differs from other types of therapy and ways it can be helpful.
Listen and Subscribe Here
Welcome to Convos from the Couch By LifeStance Health. Where leading mental health professionals help guide you on your journey to a healthier, more fulfilling life. Hello everyone, this is Convos from the Couch by LifeStance Health. I'm Nicholette Leanza, and on this episode, I'm excited to be talking with Jae Swanson, a clinician from one of our Philadelphia offices, and we'll be talking about music therapy. So welcome back Jae.
I know for me, music plays such a special role in my life. I can hear a specific song and transport me back in time to a specific moment or memory in my life, and I just feel like music is just so naturally healing as well. So I'm really looking forward to our conversation today.
So let's begin. Let's start with, tell us a little bit about what got you interested in music therapy.
Yeah, so I was a pretty serious classical flute player when I was in high school and then through my undergrad in college. And I didn't quite know what I wanted to do with it. It didn't satisfy me completely. Plus it's just very competitive to try to be the classical flute player in orchestras or whatever else. And I have always also been someone who wants to connect with other humans. I had heard that music therapy was a thing kind of in later high school. So when I graduated undergrad, I looked into it more.
And I also had the opportunity after undergrad to do some traveling with a program where we connected with musicians, I went to Egypt and I went to Qatar. We connected with musicians there and then also did some kind of work with kids and teaching and performing. And that led me to think, yes, this is how I want to use music, this kind of using music to connect with others, using music to build relationships, using music to help in some way. So that was when I started looking into how can I become a music therapist? And I ended up going to grad school at Temple University and getting my master's in music therapy.
Gosh, that's amazing. And so looking at music therapy and what it is, can you tell us a little bit about it, what it is and how it differs from other types of therapy?
Yeah. Music therapy is, there's a couple of official written out definitions of it differing based on what someone's approach is. At this point in my career, I think of music therapy as a tool, as a way of connecting with clients, maybe individual clients or a group, utilizing music as a connector, as a tool. So that could be using music to express emotion, using music to explore identity. Maybe that's through songwriting, maybe that's through musical improvisation. Somebody who is a client in music therapy does not need to have any previous musical background at all. So a big part of being a music therapist is helping people feel comfortable with using music as a tool. And in doing so, that can increase self-esteem, confidence.
No, that's great. I would think a lot of people might think that, oh, I have to be able to play an instrument or maybe sing well to participate in music therapy. But I think what you're saying is no, you don't need to have that? So that's great.
Absolutely not. And even a music therapist is not necessarily going to be the best performing musician you've ever had in the room. They really, honestly, even if they are that they should not be that in the therapy room because that could be intimidating to your client and you don't want that.
Very true. Very, very true. I don't know if I'd want to concert pianist who's just going to town playing the piano as we're trying to do some music therapy there. I hear ya.
So what are some common ways in which music therapy can be helpful?
So like I said, music therapy to increase maybe self-esteem, identity, utilizing music as a different form of expression. Sometimes people feel actually more intimidated by verbal therapy and might need a different way, so that can be music, sometimes that's art, sometimes that's body movement. You can also, music therapy is used a lot with people with disabilities, people who maybe have some social or communication delays and need other forms and also other kind of education around, how do I express myself in a way that can be understood? That also emulates into working with people with dementia or people who have had a stroke. Sometimes music while, even if verbal skills and verbal communication has become really difficult, music actually kind of remains. So you can be doing music therapy with someone who has dementia, who is maybe only able to say two to three words at a time, but can sing an entire song because that song is familiar.
They've known it for their whole life and it is still there. When you add the music, then they have more words. For a long time I did music therapy in hospice care. So sometimes that would look like what I just spoke to about people with dementia or stroke. Sometimes that would look like doing bedside music for somebody who's actively dying and usually at that point I'd be doing improvisation and maybe connecting improvisation with the breathing, that can help slow down breathing a little bit, that can help increase comfort. And then if there are family members or other people in the room that can help them have a quiet moment, maybe a container for actually being emotional, if up until that point they've been dealing with all the logistical concerns of having a sick or dying family member.
And then also sometimes in hospice care, we do legacy work, so we'll work with a patient to maybe dedicate songs to their family for after they pass away. Maybe do songwriting with patients. Maybe do songwriting with family members. I was on this podcast before talking about child bereavement, and I would use music with kids a lot to help them express their grief, maybe do songwriting about the person they lost. And I've also done music therapy in group settings. So I worked in an afterschool program for LGBTQ youth, and we did songwriting and we ended up doing… And that was, we were exploring identity and exploring community and connection and advocacy and self-advocacy, and we ended up doing kind of a show at the end of all of that.
Oh, that's nice. That's cool.
Yeah, so I could go on and on. There are so many ways music therapy can be helpful and used.
It's amazing. And so what should someone consider when looking for a music therapist?
Music therapists, for better and for worse, end up doing a lot of everything. I think something to be careful of when you're looking for a music therapist is to make sure that the person that you're working with does have actual expertise and experience in whatever it is you're looking for. If you are somebody who has a specific desire in terms of what you might want to do with music, I would be sure to express that to a therapist when you're looking for somebody. So if you're someone who, maybe you want to do more music listening, or maybe you want to do more active music making, or maybe you want to learn to use your voice in a different type of way, really make sure that you are communicating that to whoever when you're looking for a therapist.
And I should also mention that music therapists work in such a large variety of settings. So some of the experience that you could be looking for would be like, has this therapist worked with kids with autism? Has this therapist worked with developmental delays? Have they worked in psych? Have they worked in medical setting? Have they worked in end of life? Have they done bereavement? Have they done more psychological like anxiety, depression, PTSD trauma work?
Not every music therapist is going to have the same background, so it's important to check into that.
Oh, that's a very good point. I don't think people would've thought about that. So that's actually a really good point.
Can you share with us some specific music interventions that you would've used? I know you mentioned a few. Can you tell us a little bit more?
Yeah, I can tell you a little bit more about them. When I worked with kids who were grieving, like grieving children, especially for younger kids, we do a lot of improvisation. So I would bring in musical instruments. I had a little keyboard, there are these things called boomwhackers, which are these tubes that are cut to a certain length, which gives it a pitch, a certain pitch, and you basically bang it on the ground and it lets that pitch out.
So, your making music as you're experiencing some sort of catharsis.
And sometimes, you can use chimes or something like that. Sometimes I use chimes, so the person who was ill and the kid could play together. And kids are pretty open to be able to actually emote through music, express an emotion through music, or maybe even express a story through music. So I give a lot of open space for them to do that. Another intervention would be songwriting. So that can be original songwriting from scratch. That can be taking maybe a preferred song and changing the words around to actually express what you want to express. Taking someone else's favorite song, changing the words and dedicating it to them. So those interventions, I would do more with older teens. Another one would be maybe creating playlists for coping. So maybe a playlist for if you want to connect more with your emotion, if you want to emote a playlist for that. A playlist for if you want to feel more motivated to get up and go out or something. A playlist that helps you reminisce about someone you're thinking about or missing.
I like that idea. That's a great idea to have different playlists. Playlists when you're needing a little bit of a pep talk, getting motivated, so having songs in that playlist that do that for you. Having a playlist that maybe you're feeling a little bit more sad and so maybe you have a playlist dedicated to that. Yeah, that's a really great idea and that's a great coping skill right there. I think music is such a coping skill for so many people. I see that particularly with teenagers, that's one of their biggest coping skills. But yeah, I think just across the board, just so many people enjoy music.
That's a big part of identity formation too for adolescents. And then that kind of rides with you into adulthood.
Very true. Very true. Is there any specific genre of music that you're a huge fan of?
I think that being a music therapist has kind of made that a hard question for me because I've done so much exploring of music with and for my clients, but lately I've landed kind of at hip hop and music that'll just get me up, get me moving.
Yeah, that's great. Definitely. Is there any other takeaways you'd like to share about music therapy?
At this point in my career, I'm a little bit separated from music therapy. I've kind of switched into doing more verbal counseling and I'm learning other techniques like DBT and learning more about IFS and things like that. DBT, meaning dialectical behavioral therapy. IFS, meaning internal family systems work. And part of the reason for that for me is that the profession of music therapy hasn't done a great job of advocating for itself and it's members. So music therapists are often underpaid. It unfortunately continues to be a bachelor's level entry field. So that perpetuates this kind of lower salary. And also the reputation of music therapists as being kind of entertainment, which sometimes it looks that way because sometimes you might see a new music therapist maybe leading a sing along at a nursing home, which does have clinical benefit, but it appears to the world like entertainment.
So in terms of people who would be interested in becoming a music therapist, I would say approach it with caution and make sure that the school program that you are looking for can help you get your counseling license or something else that can help you earn more money and have more options. The other issue is that music therapy is not yet licensed in most states. There's a lot of work going towards getting them licensed in more and more states. PA is not one of them yet. So therefore most of the time can't get reimbursed by insurance, which is also limiting in terms of what jobs we can get. So yeah, just if there's someone interested in the profession, approach it with caution and care.
Sounds like a dual program of music therapy and clinical counseling or programs like that would be really helpful to have both.
Yeah. Drexel's program here in Philly, it's only two years, it's a lot, two years and two summers, but they give you everything you need to then be able to get supervision for your LPC. At Temple, I had to kind of take extra classes so I could get supervision for my LPC.
Well thank you, Jae. Thank you for sharing all this information about music therapy with us. And I'm sure some of our listeners might even been like, boy, I didn't know music therapy was truly a thing and that one can get a degree in it and credentialed for it. Or maybe other listeners were like, wow, I want to have that more incorporated in what I do for my own mental health therapy. So thank you very much for sharing your information about music therapy with us.
Yeah, you're very welcome. And I think I want to add to that, if you do go to school for music therapy, you end up sitting for an exam, you get a certification and you do need to get that in order to really practice it. And then you can also get a master's degree, you can get a PhD in music therapy.
So who knew? You can literally be a Doctor of Music. Doctor of Music Therapy. Okay.
Very cool. Well thank you again, Jae. Appreciate you.
Yeah. I would also like to thank the team behind the podcast, Jason Clayden, Chris Kelman, and Juliana Whidden. Take care, everyone.