podcasts
Understanding the Parentification of Kids – Podcast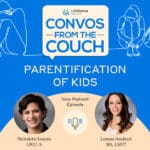 By LifeStance Health on November 2, 2022
Parentification is a role reversal of the parent and child relationship, where a child takes on the roles and responsibilities of an adult. Leanna Stockard joins Nicholette in exploring how and why parentification exists, the effects on kids and how a parent can interrupt this dynamic.
Listen and Subscribe Here
Welcome to Convos From the Couch from LifeStance Health. For each episode you'll hear engaging and a informative conversations with leading mental health professionals that will help guide you on your journey to leading a healthier, more fulfilling life. Hello everyone and welcome to Convos from the Couch by LifeStance Health. I'm Nicki Leanza, and on today's episode we'll be talking to Leanna Stockard from one of our LifeStance, New Hampshire offices and she'll help us understand the parentification of kids. So welcome Leanna, really great to have you on.
Thank you so much for having me. Very excited to be here.
Let's start by having you tell us a little bit about yourself.
Yeah, so as you said, my name's Leanna Stockard. I'm a licensed marriage and family therapist for LifeStance Health, currently located in New Hampshire but also licensed in Illinois and Massachusetts as well. My specialties kind of surround couples work and family work, but I also work with individuals a lot on family of origin issues. My philosophy with all three types of therapy is I believe we don't live in a bubble and that we are impacted by all of the different parts of our lives and all of the different systems that we engage in. So my role as a therapist is trying to understand the past, present, and future of the client in order for us to come about change, find the strengths within those systems and break patterns that no longer serve us.
And I like that when you're working with a client with the past, present and future because I think you're seeing the fuller view of the client as well and especially if you're working on family of origin issues, which I think this subject kind of falls in line with.
So as we begin to talk about this topic, can you clarify for what does it mean for kids to be parentified?
Yeah, so in essence, parentification is a role reversal of the parent and child relationship. So essentially a child takes on the roles and responsibilities of an adult. There's two different types of it. One involves more of taking care of physical things around the house, maintaining the household, paying bills, cooking dinner by themselves and or taking care of a younger sibling or even an older member of the family as well as an emotional aspect of it as well being the emotional support of their parent, being their confidant, being their friend. And so the role reversal in those types of ways.
I think that's the best way to really describe it. That role reversal. It's almost like the child being the parent to the parent. Is that a,
So how and why does this happen?
Yeah, it's a good question. A lot of times parentification can happen unintentionally. So it generally happens when for one reason or another the parent isn't able to manage these responsibilities on their own, whether they are a single parent, they're struggling from substance use, struggling with mental illnesses in the emotional aspect, sometimes they are missing out on that emotional connection from their partner or friends. They feel like they have no one to talk to and so they rely on their children for that. So that's an unfortunately kind of the how it happens. But what generally occurs after that is the child will take on responsibilities that are not age appropriate to their development and they can feel very overwhelmed by the amount of or even the type of tasks that they then have. Even in severe cases, a child may become their parents' caretaker and that will be the extreme role reversal where they are taking care physically and emotionally of all of their parents' needs as opposed to theirs getting met.
So this is just more than just say the oldest sibling coming home and parents are at work and they're like watching their siblings and stuff like that. This is not what we're talking about. We're literally talking like the child is on equal standing of the parent from the point of view of meeting their emotional needs and as opposed to the parent putting their own needs aside to meet their child's needs. So this is, because I just want to clarify. This isn't just like, hey a child has to babysit their younger siblings or something like that. This is truly that role reversal and so looking at why that happens, it's probably many different reasons why it happens as well, right, to kind of play into that. Can you tell us a little bit more about the signs that might show a kid to be parentified?
Absolutely. So I think one of the bigger signs that a child is being parentified is perfectionism because they have so many responsibilities at home, they feel that they need to kind of be perfect and be on top of everything. They are aware of all of the things that are going on around them. They build that awareness because they kind of feel like they have to hold that responsibility. So the kids can oftentimes over function, take on multiple responsibilities at a time, even at school or at an extracurricular type of event. You can maybe see them trying to put everyone's needs before their own, really trying to not pay attention to their own needs. And even in some instances they might communicate that they don't feel good enough when deep down they may feel that way because their needs aren't being met or even paid attention to.
This makes me think of sometimes theme of counseling for some clients are looking at perfectionism the client might be doing or feeling maybe not good enough. I mean, some of the themes you're saying here that we see with parentified kids, it makes me think of asking those questions, kind of really looking at those family dynamics and why it's so important to see the past, present and future of a client to kind of go back and looking at those family dynamics. Did that client come out of potentially that dynamic of being parentified and stuff and how that can feed into perfectionism and putting other people's needs above their own and things like that. Have you stumbled across that with some of your own clients that you didn't know were parentified, but you'll see these things as an adult?
Absolutely, yes. Through the exploration of the family of origin, I learn a lot from that and the person coming into my office or through telehealth, they may not even realize that they had any sort of dynamic shift or role reversal at all. But then I hear that mom came to me when I was 12 and told me about my dad's affair and I had to learn about that and then she came to me or dad came to my room crying one night when I was seven and talk to me about his hard day of work and things of that sort and even those subtle things that we can look at and be like, that was weird, it actually can be an indication that we were parentified in some way that impacted us in the future. It varies is what [inaudible 00:07:36].
Yeah. No, I'm sure. I too have heard those stories from some of my clients where mom will maybe dump a lot of emotions on them because of work or even the marriage to husband or partner and just the amount of stress that puts on a kid of feeling the weight of that, of knowing that stuff is, I don't think even clients themselves realize how stressful that was for them.
So as we're talking about some of these signs, I think what we're kind of floating into now is just the effects of parentification on kids. Can you tell us more about the effects on kids?
Yes, absolutely. I mean, there can be a lot of long term effects on children that are experiencing this because it makes into difficult transitions into adulthood. In addition to what I was communicating earlier about some signs, but a lot of parentified children feel like anger, resentment and also just an overall kind of lack of trust for the people around them because their caretaker, they couldn't rely on that person. They had to rely on themselves and so they feel like they can't maybe trust other people, which will hinder their relationships with others moving forward. They can end up being overly independent and struggle with building those connections and those relationships.
And also it kind of takes away their childhood in a way, this childhood, childhood is when we have this freedom to figure out who we are, build an identity, figure out what our likes and dislikes are. And if we are parentified and we don't necessarily get that opportunity, and of course this isn't for every single case of parentification, but it can lead to identity issues in the future of not knowing who they are or what they like and focusing so much on other people as opposed to themselves. In addition to that, I've worked with some folks that may have not recognized that they have been parentified, but when it's time to leave home to go off to college or to move out or do any pieces like that, when we transition into adulthood, they feel guilty. They feel guilty about leaving mom, they feel guilty about leaving their siblings, they feel guilty about leaving the environment because they fear of what could potentially happen if they're not there. They feel like home could fall apart or a sibling,
Or a parent could fall apart. Yeah.
Especially if that child was the backbone of everything working as that parent. So them going off to school or wherever, there might be a likelihood that the family, I guess maybe does collapse or struggles at the very least. Right. So I could see where that guilt would carry forward even if they were away at school that they're still maybe worrying about home or even still trying to navigate things at home while they're trying to be focusing at school too.
Yeah, absolutely. If they do leave, there's a text message or a phone call that they could be coming or Hey, why don't you come home this weekend, we miss you, or things of that sort. So they might not be able to be fully present at whatever stage that they're in because that's always in the back of their mind, like what's going on at home.
Oh my gosh, that would be really, really tough for sure. So if we look at from the parent's point of view, how can a parent interrupt this dynamic or this pattern?
Absolutely. So as I mentioned before, the parentification can often happen unintentionally without really recognizing that the behaviors that they're engaging in could impact their children like this. So I highly recommend for parents to just kind of educate themselves on what parentification is, picking up the signs for if their child might be taking on these responsibilities. If you notice that your child's like, No, mom, you don't have to change my sister's diaper, I'll do it and they're like six years old, trying to be aware about the age appropriate responsibilities. And so maybe doing some research on what age appropriate responsibilities are in terms of their development. Also, just making sure that the hierarchy of the family is being maintained, knowing that I am the parent, you are not the parent, we are the parents. We make the rules, we're in charge, we make the decisions. And then of course, remembering that your child's not your friend, they're your child.
It is important for you to not to depend on them, allow them to be independent, support them to be their own person. Don't make them feel guilty for wanting to go out for a night or do something different if it's a family night or something along those lines. And of course, just be supportive of your child through the hard times and letting them know that you or they can come to you for anything that is going on. They don't need to keep it to themselves. All of those things are kind of subtle ways that parents can communicate to their kids that they are the kid and they are there for them, but if we recognize that some of the signs may be taking place, it's definitely important to educate and research what might be happening there.
So I think what I hear you saying loud and clear is for the parent to recognize and be aware that they might be doing that, and if they're aware of it because they're seeing some of their signs of their child doing some of the parentification signals, then they can hopefully step back, be more aware and kind of take it from there. What are some ways for kids then who maybe were in this dynamic and are maybe away at college and is trying to navigate being parentified? And maybe I'm making it too specific saying about going away to college, but what are just some ways to overcome parentification just if you're a kid?
Yeah, absolutely. I think it's definitely more difficult when you're still in the home, unfortunately. And if your parents aren't willing or able to identify that this is happening, they feel like it is appropriate or this is your duty and this is responsibilities, it's definitely a little bit more difficult to do what I'm about to recommend, which is setting boundaries and communicating that you're not comfortable with the amount of responsibilities that you hold or the types of responsibilities that you hold, and just engaging in that open communication with them, trying to gain support as well from a teacher or a friend, another friend's parent or someone that you trust to help support you through this. Also, if we're at the point, unfortunately, of neglect even where we are going grocery shopping and taking care of our younger sibling and doing all of these different things and we have to cook our own meals and find our own means of water and things of that sort, to make sure that we communicate that to somebody that can help us.
However, moving forward, if you're out of the house and if you're a young adult or a person recognizing this behaviors in your past like later on in life, you can recognize this might end up being a generational cycle. So it's important for you to educate yourself on what you experienced, how that's impacted you, and try to move forward with breaking those patterns and breaking those habits moving forward. For instance, if you are a people pleaser or if you do continue to put other people's needs before yourself, recognizing where that may have come from and trying to communicate to yourself maybe through therapy or through support or other friendships that you deserve to have your needs met as well.
I think that's the key too, for a person to recognize I deserve to have my needs met as well. I think that's really a key piece there.
Any other takeaways you'd like to share?
Yeah, so I think just overall, I think it's important for parents with good intentions to make sure that you do take a look at the relationship and roles that are held within the family and making sure that your child is holding responsibilities that are age appropriate. As an adult or as a child that's navigating through recognizing that some of this podcast is resonating with them, really take the time to look back on your family of origin, acknowledge the hurt that you experienced and just how it's impacted you. Get in touch with those authentic thoughts, feelings, and needs and try to be, one of my favorite quotes is, "Be the person you needed when you were younger,"
And try to provide, yeah, it's one of my favorites, but try to provide yourself with that same care, compassion and support that you needed when you were being parentified. I think that that's a very important piece. And again, as adults, and we're looking back on this, we likely still have relationships with our parents, with our younger siblings, and with the other people involved in the family. And so taking a look at how it's impacting you now and if you are still engaging in any of these behavioral traits, if you're comfortable with it and or if you're not, setting that boundary with them too.
Thank you for sharing your knowledge about this topic. My hope is people listening who might not recognize they were maybe parentified, there might be some light bulbs going off like, Whoa, whoa I can relate to this quite a bit. So I love the fact that you're so knowledgeable and looking at these dynamics and sharing with us kind of the signs and the symptoms of this, because I think there's going to be a lot of people who are like, Whoa, I didn't know this was a thing, and ooh, I can relate to this a little bit too much. So thank you again. I appreciate having you on and sharing all your knowledge.
Absolutely. Wonderful to be here. And yeah, I could talk about this for hours, so I appreciate the opportunity to be here and to make other people aware that this is something that may have happened to them.
It's a good topic. And again, I think it's one of these topics that maybe not a lot of people are aware of outside of us counselors and clinicians and stuff like that too, so. So thank you again. Appreciate you.