podcasts
Parenting a Child with ADHD – Podcast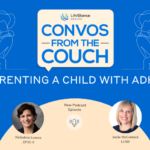 By LifeStance Health on October 5, 2022
As we recognize ADHD Awareness Month, LifeStance provider Joelle McCormick discusses how does ADHD affects kids, the difficulties of parenting a child with ADHD and tips parents can use to help their children succeed at school.
Welcome to Convos from the Couch from LifeStance Health, where each episode, you'll hear engaging and informative conversations with leading mental health professionals that will help guide you on your journey to leading a healthier, more fulfilling life.
Hello everyone and welcome to Convos from the Couch by LifeStance Health. I'm Nikki Leanza and on this episode I'll be talking with Joelle McCormick, a clinician from one of our LifeStance Oregon offices on the topic of parenting a child with ADHD. Welcome, Joelle. Great to have you on.
Thank you. Thank you for inviting me and it's a pleasure to be here.
Thank you. Really great topic for us to cover. I think parenting kids who struggle with ADHD struggle, but also lots of benefits and superpowers of ADHD, as well. I think we can acknowledge both.
It could be challenging, it could be rewarding. And I think we'll cover all of those bases during our conversation today, for sure. Thank again for being on. And let's start, let's have you tell us a little bit about you.
Yeah, thank you. I am a licensed clinical social worker. I do therapy primarily with adults and children, adolescents, as well and I also run some groups. And one of the passions that I have is running the ADHD parent education group. It's a psychoeducation group and I'm informing parents about just matters of ADHD and how to parent their child with ADHD in a way that supports them and helps them with those ADHD symptoms.
That's great. I'm sure it's a very helpful, useful group. I'm sure the parents definitely appreciate it, the support, for sure.
I'm sure. I would think it could be, again, looking at the challenges, looking also at the positives to it as well. But I'm sure there's many aspects that can be frustrating, especially if you're a parent who maybe don't have ADHD yourself and really just trying to understand the disorder, which is the purpose of our conversation today too, to kind of help sink in a little bit more.
Right. I have a daughter who has ADHD and she was diagnosed in elementary school and I didn't know. Even though I'm have education and training or education in ADHD, I didn't really know that much about it on a practical level and I certainly didn't know as much as I do now about parenting. One of the reasons that this group is so important to me is that this is information that I wish I would've had as a parent.
[inaudible 00:03:13] that too.
And now I feel like I can impart that to others and help them with their journey because I certainly would've done things a little bit differently if I had known what I know now.
I bet you it makes you even an even better facilitator that you're sharing your knowledge, but you also know from experience too what it's like.
I hope so. I hope that that's the effect. Knowing that the clinician or the presenter knows a little bit about it or has experienced some of the hardships can make a difference and I'm hopeful that that is the case.
I'm sure it does, for sure. Let's start with just a really basic question of how does ADHD affect kids?
Great question. Great question. Well, it affects kids in different ways actually because there are technically three types of ADHD. There's the hyperactive impulsive type and that is the kind that is more stereotypical. That's the type that people think of. They think of the child bouncing off the walls or difficulty stopping talking or moving around a lot.
But there's another type too, the inattentive type, that is often undiagnosed or missed. And that has to do more with the inattentive symptoms of not able to pay attention very well, distracted easily, the executive functioning issues that come with that, a hard time with organization, prioritization, just time management. And those are what I call more of the internal ADHD symptoms. The ones that don't show as often on the outside to other people and that's why they go missed.
And then there's a third type, which is the combination some people have, and actually it's the most common type of ADHD, symptoms of both hyperactive, impulsive type and then inattentive type. That affects kids in different ways. The hyperactive impulsive type makes it difficult for kids to sit still, to attend with their bodies in a way, to be present. They're moving around a lot. They often have difficulty paying attention, but that movement helps them pay attention. And that is tricky for parents and teachers.
That's an interesting point. Tell us more about that. Some of the movement is the things that also helps them pay attention because I think the assumption is they're not paying attention because they're moving so much. Can you tell us more about that?
Yes. Yes. It's funny. In therapy when I'm doing therapy with kids, a lot of times if the parent is present, they're like, "Isabelle, just pay attention. She's talking to you." And they are paying attention, but they're moving around and if they're not moving around they have greater difficulty paying attention. I think that educators now, as they pursue their path as educators and getting their own education, becoming teachers, they're getting more information about that and making movement a part of the classroom or at least allowing that to happen. That's true for everybody, but especially people with ADHD. They need to be moving around a lot.
It also affects them in their social interactions. This is where I see kids really struggle because they're impulsive. They're blurting things out. They're intruding on what other people are doing without even realizing that they haven't been invited or it's socially inappropriate to be invading on something somebody else is doing. Blurting out a lot in class, blurting out in conversations, saying the first thing that comes to their mind without editing themselves. And this has a major implication on social development or friendship formation. They can a lot of times attract kids to them easily, but then they do something like a misstep, and then kids don't like them anymore. Or they tend to be bossy.
They're wanting to be the one in charge and they may have difficulty taking turns. That's actually a symptom of hyperactive presentation. They forget that another person has an idea and that they might want to do their idea. And actually often talking to my kid clients about this, taking turns and that idea of a volleyball and letting somebody else do their idea.
The back and forth of conversation of ideas of playing the whole thing. Because I think sometimes some kids who might have ADHD don't even maybe recognize the social misstep they did or even things of body space of just being excitable and in another kid's space that might just feel a little too much for the friend per se, so they might pull back. And the kid with a ADHD might not recognize kind of what they did and why maybe friend is pulling back or something like that.
Exactly. And excessive talking, another symptom is very much what you're saying. Sometimes it's just too much for other kids. There's too much data coming in. There's too much being said. And so other kids get bored or they start doing other things, they just kind of lose people's interests.
I hear you. And I think this all falls into looking at what are some of the difficulties of parenting a child with ADHD then.
I think some of the top ones that come to my mind are just getting your child's attention. That can be difficult. Or making sure that that information is even heard or processed because if it's not processed then the child can't recall it later. There's a memory problem too, a short term memory problem or a working memory problem with kiddos with ADHD. But if it's not being encoded in the first place, if it's not being taken in, then they can have nothing to retrieve later. Getting the attention and remembering to break things down into smaller bits or just give them one task at a time for example. Not saying, "Okay, go up to your room, get your backpack, load it up, then get your shoes on."
No. Just one thing at a time can be helpful to the kid, but also challenging for the parent because they've got to be more involved and it's more difficult to just give that information and assume that the child's got it and then the parent can return to what they're doing. It's more management and repetition. That can be really frustrating for parents to have to repeat the same thing over. And even though we've done the same morning routine all year, those repetitions have to still happen because of the child is just not attending to what they're doing. Their mind might be elsewhere. In an inattentive type that is the case a lot. The child is daydreaming. They're off in their own world. One thing reminds them of something else. Even though they're used to the routine, they just get off track.
And I can see what that would leave room for parents who really didn't understand ADHD and how it can manifest with kids that there could be misinterpreting of the kid maybe being oppositional or just not listening.
And so if a parent doesn't understand ADHD tells a kid before school, "Go do this, this, and this," and the kid does one thing and then gets off track because they started doing one thing but then kind of fell down a rabbit hole of something else and playing or something like that, the parent might misunderstand like, "Okay, why don't you listening to me? Why are you being oppositional?" And it's not that at all and I think that's, again, with this conversation helping parents really understand that this is part of ADHD.
Exactly. Well that's a great point that you bring up. A lot of times I hear that. And what I would say in general with differentiating between opposition and ADHD symptoms is just to seek to understand the intention or what's really going on. A child who's oppositional is vying for power and control. They're trying to do something purposely for whatever reasons. But ADHD kids are exactly like how you would describe. They're just getting off track. They're not trying to do that, but they just are.
And then time management too can be frustrating for parents because the ADHD brain has difficulty with time management. That's an executive functioning problem in there. And the research shows that oftentimes kids or people with ADHD will go too, they'll quickly rush through something when they should be slow and methodical. And then on the contrary, they often take too long when they should be speeding up, such as getting ready in the morning. That's something that a lot of parents struggle with with their kids. A lot of people with ADHD have a difference in circadian rhythms. They have trouble going to sleep at night and they have trouble waking up in the morning. Or even getting the brain engaged. It can take some brains a long time to get going. Well that's really difficult if school starts at 7:30 and they've got to get up and they've got to get their backpack ready and all of that stuff. And helping a child kind of speed up and get out the door can be an ongoing frustration for parents.
I think you bring up another good point that maybe a lot of parents might not recognize of the issues with circadian rhythm with kids with ADHD and that it isn't like that they could just pop up and go, that there is some issues with that. I think that was really key that you brought that up to help them understand that too.
Especially if school starts so early and everything.
I had one parent recently, well in my last group say, "I didn't realize that this time management thing was an ADHD symptom." Just this information can be helpful going, oh, I see it now, ADHD through a disability perspective. There's things that we can do to help bolster these skills or strategize ways of managing these skills.
Which is [inaudible 00:15:10] segue I would think, to talk about some tips for parents to make life easier at home when they're working with their kids. If is this a good time to [inaudible 00:15:19]?
It was a great time. I did want to say one really big thing about the previous question and that is emotional dysregulation.
Oh, [inaudible 00:15:27] talk about that.
That's a symptom. That's not a symptom currently of … Or it's a symptom. It's not a diagnostic criteria for ADHD, but there's some works around that happening and that may be the case in the future. But it is definitely a huge symptom. And one of the ways that we can really recognize it in adolescence and adults is that emotional dysregulation that can often be misdiagnosed as a mood disorder. Whether that's anxiety, depression, bipolar, but there's a problem in regulation. There's a problem in regulating the emotion. With kiddos especially … Well, not especially younger ones, but that can look like meltdowns. That can look like difficulty shifting or accepting that something isn't going the way that they anticipated and being able to manage that emotional wave that comes with that can be really hard for parents. [inaudible 00:16:36].
And I'm so glad you're emphasizing it because it is, it's a very difficult thing and it's something again that parents are trying to navigate and understand and knowing that even though it's not a specific diagnostic criteria for ADHD, but it definitely goes hand in hand with it too.
Yes, because the ADHD brain is more sensitive to all emotions. Compared to a neurotypical child those emotions are sensitive. That's really great when it's a positive emotion. This child can be the life of the party. They can be a complete joy. Nobody you'd rather be around when they're in a good mood and they're excited about something. People with ADHD when they're excited, it's just like this ball of energy. But conversely, when they're mad or when they're sad, it can be very debilitating for them to manage those feelings.
And I'll slip in right here, that this is also, the other side of that coin is the superpower that makes them empathic. They are great at being empathic people when their attention is on that, that thing. When they want to be caring, they can be a really great friend. They can be sympathetic and compassionate to others in a way that maybe some neurotypical brains are not as much because of that higher sensitivity to emotions.
Looping back to the question about parenting that you had, helping kids manage their emotions is probably one of the most important things parents can do. Learning skills to regulate emotions, building in a mindfulness practice with their child, helping them learn about that, helping them learn about things like belly breathing or just ways to regulate by maybe having a break or taking space so that they can regulate their bones. And I try to veer away from the term calm down because it has such a connotation. But to regulate themselves has less of that negative connotation and more empowering in terms of a skill.
This is a skill. And I think that that's another key point for parents is to look at ADHD from a disability perspective in the sense that there are some lagging skills. There are some things that these kids need to have practice with and have atypical skills around that other neurotypical children maybe don't need. Helping them strategize. I usually talk to parents about whenever there is a symptom of ADHD or a challenge with an ADHD symptom there, figuring out a strategy, figuring out how to manage that and allying with your child can be helpful and also very empowering.
I like that you use that term allying with your child. It's a team approach here.
And I think for some parents, because at times it can be so frustrating, there could be a tension between parent and child with this. And so really trying to hopefully step out of that mindset and stepping into we're a team here, I'm your biggest ally. Let's see what we can do to help you succeed and make this work. And the whole thing.
Yes. Yes. Positive parenting, reducing the parent child conflict is one of the most important things that parents can do. And that can also be very challenging because parents are frustrated themselves a lot of times. Figuring out how to choose your battles, what to let go of and what to focus on, and just maintaining that allyship concept, I think is one of the most helpful things to do because then the child feels validated. They feel like they've got somebody in their corner, but it's also not just excusing their symptoms.
It's not just putting them under their … Which a lot of parents come to me and they say, "Well, I don't really want to label them. I don't want to say that they have ADHD because then they'll just use it as an excuse." And I say, "Aha. Well, it can be reasoned for certain behaviors, but in those reasons, when you are allying with your child, then you can talk about those things and say, We need a strategy for this. Let's work together." That's another helpful parenting [inaudible 00:21:47] is collaborating. And the cognitive problem solving approach can be very helpful, especially in the teen years because if the child is involved, they're more invested in the process and they're less likely to rebel against their own idea.
Exactly. Excellent point there.
And they have great ideas. Their creative brain, another superpower of ADHD.
Thinking outside the box, they can come up with things that we as parents never thought of and they're more likely to do it because it's their own idea.
Now the parent has the veto power of course, but that collaboration can prove very fruitful.
For sure. And with that collaboration, looking at tips parents can do to help their children succeed at school.
Yes. Preparing ahead. Helping them as basic as it is, layout their clothing the night before. Get everything ready the night before. Make sure they have extra supplies, because that's one of the symptoms of intensive ADHD is losing things. Having a tote full of extra pencils, extra pens, so when that happens, not if it happens, but when it happens, there are supplies and they can load that backpack up the night before. Helping kids break tasks or big projects, which is often a struggle for kids with ADHD doing a book report, rather a science project, something that has lots of steps and is spread out over time, helping them break that down into smaller, manageable tasks and helping them manage time. Gosh, that's one of the most important ones.
And then working with the schools, working with the teachers, become involved, volunteer if you can. And help create a 504 or an IEP plan to help with accommodations for your child at school.
I don't know if a lot of parents recognize that that you kids can get accommodations for their ADHD. Can you share a few accommodations that you're aware of that [inaudible 00:24:09]?
Sure. I think some of the big ones are preferential seating. Having the child sit in places where there's less distractions or they can manage like at the back of the classroom where they can get up and move around when that strikes them, the need to do that. Having class notes provided to them so they don't have to worry about writing things down at the same times they're trying to encode information. Having fidgets or things at their desk that can help them to focus. Breaks, schedule breaks.
Breaks. That's a big one too.
That's a big one. Yeah. A wiggle seat. That's anything that can help with the movement if that's the case. And this is one that isn't a common accommodation, but I think is really helpful and that is letting kids know that they're on the right track. ADHD brains, they have a shortage of dopamine and epinephrine, and that's what causes some of these symptoms. That's an important thing to know too, that there is a brain difference, not only in the chemistry, but in the wiring. Those circuits get connected at a slower rate compared to neurotypical children. What that means is that kids with ADHD need extra reinforcement. They need to be told that they're on the right track. Having a teacher come and just check the work and let them know you're doing well, you're on the right track. Verbal reinforcement can be huge for kids with ADHD. A short term reinforcement is oftentimes more effective than a long term reward.
Such a key point again. I think that's a great tip of really aligning it to the kids' brain and the dopamine and those receptors that really do crave the reinforcement to line it up, to give them short term reinforcements, letting them know they're on track and stuff like that. I think that's such a key thing that maybe parents don't realize how important that is or even teachers too. Taking [inaudible 00:26:35], yeah, that's it. You're on the right track, so then they can feel better. Which I think this is a good sink into looking at ways to help it build self-esteem and confidence in kids with ADHD as well. Let's kind of take that route right there. Tell us a little bit about that. What can parents do to help build their child's self esteem?
Well, I first want to start by saying kind of a sobering statistic, and that is that kids with ADHD receive 20,000 more negative messages about themselves by the time they're 12 years old. Whether it's, "Sit down. Why can't you do that? Pay attention. Stop moving. Why don't you turn that in?" Those kinds of messages more. That is often internalized by kids as feelings of inadequacy. They're not measuring up, They're different. They're not doing it right. They're doing it all wrong. There is a term called rejection sensitive dysphoria, and that refers to that internalization of those negative messages, which can come out in the form of people pleasing and an acute radar for people's approval.
Wow. I didn't know that would be part of ADHD too with this, the internalization of it. Wow, that's really interesting.
Yeah. Rejection sensitive dysphoria is not a diagnosis in and of itself. It can fit with other diagnoses too, but it can show up often with kids with ADHD because of this thing. Making sure to say positives then to them. Let them know what they're doing well. Notice when they're really helpful to somebody or compassionate. Engage in their ideas as long winded as they are. Ask them more about that. You can relate, maybe.
I can relate. I can relate [inaudible 00:28:42] that.
Yeah, the stories going. Or whatever their special interest is. Get into that with them. Ask them questions. Praise them for their unique way of thinking about things. The way of thinking outside of the box in a way that's not customary, that's not typical for other people.
And just let them know and praise them for their growth, for partial success. That can be huge. Praising for partial success.
Yeah. I agree a hundred percent. Any other takeaways you'd like to share regarding this topic? We covered so much good stuff.
I know, and I have so much more I could say. It's hard to kind of narrow in. But yeah, I think the takeaways are maintaining the disability perspective, knowing that your child's brain is different than other kids and therefore needs a different approach. And trying things for short periods of time. I think that's another takeaway. Trying things with your child consistently for a week or two, but then if that thing doesn't work, reevaluating it maybe in a family meeting and saying [inaudible 00:30:10].
Exactly. Exactly. And we don't have to stick to this. That can be very liberating for kids to know that I'm not stuck on this forever. The other thing is changing rewards or providing rewards and turning things into a game. Gamification. The idea of gamification or incentives. That's way more effective than using punishment or taking things away. Adding things is more helpful. Having them earn things, having that perspective.
Great. Oh my gosh. Joelle, I want to thank you again. You gave so many great tips to help kids build their self-esteem and being successful at school and at home. You are amazing. Thank you very much. Love to have you back on.