podcasts
Unraveling the Unconscious: A Journey into Psychodynamic Therapy – Podcast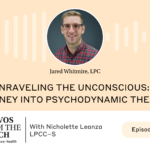 By Jason Clayden on July 20, 2023
In this episode, Nicholette interviews Jared Whitmire, a clinician from one of our Oklahoma offices, about the fascinating world of psychodynamic therapy. Join us as we explore the depths of the unconscious mind and understand how our emotions and experiences shape our behavior.
In this candid conversation, Jared sheds light on the differences between various therapeutic approaches and the importance of emotional honesty in the therapeutic process. Discover the power of transference and how it can be utilized to gain deeper insights into ourselves and our relationships.
Listen and Subscribe Here
Welcome to Convos from the Couch, by LifeStance Health, where leading mental health professionals help guide you on your journey to a healthier, more fulfilling life.
Hello, everyone. This is Convos from the Couch, by LifeStance Health. I'm Nicholette Leanza. On this episode, I'll be talking with Jared Whitmire, a clinician from one of our LifeStance Oklahoma offices, and he'll be telling us all about psychodynamic therapy. So welcome, Jared. Great to have you on.
I was thinking a lot about this episode, and I've come to understand that I wonder if a lot of people don't really know that there's so many other types of therapy that clinicians will practice. Most people probably know cognitive behavioral therapy and maybe even dialectical behavioral therapy. There's gestalt, there's humanistic. And so I think this is a great time that you'll be telling us more about another particular therapy, this psychodynamic therapy. So again, welcome. I'm glad you're here. Do you find that too, that people don't always know the differences between the different therapies?
Yeah, and I think it's a big thing about therapy because I think there's a tendency… And no fault of the public at all. I think this is something important for therapists to bring greater awareness of, is that while we might have talk therapy, there's such an umbrella of different therapies out there and different approaches to what we do when we talk therapy.
That's a great term, is the umbrella, for sure. Look, we've already started our conversation, but let's have you tell us a little bit about yourself.
As you said, I'm a therapist here at LifeStance. I've probably been practicing for I would say about five to six years professionally. I've worked in multiple communities and settings. I think for a while I worked in rural Arkansas. I've worked in the metropolitan area of Greater Boston before coming back here to Oklahoma where my real roots are. To speak maybe outside of just professionally, I think I have a tendency to daydream a lot and I like to speak and talk with others. Most of the time you could probably find me either in the gym or spending time with my partner who I'm always amazed by. She's a wonderful musician and artist. Just to give you a little glimpse of me and who I am.
Oh, that's great. That's great. Thank you. So we're jumping in here. Help us understand what is psychodynamic therapy and how it's different than other traditional forms of therapy, even psychoanalytic therapy.
I think even as we were discussing and progressing this episode before we agreed to meet and talk about this is it became apparent psychodynamic therapy in of itself as one of the talk therapies is yet another umbrella term that can encapsulate different approaches, but in its essence is another talk therapy. It does have one huge emphasis and that is that we're not always fully aware of our minds. That there's a great emphasis on there being an unconscious mental life, meaning that there are things or reasons that we do things that are not entirely in our awareness.
I think a big emphasis in dynamic therapy is that the relationship between a therapist and a patient really is at the crux and takes on great significance, not just in there being terms of an agreement and what we agreed to work on, but the relationship itself is a testing ground, a window, an observational space where we can better come to understand ourselves. What goes on in that relationship really takes on a great significance in this therapy. I would say that it's probably at the heart of it, along with there's things that we don't seem to always fully understand or know about ourselves.
Yeah. What makes me think of the unconscious, when you mentioned that I think of undergraduate intro to psych, they'll do the old iceberg analogy where above the water, the iceberg, you're only seeing part of it and that's like what maybe we're conscious about in our lives. Then underneath with icebergs, the majority of the iceberg is below the sea level there, and that's really where a lot of what we would see at the unconscious. Do you remember learning it that way as well initially?
Yes. I think that there's a good chance that if people listening, if they were to Google unconscious, the first image or so on there you probably would see the iceberg. But that is a good representation and a traditional understanding. Also, your question kind of brings me back to that first question you asked me is that there is a difference between psychodynamic and psychoanalytic where I would say that the big differences there are that psychoanalytic is more of an intensive treatment and one that you might be going to see your therapist four or five times a week. Whereas dynamic therapy, while it has its roots in psychoanalytic thought, really is one or two times a week. But yes, that unconscious image, it brings awareness. There are things that we don't fully know.
To be honest with you, I rarely, even when I'm working with patients, I don't necessarily say, "Oh, this is something unconscious." If we're talking to someone, we might just be curious about things and see if this seems like something could be here. Maybe there's something here. But it's always done in the realm of this relationship. It's not this kind of hard authoritarian stance of, "You're not aware of this and this is what it is."
Which I think this is all about educating people to understand that a psychodynamic therapist might be like, "That was unconscious. You didn't even realize it." It's not maybe that forthright of making a mark of it. Can you tell us more about the history behind this approach?
Yeah, the history, and another part of me is that's one of my favorite things is kind of understanding the history of just therapy in general. It's really rich. With dynamic therapy, of course it has its roots with Freud. I think most people, we're all aware of who Freud was. At the same time, I think that to say that dynamic therapy started with Freud, while that's true, it has grown and grown from there.
In fact, Freud started a school of thought, and it was that idea that there's things that we're not fully aware of. He was the first to say, "Maybe if we talk about this, and maybe in the essence of talking, we can bring a greater awareness to that." Now we can critique Freud because a lot of his ideas and theories were really rigid, really kind of authoritarian. But in its essence, one thing that has remained true and has kind of stood the test of time is that there are things that we don't know whether we're in a lab calling it implicit memory or we're in the room and noticing it happening.
But in that school that Freud started, there was many different other clinicians that took his ideas and kind of went with them, even other therapists might be more familiar with. Erik Erikson has lot of his stuff based in Freudian.
And just to put in there, Erik Erikson is where you look at the stages, right? Boy, I'm actually forgetting some of the stages that Erikson came up with there. Initiative, versus shame and doubt, things like that. Yeah.
I think you're spot on, as he took that developmental…
Developmental, that's it. Yeah.
… and put it into more language that probably was a little bit more accurate and flexible with the realities of people. And at the same time, we had clinicians such as Rollo May, Claire Thompson, Auto Butler, [inaudible 00:08:28] really kind of expanded upon psychodynamic. It became, again, a school of thought that expanded upon itself. We might think of biology and think of the start of Darwin.
It has grown and grown over time, but while it has its roots in Freud, it's nowhere near what it was. In fact, there's many different ways. I would say today it takes on a more relational context and that sessions are not as frequent as they used to be. There's huge emphasis on our ego, psychology, object relationships, our personality patterns. This all kind of coalesces into a greater understanding of a model of looking at someone's mind and understanding them more fully.
The history has expanded, and I think that today it's less and less about Freud and more and more about the relationship, what gets played out in that relationship, issues around transference, defenses. Also, just developmentally, where's the person at? That's a big part of this history and [inaudible 00:09:42] today.
I do think this is such an important approach, and I find that maybe a lot of psychotherapists coming out with their education maybe don't get exposed a lot to more than just that introduction to this approach. I think a lot of the emphasis I see is more like on the cognitive behavioral therapies and things like that, but I think this is an approach that is very important and very helpful. Hey, can you share with us some of the research behind the approach?
Yeah, no, and I think that you're absolutely right. I think that CBT is a big emphasis in today, and whether we're calling something is schema, which is a huge concept in CBT, or if we're calling it a transference. But-
Can you go a little bit more in… I know we're going to talk about transference. Can you just talk a little bit more of what is schema is for those who might have never heard that term before?
Yeah, of course. To say what transference is, it's not something that occurs solely in therapy. I think transference can be looked at and examined that in therapy, but to say what transference is, I think it's specifically referring to the activation or preexisting expectations, templates, scripts, fears and desires that we might bring to us or with us into the therapy. I like to say I relatively start most of my therapy sessions in the same way when I'm beginning with someone. I start innocent. What's on your mind?
And one thing that you can notice, and where we see transference is that people come into therapy with no other knowledge of who you are, but it becomes apparent as the therapist that you might represent radically different people in the patient's mind. With transference, at least in dynamic therapy, that is the treatment. Understand that it's not seen as an obstacle or something bad, but how this person might see me and how we might even be mutually influencing one another. How can that be used in a way to better understand both this person's history as well as what gets played out in their relationships? And it's with symptoms.
I would say the transference is probably at the hardest therapy, at least that when it comes to dynamic therapy, the schema or transference, it's all a better way of understanding this person. It is the things that we put onto the other person, how we see them, how we view them, who you think they are.
Right. That's the key. I know I pulled you away from the question, what was the research behind their approach? I know there's a lot of good research behind this as well.
Yes. Yeah, I think that there was a watershed moment when it came to dynamic therapy because I would say therapy just in general is something hard to research. I think CBT lends itself well to research. You can manualize, operationalize these things, but I think as we've gone forward with the research, especially when it comes to dynamic, is you really see equal validity to these treatments. They're just as equally effective as the CBT interventions are.
I think that one thing that has puzzled researchers is just that most treatments you have that dodo bird, as they are producing similar outcomes. And so the question now seems to be what makes these treatments that are maybe different in their approach, but what makes them equally effective? To be specific to dynamic therapy, there has been attempts to manualize and operationalize these types of therapies. I think that there's a lot of good research coming out of people like Frankie Amends, whether we're talking about transference-based psychotherapy, which is a manualized form of this approach, and it's specifically being used with those with personality disorders. It seems really effective there.
Or if we're talking about mentalization-based therapy, which is another type of dynamic therapy, which has shown really good research in terms of people with borderline levels functioning and increasing their level of reflective capacity. There's a lot of good research coming from those. Another thing with that paper that was kind of a watershed moment I think for dynamic therapy was there does appear to be [inaudible 00:14:43] therapies of the change. Whether we end the study at six months or whether we end the study in eight to 12 sessions, I think they're showing that the effect sizes are pretty good.
This change seems to last and people tend to walk away from this treatment maintaining the gains that they have made. I think that that's a bit of a glimpse into the research that has been done with this approach. And it appears to look good. [inaudible 00:15:11] therapies are doing well as well.
Yeah, definitely sounds like the research is there for sure. Shifting gears a little bit, can you share with us a little bit about some of the misconceptions about dynamic therapy?
I think there's a lot of different misconceptions with this therapy. I think that one is that it goes on and on, it lasts forever or people have the understanding of dynamic therapy from that psychoanalytic perspective is that we're meeting with them four to five times a week. I'll say that it's not without merit that therapy and maybe even dynamic therapy does last longer. But interestingly, I think that's true for most therapies. I think there was a consumer report that was a bit different. It asked directly patients what their thoughts and feelings about the change that occurred in therapy.
Outside of the eight to 12 sessions that we see that we want to manualize the therapy is that real change across all modalities appeared to occur again at that six month mark. I think that while therapy and maybe psychodynamic therapy has idea that it lasts a long time, I think that there's growing evidence that a lot of therapies, at least when done in the real world with real patients, seems to last six months or longer.
It's a key point. [inaudible 00:16:41] key point.
I think that even in that consumer report people… What I like about that and that research perspective is it's asking patients' perspectives on what meaningful change look like for them. Sometimes that isn't just the symptoms. It might mean that they are living life a bit more severe, that they feel more in control, or that they've come to know themselves better, is that they have a dynamic concept of self-cohesion. They see themselves more fully. I think that's an important thing is that just as much as we should be focused on symptom reductions. That's what we do in research. I think it's true that people come to therapy for a number of different reasons that might not just be solely focused on "Where are my symptoms at today?"
Tell some more about its value and the benefits.
The value and benefits with this approach, I think kind of gets at what I said at the end of that is, I think at its core, and something I've heard either through reading dynamic literature or other people that practice this approach, is that at its core is kind of an ethos of emotional honesty. It's very hard to come into contact with ourselves sometimes. There seems to be things that not only we don't know, but we might not necessarily want to know about ourselves. That's another concept of defense. I think one of the values, again, being that honesty, is that over time in this therapy, the things that might appear frightening to us, that might be giving rise to our symptoms is we feel safer and safer within ourselves, that what was maybe scarier can be understood and observed. I don't know if I fully answered your question.
No, that's actually a perfect question to that, to feel safer within ourselves. Some, people I do especially if there's a history of trauma and things like that, just being in… With sitting in their emotions or sitting within themselves can feel very unsafe. I think that's a great way of how you just described it to help someone lead themselves to just feeling safer within.
Maybe I could give a case illustration of what that might look like in a therapy process, if you wanted?
Yeah, go ahead dude. Let's throw that out there.
Yeah, so let me think off of the top of my head kind of what that might look like. If a patient is coming in to therapy, we might start by kind dynamic therapy by getting a shared understanding of why is he here, and what he wants to figure out. As usual, what most clinicians will say is there's a mixture, and this patient has a mixture of depressive and anxious symptoms. Maybe outside of his career, he has had success. He's had success both within his career, but recently he's had a mixture of depressive and anxious symptoms. He hasn't been able to go to work, let alone socialize with others.
The content of our sessions might kind of bring a notice into that. We noticed the suspicion, but also in the course of therapy, maybe I noticed that my attempts to understand and know him reflect back to him, don't really seem land with him. In fact, if something different happens, is I can't quite reach him in the way that it looks as if he feels truly understood. He comes in one day and he tells me about a conversation that he had with a colleague at work in which he left that feeling kind of incredibly anxious.
He was offered a promotion, let's say, and he can't shake this anxiety that he has about that. So I bring it into the room and I say, "I notice when I try to capture something that seems very important to you, such as this feeling that you're describing to me right now, the fear and frightened state that you're left with, you agree with me that you're frightened, but also it seems to shrink. There's a moving away from that conversation. It's as if the more I get closer to you, the further away you seem at the same time. Maybe help me see, is this something you also notice? What could be playing out between me and you right here, right now?"
So it's about the relationship between you as a therapist and this client of what's the therapeutic dynamic going on right now with the relationship?
Yeah, and that question can have infinite amount of answers, but hopefully if we're doing therapy right, if we feel safe in this, if we don't come at it with this radical interpretation, if this patient has room to really meet that and the therapist has done their job to provide that both tactfully and securely, we might come to find something about that. It could be his agreement with me [inaudible 00:22:02] him saying, "I agree with you," but then we move away. It's as if his agreement keeps me at a distance. Maybe there's something about that. And so we kind of further untangle that. We further go into that. Maybe this is another psychoanalytic principle, is that his agreement could be a defense. It could be something that he was not fully aware of, or maybe he notices that for the first time, but we have a better understanding.
It's not a me saying, "This is what it is," but it's continuously inviting the patient to observe with you and what's going on between you. Agreement might be there for good reason. That might be something that he does. And there's a number of different reactions patients can have. They might respond to anger when you empathize with them. They might recoil. They might do a number of different things. But in psychodynamic therapy, we don't see that as an obstacle, but rather a window into better understanding themselves and also how maybe it's entirely possible that I could be responding to a patient in a way that is activating something within them, something that maybe there is good reason for them to be suspicious of my behavior. So again, in going back to that radical honesty, is both patient and therapists view that together.
Can you give us some other specific strategies?
I was reading a book by Nancy McWilliams, another dynamic therapist who really writes well, but she had a quip in there said the great thing about dynamic therapy is that you both never know if you're doing it. I think the biggest thing with dynamic therapy again is we don't place on our patients a protocol. That is a technique in of itself. It's always about what is presently on your mind. There's an old technique of free-associating, which actually is a hard thing to do.
I know what it is, but for those who might not know what free association is, can you tell us a little bit about that?
It's an exercise where you go to your mind and say, "Regardless of how incidental or ridiculous things seem, that it's whatever comes to your mind." As things are coming to your mind, you share the outline and we might begin to draw connections where there was no connections there before. That's a specific technique that is sometimes used and sometimes not. But at the ethos of this therapy is always a growing comfortability with whatever might be on your mind is shared in the world, is shared in a way that we can begin to mutually explore it. Free association is a technique, and I encourage people to try it sometime. It's really hard to get to a place to be able to do that, but it can be a very valuable asset.
To give a further example of this, and I'm thinking from the point of view of a word, maybe a list of words that the therapist is giving to a client like mother, flower, maybe a list. Then they're just free-associating what comes to their mind when… Mother, things like that. Is that a good example?
That there's no wrong example.
Yeah. In that, it might be connected to what we've been talking about. It might be connected to other things that… And I don't think that we don't walk into therapy immediately able to do that. I think that most of my experiences with people being able to get to that place where we're freely associating things is after a while of really good trust has been built. Again, it's mutually exploring that together. I think keep emphasizing that because I think another critique to go back to earlier what I was saying, is I think in the beginning of psychoanalytic, the birth of that is transition.
The dynamic therapy is that… These theories were… I think a lot of that has to do with Freud being a physician and wanting to operationalize with this type of science. There's a movement away from that. I think that we recognize the complexity of people and what they bring here.
Now, I know we talked a little bit previously about transfer. Can you tell us more about how it's utilized in dynamic therapy?
Again, through that observation, it might also be something that the therapist themselves notices the transference. There's another term, is the countertransference, is our reactions both good or bad to the patient and how that can be used to understand, one, ourselves and the patient. The transference, and again, much like I might not say unconscious to a patient, it's very rare that I say, "Oh, what's happening here is a transference." I might say, "I noticed that there's something in here with us today. Maybe you're a little bit… I noticed some anger," and we might start from there.
It might be a positive transference. It might be a negative transference. It might be a number of different things that we again analyze. It's the feelings again that are being placed into the therapist, good or bad. I think another concept that I want to do justice to here while we're talking about dynamic therapy is this idea of defense mechanisms, which are really just the various ways that we seek to cope with something that's either externally stressful or internally stressful.
Any thought or feeling can be used to defend against another. We might displace feelings. We might feel otherwise angry at something at work, and only to displace that onto our loved ones at home. We might find ourselves finding something unacceptable about something, some part of us. We'd rather put that into someone else. I think a lot of people are familiar with the idea projection.
We might keep ourselves busy by doing and doing as a way to avoid something else. I think a defense is [inaudible 00:28:50] that means to cope really, to move forward. I think that our defenses can either be helpful for us in the case of there's an idea that a defense is either something that is internal or does this defense separate us further from others? I think that if we rely on projection, you can be sure that that's going to play out in our relationships if we solely use that as a way of defending against something. There's a number of different defenses that we can use. They're not good or bad.
Gotcha. Any other takeaways you'd like to share?
I think it's important to note that the thing about talk therapy, there's so many different approaches and there's so many different ways of doing this thing that helps. And so I really encourage people to find a therapist that they feel safe with, that they feel comfortable with. I think it's always important for people always like, "Did I go to therapy? Is there something that I brought away from that experience that I didn't have before?" I think in today's world it's becoming more and more important that we have good trained therapists, that we have a healthy understanding of these concepts. I think it's important to let patients know that this is for them. They should feel free in being able to choose the therapy that works best for them.
Yeah, right. That's most important, for sure. My gosh, thank you Jared. Thank you for sharing your knowledge on psychodynamic therapy. I think we're going to have many listeners who are going to be like, "Wow, this is a thing? I didn't realize there's this…" Again, as I mentioned, when we were first starting, most people have heard cognitive behavioral therapy or even gestalt therapy, things like that. But I think this is an approach that very much has so much reach research behind it that could be so helpful. Thank you again for sharing your knowledge on this approach.
Thank you for having me on. Yeah, that was fun.
I'm always glad to talk about it.
I would also like to thank the team behind the podcast, Jason Clayden, Chris Kelman, and Juliana Whidden. Take care everyone.