podcasts
Understanding Schizophrenia – Podcast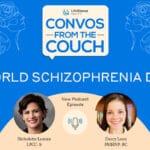 By LifeStance Health on May 26, 2022
Schizophrenia is a neurodevelopmental disorder, with many possible causes. Darcy Leon, PMHNP-BC helps break down the facts in our latest episode.
Our understanding of the illness is always evolving, and so are the treatments. There is hope!
Welcome to Convos from the Couch from LifeStance Health, where each episode you'll hear engaging and informative conversations with leading mental health professionals that will help guide you on your journey to leading a healthier, more fulfilling life.
Hello everyone. And welcome to Convos From the Couch by LifeStance Health. I'm Nikki Leanza, and on today's episode I'll be talking with Darcy Leon, a psychiatric nurse practitioner from our Tarrytown New York office, on the topic of understanding schizophrenia. So welcome, Darcy. Thank you for being on.
Thanks for having me, Nikki.
Let me share with you a statistic that I found from the National Institute of Mental Health, which says schizophrenia is one of the top 15 leading causes of disability worldwide, and individuals with schizophrenia have an increased risk of dying at a younger age than general population, with almost 5% dying by suicide. So I think this is such an important topic for us to be talking about. Try to help people understand schizophrenia and everything. So again, I appreciate you being on to talk with me about this.
So let's start, tell us a little bit about you, Darcy.
So I am a psychiatric nurse practitioner, like you said. I work in LifeStance New York in Tarrytown, and also in New Rochelle. I've been a nurse practitioner for about seven years, and before that I was an RN for a couple of years. I worked in outpatient detox, which was very interesting. And before that I was actually a professional bassoonist, which is a very long story, but now I'm an NP.
And ever since I was in NP school, I've been sort of obsessed with psycho-pharmacology, which is really the way medications are structured and how they interact, how they move in the body, and also what they do in the brain, of course. And I'm just fascinated by all of the similar features of that in human beings, like how they relate to the world, how they relate to their meds, how they relate to each other. And so I always try to be in tune with the way that my patients interact with their own medications and so their relationships to everything in their life. Their fears about it, the expectations. And how that in turn affects their treatment response.
So I've had the pleasure of working with lots of people diagnosed with schizophrenia over the years, and really working with them to find a medication regimen that's the most effective and tolerable to them, working with their families, and just sort of getting to know them, which honestly, it's just been so great.
And I think that would be so key too, getting to know them, developing that rapport with them too.
It makes them feel a little bit more at ease with you and you get to know them to really see the best mix of maybe medication regimen for them, things like that.
Yes, exactly. It's actually, I think, essential to the therapeutic relationship when you're doing med management, like I do.
For sure. And so, because you have this experience working with people diagnosed with schizophrenia, can you tell us, what does it mean to have schizophrenia?
Who knows? Lots of things. So many things. There are a couple ways to kind of look at that, I guess.
From my perspective as a clinician, it is a neurodevelopmental disorder. So neurodevelopmental disorders, you may know are things like, ADHD is one, autism is one, cerebral palsy is one. There's tons. But what that means is, even though we find that schizophrenia usually turns into this psychosis that most people are aware of when people are in early adulthood or later in life, it can actually often be traced to non-psychotic symptoms that are also problematic in childhood and in adolescence, especially in terms of the development of cognitive functions and also social problems.
So we don't really know where it comes from or how it comes about exactly, but we have some ideas. We're pretty sure that what we call schizophrenia right now is actually a bunch of different disorders that have similar features later, but they might have different etiologies, or ways that they form. One of the ways might be genetics. We do know that a lot of people who have a family history of schizophrenia have a higher chance of getting it. But also epigenetic, which means the way that the environment influences how your genes are expressed. So say you have the risk of having schizophrenia because of genetics, but you grow up in an urban environment, that actually raises your risk of schizophrenia. Or your mom had a certain virus when she was pregnant with you, also raises the risk. There's all kinds of things that we've identified, but no real core reason yet or formation.
We think there's a lot of things involved in schizophrenia once it fully develops. We can actually observe this in animal models, and in some case human models. Something to do with neurotransmitters, dopamine is the most famous one. Every single antipsychotic, except for one, I think, right now, affects dopamine in some way. But also glutamate, also serotonin, also pretty much everything.
Wow. So it's not just one, obviously.
Yes, there are many. So that's from my perspective, but to the patients and families that I've talked to, if I say schizophrenia, it's like fear, scary. It's concerning, it's shocking. This isn't happening. This is shameful. It's not in my family. There's so many feelings around it. There's so much stigma around it. So I think that's the most important part to target when we're looking at treatment.
Right, the stigma of it, for sure. And I would think it would be difficult to be a patient newly diagnosed or a family working around one of their family members being diagnosed. I can see that would be very scary, and what's feeding into that is the stigma about it. What's portrayed on TV, in movies, social media, the whole thing. And so a lot of what you're doing is probably psycho-education about it?
A lot of it, especially to the families. There's a lot of convincing sometimes to the patients. There's a lot of kind of going back and forth and a balance, saying like, I'm not going to go in there and say, look, this is what this disorder is. You have it. See you later. Take this med. Although, I think that does happen to a lot of people. But it's an evolving thing.
Oh, for sure. Definitely an evolving thing. Can you share with us how it's diagnosed?
Yes. Usually, schizophrenia is diagnosed when people have what we call a psychotic break. So the first time they become obviously psychotic enough that somebody takes them to the hospital or they get taken to the hospital. In the majority of cases, this happens sometime between the ages of 18 and 30, depending. Your biological sex is one of the differences. But it can happen other times in life as well, as well as earlier.
But really what we're looking at when we're diagnosing it are two different parts. One part is what we call the positive symptoms. And those are the ones people tend to be the most familiar with. So those are delusions or false beliefs, hallucinations like seeing or hearing things that aren't there, and also disorganized thinking, which is maybe not making any sense when you're talking.
The other aspect of it is called negative symptoms, and this is actually an entire different, we think, brain area or circuit of neurons that control this one. And that's the slow cognitive decline that can happen. That can be problems with memory, sort of like dementia. In fact, the disease used to be called dementia praecox back in the day. Blunted affect, which is when you have no facial expressions that make much sense, or not wanting to do anything, not taking care of yourself, maybe not bathing as much.
There's a lot of these negative symptoms, and those actually we have very few treatments for, if any. The positive symptoms we can take care of. The negative symptoms we can't. And those tend to be honestly, the most debilitating.
I think the key here is that when people think positive symptoms, I think they're thinking traditionally positive like good and negative as not good, and that's not what we're talking here at all. My understanding with positive symptoms, it's the symptoms you're seeing. It's the hallucinations, it's hearing voices, it's things like that. With the negative, it's what you're not seeing. It's the flat affect, things like that. Can you do a better description of how to distinguish between the two?
That is exactly what it is. Positive symptoms are the things that are sort of added. So everybody normally hears things. If you're a hearing person, you're hearing things. But if you're hearing things that aren't there, that's something added to it. But an affect, most of us have a pretty dynamic affect. I have a really dynamic one, because I'm a little like [inaudible 00:09:17] when I'm talking to people. But it's noticed as a loss. The negative symptoms, they're noticed as a loss. All of a sudden there's a loss of going to the store. You just won't go to the store. An absence.
Right now, the number one gold standard is antipsychotics. Antipsychotics are great for schizophrenia sometimes, a lot of times. They do have a tendency to have side effects like medications. And some of the antipsychotic side effects are, from my perspective, pretty irritating, because I'm like, come on, I got rid of somebody's auditory hallucinations, but now I've made them obese. There's always something. But they're important. Medications are important because they're accessible. There are some other treatments we use that aren't quite as accessible, but they are accessible.
And like you had said initially with the statistics, a lot of people with schizophrenia end up committing suicide. And that means it's a really high risk disease. So there's lots of reasons for that.
There's also long acting injectable antipsychotics, which honestly are kind of my favorite. I wish every time I had to be on any medication it could be a long acting injectable because you get it once and then you're done for either two weeks, four weeks, sometimes six months now, they have a new one, I think. But it's a while. And that, especially when you have a stigmatized disease, can be very cool.
If you can get past the fact that it's a needle, and a lot of people who have schizophrenia have had, especially in the past, experience with being involuntarily hospitalized and had to be injected forcibly when they were inside. And that is a horrifying thing to have had to happen to anybody and really traumatic. But I find that there are some workarounds with that. Sometimes it takes me a few months, but I think those are really good.
We also use electroconvulsive therapy for schizophrenia, especially in older people, which some people might be like, what? But if you think about it, there's a lot of risks that go into meds that don't actually exist with ECT. It's not like One Flew Over the Cuckoo's Nest anymore. They've really made it very boring to watch. Honestly, it's so boring, ECT. They don't do anything. It's like, come on. This is supposed to be some hard, big time thing, but it's not. And it can be really effective for the appropriate person.
Got you. One of the things you made me recognize and realize is that when you're saying, you might have one part of the person's symptoms managed better, maybe their hallucinations, but then another part, maybe the side effect of the medications is gaining weight, which then other health concerns can come from that, diabetes and stuff. And the part that made me think of this is just the other things that go along with schizophrenia too, or even mental health symptoms of depression and anxiety, all that can also be kind of tethered into schizophrenia as well. As well as, when I was looking up statistics, it sounds like there's also an increased risk of other medical diagnoses that can come along, and physical disabilities as well.
Oh, yes. Absolutely. In fact, I don't know the exact statistic or age, but you're much more likely to die earlier of a cardiovascular condition if you have schizophrenia, with or without medications. So the fact that our medications can cause things, and not all of them do, but can cause things like diabetes, high blood pressure, obesity, that increases the risk even more. It's so frustrating. We all want a panacea, you know?
Right. And I think sometimes what I've seen happen as well is someone might be feeling better, some of their symptoms are relieved, so they're like, okay, I'm good to go, and then decide, well, maybe I no longer need the medication. And then it could be a slide back from there. It sounds like you've come across that as well.
Yes. And in schizophrenia in particular, and it's not the only mental illness with this feature, but one of the hallmark features of it is that the person who has it a lot of the times does not think that they have it. We call it anosognosia, and it's like, you know that you don't have it.
So there have been times where, to keep somebody on medications, and this is maybe a little bit egotistical of me, but that I was sure that they needed, we've talked about making concessions of being like, okay. I'll be like, all right. I get it. You do not have schizophrenia to you. I think you do. I don't want you in the hospital. Do you think we can find some sort of middle ground? And a lot of times I get a middle ground and it works.
And I used to work at a hospital clinic that had people who had been in there for 20, 30 years in outpatient, which is amazing if you think about it. No hospitalization. And they were doing great. And not every single one of them said, oh, I have so much insight now. I know I have schizophrenia. They didn't. But they were kind of playing along, but also given the rights, and I think that both of those things are important.
I have to commend you for the point of, instead of going in and power struggling, let's just compromise here. You don't feel like you do. I feel like you do. What's the middle ground? You're definitely showing you're working in their best interest, too. I don't want you to go to the hospital. So I think that's a fabulous approach to take of really working with them to find that middle ground.
It's what I would want. I had to put myself in my patient's shoes at all times. And I have been in a situation myself, medically, where a provider said here, you're going to take this. And I was like, but, but, but. I have a question. I don't think I have … What are you talking about? Okay. See you. And it makes you feel awful. So awful.
Yeah. It takes all your control away too. It makes you feel powerless as well.
We're all humans. We're all the center of our own universes.
What does it take to manage symptoms of schizophrenia?
That part is a little more complicated because treatment is one thing. So you give somebody a medication, a person can take a med, and maybe some symptoms get better, maybe they don't. But then you have other factors.
You've got your family, first of all, who hopefully has your best interest at heart, and hopefully is very supportive, but often is very scared too, and sometimes really tired of your stuff. They don't want to deal with you anymore. Not because you're problematic because you have schizophrenia, but because you're a human being and we are all kind of difficult to deal with sometimes, especially if we're in bad moods.
So I think that the biggest thing about managing schizophrenia is support, making sure that everybody's kind of on the same page as much as possible, getting the family involved, getting the person who has schizophrenia involved in stuff, all kinds of stuff, people, a care coordinator, a therapist, but also peer advocacy when they're feeling better, ways to allow people to give back to their peers.
I think sometimes nothing gives us more strength moving forward than being able to help other people, no matter how low we're feeling. So I get very, very excited when my patients say that they're going to do something like that, volunteering or even marching or going to the nanny walk stuff or support group, anything. Just getting involved.
Because me and my colleagues, we are armed to the teeth with stuff that we can give you to help you make your life better. But sometimes it has to come from within a person. There has to be some sort of initiative, or somebody can help you have some initiative in getting that stuff done. And that can also help with communication of symptoms or side effects. You've got somebody looking out for you. So I think that's the biggest part.
Yeah. That's such a huge part right there.
Are there any other specific takeaways you'd like us to know about schizophrenia?
I think probably the biggest thing to remember is just that our understanding of it is evolving, and evolving means motion forward, so there's hope. Lots of hope. We're learning more and more about schizophrenia every day in science, and also in the clinics, and also the people who have the illness in their families as well. Everybody kind of contributes to a bender understanding of it. And also that there's just tons of people working towards this all the time. So my colleagues and I are working on it, we've got the scientists in the labs working on it. People are working on new treatments.
And we really just love to help patients and families to build these support systems for themselves and to try to reduce the stigma of this illness. So I'm really excited about where we're moving with it. And hopefully we can get the word out there that it doesn't have to be this big, scary, impossible thing.
And I agree. And I think having you on today to help dispel that stigma is so key, and you sharing this information, that it doesn't have to be this big, scary thing, and that there's hope. I think previously the thought was like, diagnosed as schizophrenia, that's it. You're going to end up homeless on the street, talking to yourself, people banishing you. And that's such a harsh … Don't get me wrong. That is a reality for some people, unfortunately, but it doesn't have to be like that. And I think that's exactly what you're talking to.
I appreciate you being on today and sharing your knowledge of schizophrenia. And I would love to have you on again someday.
Thank you so much, Nikki. My pleasure.