podcasts
Voicing Your Concerns: Ritualistic Raging and Scream Therapy – Podcast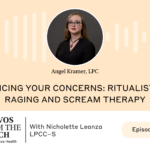 By Jason Clayden on May 3, 2023
In this podcast episode, Angel Kramer explores the concept of scream therapy – a form of therapy that involves yelling or screaming as a way to release emotions and alleviate stress. We delve into the history of this unconventional therapy, its effectiveness, and the different techniques and approaches used in scream therapy.
Whether you're curious about this unconventional approach to mental health or just need a good scream, this episode is sure to be an enlightening and entertaining listen.
Listen and Subscribe Here
Welcome to Convos from the Couch By LifeStance Health, where leading mental health professionals help guide you on your journey to a healthier, more fulfilling life. Hello everyone and welcome to Combos from the Couch by LifeStance Health. I'm Nicholette Leanza, and on today's episode, I'll be welcoming back the amazing Angel Kramer and she'll be telling us all about what ritualistic raging is or what's sometimes known as screen therapy. So welcome back again, Angel.
Hey, I'm glad to be back on.
I'm really excited for this episode because we know that deep-seated emotions and feelings can really get bottled up within ourselves. So I look forward for you to share with us some tips on how we can release these difficult emotions too. Growling, screaming, yelling, you name it. I'm sure you're going to cover them all for us. So thank you again. So let's jump in.
So what is ritualistic raging and how does it different from other types of therapy?
Yeah, so ritualistic raging stems from a technique in the '70s called primal therapy. Some people also refer to it as screen therapy. Now I want to iterate that this is not a therapy that had evidence backing.
Okay. That's a key point to make. Thank you for-
That is a key point to make there. There's plenty of anecdotal evidence for it. There is minimal, if any, scientific, university led studies to support primal therapy as it were, meaning as a modality. This was created by a psychologist. I've never said his name out, I've never heard his name said out loud. I've never said it out loud, but I think it is Arthur Yanov. This gentleman defended this therapy his entire career, and it was one of the early front runners of pop culture psychology.
Yeah. It had a whole lot of celebrity backers, which kept it relevant. It kept people hearing about it. So even without the evidence backing, it gained traction. Think John Lennon, Yoko Ono, James Earl Jones.
And the first two names aren't necessarily names that you would think of with something like primal therapy.
Which I think is what helped it gain traction. People were like, 'Why not jump. What?"
So it interested me. Read about it. But as time went on it lost that traction. It fell out of pop culture, and more than likely, mental health started to be taken more seriously. So people were using more evidence-based approaches. We had all of that scandal surrounding mental health and mental health providers in the '80s, which really switched our field for the better. As far as primal therapy goes, it has still come up in pop culture from time to time. Most recently in the pandemic. A lot of people during the shutdown, if you Google "ritualistic raging screen therapy," you're going to get so many hits on Google regarding this.
Wow. Oh, I didn't realize that.
Yeah. And I think it gives us a release. It's a catharsis. We might scrap it as a modality, but as a tool or a technique, it can help get out what is bubbling beneath the surface. And to clarify what we're talking about by ritualistic raging, we don't mean throwing temper tantrums. We don't mean hurting others, hurting ourselves. We don't mean demolishing a room.
Yeah, yeah. Good [inaudible 00:04:05]
Unless in a rage room. You pay money to go into a rage room.
But it is letting it out, that guttural back of the throat kind of growl. I don't even mean Janet Lee from Psycho. That kind of scream is going to hurt you. Please don't do that unless you have training.
And you referred to that high-pitched kind of scream?
Yes. In the movies you hear that scream in the glass-
This would be more along the lines of a boxer about to go into the ring and just punch his gloves together. Just do those.
And that can be very empowering. It can be very motivating. And there are some university backed studies that show that that kind of release very similar to cussing can actually increase our strength even on a minuscule level. So something about that gets us ants, gets us ready to go. And it could be something as simple as listening to your favorite metal song on the way home, just rolling along to it and then getting out of the car and going, shake that thing off.
Enjoy the rest of your evening.
That's cool. That's really, really cool. Which makes me also think, when we're talking about metal, it makes me think of screamo. I think that's probably a very old term for that kind of meadow. Apparently. I want to walk into a meadow apparently, that type of music metal of that kind of screaming that, which I would think would really rip up the voice, the chord, your vocal chords with that-
We have to be careful with that kind of growling as well. But it can be less damaging than the high-pitched screen.
How do you determine if a client is a good match for this type of this tool?
And I think that is a good distinction. This is a tool. This should be used in conjunction with evidence-based therapy for people who it is appropriate for. And kind of stepping back from your question, but I'll get around to it in my storytelling.
We also have to make sure that we have aftercare in place.
Listening to that metal song, getting that growling out, screaming, throwing axes, whatever it may be, we also have to have a way to come back down. And it might be that somatic shaking to get that energy out. It might be taking some nice deep breaths to regulate our system back down because we just had a pretty big release. And for finding a match for this, we know our clients best in session and sometimes we have to trust our clinical instinct. If we have someone who has reported a history of screaming to self-harm because they liked that, not like, that's not the correct word, that feeling in their throat did something for them.
This might not be appropriate. Or if they have a history of trauma surrounding screaming or raging, it could potentially be a way of finding some ownership, but it could also be re-traumatizing. And we have to suss out which one that is going to happen. Which one of those is going to happen. A good fit might be someone who blatantly says in session, "I want to scream."
"My body is telling me to scream." Okay, let's be curious. What happens if you scream? What is that doing? What release is that giving to you? Where are you feeling that in your body? What is that?
Is that a Janet Lee scream? Is that a metal guttural ugg?
I want to go break that plate over there. And then figuring out how do we do that safely without harming someone else? Without [inaudible 00:08:18] And then what happens next? Let's have a plan for what happens next. That's where the real therapy comes into play.
And I think that's another key point, is that after the aftercare, that what's the next step? Can you tell us more about what that looks like?
Yeah. So we have that bubbling, we have that urge and I'm a big believer in, "Let's trust what our body is telling us, and then let's figure out how to do that safely." And afterwards that might mean, how do we put in place some coping skills, some techniques to where we don't get to that bubbling point as often, if ever. How do we keep it to a low bubble and not flowing over the pump, as it were. And that's where the coping skills comes in. That's where the growth comes in. When we are bubbling over, those coping skills might not be as effective because we're already way up here and those coping skills might only bring us down here.
And we need to be down here.
So getting it out, having that catharsis and then coming in with the tools to be preventative rather than curative.
I like that, preventative. I like that you focused on that.
Being able to gauge this with our client. Does this feel appropriate? Does it not feel appropriate? What are the risks? What are the benefits? Let's suss this out. Let's have an assessment of this. And it can be very empowering. It can be a huge release and it might not… We're calling it ritualistic, raging and referring to it as screaming, but it might go beyond that. You know what? Ritualistic art entails planning. It entails safety. It is routine. And that could be going to a rage room. It is contained. There are people in there to help. If for whatever reason you do happen to hurt yourself, there's someone there. It could be going to an ax throwing place and throwing an ax. It could be screaming into a pillow like we see all the time in the movies.
I would caution against someone wanting to go on a trail to scream, because that can be very traumatizing to others. That loud pitch scream triggers us into action for a reason.
So while it might be beneficial for us, it is not beneficial for the people or the wildlife around us.
And we need to make sure we're being good neighbors.
So it might be screaming into the pillow, it might be hitting the pillow, hitting the punching bag. And then we need to make sure that our patient or a client can come back down to center.
Yes. I like that. I like that you're expanding it to the scream, the growling, but beyond that, if you're needing like a rage room to go and actually break things… What it sounds like to me it's about the outlet for the frustration for the pent-up, bottled up emotions.
Yeah. And being able to let that out in a safe way.
What we don't want to do is create shame and guilt around feeling because we feel angry for a reason.
An acceptable, understandable, appropriate emotion that many of us aren't taught how to let out correctly. And having that release bringing us down from the boiling point, and then learning skills, that can be incredibly beneficial for a lot of people.
Yes. You've already shared some of the benefits of it. Can you give us a few more benefits of this type of tool or strategy to use?
I think some of the benefits is normalizing what we're experiencing. It's okay to be frustrated and feel like we need to scream. It is okay to feel frustrated and feel that energy. We have to learn how to let it out appropriately and in a safe way. And that ritualistic raging can help us do that without shaming us for feeling that way. We scream and let out noises for many different reasons. Some of us might let out that kind of guttural scream, that high pitch kind of noise when we're crying, we can let it out when we're happy.
Think those people are like when they're happy.
Activating our vocal box in the same way.
We scream when we need to get amped up, we have that growl. We listen to music that gets us amped up. And if we're fans of metal music, it's all built in. There's so much stigma around that. I think normalizing it. We're human. We evolved to this point for a reason with these traits for a reason. I don't know, we've already talked about my leanings toward anthropological psychology, and I think this fits in very nicely for that.
What about potential risks? We talked before about maybe avoiding doing that high pitch screen or screech or shriek, but other risks potentially?
So, of course, there's that damage here that can happen. People who sing in metal bands have vocal coaches. They learn how to do that. They know how to hydrate. They practice, they stretch the vocal cords. So I, by no means, am saying that you now belong in a [inaudible 00:14:19] and can go scream like that. We need to come back. We're not to that point yet. And it can also have contraindications for people who actually need anger management, who have maybe been through anger management before. This might inadvertently bring up some unhealthy behaviors. And that's something that we need to be aware of in our clientele. It can also trigger others. If you let it out, not ritualistically, but let it out from a point of anger, you are risking damaging those around you, belongings around you and yourself-
… so we need to really emphasize the ritualistic part of this.
Great way to put it. You sound like you are a fan of metal?
Little bit. All right. So is that probably a good outlet for you?
Absolutely. Absolutely. As soon as this topic was brought up, I was like, "I got this. I got this."
Great. Cool. Any other tips you'd like to share?
I would just like to share that to reiterate, this isn't an evidence-based modality. It is anecdotal. It is unique to the individual and what their needs, what their history, what they're bringing to the table. It's dependent upon that. This wouldn't be something to apply across practice or to rely on solely as your therapy practice. It is a tool in the short term to get someone closer to center, to do the rest of the mental work.
I love how you phrased that. That was really great, Angel. Just kind of moving more to center to kind of, it's an outlet, it's a tool, but it's just taking you to the other additional mental health work you might need to be doing as well. So, I loved how you phrased that.
Yes, yes, yes. Great way to put it. So on that note, I want to thank you again for sharing your knowledge and your insights on ritualistic raging. And who knows, maybe we've inspired a few of our listeners to get out there and let it out. Have that good intense outlet for it.
Listen to that good metal song.
Yes, yes. For sure. Thank you again, Angel.