podcasts
The Importance of Self-Care – Podcast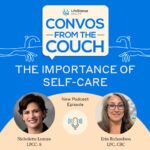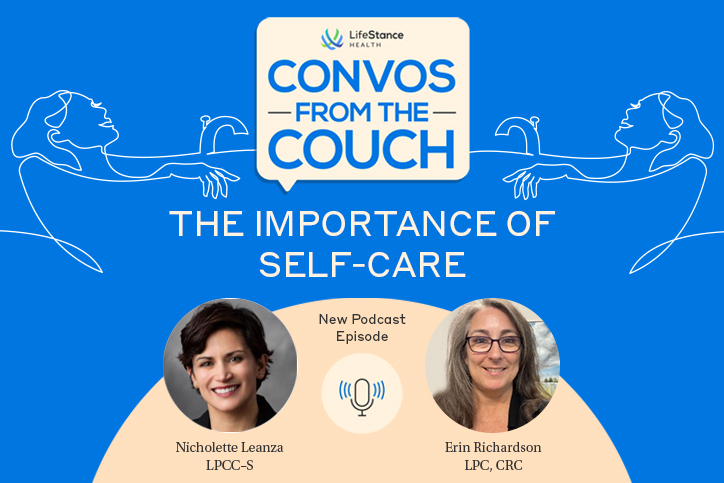 By LifeStance Health on July 25, 2022
Erin Richardson, LPC joins us to discuss the Importance of Self-Care, boundaries and how we show respect for ourselves and others.
Welcome to Convos from the Couch from Lifestance Health, where each episode you'll hear engaging and formative conversations with leading mental health professionals that will help guide you on your journey to leading a healthier, more fulfilling life. Hello everyone, and welcome to Convos from the Couch by Lifestance Health I'm Nicki Leanza. And on today's episode, I'll be talking with Erin Richardson, professional counselor from our Atlanta office on the importance of self care so welcome Erin. Great to have you on.
Thank you. I'm so excited to be here.
Oh my gosh, this is such an important topic. I know we were chatting before we started recording it, just how important this topic is so I'm so excited that you'll be sharing all your knowledge about this.
Thank you for allowing me to be here and I'm just really glad to get to share some insights.
I think oftentimes people who give and give out themselves often feel like self-care is so selfish. And I think we're going to be talking about the importance of really taking care of yourself so you can continue to support yourself and others too. Let's jump in. I'm already talking about the topic, but let's hear a little bit about you. Tell us a little bit about yourself.
Sure. I graduated with a bachelor's of business administration from University of Georgia years ago, and I started my career in customer service, project management. Spent a lot of time doing that, got my master degree midlife and made a midlife career change to counseling. Got my license. Actually, I got a master's in rehabilitation counseling from Georgia State University in Atlanta and got my license as a professional counselor in 2013. I worked for a behavioral health hospital in Atlanta for about nine and a half years in their day hospital program doing partial hospitalization and intensive outpatient program, case management, working with patients with depression, anxiety, bipolar disorder, all sorts of mental health issues. Have a little bit of experience with substance abuse as well. And then I came to Lifestance in 2019 and in 2021, I became regional clinical director here with Lifestance in Georgia.
Great. Thank you, Erin. If anyone knows a bit about self care, it definitely sounds like you have lots of experience sharing your knowledge of this topic with others too.
I hope so. One of the things that I tell folks that I interview with and our new hires is I'll be the first one that's saying, "Are you taking a lunch? Why are you doing your notes at eight o'clock at night? That's not really okay."
I hear you. And I'm even thinking for myself at times that I know I'm the one doing that too.
And sometimes we've got to do a little catch up, but that can't be the norm.
I agree with you a hundred percent because that's really what starts to wear us down then too. Jumping in, let's talk about, why is self care so important for our overall health?
Self care is health. The very definition of self care is the practice of taking action to preserve or improve our health. Self care feeds into all aspects of our overall health.
I love how you're saying that it is health. I think we see it as a separate thing or not really a thing so what you're saying is, "No, it is health. It is part of our health. It's so intrinsic."
It's the basis for our wellbeing.
That's, again, the basis of it. And I think what we're trying to do here is help people switch their thinking of self. That this is so important that it should be the basis of our wellbeing.
You said that a lot of people think of it as selfish. And I get that feedback a lot. Doing that for myself is selfish. And ultimately we have to be okay to be able to provide support and engage with others and working to reframe the thought to, I am taking care of myself so that I can be present for others and taking care of myself doesn't mean not taking care of others. It means putting myself in the mix.
It's not all or nothing and a lot of people go to that all or nothing space.
Exactly. Tell us, how do you help people navigate self care for themselves?
There are all sorts of ways that I try to help folks with their self care. When they're moving really fast, I try to help them learn to slow down a little bit. If they're moving really slow, I try to help them figure out how they may take the next step that they need to take, talking to them about basic self care so their physiological self care, I structured around Maslow's hierarchy of needs so thinking of our physiological, that's our very basic step there. The very basic self care, but it's vital and include includes things like breathing, drinking, water, eating, sleeping, resting, relaxing, moving, getting up, walking, exercising, getting some yoga in, or taking a flight of stairs instead of the elevator once a day. Taking care of our body's needs.
And then the next piece of it is safety. Our emotional safety, our mental safety, our physical safety. How do we take care of our safety and our safety needs, belongingness and love. How do we foster healthy relationships for ourselves? And all too often, I think we find ourselves in unhealthy relationships trying to make them work, trying to make them healthy, but for belongingness and need, we need to figure out how to foster our relationships in a healthy way.
And then the next piece of it is our esteem. How do we respect and value ourselves and how do we respect and value others? And then the final piece of it is self actualization. That's the highest point in Maslow's hierarchy of needs and that's achieving our full potential, including creative activities.
Great. Now tell us more within the hierarchy, how you help people develop their self care.
Sure. It's interesting to think about even just those basic needs. People think I don't need to know how to breathe. My body does that. But it's amazing what it does for our body when we slow down and do the deep breathing. And I'll walk people through deep breathing exercises and just have them go through the deep breathing exercise. We also do progressive muscle relaxation, where we start with our feet, squeezing our feet to make them tight, releasing them, working our way up our body, to the tops of our heads, focusing on our breathing throughout that. I'll step them through progressive muscle relaxation techniques. One of the big things I will ask folks to do is I want you to sit down and put together a 24 hour schedule, and I want you to fill in every hour what you're doing. You don't have to do this consistently, but I want you to do this at least one time.
And I want you to take a look at what that looks like on a day to day basis. And when you tell me you have to fit one more thing in there. I want you to take a look at your 24 hour schedule and tell me, and tell yourself where you're going to fit that in and figure out what needs to move around, or just take a look at it so that you can work on acknowledging what you can do and what you can't do. That's a big intervention that I used with folks to help them really take a look at how much am I trying to fit in to a 24 hour day?
I think lots people try to cram in so much because you're slowing them down enough to look at it. Are you able to do this? Are you doing too much? That's a great technique, Erin, for sure.
That's one of my favorites. I did that for myself while I was going through grad school because every hour needed to be accounted for. And it was an interesting practice to just see how I was allotting my time. And it also helps people adjust their expectations for themselves. Because so often we're saying, "I don't have time to take care of myself or I can't do that or I have to." And it helps us really check our thinking. And that goes to one of the points in the esteem piece of the Maslow's hierarchy and how we respect and value ourselves and using realistic self talk is a way that we can do that. Have to? That's always a flag for me and I'll ask folks, "Do you really have to do that?" And it typically gets them thinking about what's really a priority and what maybe they can let go of a little bit so that they can fit something else in or even just let go of it so that they can take a deep breath.
Do you often hear people also with the have to's and the should's?
Yes. And we check those as well.
And at that point we talk about that takes you into dealing with something other than your reality. Let's look at what the reality is and focus on the reality.
For sure. What else as we go up the hierarchy here?
With safety and how we protect ourselves. Of course, housing, are we able to keep ourselves warm, comfortable? Do we have the things that we need to provide for ourselves? There's the financial safety as well. Having access to resources is important. The belongingness and love, how do we connect with our family members? How do we connect with our friends, our partners, our spouses, peers, coworkers, and what do we need to do to help address those relationships, to keep them as healthy as possible, but also put ourselves in the mix?
And not just in the way of, I want to belong so I'm going to please everybody that I can, but how do I belong in healthy ways? Saying yes, all the time is not necessarily of respecting ourselves or respecting others. Saying no can be a sign of respect, but we don't necessarily think about it that way. And one of the things I'll ask folks that I work with is, "What does the other person really need to hear from you so that they have the information they need?" And sometimes they need to hear no so that they can take the next step they need to take. In that regard, you're caring for the other person as you care for yourself. And that's not often how we think about it.
For sure. Probably in a bit, I want to be asking a little bit more about boundaries because it sounds like what we're talking about here. Some boundaries. I want you to continue with the… Then we'll jump into boundaries.
And then the final one is the self actualization piece and that's focusing on achieving our full potential, including creative pursuits and some examples of some self-care there are taking risks and not huge risks that jeopardize our safety, but taking risks to try something new. A lot of times our fear will keep us from doing something that might be enjoyable. And looking at that fear and taking a step anyway, to try that new thing. Being willing to fail. And that's one of the things that keep people from taking that step to do something new. Failure is a part of learning and it's okay so getting comfortable with our failure.
I love how you said that. Getting comfortable with our failure. Out of failure could come a lot of learning and how to do things better and how to adjust ourselves. It's so key.
Yeah. One of the analogies I use around failure is think about a toddler. We were all toddlers. What happens for a toddler as they're learning to walk? And I usually have the person I'm working with talk to me about the process. And typically they'll say, "They're trying to stand up." Yeah. What are they doing to try to stand up? "They're pulling themselves up." We talk through the process a little bit and then I'll ask them, "What's happening in that process? They're falling down. What else is help happening in that process?" And as we think about it further, they're building muscles, they're developing muscle coordination. They're wiring their brains.
To do the part of walking. They're developing the processes that they need in place to walk and who looks at a toddler and says, "You failed" because they fell down? Nobody.
Why do we do that to ourselves when we're learning something new? It's the same thing.
Excellent analogy. When you really break it down like that, of just learning to walk and what that consists of you're right. No one's blaming that toddler for falling down. And I think that's part of that self care is all self-compassion too.
And then I usually finish up the analogy with every one of us has become proficient at walking and we failed multiple times in walking, but we're proficient and we don't judge ourselves for the failure that we had the experienced while learning to walk.
Oh my gosh. I love that. For sure.
And I love how you just used the Maslow's hierarchy for self care. I would never have thought that. That's really awesome how you tailored it for the hierarchy.
And I'd like to circle back, let's talk about some boundaries because in our relationships with others, especially if we tend to be people pleasers, things like that, we can set ourselves up for difficulties with others if we're not saying no, or if we're not saying no, and we're saying yes all the time, I think this is just talking about boundaries. Can setting boundaries be a form of self care?
I think boundaries is vital to setting healthcare. Boundaries is what… It's woven throughout Maslow's hierarchy of needs. It's woven throughout our self care. We see it in how we take care of ourselves. And I think too, it helps to think about intrapersonal boundaries so the boundaries I have with myself and interpersonal the boundaries I have with others.
And thinking of an example of intrapersonal boundaries, none of us wants to go to the doctor but that's an important part of self care because the doctor helps us keep an eye on how our bodies are doing. And none of us wants bad news, but if there is bad news, there are interventions to help with the bad news. What we do know is if we don't attend to it gets worse. Then it gets worse and it gets worse, typically. An intrapersonal boundary can be I don't like to go to the doctor, but I'm going to hold myself accountable and I'm going to go to the doctor because that's a way I'm going to show that I care about myself and it's a way I'm going to tend to my body.
Even in our very basic physiological needs, we can hold boundaries with ourselves and with others. Something that seems as silly as breathing. Yes, our body does it on our own. But when I get really-
When you get anxious, you might be anxious… Your breath,
Right. And here are all the things coming at me, a form of boundaries is to say, "Wait, I need to take care of me. I'm going to sit and do five minutes worth of deep breathing, setting my limits with the things around me and taking the time to do the deep breathing." And that can be a form of boundaries as well.
And then with our physical safety, the walls of our homes, those are boundaries in and of themselves, our property lines. Those are boundaries. They may not be how we think of boundaries when we talk about counseling. But those are boundaries. That's that says, "This is mine. And this is yours. And here are the parts that I'm responsible for. And here are the parts that you're responsible for." In our safety, their boundaries. Emotional safety, mental safety, same concept. What's mine to take responsibility for? What somebody else's to take responsibility for? And assigning responsibility appropriately. One of the big mistakes we make is you made me feel. I talk with the folks that I work with a lot about that's a myth. No one can make you feel a certain way. Our feeling is our feeling. Yes, people do things that trigger those feelings or elicit those feelings. But if I take responsibility for my feeling, I empower myself to do something about it.
And that's an example of how even in our world of safety boundaries is important and is important to self care.
I see there's so many levels of boundaries you're sharing here. I don't think people recognize how many different levels of boundaries there can be.
Right. And to take it up into belongingness and love in the Maslow's hierarchy of needs. When we are talking about how we foster healthy relationships, again, boundaries are vital. We can foster a lot of unhealthy boundaries, but communicating healthy boundaries is important. And like I was saying earlier, just sometimes saying no is a boundary that can help foster healthy relationships, again, because it communicates my limit, but also communicates to the person that I care about, that I'm not able to do what you're asking me to do and it gives them the freedom to go figure out how to address what needs to be addressed, to ask the next person for help or to do some problem solving on their own.
And then even with esteem, so that's the next level up. Esteem, taking time for myself. That requires setting boundaries. And one of the things that can help folks is to actually schedule time for themselves. When we leave it up to happenstance or chance, we can find a lot of reasons not to do it, but when it's in writing in a planner or on your phone with a reminder, somehow in some way gives us permission to do those things, but also holds us accountable to do those things
Points. Very good points.
And that's, again is where that 24 hour schedule can help just for a period of time, just to see how we are committing our time, where it's assigned. Do we have any free time? And if we don't have any free time, it can help us take a look at how to make some adjustments to give ourselves, even if it's just half an hour to listen to some music that we enjoy, read a daily devotional, read something inspiring, flip through a book that we want to enjoy, or that helps teach us something we want to learn. But it takes setting the boundaries to have the time to do those things.
Exactly and then that last level there?
One of the ones that I talked to folks about a lot are acknowledging our limitations. And so often we don't want to acknowledge our limitations because we define that as weakness, we apply the I should's, I have to's, but acknowledging our limitations is important to our wellbeing because when we're trying to cram 26 hours into a 24 hour day, we're hurrying. We don't have time to rest and relax and our bodies need time to rest and relax. That's why our bodies go to sleep.
Acknowledging our limit and not just acknowledging them, but accepting our limitations.
And that it's okay to have limitations. It doesn't mean we're bad. It doesn't mean we're weak. It means we're human and accepting our humanness, communicating our humanness and making peace with our humanness.
Isn't that interesting? Have to put out there, putting it out there, making peace with our humanness because so many of us forget we are human and run out perfectionism and things like that. I like how you're helping people reframe their humanness and that's okay to be human.
I'll say that from time to time when I'm working with folks, they'll tell me about something that they're wrestling with or something that they didn't do or a mistake or a failure. And this is when I usually say, "Welcome to your humanity." And we usually get to chuckle about that.
And I think it's a good check in and a good reminder that it's okay to have limitations.
Yeah. And what I find is when people acknowledge and accept their limitations, they can set better boundaries for themselves, with their friends, with their families and at work as well.
You've already shared so many key self care aligning with Maslow's hierarchy of needs. Can you share with us some other great ideas for self care?
I think some things that are important to recognize are that consistency is important. Now consistency can sound boring. For some people, some people love consistency, but I don't think it stops with consistency. I think it's consistency and variety. Being consistent while being variable in the activities of self care. Consistency, it may be that for half an hour, each day, I'm going to allot time to myself. The variety may come in that one day, I'm going to read one day, I'm going to do yoga, one day, I'm going to call a friend. Another day, I'm going to get out and take a walk in nature. Consistency and variety. Doesn't have to be the same time every day, but creating some sort of a structure, but also doing enough that we don't get bored
But I do find that some people, when we're coming up with ideas through their self-care, that they will get bored of it. And it's okay. Shift it up a bit. I like the fact that you're emphasizing variety to it. That's good.
And something else I think is very important with self-care is the idea of being flexible and adaptable.
For people who love a routine, they feel like they have to stick to their routine, but remembering that we can be flexible and we can be adaptable. And I have no problem with routine. Routine's good. But being too rigid in our routine can be unhealthy for us. Being flexible and adaptable in our routine, being flexible and adaptable in our relationships. Not accepting abusive behavior, not accepting unacceptable behavior but being flexible. Excuse me. Not just recognizing our own humanity, but somebody else's humanity and being flexible and adaptable around that.
And that might take some practice, especially if someone, who might be a little bit more rigid within themselves or with others, it takes a practice to build on becoming a little bit more flexible with others so that's key. Sure.
The thing that I would love to talk about even further and this is a topic that's huge, but relaxing and having fun. I can't tell you how many people I work with that I have asked, "When's the last time you took a vacation?" And they think, and they think, and they don't know the answer, or, "When's the last time you took a day off of work to do something for yourself?" And then I can't think of the answer. And oftentimes the response will be, "It's unproductive. Rest is unproductive, relaxing. I'm supposed to be productive." And we'll have a talk about what that means and that relaxation, rest. It is productive. It's just productive in a different way than we've been accustomed to thinking.
Rest and relaxation is what restores us or restores balance or helps rebuild the reserves so that we can go back to what we were doing.
That recharge is so important. Often we'll see people, especially coming in and sitting down for therapy because they've been going, going, going, they sit down and all of a sudden the wave of tiredness will come over them because they've been pushing themselves and pushing themselves. And they just didn't even realize how tired they were. They're not even maybe paying attention enough to their body cues of how tired they were, because oftentimes they don't see resting and relaxation as being productive. I love the fact that you're emphasizing, this is the key to it as well. It is productive in a different way.
And what you said there too, it takes us back to our body's daily needs. Pay attention to our body. Bringing the toddler back into the conversation. What do we tell little kids? Listen to your body. When they're learning different things, listen to your body. And if we remember that, listen to your body and felt like we had permission to do so, I think we'd take a lot better self care. Better self-care
For sure. It makes me think sometimes with toddlers, even though they're very tired and perhaps over tired sometimes you might have to put them to bed for their own good because they're not listening to bodies and they're going go and going. Sometimes I think that could be an analogy for us too, that we want to keep pushing ourselves and maybe we need to treat ourselves like a toddler, putting that in air quotes, of putting ourselves to rest. Important.
And recognizing that something good we do for ourselves, again, it doesn't mean that we're bad or that we've done something wrong. It's just a part of being human.
Exactly. Allowing ourselves to be human. Again, bringing up that theme.
And even the idea of giving ourselves permission to do something that goes against the grain or what we think we're supposed to do. That can be a form of self care.
For sure. Any other takeaways you'd like to share with us when comes to importance of self care?
There are just so many things that we could talk about in regards to self care. I think probably one of the biggest things I would say is really check in with yourself about how you define self care. And I hope that some of what we've shared today will help folks reframe for themselves what self care really means. It doesn't just mean going to the nail salon. It doesn't mean having my hair done. Self care comes in all sorts of forms and getting more familiar with what self care really means is very important.
Yes. I agree. And so many people just think, let me go get my hair done. Let me do my nails and let me do very, I don't want to call them mundane things, but it's true. There's so much more to self care than just that stuff. I love that you emphasize that as well.
Yeah. And something else I would say too is recognize that it is okay to communicate those limits at work. Again, I can't believe how many people don't take the time to go on vacation or don't take a day off here and there to give back to themselves.
And that's so vitally important that we don't hit a point of burnout so that we can help avoid, or de-stress from anxiety. The chronic stress that we stay under and people will respect your know. People will respect the limitation. And if they don't, you've got information that tells you something about the relationship or the environment that you're in.
A friend who does training with executives shared with me something that I'll share here. It was brought up in the training that some of the bosses were sending emails at three o'clock in the morning and the employees would receive these emails and they would think they're supposed to be up in the middle of the night working. When they had the conversation, it was realized that their employees working in the middle of the night was an unintended consequence. What was happening is that the boss couldn't sleep so they were up taking care of work.
But the message that got conveyed to the employee was my boss is up at 3:00 AM. I'm supposed to be up at 3:00 AM now. Unintended consequence. The boss would've been completely okay with the employee, not responding at 3:00 AM and probably a little taken up back to get a response at 3:00 AM and I just use that to illustrate that people are more okay with our no, than we think.
And I think if we can reframe that to ourselves to understand that it would be really helpful. So then we're going to feel more comfortable setting limits with others.
Yeah. But my ultimate message here would be take care of yourself. Do the things that help you recharge. Restore yourself. Get the relaxation in. Find a way to have some fun. It sounds a little bit silly to have to think about it like that but I think there is a movement beginning around really encouraging fun and relaxation.
And that doesn't mean shirk all responsibility. Again, bring it into the mix. Don't forget about it. Don't leave it out of the equation.
Erin, thank you so much. Your presence is so calming and-
Sharing is amazing so thank you. And even taking from this conversation even ways that I know I need to continue to self care, especially as clinicians, mental health clinicians it's really key that we do that for ourselves as well. It sounds like this is a practice you very much incorporate into your life as well. Some self care for you.
I think if I'm going to teach it, I need to model it too. And I try very hard to model these things in my day to day.
Thank you again, Erin. I'd love to have you back.
Thank you so much for allowing me to be here. This has been so much fun and I'm glad to get to share this information and I hope that it helps folks out there.