podcasts
Who are We? Understanding the Self and How to Improve It – Podcast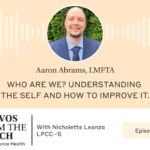 By LifeStance Health on November 16, 2022
The self continues to evolve and change. Aaron Abrams, a clinician from one of our Seattle Washington offices joins us on this episode as we discuss understanding ourselves and ways to improve our self-esteem.
Listen and Subscribe Here
Welcome to Convos From the Couch, from LifeStance Health, where each episode you'll hear engaging and informative conversations with leading mental health professionals that will help guide you on your journey to leading a healthier, more fulfilling life.
Hello, everyone. And welcome to Convos From the Couch by LifeStance Health. I'm Nicki Leanza. And on this episode, I'll be talking with Aaron Abrams, a clinician from one of our Seattle Washington offices. And we'll be talking about understanding ourselves and ways to improve our self-esteem. So, welcome, Aaron. Great to have you on.
Thank you. It's an honor to be here.
I think this is a really great topic for us to talk about, because I emphasize with my own clients really taking that journey within and gaining insight into themselves to help them understand themselves. As well, as we talk about self-esteem, you're going to talk about different aspects that kind of play into self-esteem as well. So, I think that'll be a really great concept to help people understand and what else plays into self-esteem. So, we're going to have a great conversation talking about this.
Yeah, it's going to be great. Thank you.
Let's start with having you tell us a little bit about yourself.
Yeah. So, I'm Aaron Abrams, obviously. I'm a marriage and family therapist associate. I have my hours, just need to get the test all passed and everything. But I'm excited to do that, to be fully licensed. Got my master's in marriage and family therapist, have background in interpersonal communication and in psychology and with my bachelor's degrees. And I've been doing therapy for about four years, including internships. So, it's been a wild ride and it's been fun.
Great, great. And I'm assuming on your journey and with your own clients, you've helped many with their own self-esteem and to help them understand themselves as well.
Yes, definitely. When I see individuals, a lot of people, about 40%, 45, do want to figure out their own self-esteems, are translating into their anxieties and things like that as well. So, yeah, definitely have done a lot of self work with clients. So, there's definitely background in that.
And I think a great way to get our conversation on this topic started is to ask you about the self. How would you define the self?
So, it's interesting, when I was in undergrad, there's one definition that just keeps coming to mind and it's something that I still ring true, a definition by Julia Wood in Communication Mosaics, which is, "The self is an ever changing perspective that's formed and is sustained in communication with others and our ourselves." So, I like to really emphasize on the system and the process that happens with the self, because it's not something that stagnates. It's something that's going to continue to evolve and change, and grow, and all that type of stuff.
And she, obviously is in the communication, so she emphasizes in communication with others and ourselves. And it made me think of self-fulfilling prophecies and self fulfilling prophecies with our own intrapersonal communication and how, okay, we think that we're going to be this way, so therefore we will. And also, the other imposed ways of how other people and other people's narratives are going to impact of how we view ourselves in a certain situation too. So, I think it's an interesting definition and it's something that I like to reference, and that's something that we can see about the self, and how it grows, and changes and things like that too.
And I think that's the key to emphasize is that helping people understand that the self isn't just static. Ourselves can, we can change, we can grow. And that's the whole part of our conversation too, of how to help improve ourselves and understand ourselves and improve our self-esteem. And with that, as we're talking about self-esteem, let's actually get in the weeds more and distinguish some of the different terms here, especially as you're going to explain to us how some of these aspects play into one another. But can I have you help us understand the differences between self esteem, self efficacy, self identity, self worth, those types of terms?
Yeah, totally. I like to think broad specific, when I go into these terms. So, a really broad term to self-concept. And that's just a broad description of ourselves. You have our self-concept and then a little bit also an umbrella term or a broader term is self-efficacy. And that's our overall outlook and our capacity to reach specific goals that we have or certain situations or how our belief whether or not we can succeed in certain situation. So, that has this umbrella term. Then underneath those terms, go into these beliefs or these things that we want to, which is self worth, self esteem, self identity, and things like that. So, when I think of self worth, which is also a little broader than self-esteem, a lot of people can't compare the two, is basically the perspective and about what your worth is as a person.
And this is a little more global like, "Am I worthy of being loved? Am I worthy of being in this position that I'm in?" Am I worthy, blah, blah blah. Whereas self-esteem is going to be really particular things about ourselves, our thoughts, our feelings, our biases. And we have judgements and opinions about ourselves that really impact our daily functioning. And so, that's kind of how I view self-esteem under that umbrella term. And then when we talk about identities, it's really our narratives that we have about ourselves. We can talk about different types of identity, gender identity and occupational identity, and there's a lot of different identities of the self that we can go into. But in the similar way, there's also societal ways that it impacts your identity. There's like the societal identity that impacts you as a self and then your own self identity as well.
Would some of this be the roles we play in society too and how society might perceive those roles?
I think that there's always a possibility for roles, rules, regulations, expectations, and things like that, and cultural norms. And there are a lot of different aspects that can be seen as weird by one culture and very normal for others. And there's a lot of different aspects of the self and how we view ourselves in these different lenses that we have, and that can really impact based off… So, somebody's really struggling with their own self worth or self-esteem and things like that, but their best friend is like, "You're great." And we don't know what that internal struggle is for that person, which is a really hard thing for them to do. And it's also a lot of vulnerability to disclose.
I think looking at perception and how we see ourselves and how others might see you as well, I think that example of someone might be struggling with their own self-esteem, but a friend of them is like, "No, you're great, what's the issue there?" I think it does come down to perception and how we see that for sure. So, as we keep digging in and looking at the different aspects of self-esteem and efficacy, how does a person navigate all these different aspects within themselves?
It's really challenging trying to figure out all these parts of yourself. We just named off with five different things from themselves, and there's this internal struggle with all of them. We haven't even talked about, really self-image if you think that as well. There are so many different aspects of the self. And in order for you to have these conflicts within yourself, you have to find out and define who you are. Not the denotative definition, but your own connotative definition of who are you. And to figure out who the genuine self is. And many people feel like they have to wear a mask, especially teenagers, they have to wear a mask in order to be accepted by peers or others.
And eventually down the line, they kind of lose who they are and they're like, "I've been putting this mask on for so long that I don't know who I am anymore." And so, I always talk about, if you want to know who you are, you got to go back to who you were and go back to where your roots were and trying to have difficulty. So, in therapy rooms, I'll do something called a detailed timeline. And I'll look at different aspects of the stuff and some of the impactful things that they loved to do, their hobbies, their things that you would say like, "Oh, yeah, when I was 12 years old, I was a basketball nerd. I was a guy who was obsessed with basketball and that was a big part of me, and that's always going to be a part of me."
And there's some people who are in similar things, but then they get consumed with different types of themselves, the occupational self or whatever. So, I think for us to navigate all these different things is going to be overwhelming. So, let's just start first at who are you.
Who's the different self? And then we can kind of say, Okay, cool. And this aspect of yourself, how do you see it? What are the importance and stuff like that? So, if you go back to the self, we have these different hats that we wear. So, I like to use, when I say hats, I say these different aspects of the self, different selves that we have. So, right now, I have my occupational hat on. This is my occupational self. And a lot of people put their own self-worth and self-esteem into that occupational hat. At least in my experience, I don't want to make any big generalizations, but I've seen a lot of guys do that. A lot of guys have been so worn on this occupational, they put so much of their selves and their identity-
… towards what they do, and towards what they do, that that hat gets tethered and torn, and it gets so worn out. And that there are so many other hats that are collecting dust, that are nice and fresh if they were to just be undusted, that they need to really attend to that. So, like we said, there's so many different types of self, the social self, the athletic self, the gamer self, the musical self, the intellectual self, spiritual self, occupational self, romantic self, parenting self. There's so many different types. So, I feel like that's a great place to start, is identify the different selves that you have and then kind of see what is positively focused, what's negatively focused, whereas the hierarchy and importance, and what hats are getting more worn than others.
And then it is kind of similar to IFS, internal family systems with the different parts of the selves. But I think that that's a really good place to try to start with, the navigating, is just like, okay, cool, let's figure out who you are as a genuine self and then let's just navigate the different selves that we have too.
And I think that's so key because you're helping people recognize there's more parts of themselves and who those other selves are. And so, when you are using the example of a torn dusty head, they might not even realize, okay, I'm just more focusing my identity of what my occupation is as a doctor or you name it, as an engineer or a cashier or whatever that is. And so, when you're expanding it and having them like, hold on, there's way more to you than just that aspect, it could really probably be mind blowing. What do you mean there's more to me? So, I think that's great, taking off that hat and then maybe dusting off some of the other ones of things they used to enjoy and who they were previously.
Yeah, absolutely. And I know that some of this analogy brings true to other people. It's the one that makes most sense to me.
No, I love that. That's a great analogy. I really like that. So, as you're helping people dig in further within themselves to understand these different parts of themselves, how do you attend these aspects and help them move forward with them?
It's difficult, because in my own stuff, we have us therapists, we try to relate as much as we can, to use sympathy, its practices and sympathy practices as well, but also not want to get investment in the process. And I think when we attend to these, I really talked to clients about doing daily check-ins with themselves and doing daily temperatures.
And saying, cool, yeah, there're going to be a lot of different aspects where you make mistakes and you're going to think that, oh, I made a mistake so therefore my self worth is garbage now or whatever. It's going to be really low, it's going to be bad. Or you can change the mindset of this was a learning experience and go to like, hey, yeah, that sucked, but you know what? I'm still here. I'm still breathing and we're in good shape. I think there's a lot of different things that I'm going to try to change perspectives in the self and how we treat ourselves. We can have people be really proud about something that they accomplished yesterday, but then that feeling of being proud, just gone after a day. So, why is it that he was just proud for a day where I was like, okay, let's continue to go through this lens of openness and positivity maybe a little bit or even realism?
Because obviously, life happens, not everything's going to be positive and stuff, but we want to be able to really talk to ourselves and say like, hey, where are we at? Where's my temperature at? And how can I maybe look at why that narrative is what it is?
Part of what I think I hear you saying is an aspect of self-compassion, a person to recognize maybe what they're saying to themselves and maybe that needs to be tweaked a bit to give… If they're being hard on themselves, they're beating themselves up for something and showing some self-compassion for themselves, which I think leads us into talking about some narrative therapy.
So, tell us about narrative therapy and how can it be helpful?
Yeah, totally. And my background's very much in experiential practices. And that includes narrative therapy, emotion focused therapy by Sue Johnson, and symbolic experiential therapy by Virginia Satir. But narrative therapy is another postmodern experiential technique, where basically people's stories and narratives are discovered and worked on in a variety of ways. And a lot of these narratives start as something called thin narratives. And when we talk about thin narratives or thin stories, is typically often, they're often negative descriptions of ourselves. And that's something that's really difficult, that's happening when these first start.
And then basically, throughout the therapy technique and throughout the therapy processes, you're trying to "thicken the plot," or thicken the stories and look at different ways to reconstruct it. We can try to do externalizations with it. There's a lot of finding exceptions to the role or finding unique outcomes. There's a whole process that goes into it. But we want to mainly try to get the clients to get out of their thin tunnel-visioned narratives and be more open and expressive, and look at front some of these counter arguments if you were to write a paper. And really look into, hey, instead of me having this bad thing is like, okay, I'm really doing well at this thing instead.
I don't know, when in grad school, one of my examples was like, okay, there's a couple and they're struggling with erectile dysfunction. And instead of him just being lost and unmotivated or whatever, he is like, oh, he's being really, really productive at work or being really productive in other ways and things like that. So, that gives that kind of new positivity and that new light into saying, okay, cool, there's some type of uplifting thing, an empowering thing. That's ultimately what we want to do, we want to empower the clients in their narratives.
Right. And changing what we tell ourselves about ourselves, changing the narrative of what we tell ourselves. And often our narrative might be just very focused on the negative or what we don't do well. And so, it sounds like what you're helping your clients do is maybe shift that a bit, giving yourself some credit and things like that. So, that's key.
Oh, totally. And I know that you've had some good experience with narrative therapy too, right, Nicki?
Yeah, yeah, I'm a big fan. I'm very big fan for sure. So, I'm glad we're having this conversation to bring it to others who maybe aren't familiar with this type of therapy.
And so, I think we're both agreeing on how helpful this could be.
I definitely think it is. And I'm not going to act as if I'm a professional neuro therapist here, like I know every single aspect to it, but its something I definitely do dabble in a lot. And I think that it's something that a lot of really good people who are really trained in narrative therapy can really help. It's actually kind of cool. They use whiteboards and stuff like that too, and gets you really involved in the process. So, if you're a therapist or you want to be a therapist and you're interested in doing narrative therapy, I'd definitely recommend it, especially those who are super trained and experts in it.
Yeah. I use a lot of narrative therapy. One of my specialty is trauma, and so I'll often do, helping people create the narrative of their trauma. And even dissecting the wonky thinking that came out of the shame based thinking of the trauma that they've formulated and stuff like that. So, yeah, a big fan of trauma. Big fan of trauma, a big fan of trauma therapy in relation to using narrative therapy for it for sure.
Yeah, totally. Yeah, that's really… Again, especially when you've been impacted in that way so profoundly confining those exceptions and really working through that. And it's something that you can find some more positivity or find some more reframing or those techniques to not necessarily always have to sit in that negative spot when [inaudible 00:19:31] some of those things. And obviously, the triggering, the moments and things like that are really impactful in negative ways. And so, we would definitely want to like, hey, let's try to work the best we can in these spaces.
Right, exactly. Any other takeaways that you can share to help us understand ourselves better and to improve our self-esteem?
Yeah. Something that I have done with clients, and maybe this is something that listeners or you guys have done, is there are different self-esteem journals that a lot of people will do. And these self-esteem journals will have several questions saying along the lines of, what did you do positive today? What are things that you learned? There are basically three questions. There's one in good therapy.com, I think it is called, and there's three different questions for every day. And what I would really challenge somebody to do is to answer those questions for four straight weeks, but never repeat an answer.
It's quite the challenge. That's probably harder than it would seem.
It's really hard. And I challenge my clients to do that because I feel like there's so… Going back to the different parts of ourselves, the different aspects of our lives that we don't necessarily attend to all that well or all that specifically. It's that you're forced to really look at the small things that you've done well on a daily basis when you're able. You have to do it for four straight weeks. And you have to have a variety of different thoughts, opinions, and experiences and perceptions of your day to really attend to things that haven't been attended to. And I think that's going to be really impactful. And then just like, whoa, there are really big aspects of me or really are really cool things. I held a door for somebody and I just did it because, like habitual. Why did I do that?
There's so many family of origin things and experiential things that you've done throughout your life, and I think it's really cool. So, that's another way. And then something that I start with, if you want to look her up, Dr. Hee-Sun​ Cheon, she was a SPU professor of mine and she does something called role profile activities. And basically, with role profile activities, it's kind of a way to go to that starting process of who am I, who is this self? And you'll have 50 different roles. And there's sections of, this is who I am, this is who I'm not, this is who I want to be, and I'm not sure if this is who I am. And you have to really dabble-
… and go through that process. And there's a whole section and whole intervention that goes along with it, that's really kind of like drama therapy as well. That's really cool. So, if you wanted to check her out, Hee-Sun​ Cheon, C-H-E-O-N, I believe is how you say her last name. And she's great. And she taught me, a role profile activity is something I use in with my clients to start off with self work.
I actually like that. I definitely will check that out.
I can send it to you, for sure.
Yeah, please do. I would really enjoy that if you did. Please do. My gosh, Aaron, you shared so much information with us today. Good stuff to really have people really take a listen to this and hopefully we expanded their perception of themselves and how to navigate who they are and how to build their own self esteem. So, thank you again.
My pleasure. Thank you so much for having me.