podcasts
World Sleep Day: Give Your Mental Health A Wake-Up Call – Podcast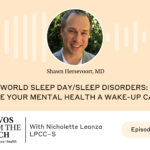 By Jason Clayden on March 15, 2023
Join us as we explore the fascinating world of sleep disorders this World Sleep Day. With expert guest Dr. Shawn Hersevoort, we'll provide insights and strategies to help you get the restful sleep you deserve.
Listen and Subscribe Here
Welcome to Convos from the Couch By LifeStance Health, where leading mental health professionals help guide you on your journey to a healthier, more fulfilling life.
Hello everyone, and welcome to Convos from the Couch by LifeStance Health. I'm Nicholette Leanza, and on this episode I'll be talking with Dr. Shawn Hersevoort. He's from our LifeStance Sacramento office, and he'll help us to understand more about sleep disorders.
Welcome, Shawn. Great to have you on.
Thank you. Happy to be here.
According to the National Institute of Health, about 50 to 70 million Americans have sleep disorders, and so that shows how pervasive this problem is in our society. So Shawn, I'm really looking forward to our conversation today for you to help us understand more about these disorders and some tips to help improve our sleep as well. Thank you again.
Yeah. Tell us more about yourself.
Sure. I'm an outpatient psychiatrist for many, many years. I've done extensive consultation work early in my career in the hospital and emergency room. Then after that, I transitioned to doing integrated care in the primary care setting, which I've done a lot for the last 10 or 15 years.
I've taught at UCSF and UC Davis in California, and I helped found the Integrated Care Division and the Sleep Medicine Fellowship at UCSF Fresno in the Central Valley.
Since then I've written, I've taught sleep medicine for many years at many conferences. It's one of my specialties. I wrote the Primary Care Psychiatry Handbook and the callpsych.com web app, both of which thoroughly address sleep issues for primary care providers.
You definitely come to this podcast with lots of expertise in this. That's interesting about the app, too. Wow, that's really, really great.
It's very new. It just came out. It's just for providers right now, but we're going to develop a patient-focused one, hopefully a little later this year.
Great. Tell us what led you to have an interest in specialty in sleep disorders.
Sure. As a consult psychiatrist, I work at the interface of medicine and mental health issues where things like sleep, pain and addiction all intersect. Sleep is an area that is shared by many specialties in medicine, primary care, psychiatry, and neurology, but the training is somewhat limited for all of those providers.
Because there are so few sleep medicine doctors, fellowship-trained sleep doctors, there's no one who's really that expert in insomnia. So over the years, I just was sort of forced to become more interested and more expert because everybody in neuro and psych and peds and OB was asking me about it.
That makes me think that even in my own graduate coursework, we didn't get a lot of information about sleep. Even myself as an instructor, often it's just like highlighted, "Okay, here are the names of some of the sleep disorders," and we don't really go into a lot of treatment. So it sounds like you really took the step to really kind of go a little deeper and really understand it more to specialize in it so that's great. That's great.
What are some of the most common sleep disorders?
Although the Academy of Sleep has their own sort of DSM, which is enormous and goes all into sleep, really the primary sleep disorder of Earth is simple insomnia. Now insomnia is not simple, but calling it insomnia is the simplest answer to the question. Beyond that, there are things like restless leg syndrome, night disorder, and sleep apnea that are a few of the other really common offenders that affect, I mean, virtually all of us at some point in our lives.
Can you just go a little bit more into insomnia? How would you define it?
Yeah. Insomnia is defined as one of three things by the DSM-5 at least. It's not able to get to sleep, you're not able to stay asleep or you're not waking up refreshed, although for most people it's usually a combination of those three.
I appreciate you answering that question just to kind of… I think many people can recognize like, "I just don't sleep," so thank you for clarifying more formally the definition of it.
How can mental health symptoms exacerbate sleep issues?
Yeah. This is the question I've been answering for many years, along with how do medical issues exacerbate. Medical and mental conditions worsen sleep problems and sleep problems worsen mental and medical conditions so they are really hand-in-glove with each other.
Sleep is part of the criteria for virtually all mental health conditions because it's so deeply and intimately connected. For instance, major depressive disorder, bipolar I, bipolar II disorder, and generalized anxiety disorder all have sleep as a core and defining criteria. Beyond that, we have found in research in the last years that if you address the depression, the bipolar and the anxiety, but you still can't sleep, it will unravel. Your treatment of depression, bipolar and anxiety will not take unless the sleep is uniquely addressed.
I think that's such a key point of really making sure the sleep and the issues with sleep are really specifically addressed. I think what you just mentioned is so key because I think the focus is often just about the disorders themselves of bipolar disorders, schizophrenia, and not focusing specifically into the sleep, too, so thank you for sharing that.
What are some effective treatments for sleep disorders?
Most people think that the answer's going to be medications, and although medications are quite lovely, that's not the answer. In the long run, behavioral treatment of sleep disorders is almost always the most effective. In its entirety we can group all of those treatments under the heading of CBTI, cognitive behavioral treatment for insomnia, and that fundamentally includes four things, relaxation techniques, sleep hygiene techniques, stimulus response training, and cognitive behavioral therapy.
Now acutely sleep medicines are wonderful. They're very, very helpful. They're mostly helpful around acute changes in lifestyle or stressors and will help get you back on track over the course of a few weeks. They can also work in the medium term, but are less effective in the long term. That being said, they do work for some people in the long term and they are the right decision. So I don't want to say that you should not be on sleep meds long term. It's just something that's not ideal.
To put on my integrated care hat, if there are underlying medical or mental health conditions such as anxiety, depression, or addiction, you do also need to treat those. Your insomnia needs the other underlying illnesses treated as well. Medically, this most often means addressing something called obstructive sleep apnea, which is a difficulty with breathing at night caused by various factors, but it's very disruptive to mental and medical conditions, and it often goes undetected.
That's the key, that it goes undetected so someone might not even realize that's what's happening.
Tell us more about sleep hygiene and how can it improve sleep quality.
Sure. Sleep hygiene is a term that a lot of people are familiar with, but don't understand the details. It describes various behaviors that either promote or interfere with sleep.
These things include environmental, like having your bedroom quiet, dark, and relaxing at a comfortable temperature. Also limiting or removing electronic devices like TVs, computers or smartphones from the bedroom. Other things like avoiding large meals, caffeine or alcohol before bedtime.
These can be recorded using a sleep log and to get a sense of how somebody is doing gives them sort of a scorecard. Then over time, we can guide with them, as providers, ways to improve the positives, to decrease the negatives and promote sort of more of the good and less of the bad.
I know there's lots of little mechanisms and apps now that we have that will like track our sleep and things like that. Do you find that's helpful for some individuals or maybe not for others?
There are a lot of apps out there, particularly for sleep, and many of them are very helpful. The wearables, as we like to call them, they tell you, for instance, your smartphone saying how good your sleep was. They can be very helpful. They're a little deceptive in that it's not the final answer. Your smartwatch is not as good as a sleep doctor or sleep medical center, but they are helpful.
What I will say are immensely helpful are the meditation apps, many of which are very inexpensive, like Calm or Headspace or Insight Timer. Those are-
Yeah, they're really a godsend. I promote those really heavily to my patients. They're very inexpensive and they are very rich and wonderful services. And they're evidence-based.
Yeah. And that's a key point, too, that there are evidence-based researches behind them.
Any other takeaways you'd like to share with us?
Yeah, let me share two. One is for our providers and one is for our patients.
For our providers, please use rating scales to guide your decision-making with your patients. A primary care doctor would never consider treating hypertension without doing vital signs-
… and rating scales is what we have. You can find those on many, many websites free. I have helped to put together a site that brings them all together, again for free, where you can find 40 or more rating scales at callpsych.org that anyone can go there and it's available for everyone.
For patients, research has shown that if you are going to do one thing to help your sleep, the most powerful factor in improving chronic insomnia is a consistent wake time. If you force yourself, as hard as it might be, to wake up within 30 minutes at the same time every day, more often than not, all the other sleep actors will align themselves around that timing. You will get tired earlier, you will sleep deeper, and you will sleep longer during the time you want to sleep.
Shawn, that is… Thank you for giving that tip because I think oftentimes maybe during the workweek or during the week, people might be a little bit more consistent when they wake up, but I think the weekends is when they're like, "I want to sleep in," or the misnomer of, "I want to catch up on sleep," things like that. But I think you emphasizing really that consistent waking time is so key.
So thank you for sharing that and thank you for sharing all your knowledge on this really oftentimes misunderstood topic, too, of sleep disorders. So thank you again.
Of course. Thank you so much. And yeah, the management of sleep is so important and so essentially human to all of us that it's something that's not just medical, it's not just psychiatric. It's really sort of part of the fabric of life and we all need to take it seriously.
Very true, very true. Well, thank you again, Shawn. Great to have you on.
I would also like to thank the team behind the podcast, Jason Clayden, Chris Kelman, and Juliana Whidden. Take care, everyone.