podcasts
Social Media Misinformation about Mental Health – Podcast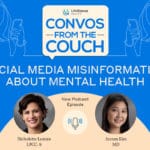 By LifeStance Health on April 4, 2022
Dr. Arum Kim joins us on Convos from the Couch to discuss how some social media platforms give out misinformation about mental health.
Hello, everyone, and welcome to Convos From the Couch by LifeStance Health. On today's episode, I'll be talking with Dr. Areum Kim from our Independence, Ohio office, about how social media can often give misinformation about mental health. So, Dr. Kim, welcome. Thank you for being on today.
Hello. Nice to be here today.
Tell us a little bit about yourself.
Sure. I actually just started up with LifeStance this past summer. I started up here at August after completing my training this summer over at Nationwide Children's for child and adolescent psychiatry. Did my adult training at OSU and am certified in seeing both adults and young kiddos. So, certainly see the gamut of all social media users, particularly those younger ones who have never lived without social media. I think it's a very important topic, particularly for child and adolescent psychiatry.
For sure. Jumping in right from that is to ask you, how can social media platforms be helpful when they're covering mental health topics?
I think the biggest part of social media that is extremely helpful for adolescents, and they've done surveys on social media positive kind of things from adolescent's perspective, and that's social connectedness. So, having that sense of social connectivity with their peers and oftentimes, kids that I see feel kind of ostracized when they don't have social media or parents are not allowing them. It kind of makes them feel like they're out of the loop, that they're missing out on things, so I do think there's a level of social connectivity, particularly for a lot of those kids who have social anxiety. That is a platform that they could at least somewhat utilize to get some of those interactions.
I think a sense of belonging, understanding that other people also struggle with their mental health, that there are other children and adolescents in particular, that are struggling with their mental health. Trying to find answers for that, I think, is something that gives them a sense of productivity in terms of figuring that out and working towards some sort of treatment. I do think from that kind of perspective, it does bring them some sort of sense of comfort and social kind of aspects to it.
Right. For sure. Especially as COVID had come into being, I think it was the primary way for many of us to be connecting with one another as well.
On the downside of this, I had recently come across a study that had looked at the top 100 most popular videos on ADHD uploaded by TikTok, and what was found that 52% were classified as providing misinformation or misleading information about ADHD. A lot of these videos were viewed millions of times, so if that gives you any information of how much misinformation can kind of be put out there. Let's talk about that. How can [inaudible 00:03:09]?
I would agree with that. I think we've all kind of felt the repercussions of mental health TikTok in particular, all those snippets, and most of the people on TikTok who are talking about their mental health are not mental health professionals. I think about 10% of the information is actually put out by mental health professionals and accurate, in general. I would say ADHD is a huge one, and I'm not surprised by that statistic at all, of 52% of misinformation. I would say ADHD, autism is a big one that I'm seeing nowadays, dissociative disorders.
Multiple personality disorders and bipolar disorder is always a popular one that kind of tends to be things where there's a lot of misinformation, a lot of over diagnosing ourselves with those concerns. Although I appreciate people trying to understand more about mental health, trying to find answers about themselves and to learn and understand how to treat those disorders, I think it leads to a lot of not fully understanding what's actually going on. Also, becoming privy to some of the terminology in a way that's actually more hurtful for them than helpful, because they sometimes get into a mode, "This is my diagnosis. This is what's going on." And then sometimes, subsequently really struggle with things through that lens.
Although I think it's very important to understand that patients are going to be reading on the internet, I also think it's important for us as providers, as clinicians in mental health to mitigate some of that and to talk to them about that misinformation, and explain why we think they do have the diagnosis they think they have or why we don't think they have the diagnosis that they think they have. I'm pretty upfront with a lot of my… Particularly my younger patients that, "Hey, if you look up something on the internet, please tell me. Let's talk about it." Because I don't think there's any reality that exists where kids and adults aren't going to be Googling this stuff or looking it up on TikTok or on Facebook, or whatever it might be trying to understand. It's more so about trying to talk with them. Meet them where they're at and try to understand why they think those things, too.
Right. I think the key component there, too, is educating them accordingly. I know I've had some of my own clients come to me feeling like, "Okay, I saw this over here. Could this be me?" And it opened up the doors for just great communication and conversation about it. Sometimes, there might be something to it and sometimes not, and I'm educating accordingly and that's okay. It's natural. We're all going to go to the internet, that wealth of knowledge that floats out there on the web to kind of help understand things better. I think it's pretty common for medical problems and stuff like that. "Ooh, I have this nasty rash, let me look it up." And then, you look at WebMD and it's like, "Oh my gosh, could that really be leprosy?" Or something like that.
So, it would make sense that this seeking of information going to happen for mental health as well, but that's why it's so critical of understanding the correct information about mental health as well. How can people determine whether a social media platform is providing accurate information or not?
I think that's a great question. I think what's really important to understand is most of these social media platforms that are talking about mental health or putting out treatment or considerations or symptoms are usually patients themselves, and everyone experiences all different diagnoses differently. So, I think that's the part that gets really dangerous or tricky, is that people kind of assume that's what's going to happen to them, or this treatment is innately bad or good because it was bad or good for someone else. Recognizing that although we can have a sense of understanding, belonging because these people are also struggling with their mental health, their journey is most likely, very, very different from your journey. Their treatment is going to be potentially very different, and you want it to be. You want your treatment, you want your diagnoses to be individualized. You want to have an understanding of your diagnoses from how it presents within you. I think when we get overly related to these TikTok personalities or people on social media, that innately can be somewhat leading to people over recognizing or becoming enmeshed with some of these diagnoses. Because these are people that we really respect, we like, we enjoy watching.
And sometimes, we can be influenced. That's not necessarily a super conscious, intentional thing.
But then, you start to sit there like, "My goodness, do I do that? I think I've done that. You know what? I probably do that. That is a problem." So, although I think introspection's important, I think that overly introspecting and turning everything into something that's pathologic, whereas some of these things are just normal. Like, "Yeah, you're depressed. You had a bad day because you're in the middle of a breakup." Does that equate to depression, or does that equate to trauma, or something of that nature, is recognizing that some of these emotions, some of these mental health symptoms are within normal limits, are reasonable. They don't equate to being pathologic.
And I think that's the line that a lot of people need to toe and discern between as well.
To piggyback on that, this also makes me think of, sometimes people can merge with their mental health diagnosis by saying "I am depressed. I am anxious." So, often what I try to do is help them tease that out. That's not the totality of who you are. You struggle with symptoms of anxiety, you struggle with symptoms of depression. I think as good clinicians trying to help them see who they are, the totality, and then the diagnosis and what they're seeking online, too, does not make up everything of who they are. For sure.
I cannot agree with that more, [Nicky 00:09:22]. I think that is really important that people understand that you are more than your diagnoses and that's not who constitutes you. I think what we also have to understand is these frequent social media users, their age is typically at a time where they're not even quite sure who they are as a fully formed [inaudible 00:09:38].
They don't know their values, their morals, the people that they want to surround themselves with, the people that they like to interact with, what they look for in a potential romantic partner. All these things are a part of understanding our identity, and I think sometimes everything that's out there are struggles with identity, with mental health, rather than trying to encourage people to see themselves as a whole, not just their mental health concerns or their struggles. People are so much more than that, and there's so much more that defines a person and their identity outside of mental health that I think is really crucial and being missed, when all we kind focus on is the mental health aspect.
Right, I agree. Any other takeaways you would like for us know about when it comes to social media misinformation?
I think the most important thing that I can impart on folks with social media use is, it is not innately wrong. It is not bad. I don't think that a lot of these folks who are putting stuff out on social media intend to do it in a malicious way or to create misinformation.
Yeah. [crosstalk 00:10:49].
I do think it's important that patients understand that this is all very individualized to each patient, how they experience their symptoms, and just because they have some of those symptoms doesn't equate to the same diagnoses as these people might have. I think just making sure they're also really well-educated on like, "Talk to me about it. Bring that concern to me."
Being open and honest of, "I know you're going to Google this stuff. I know you've been looking on TikTok." I often end a lot of my appointments when I first meet patients with, "What medications have you looked up? Or anything in mind that you have?" Because I often think they already have some preconceived notions of what's going to work for them and what's not, and sometimes I actually do take their consideration into mind if it's something that is reasonable, that could potentially be helpful. I think sometimes, that gives you a little bit more buy-in and makes patients feel heard. I think it's really important that us as providers, again, make sure that we understand that they are looking at this information. [crosstalk 00:11:49].
We are not going to change it. We are not going to change the misinformation out there. Unfortunately, it's probably just going to continue, so I think telling our patients that, making sure that they're aware, saying, "Hey, I don't care if you Google it or you look this up on TikTok, but you need to talk to me about it if you have genuine concerns," is the most crucial part as treatment providers that we need to keep in mind.
My gosh, Dr. Kim, thank you so much.
I think it was so important that we're covering this topic and you did a great job just sharing your information with us about this topic, and how important it is for our people who see us, who see your therapist, your psychiatrist to go and talk to them about it. I think that's such the key. Bring up those [inaudible 00:12:33] communication, and that you are not your diagnosis, right?
Yes. 100 percent. I think there's so much more that creates people's sense of self and identity that needs to be focused on, and I think a lot of that gets neglected in social media because it's hard to show that without kind of breaking a façade, or going outside of what they're normally used to posting on social media.
That's for sure. Thank you, Dr. Kim. We'd love to have you on an episode again in the future.
Thank you, [Nicky 00:13:06] for having me. Anytime.