podcasts
Understanding Substance Use Disorders – Podcast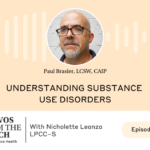 By Jason Clayden on May 11, 2023
In this episode, we are joined by Paul Brasler who will be discussing substance use disorders, including addiction and dependence on drugs or alcohol. We'll cover topics such as the signs and symptoms of substance use disorders, the importance of early intervention and treatment, and strategies for maintaining long-term recovery.
Join us as we explore the complex nature of substance use disorders and provide valuable resources for those who may be struggling with addiction or supporting a loved one through their recovery journey.
Listen and Subscribe Here
Welcome to Convos from the Couch by LifeStance Health. We're leading mental health professionals help guide you on your journey to a healthier, more fulfilling life.
Hello, everyone, and welcome to Convos from the Couch by LifeStance Health. I'm Nicholette Leanza and on this episode, I'll be talking with Paul Brasler, a clinician from one of our LifeStance Virginia offices. He'll be helping us to understand more about substance use disorders. Welcome, Paul. Great to have you on.
Thank you, Nicholette. Thank you for having me.
You wrote a book called The Clinician's Guide to Substance Use Disorders: Practical Tools for Assessment, Treatment & Recovery. Your book covers so many aspects of substance use disorders, like the science behind it, treatment and strategies for it, even the language we use surrounding substance use disorders, and such an important point too of emphasizing the individual as opposed to the disorder. I really look forward to you sharing your insights on those who may be struggling with substance use disorders.
Great. Okay. Sounds great.
Let's jump in and have you tell us a little bit about yourself.
Well, I'm a licensed clinical social worker. I live and work in Central Virginia, in the Greater Richmond Metropolitan area. I've been with LifeStance now for six months. This is one of two practices I'm with. I have another practice where we practice ketamine infusion therapy, which is a whole nother subject on itself. But for LifeStance, I work with individuals 15 and older. My background though has been in substance use disorder treatment and treating people, what are collectively called high-risk clients. In other words, psychiatric emergencies.
I've come to LifeStance with a lot of experience in community mental health, teaching as well. I'm a national speaker for PESI. Appreciate being a part of the LifeStance group because frankly the flexibility is huge, and the independence. I like being able to do what I like to do and frankly being left alone to do it and given the tools I need to do it. It's been really cool.
But I've been a social worker for close to 30 years. I have a family here. I have three sons. My wife is a trauma nurse, and so we have a lot of fun.
Sounds like you and your wife both do very important work.
We like to think so. We joke that if we talk about our work at a party, we could kill the conversation in about 30 seconds. So we don't.
Tell us about what inspired you to write this book.
Well, so I went to grad school at Virginia Commonwealth University, go Rams, in the 1990s. At the time, I had exclusively worked with kids that were coming from significant economic stress, a lot of kids who've been abused. I was working in residential treatment at the time and the school asked me, "Where do you not want to do your first internship?" Being really naive, and I talk about this in the book, but I said, "I don't want to work with addicts." I wrote it in big letters. I think I even wrote, "Because they can help it." My prejudice toward people with substance use disorder was grounded in the fact that nearly all the kids I worked with in residential had been there or were there because of neglect, abandonment by parents with substance use disorders. So I had a very negative view of that.
The school, in their wisdom, put me in a residential program for women who were IV drug users. I was like, "Okay. Clearly, I got caught. I got tricked." But I went there and that, it was the summer of 1997. That was a profound career-changing and maybe even life-changing event. Because as I got to know the clients there, I realized there was really no difference, other than age, than the kids I would work with at night in my residential program than the folks I work with during the day. I became fascinated with how molecules, their various substances, could change how people think and act, how drugs could override a maternal instinct or a paternal instinct or even survival instinct. I became fascinated with it.
As I graduated and as I continued my career, I gravitated towards substance use disorder. But in my field of social work, at least in my corner of the world, there was not a lot of information, not a lot of educational opportunities for it, so I began educating myself. At the time and still in many places now, services are siloed. At least in public services here in Virginia, for example, if you go to a public, state-funded mental health clinic, you will often be funneled into a mental health group or a substance use disorder. Even though as I say in the book, about 80% of people with a substance use disorder have some level of a mental health disorder and vice versa, it's the outliers that are pure serious mental health illness or pure substance use disorder. But our systems of care and our education systems are slow to catch up.
I went to my alma mater in the 2010s and said, "I want to teach a class on substance use disorder," and they said, "Great. Develop it." I said, "I thought you'd never ask." Sp I did, and that became some of the foundations of this book. But my main reason for writing it was, I really want to close the gap in the knowledge base for many clinicians. And not just clinicians, this book is appropriate for first responders, for clergy, for teachers, even for folks that are not in the field. It says Clinician's Guide because that's what the publisher wanted it to say. It's more than that. But the idea behind it was to close that knowledge gap, to demystify substance use disorder, and to really humanize people who live with substance use disorder.
I love that. It's a humanization of it. I too, as I was navigating graduate school, was locked into the thought of, you have those who have mental health in this category and then you have those who are struggling with substances. Yes, they can cross, but really, you're taught this category and this category. I'm really glad we are eventually, and we are slow to catch up oft in the field, but to evolve beyond that, for sure. How would you define addiction?
I use a couple of different definitions, but the best definition I got is from a book. The author's name is Morgan, but the title of her book is Addiction, Attachment, Trauma and Recovery. I love her definition, and I'm just going to read the quote. She says, "Addiction is a multi-determined phenomena within layers of mutual influences, internal and external, all interacting concurrently, leading to a pathological outcome." She goes on to say, "It's no more true to say that addiction is simply a brain disease, a flawed personal choice or an experience of learning than it is to say that falling in love is nothing but biochemistry."
We've come a long way in the field in terms of conceptualizing substance use disorder, which is another name for addiction, substance use disorder as a medical illness that has characteristics that are very similar to asthma, hypertension, diabetes. But the movement within the field now is to move even away from a medical model toward a recovery model. And by recovery, what we mean is, I'll read the definition of that, is it's a lived experience, improved life quality, a sense of empowerment. It's a process. While we've utilized the medical model to legitimize and support treatment and hopefully lead to de-stigmatization of SUD, we really have to look toward the recovery model to realize that that is about individualizing practice.
I'm sure many folks are familiar with ASAM, so the American Society of Addiction Medicine. They talk about treatment has to be individualized, just like any other type of treatment, and I think medicalization has helped that. But recovery is not just looking at the addiction itself, it's looking at the whole person, which is really in line with everything else we do as clinicians.
Why is language surrounding addiction important?
Well, language is power. I used to tell my students, or even people I train now, I say, "I'm not politically correct to be politically correct, but I'm not going to go out of my way to offend people." Really, language should be used to draw people in. Addiction, and particularly words like substance abuse, abuse is a very negative connotation. We think of child abuse. That's bad. Even with addiction, I will talk about it. I will talk about addiction in the global scheme, like addiction treatment. But if I'm talking with a patient or about a patient, I'm going to talk about alcohol use disorder, benzodiazepine use disorder, opioid use disorder. Because I really want to make it about the individual. Just as we would not say, "Oh, Susie is bipolar," we would say, "Susie lives with bipolar disorder or has bipolar disorder." We want to keep the person first.
Stigma is one of the reasons, one of the primary reasons why people do not seek treatment. One study showed, for example, was actually a meta-analysis, showed that families with a member with substance use disorder felt more isolated in their communities than families that had a member with schizophrenia, because there is still this notion of it's all the person's fault. Now, there are elements of choice in this, and I also believe that people are not automatons. What we mean by that is that there are elements of choice of, does the person want to try and engage in treatment? Do they want to engage in harm reduction strategies? There are elements of choice in that. But as I tell people at the beginning of a presentation, whenever I talk about substance use, I've never met a person in close to 30 years of doing this kind of work in various settings, I've never met a person who can look me in the eye and say, "This is what I wanted to have happen to me. I wanted to be an adult living in precarious situations, sticking a needle in my arm every six to eight hours."
Nobody wants this. Or, "I wanted to be able to drink myself to oblivion," or whatever substance we're talking about. Nobody wants that. Some people have been told that is what they are destined to become and they believe that. But the example I give is, my youngest son, Eli, is going to be 11 this summer. Eli loves basketball and he's been playing on a fairly competitive team this year. He's a greatest assist, hasn't made a shot all year, but he hustles. He's like, "I want to be play basketball in college." I love my son. I'm going to encourage him. The chances of him playing for a Division One university, probably not going to happen. But at the same time, we're going to encourage him in those dreams.
He doesn't look at me and say, "Hey, dad, when I grow up, I want to be an alcoholic," even though he has probably a one in 10, maybe even one in eight chance of developing a substance use disorder. Really, the language, the last thing I'll say, but it really is about moving toward a "we" mentality as opposed to an "us" and "them", "they", "those". We have enough of that in our society now.
This is where we heal these divisions. What's interesting is that when you really talk with people about substance use disorder, everybody is affected by substance use disorder in some way, either directly or somewhat indirect. Everybody knows somebody or some buddies who struggle with this.
This is an area where we can agree on, and this is an area where in a lot of the political systems within our country, we're actually seeing a lot of bipartisan support. Because we're realizing this is a phenomenon that does not care who you voted for, doesn't care about the color of your skin. It doesn't care. It's an equal opportunity killer.
You made a point in your book, language drives stigma. That was very powerful for me to take a look at because that's so true. It's so key that you're emphasizing language as we're talking about this. Again, my graduate training was very much like the addict and just, "Are they clean? Are they dirty?" Just that language is so stigmatizing, so I really love the fact that you emphasize the language and how important it is in the book.
With that is that one of the biggest things we also see, and I talk about this in the book as well, is self-stigmatization of the person with substance use disorder. Addiction becomes a self-fulfilling prophecy if you look at how intrinsically linked it is with trauma. You cannot separate the two out. For the majority of people with substance use disorder, there is some trauma history there of different types, different levels. But it's there.
Part of what I saw, particularly when I work with folks who use heroines, I spend a lot of time with folks who inject opioids, heroin and fentanyl, one of the things that we saw as they entered recovery, particularly with assisted treatment or medication for opioid use disorder, they would be like, "I'm dealing with my feelings now. What the heck?" They wouldn't say heck. They'd be like, "What is going on? I haven't dealt with these feelings in seven years." As a team and as a group and as peers, we're having to say okay. Because again, those feelings are going to drive a return to use, "Because I want to go back toward that sense of oblivion." We have to recognize it, particularly as we delve and really recognize the full landscape of trauma.
Let's be honest, most people coming to us for therapy, it really is about a lived experience of trauma more than anything else. Again, I don't think every bad thing is a trauma. I'm not saying that. But think of how many clients that you all out there might have that, "I have bipolar disorder," but they've never had a manic episode in the absence of substances. They've never had all these other things and it's like, it's about trauma. We also have to look at how bad diagnoses have helped people to miss opportunities to treat their substance use disorder and their trauma.
How can working with people struggling with substance use disorders be difficult?
I think the biggest thing that can be difficult about it is a lack of resources. For example, ASAM has a number of criteria for different levels of care, from outpatient, typical outpatient care, all the way into intensive, hospital-based treatment. A lot of the issues with substance use disorder is that there are limited resources in a community. If I'm working for LifeStance and I have somebody come in, and I do treat people with substance use disorder here at LifeStance, have people coming in, they may need a higher level of care. With the idea that once that higher level of care, there's been some stability there, we could come back down to this level of care. But at least in my community, there's not a lot of places to go.
There's also this notion in the broader community, and I just mean in society in general, that, "Oh, you've got to go to rehab," as if somehow, going to a 28-day inpatient program that most of us could not afford, most insurance will not pay, is somehow going to rectify that. Again, there are some very expensive programs out there, but if you look at their success rate, it is in the single digits because of what has to happen afterward. Followup care. What about housing? Can a person maintain recovery of everybody else in the home, or even one other person in the home who's using substances themselves? We have to look at these systems, the broader systems of care, and also recognize that sometimes people are not ready to stop, even when we really want them to stop.
I'm working with a couple of people right now where it's like they're asking, "Am I an alcoholic?" That's their words, and I don't know. There's a lot of ambivalence a lot of time with folks with substance use disorder that can make it difficult for clinicians. But the biggest thing I see just is a lack of resources. The thing I like to point out is that when I go to other cities to present, whether it's talking about high-risk clients or talking about substance use disorder, I've never gone to a community and been like, "Hey, all you clinicians out there, you got all the services you need in your community." I've never had a community be like, "Oh, we've got plenty of geriatric, psychiatric facilities for juveniles." Nobody says that.
Nobody says that. In some states, and Virginia unfortunately is one of them, we're in the bottom half and really, it shows. It's a lack of treatment options and a lack of flexibility within that.
How can we fight the stigma surrounding addiction?
I think we tell the stories as best we can. I think part of it is helping clients to understand that this isn't something … Again, you share what you choose to share. Anonymity is an important aspect of treatment. It's an important aspect of being able to control your story. But anonymous doesn't mean invisible. What we are beginning to see around the country is a greater voice coming from the recovery community, even some politicization of that, and saying, "We vote, too." I think that that's what we have to be able to do, is to really understand that there is a political capital here.
I have a client that I work with here at LifeStance who, she lost her son at the age of 18. She found her son and his girlfriend. They were 19, sorry, dead of a fentanyl overdose in her house. Obviously, tremendous amounts of grief. That's why she sees me. But what she has done is she has said, "I'm going to lend my voice." She has testified in front of our state assembly. She has reached out to other parents who this has happened to, and she and this group actually have worked to change some laws that are going before our governor here in Virginia in response to this. Bipartisan. Basically, saying to folks, "We don't care if you're red or blue. This is about life or death." Lending her voice to that, I think that that's an important piece.
Also, calmly and nicely, and I got to emphasize that, correcting people when you hear them make untrue statements about substance use disorder. I worked a long time, for example, in a clinic that served folks who were homeless or substantially housed. I was part of a workout group at the time and we were running past an encampment. One of the guys, who's a very wealthy guy, he's in our group, he's like, "Why don't they just go in a shelter?" I jogged alongside him. I said, "I hear what you're saying. Can I just let you know this is what it's like inside a shelter?" We talked and he's like, "So, why are they out here?" I said, "A lot of people out here struggle with substance use disorder."
That guy, who's a multimillionaire, that guy became a huge advocate for prevention, harm reduction. He began telling other people in the banking industry, "Hey, we got to leverage some of this." He was already involved in several boards. He got other people involved. It was a calm, kind conversation. It wasn't like, "Hey, you jerk." It was, "Hey, by the way." It's interesting. He told me about a year later, he had a friend who lost a child to substance use disorder, and he felt that he was perhaps better equipped from a compassion standpoint to be there for his friend. I was like, "So calm, kind conversations, not slamming people." And doing it face-to-face, not through Twitter feeds.
Social media? Right. Right.
Twitter feeds or stuff like that.
Right. How's addiction the biggest issue facing society right now?
Well, if you look at the sheer statistics of it, and the last year we have complete data is 2021, 2022 data should be released end of this month or in April, over 107,000 people died of overdoses.
We're talking more than twice the number of people who were killed in all 10 years of the Vietnam War. We're talking about something that is more than the number of people that die by suicide or homicide. What we're seeing is a 15, one-five percent increase from 2019 to 2020, to 2021. Now, it's interesting. In 2019 and 2020, we saw a decrease in the overall suicide rate.
We saw a slight decrease after 20 years. But what we have seen is this increase, and these are deemed non-intentional overdoses. Again, there probably are some in there that were intentional, just like there are people who die by suicide that are not counted in that number. But the fact is that 15% each year, 2022 is projected to be about the same. Over 70,000 of those deaths are due to fentanyl, illicit fentanyl.
When people talk about banning fentanyl, you have to understand fentanyl is used in a medical setting, is a lifesaving drug. If you are in a car accident today, you are probably going to be given fentanyl because it is very good at reducing pain. It's quick. It's relatively safe. If anybody else has ever had an outpatient procedure, you had fentanyl, and it's very, very, very safe in that regard.
But what we're seeing now is illicit fentanyl that's coming in from overseas. It's coming in all over, not just through the borders, but through the mail. It was initially used to cut the heroin so that you would have a stronger product. If you're a heroin dealer, you want to be able to retain your customers, you want to sell good stuff. What we've seen now in most of our cities is that fentanyl has replaced heroin. Not just in cities, but in rural areas as well.
We're also seeing issues in the Greater Philadelphia area with a drug on the street that's called Tranq. It's xylazine, which is actually a veterinary medicine, and that's typically added to fentanyl to extend its effects. We're seeing nitazenes, which are other chemicals. These are fentanyl-like, but they're not fentanyls, that are even more powerful than the various types of fentanyl.
Fentanyl itself is 80 times more potent than morphine, and even Carfentanil is 100 times more potent than that. There are literally thousands of different fentanyls and fentanyl analogs, and so people do not know what they're taking. It's winding up in everything and the reason it winds up in everything is that typically, when drugs move from a production to street level, it's not this nice, neat, little chain.
The drugs are probably touched between 20 and 30 times. Every time they're touched, they may be repackaged. There's a lot of cross-contamination, and so we're seeing fentanyl in cannabis gummies. You can buy a pill press on Amazon for less than 25, so you're seeing an MDMA or ecstasy, street-level alprazolam, cocaine, methamphetamine, all kinds of stuff. That's why this is a huge, huge issue, a major public health crisis.
There's no way to tell? There's no way to tell what is in there?
You can get fentanyl test strips, but it may not detect other things that are in it. When people say, "Well, gee, why do you keep using," well, again, the withdrawal profile, particularly from opioids, is extremely … You feel horrible. Imagine the worst case of food poisoning and combine that with a full body flu, multiply it by a factor of three and have it last seven to 10 days.
I tell people, I say, "Listen, when I'm a little nauseous, I'm reaching for the Zofran. You know what I'm saying? Or I'm trying to make a deal with God, 'Please, let me throw up.'" I said, "Imagine, and that's just a little bit of discomfort." You're going to want to do-
You want to do everything you can, and it's that desire to go back and continue using that drives it. They're not getting high anymore. They're just using not to get sick.
I think that's a really interesting point there that people maybe don't understand, that they're not using to get high anymore. They're just trying to avoid that, it just sounds like terrible, awful sickness that goes with it, the withdrawals.
Yeah. We call it dope sickness. Beth Macy, who's from Virginia, has a book called Dopesick, which is really good. I recommend it. There's also a TV series based on it on Hulu with Michael Keaton. Really, we call it dope sickness. That's really what it's, and it drives a lot of that. Even some of the misinformation about substance use treatment that's still within the community is like, "Well, if I just get the substance out of my body, if I just go through detox, then I'll be fine." That's a very small part of it. In fact, detoxification alone or withdrawal management alone is not really treatment.
It can be a beginning part of it. But treatment can begin while the person is still using or even using at a reduced amount. But the idea being that if we just get the drug out of the body, then they're going to be okay. No, there are residual effects that take months or years to address, and that's the post-acute withdrawal that we have to deal with. It's not even just about getting through the physical symptoms, it's the emotional symptoms. It's learning to live with or having to now examine trauma and things like that.
Having to examine that trauma without the typical thing you would go to numb your emotions surrounding trauma.
Right. Exactly. Exactly. Yeah, absolutely.
How can working in this field be rewarding?
You meet the most interesting people. No, in all seriousness, that's true. It's rewarding because you realize that a lot of people that have substance use disorder, I describe them as survivors. I'm one or two opportunities or choices or situations away. It's not about them and us, it's about we. I think it's the opportunity to walk with somebody as they go through transformational change and to realize it really is a whole person change. It's not just a changing of behaviors, it's changing how one thinks. There's a spiritual component that is also very important, and that I think is exceptionally just a part of it. Let me give you an example.
I was doing group one time in a program, it's here in Central Virginia, called Caritas. I was running a group as part of another job I had, where I worked with folks with co-occurring disorders. I walked in the room and there's a guy sitting there and he's a few years older, probably about 10 years older than me. I introduced myself and he goes, "Are you teacher?" I said, "No, I'm facilitating this group." We just started talking and I said, "You look like something's bothering." He goes, "Yeah." He goes, "This guy bumped me in the lunch line."
This is a live-in. This is a residential program. They stay there for about seven months. He says, "This guy bumped me in the breakfast line this morning. I'm trying to determine if I'm going to go stab him or not." I said, "Okay. Why would you want to stab him?" He goes, "Well, I spent 25 years in prison." He said, "If somebody does that to you in prison, you've got to stab them or they're going to come at you." I said, "But you're not in prison." He goes, "You're right." He goes, "You're right." He says, "But I'm trying to get my mind thinking right."
Because he was using even when he was in prison, because he can get the stuff in there. And in this program, he wasn't. He was like, "I'm trying to get my mind. You see, I spent time with my grandkids this weekend. I want to be there for them." He said, "My old way is, I got to go stab this dude. My way is, I'm not." I said, "But if you stay in this room, you won't for at least the next hour." He didn't, and he emerges as a leader in this group. A few weeks later, some new people were coming in and he's like, "Yep, Paul's an all right dude," which I took as a high compliment.
He goes, "He kept me from stabbing this other guy the other day." I was like, "I didn't hold him back." But it was this, "Let's just sit with this for a while." It's just, you're realizing it's really, a whole person change. And it is heartbreaking at times. It is. But I do think it's rewarding. The other reason I do like this field is that it's always changing. You have to stay on top of it, so it's never static. That's what's really cool that I like about it. Just what I fell into, I guess.
Yeah. Any other takeaways you'd like to share?
No, just that I really encourage fellow clinicians out there that maybe this is something that you didn't get a lot of training with in school. A lot of schools, a lot of grad, not all graduate programs, but there's still many counseling, psychology, medical, social work programs that really just lead this as an elective. I know, for example, here in Virginia, you can obtain your license to practice independently as a clinical social worker without having really any knowledge or treatment of substance use disorder. Some states are changing that in response to the addiction crisis that we're seeing right now and mandating that more and more, and I think that's good.
A lot of folks though, and so I'm speaking to a specific group here, a lot of folks may be fearful of going into this because it feels like an entirely new and different thing. Again, I am promoting a book, I'm being honest about it, but also, I wrote this absolutely with a mindset of, I want to expand the number of people that are treating clients with substance use disorder. This is a place to start. Is it going to make you an expert? No. I don't consider myself an expert, but I think it's a place to start. Hopefully, it will demystify this process for you and really make it easier to have conversations with the clients. It is a workbook format, so there are tools within it that you can utilize.
Love that. Makes it practical then for clinicians?
It actually makes it practical. My thing is that I really wanted it to be … The publisher, the PESI Media & Publisher, I really wanted it to be that way. There's a lot of material in there. There's some things that clinicians can work on themselves, practice. There are things that you can share with clients. There are activities you can do with clients. The idea is that it's designed to really make it easier to begin broadening the way you're working with clients and things like that.
My gosh, Paul, thank you. Thank you for sharing your knowledge and insight on this topic. I want to plug your book again.
Clinicians' Guide to Substance Use Disorders.
That's right. It's purple.
Practical Tools for Assessment, Treatment & Recovery. Yes, we're going to embed this in the social media link, too.
Okay. Okay. You can find it at pesi.com. P-E-S-I.com. You can also find it on Amazon. Amazon Prime, you can get it with a free shipping. I think Amazon, the cover price is 37 bucks. I think Amazon may drop it a few bucks here and there, but amazon.com and you can just put The Clinician's Guide to Substance Use disorders. It's purple. I like purple. My first book is called High Risk Clients. It's a little bit smaller. It's fiery red and orange, and so I wanted something cooler this time. But you can check them out.
Yes. No, thank you. I'd love to have you back on to maybe do another aspect of talking about actual treatment and recovery from substance use disorders. I think that would be a great next episode with you.