podcasts
Therapists are People Too – Podcast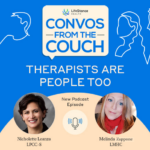 By LifeStance Health on August 11, 2022
Despite popular belief, therapists aren't perfect; they feel, live, laugh and cry just like everybody else. LifeStance provider Melinda Zappone shares how clinicians can avoid burnout via unlocking the personal growth that can come out of acknowledging compassion fatigue, countertransference, and vicarious trauma.
Welcome to Convos from the Couch from LifeStance Health. For each episode, you'll hear engaging and informative conversations with leading mental health professionals that will help guide you on your journey to leading a healthier, more fulfilling life. Hello and welcome to Convos from the Couch by LifeStance Health. I'm Nicky Leanza, and on today's episode, I'll be talking with Melinda Zappone, a clinician from our Tarrytown, New York office, and we'll be having a great conversation about how therapists are people, too. So, welcome back, Melinda. Great to have you back on.
And not here at the same time, because [inaudible 00:00:49].
Yeah, it's going to be great though. Exactly. I know we had you on before, where you had your amazing client share her story with bipolar disorder. We have you back on today to talk about just us therapists, right? And our experiences. And so, I know you told us a little bit about you last time you were on, but do you mind sharing a little bit more about yourself?
Yeah. I mean, I'm going to share… It's funny, because my point is therapy is ultimately going to be a conversation. It's going to be a relationship. We think of it as a service.
So this is nice that I'm able to do this. I think that I am Auntie Melinda. I'm a sister. I'm a daughter. But really, I mean, I am a therapist. It's very much who I am. I'm somebody who struggled a lot with self-doubt my whole life and has a trauma history and was very disappointed with therapy myself. So I think that as I become a therapist, it's been at times therapy, and it's been a real eye-opening experience with boundaries and people and recognizing… I'll go buy a car and I'll know everybody's life story by the time I'm done. I am a therapist, so part of who I am is learning about people's life story. But even now when I go out into the world, I want to do that, too. I want to know as I'm interacting with you, even though we're just buying a car, what is the deeper relationship here that we can get out of this experience? So, I guess if I want to say a little bit about myself: I'm a connector. I'm a listener. It's who I am.
So, you definitely sound like you're a therapist through and through, for sure, Melinda. My gosh. So, what actually got you interested in becoming a therapist?
So many things. When I look back on it, because you had given me this question and I was trying to think about that, I feel like there's breadcrumbs I've been following. I've been leaving breadcrumbs, but following breadcrumbs to this goal of becoming a therapist. I think, like I said before, I had a lot of self-doubt growing up. I was born into a family where there was kind of a pressure to make it a family, because my mom had two kids before, and so it really became my birthright to connect to this family, make it an actual family. And then, when I was struggling in my own issues in undergrad, I didn't really know I wanted to be a therapist yet, but I was working in the psychology department and got involved with a professor there, did research with the professor, and I just got hooked.
I got totally hooked and realized once I was in graduate work, my issues were coming up inside that work,. So then I really got hooked because I was like, "I need to be a patient and a therapist at the same time and make sure that if I'm going to go into that room, I'm going to have a balance of lived experience, but also the clinical knowledge, too." So, that's really what got me interested in being a therapist, but a specific kind of therapist. One that is not necessarily going to deny painful past experience myself and disappointments with this structure that we have, the mental health experience and the mental health services arena. I kind of had a dual purpose. I really want to help people, but I also want to change the whole idea, the concept of "getting help," if that makes sense.
Yeah. Which leads us to the question about what do you feel keeps people from seeking therapy? What do you think is the hesitancy?
Well, I think the hesitancy is actually what keeps people, in a way, from getting help because usually, kind of like quitting smoking, you've thought about it a million times maybe for like 10 years, and so by the time people are thinking about making that step, it's probably gotten pretty severe, whatever the "it" is. And I also think that because of some of the medical model that we operate under, a lot of people do not think, although things are changing, that it is going to be a relationship. It's still like a service, a treatment, and we still speak about it that way. So it's really hard, and many people have never had a real, trusting listening relationship, so they're like, "Is that really what it is? Is it just talking?"
So, I think there's a lot of hesitancy because people are waiting so long that they're coming with big stuff and they're thinking, "This is an evaluation? I don't want that with all this big stuff." So, there's hesitancy on that level. And then, I also think that there's a painful past experience with sharing with whoever it was the first time that happened, and fear that that is going to happen again. So almost like projecting what's happened to them already in that regard of being understood. That is just like, "Ugh, that's going to happen again. That's going to happen again." Some type of philosophy of just like: "You know what? It's probably better to just cope with it on your own."
Got you. So, what are some things you'd like people to really understand about what therapy is?
I want definitely for them to understand that it's a relationship with a real person who's going to grow from your experience, too. I mean, I tell my… And it's always weird to say "patient," because I don't think of my patients as patients. I think of them as people. But I don't want to call them "clients," because that sometimes seems like they could be like my… I'm a financial advisor.
Right? Like business [inaudible 00:07:21]. It's almost like a business relationship.
Right. Right. But I want people to understand it's about a relationship that is going to affect you on so many levels in a good way. You're going to leave sessions sometimes not feeling better, but feeling like you have something that is going to clean up so many things for you. It's going to trickle into work. It's going to trickle into your family, your friends. So I really want people to understand that you are going to come in thinking, "I just want to stop these panic attacks," or, "I just want to stop ruminating about this ex-person that's been out of my life for years," but you're going to grow on so many levels, because it's the healthiest relationship, hopefully, that you will ever have with another person. And then, you're going to take that and spread it into your life.
I love that, that you spread it into your life; kind of like seeds, like you're spreading so that things will bloom.
And it makes me think of… I know when I was a little kid and I happened to see my teachers out of the classroom, like in the grocery store, you forget that they're real people, too. I think there's just this idealization of therapists. So, in your opinion, why do you think people don't feel that therapists might be real people themselves?
Well, I think in some ways, like I said before, you're going in at kind of your… The problem is the worst it's ever been, usually. And so, you're about to kind of tell someone your story and have them reflect back what they heard. And if it's a regular person in your life, you don't usually want that. You maybe want to kind of complain a little bit, or talk a little bit about your problem, but you're not usually ready to be like, "Hey, Mom, this is my problem." So you kind of need to have that person just be a blank slate. And I think sometimes what can happen is you either project an ideal, so, "I want this therapist to be the ideal sister, the ideal mother," whoever your ideal, or the vice versa can happen.
It's just so embedded in fear, "Will this person understand me?" that the therapist becomes your worst fear. That teacher that judged you. That parent that abandoned you. So, I think that you come in with baggage from past relationships. And it's not conscious that people say to themselves, "Oh, I'm not going to think of the therapist as a real person," but it's just all these other relationships pasted over. And because that can be really intense, and usually people are really smart about their stuff once they start talking about it, so they can feel it, too, and they'll…
What one might consider as "inconsiderate behavior" is so not in the context of a session, because you can see that they just need you to just not judge them. And as therapists, we participate in that, because we're like, "I'm here to help whatever you need. Project on me. It'll be good. It'll be good for the relationship. We'll figure it out." So we participate in that a little bit as well, and our own kind of, "I want to help you through this," squashes a lot of what we would normally maybe push back on a little bit and say, "Hey, I am a real person," if that makes sense. So I think it's a tango. We also say, "We're not real. Don't worry about it. Do whatever you need. This is a safe space." But also people just need that, because most pain points are about other relationships and they kind of paste them onto you a little bit.
Right. That projection [inaudible 00:11:24]-
So, what are some things you would like for people to understand about therapists?
I mean, honestly, becoming a therapist, and I think this is really true for most people, it split me wide open. It's made me who I am.
So I really believe in the process. But that's not to say the process is going to be the same for every person. So while some people think that you go to the doctor and you just go through the same thing: Take a number. You could be anybody's name. When we say that you have a treatment plan, I mean, you really have a treatment plan. Because of the medical model, sometimes on paper, it looks like generic words, but each therapist is… I mean, we're definitely thinking about you more than you're thinking about us between sessions.
And so, we are developing a really intimate relationship with you in our heads. I think, in the past, therapists don't talk about that because counter transference is bad.
Boundaries are so important. But to deny that, I think at this point, especially since the pandemic, is kind of ridiculous. We are thinking about you all the time, and when you leave a session and we realize that we missed an opportunity or something, like, "Oh my God, that going like this wasn't really going like this. It was literally almost like, 'I don't want to talk about this right now.'"
You miss that opportunity. And we think about that. We ruminate on it. Another thing I want people to know is you sometimes are helping us change and helping us be better people. Your experiences might be an experience that we've just never fathomed before; or you know about panic attacks but when you see somebody coming in who's recovered from panic attacks and now they're coming back, it's like, "Oh my God." That is such a painful experience that you can't just put on a sheet that says "diagnosed as panic attacks." It's like, no. "Recovered from panic attacks, now coming back." They're clients.
That's a totally different diagnosis, in a way, that you can't just put on the DSM. So I think that people should really know, I mean, we are monsters at understanding you. We do not want to just slap a diagnosis on you. We do not just want the 45 minutes to be up and, "Next person." We do not just get concerned about your copay or, "I'm sorry, I'm not going to take you if we don't accept your insurance." That is what we suffer from for this work, but that is not something that we participate with. It's what-
… comes to us that we have to accept in doing this job.
Right. I think you bring up a great point, excuse me, of how we do think about our people between our patients, our clients, in between sessions. And then, I think another thing that people don't understand about therapists is that our patients, our clients, can also have an effect on us in various ways.
There's things like burnout and passion fatigue and vicarious trauma. And so, I thought this would be a great time for us to kind of dig in a little bit and have you help us understand those terms a little bit more.
Yeah, so what I'm realizing is it's… And these words get thrown around like they're the same thing.
And there's a lot of history behind… We've discovered these phenomenons, and then in our field the struggle is always, "How do we study? How do we quantify? How do we make a set of criteria for if this is occurring?" Burnout is well-known in any situation. I mean, any role that you can have in life. You can get burned out from being a mom, but also a Metro-North worker.
A car salesman. A therapist. So, I think of it as like a spectrum. Burnout is really when you are getting exhausted from the job and you're coming home and you can't function, but not a total deterioration of function. But it's more like you sit at dinner and you can't participate as much with your kids. You're a little bit frazzled. You want to have that healthy routine and wake up early and go for a walk in the morning, but you can't do it. So, you're kind of fatigued from the work itself. When it gets to… And I'm kind of imagining it on a gradient.
When it starts to move into compassion fatigue, it's more like you are starting to think, "I don't know if I'm helping enough. I don't know if I'm doing a good enough job. I don't know if I can, in this structure," so with insurance the way it is, or only a certain number of visits, or telehealth not being for everybody, and you're really starting to feel overwhelmed by your capacity to help being diminished somehow. And then, there's a little uptick on compassion fatigue when you start to get almost depressed by the person's stuff themselves, or you just feel like their problem, it can only be managed so much and you may be starting to work harder than your patients are. When it starts to get into compassion fatigue, when you feel like, "No one's doing their work and I keep trying to think on: How do I get them there?" and you're a little bit… I don't want to say "broken," but you're not feeling effective.
That's a good word. Good description of that.
And you're feeling isolated, more importantly.
You're not thinking about getting supervision. You're feeling like no one would understand. You're feeling like, "Should I continue doing this? What's the longevity of my career? And that's when compassion fatigue is really starting to kind of take its hold. When it gets into vicarious trauma… I mean, there's different ways clinicians are clinicians, so there's a way you can have vicarious trauma when you do actual trauma work, and there's definitely various ways a clinician could be involved in trauma work. Front lines. Aftermath. But I'm going to talk about it in the more general sense is when you have vicarious trauma and you're really thinking, "These experiences that are happening to people out in the world are happening to me, too."
"And I'm not going to recover. I'm not going to be able to do this work anymore. Maybe there's people I have damaged." And you're really starting to almost have your own traumatic reaction. I almost hit compassion fatigue early in my career. I mean, vicarious trauma early in my career when I had to start as a peer specialist.
So they had me being a therapist sometimes. Sometimes I was a group therapist. Sometimes I was peer. Sometimes I was a crisis responder. And the boundaries were so blurred that I started to just feel like, "What did I just do? I can't do this. I'm just starting out. I haven't even been licensed yet. And I really don't think I can do this. What's going to happen to me?" I was really not sleeping. When people would tell me their issues, I was wearing the issue on me. So, I think that when I say it's like a gradient or a spectrum, I feel like in the field we're headed towards, we need to, as systems, teach systems how to identify this in all professions.
Also, I think we need to teach clinicians, "This is happening to you actually in every session. You're getting a little bit compassion fatigue, but you're managing it." It's how do you accept that, that you're always having counter transference, compassion fatigue, burnout? And you're just treating it. You're developing a set of tools, and you come back. You come back and you have resilience and your clients, or your patients, are doing well. But there are times, I think, when we really need to be knowing: You got to diagnose yourself. And that you are on the spectrum.
You're on the spectrum all the time. You're never not on the spectrum.
I think that's really, really important, because there's still that nugget in our… Actually, there's still a huge chasm in our field where it's like, if you're really good, you're always like, "Yeah, I love this work. All my patients love me." And I definitely was trapped in that for a long time. When I came from a hospital setting to LifeStance, a lot of my clients followed me, and I was like, "Yeah, I'm so good." And the reality is some of those patients shouldn't have followed me to the more independent, outpatient setting because they needed to be connected to the hospital setting where they could go up into inpatient if they needed to after one of our sessions, or into the outpatient program after they had one of our sessions.
So, early on, I definitely was kind of, "I'm a monster at this. I'm never going to back down. I'm never going to give up on one of my patients." And it was patients themselves that kind of are observational, and they start asking you, "Are you okay?" that really kind of made me realize… They try and address it in grad school, you need self-care, but I think it's not so much that you need self-care. You need to be constantly growing as a person.
You need to be constantly recognizing that you not being perfect is exactly why you're perfect for this. Your acceptance of not being perfect is exactly why you're so perfect, because you will realize you're having a session with someone and they're talking about their spouse and you're like, "Oh my God, that's why I'm not focused this week, because I've been dealing with a similar [inaudible 00:22:25], and I've been just saying, 'I'm a therapist. Everything's fine. It's more about my patients. I need to make sure that that's wrapped up in a box so that I can care for my patients.'" So, I think it's just really, really important that we recognize it's always happening.
This is happening, and you have to recognize that you should probably be, every week, kind of diagnosing where you are.
Assessing your own well-being.
Yeah, exactly. And then I also think something that probably our higher-ups are not going to appreciate, but email your higher-ups and let them know when we're not having trauma-informed treatment. I think [inaudible 00:23:09] here, and a little bit Anne and Siobhan, will know I'm like a… We don't have anything in the patient consent that says you kind of can't just drop out treatment. If you want to stop, you're going to be called and asked for a termination session, because we're not going to just let you walk away and not make sure you don't have some type of plan or somebody helping you. No judgment. We're not trying to get you back in [inaudible 00:23:37].
But that can be traumatic to just… Your insurance bill got too high and you're just going to stop treatment? No. We don't have to charge you, but talk to us about what your plan is, even if you're going to make that decision. So, I think also, too, as clinicians, if you're ever feeling like you're possibly overworking to try and solve a systems issue, email your higher-ups and say, "Listen, I'd really like to talk to somebody. I don't know exactly what I'm thinking, but I'm thinking something in this area when they are just sent a bill and then we don't see them, that needs follow-up. And me as a clinician, it's a little bit larger than what I can do to have some type of thing to address that, maybe even preventative way and not wait till after it's already [inaudible 00:24:25]."
Being proactive about it.
Any other takeaways you'd like to share?
Yes. I think that it's just really, really important for people out there to realize: This is all about you. And if you are better, everybody is better. And I know that sounds so cliche, but the getting help is truly helping everybody. You will find that once you have… Even if you just come in and you're only solving a minor issue, you will see that it impacts the rest of your relationships. And I also want to say: Shop around. If you go to a therapy session and you don't click with the person, I'm not lying when I say it's about the relationship.
So what you would do, and I think clinicians should feel more comfortable, too, to say, "You know what? I feel like you were holding back. You think that you want to try another intake with another clinician, or was there any type of thing that you were expecting today that you didn't get? Because I'm feeling like maybe you're a little unsatisfied right now." And I think that we should, as clinicians, be reminding ourselves that, "Okay, but you're kind of in also a real relationship right now with someone, and they're having you…" All of us as clinicians I think could be a little less scared that they're out there Googling us and trying to realize who we are as a person. So wouldn't you rather tell them the [inaudible 00:26:04]-
[inaudible 00:26:05] you are than try and pretend that what they're seeing or what they're looking up is real information? Or superimposing what they see on TV [inaudible 00:26:18].
I was talking with my brother, because he used to be a trainer for more the corporate world and helping managers, and we were talking about how sometimes you're late. Sometimes people are back-to-back and it spills over. And I say to him, "Sometimes I'm literally starting a session like a goofball, because I'm just like, 'I'm so sorry I'm late. There's really no excuse for it. I'm not going to tell you the story unless you want me to.'" And I'll start a session like that, because they start a session like that too, and I think sometimes it's important for them to see what that looks like when they do it to you.
I always try and bring little nuggets of what happens in real relationships in [inaudible 00:27:09] session.
Yeah. No, I think that's great.
And you exude such a caring, sensitive nature. I can see where individuals that you work with probably definitely feel that. And you're very genuine, which is I think so key to being a good therapist, as well. That genuine… The [inaudible 00:27:27] of it, too.
Yeah. Well, and I think that's why it's important. I mean, it's not for every clinician, and if you have a very strict CBT approach, but I do think doses of genuineness can be built in. The take-home message, I think, for clinicians is: It's not going to hurt. You are not starting to become some blurred person who's talking about their divorce in the other person session. And I think it's really important to, if you have not tried at least to hone that craft of bringing some of the real you into session, try it. Go back to your grad school days.
We had to try stuff. You were not perfect when you were first starting out, so trying something new now is not going to hurt you. It's only going to make it better. But you do also not have to be in isolation when you're trying these things. You want to talk about if you tried something new in a session and you feel ridiculous because you were stumbling and it didn't go well, and did you harm your client or your patient or the individual? Talk about it. Definitely talk about it. I want people in the world to know that we're growing as people, but I really want to give clinicians the permission [inaudible 00:28:46].
Yeah. Yeah, I think that's key: for ourselves to give ourselves permission to grow people.
Yeah. Yeah, definitely. And I think there's a little curiosity out there, like, "Have all therapists been through stuff?" And I can't really speak to that, but I know I have. And it's not that becoming a therapist is my solution to that. Definitely not. But I have been disappointed by therapy. Certain traumas were not identified. No one kind of brought it out of me. But that's why it's so important that people understand it's a relationship, because you have to be sure that you're going to trust this person and then you bring it out together. [inaudible 00:29:31]-
I love that. Bringing I tout together.
The clinician kind of goes like, "I went to the therapy session and she didn't even pick up on that." And it's like, well, because you have to wait for the trust, and you're going to trust yourself to reveal more information, tell your story in a different way each session, even though you think you're talking about the same thing. And once the clinician starts to really know you, they're like, "Wait a minute. I think you're holding back there."
"Wait a minute. Why was that language all of a sudden like a younger you? I got a vibe that you were like a younger you all of a sudden," and then it opens as [inaudible 00:30:05] should.
Everybody's had that feeling of when a relationship gets deeper and you're like, "Oh my God, this is so cool. I know so much more about you." Well, therapists feel that way, too.
[inaudible 00:30:16] get to know more, we're like, "Ugh, now we can really get you past your pain points or help you understand what's happened to you in your life and who you are right now, sitting here talking about this particular problem at this particular time." You can see, as I get really into it, I get so animated.
I'm so proud of people working on themselves, and it just so good for the world we're in right now.
I can see your passion with all this, too, Melinda. You definitely sound like you being a therapist was your calling.
So, I like to say… I know we're probably winding down. I like to say that I kind of… So, in the pandemic, because I don't have as much contact, or didn't have as much contact, with my colleagues, I was writing a lot. And I realized one day, I'm like… I call it my "by accident" book, because I started by accident writing a book. And I think I'm going to call it Therapists are People Too, in the hopes that therapists can see a way that they can work on themselves but also bring it into session, but in the working on themselves, take care of themselves, too. And then, people can get a real understanding that we are in therapy, too, with you. When you're doing the work, we're kind of doing the work, too. And that we really are rooting for you.
We want you to work on what you need to work on, and then maybe stop working on it and come back again, if something else comes up. I don't want to minimize that, yes, we have a DSM and diagnosis is important, and some symptoms are symptoms. Like when we did the podcast for bipolar, you're not a bad person because you're in mania and there's not a better way to think about your mania. But also, too, if you address yourself as a person and what's happened to you in your life, and you're just healthy with all those painful points that never got processed, actual symptoms, if you have panic attacks, if you have mania, if you have deep depressions, will actually improve. Because when you feel better, when you feel healthier with your relationship with yourself and your thinking, you think about other people better, and that actually changes your chemical makeup. So, I could go on and on and on and on how wonderful therapy is for [inaudible 00:32:47]-
… the whole world. But I do really think it's about, for clinicians, trust that you are having about a million relationships a year, so take care of yourself; because you're not just providing a service, you're in multiple intimate relationships. And for people, trust that this is a real relationship, so when you start building the trust, don't get scared. Don't drop out of treatment. Keep going. It's going to be wonderful for you and all your different systems that you participate in: your family, your friends, your work, your community. The pandemic has shown us almost politically, at large, we become all of the same viewpoint, because we're all just wanting to be better. Be better humans.
Exactly. Thank you, Melinda. Again, your dedication, your genuineness, your passion all comes through. And I wish you well on your book, too. I think that's a great idea. I said it out loud, so now it has to [inaudible 00:33:53] out there.
Part of the trick. I had needed to say it out loud so I actually finish it one day.
Right. Right, right. No, best of luck with that. And thank you again for being on and sharing your knowledge on this.
Thank you for the opportunity, Nicky, and all your ways that you're offering opportunities to so many of our clinicians feeling like they have a voice in whatever their specialty is. Thank you so much.
Convos from the Couch is produced by the amazing team of Jason Clayton, Chris [inaudible 00:34:23], and Juliana Whedon. Please subscribe to Convos from the Couch on Google, Apple, Spotify, or from your favorite podcast platform. Thank you for listening.