podcasts
Therapy 101: What to Expect from Therapy – Podcast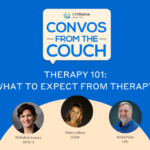 By LifeStance Health on September 28, 2022
Haley Lafferty, LCSW & Kevin Foley, LPC join Nicki Leanza on a panel discussion on what patients can expect from therapy, how to interview a therapist on the initial appointment and self disclosure.
Welcome to Convos from the Couch from LifeStance Health, where each episode, you'll hear engaging and informative conversations with leading mental health professionals that will help guide you on your journey to leading a healthier, more fulfilling life. Hello, everyone, and welcome back to Convos from the Couch by LifeStance Health. I'm really excited for this episode today because I'll be talking with Haley Lafferty and Kevin Foley about what to expect from therapy or Therapy 101. So great to have you both back on, Haley and Kevin.
Good to be here, Nikki. Hey, Haley.
I actually didn't introduce myself. I'm Nikki Leanza, so great to have you both on. I'm glad to be here. I am really excited to talk about this topic because I think for people who are maybe not too sure if they want to start therapy or what it's about, this could be a great episode, helping them understand what therapy might entail, what to expect, things like that. Again, I appreciate you both being on, and we have a specific questions for us right from social media that we'll actually be asking and then we'll all take turns putting in our two cents and answering and stuff. Let's start by, I know you both have been on before, but Haley, let's have you jump in and tell us a little bit about you.
Yeah, thank you. I'm a licensed clinical social worker down in Colorado Springs, and I have been with LifeStance for about nine months now.
Great. Great. Great to have you back on. Kevin, what about you?
I'm a LPC, licensed professional counselor. I'm in Tulsa and I'm not with LifeStance yet. I'm going to be picked up with them in October. We're really excited for the transition. Before becoming a counselor, I was a teacher and administrator for about 25 years, so I'd like to say I've been counseling for almost 30 years now.
Kevin, you have a natural way about you, though. I would never have guessed that you haven't been counseling for very long, and you as well, Haley. You both share so much knowledge and appreciated having you guys on before on the topic, so that's why I thought you two would be great for this episode as well. All right. Why don't we start with our very, very first question, which is, "How to interview the therapist on the initial meet up?" So when you're first meeting a therapist, that first session, it might be online, it might be in-person, but how to interview a therapist? Do we mind starting with Haley? What are your thoughts on that?
Oh, Nikki, I was hoping you wouldn't come to me first. I was trying to process this too, just from my experience of looking for a therapist, from my experience of doing intakes. I think that for a lot of new clients there can be this power dynamic in a way of, "They're the therapist. They know more. They're interviewing me, what are they thinking about me? Am I crazy? What are my problems?" All this dynamic happening, and so I think that sometimes that can play into a factor of not recognizing, "Wait, I can interview a therapist too," that there isn't this really strong difference in power. Really, I'm just here to support you as a client. So I think thinking about that when you meet a therapist of your opinion is just as important, if not more important, because this time is about you. So asking questions, "What does your history look like? What interventions do you use?" I've been asked, "What's the best part about your job? So I think just any questions that you feel like would be important to you, go for it, ask it.
I agree, Haley. I don't think people realize it could be a back and forth. Yes, we're meeting you and maybe doing our own assessment, but it's likewise, you're also getting a sense of the therapist and assessing them if they're a good match for you and things like that. I think that's really key of it's a two-way street. Kevin, what are your thoughts?
I liked the question using that word "interview" because I think it is a two-way street. I like the word match. You are looking to make a good match there so that you can have a good relationship going forward, and I agree with Haley on the power dynamic. Sometimes they may feel that there's a difference in that power. I could tell you a lot of the counselors that I work with and that I really respect, it's a helping profession, so we're in there to help each other get better, right?
So if you're in there with that mindset of, "I want to know about the process and the counselor is there to help me feel comfortable in that process," and that's what you're looking for is that comfort level. It doesn't mean you have to know the process, that's why they're the expert in that process, but you get to learn and find out about that so you feel comfortable in that process. It sounds like the person asking the question felt good about that and understanding it can be an interview, but that doesn't mean you know it all.
So you're going there for that expertise, but you are the expert in you and they're the expert in the process and together you're going to get to that better place.
I like that you emphasize that, Kevin, that you're the expert on you. I think sometimes people give away all their power assuming the therapist knows everything about them or going to figure it all out. It's one, it's a team approach working together, but truly the client, the person seeking therapy, going through therapy, there's still the authority on themselves. I think that's a really good point for sure. Jumping back to, we were talking about interviewing therapists. How about finding a therapist that's a good match? Kevin, let's have you start with that. How does one do that?
I think the first part of that is understanding that there's a lot of different therapists, and just like there's a lot of different people, so you can find a good personality match like somebody who fits you and works with you in a way that makes you comfortable, and there's a lot of different types of therapy out there. Some therapies might be a better match for you and how you want to work through what you're going through, or what kind of an issue you're trying to seek some help with, so the therapists themselves will understand their style and their approach and their strengths and they'll be there to let you know whether their strengths fit your needs. Then your job is to say, "Well this is a person with whom I feel comfortable," so together you'll find a good match there, hopefully.
Yeah. I always recommend that if therapists offer it, because I know not every therapist does, but even doing the 15-minute consultation check-in, seeing what that felt like, instead of going through the whole intake process. That can be a lot for a new client of just gaining history and then at the end realizing, "Wait, I don't think that this is a good match." It can be really exhausting. So I always recommend that 15-minute phone consultation. You can ask your quick questions. You can get that good feel of the person right off the bat.
I think if you don't have the opportunity to do that, I always forewarn new clients that the way that I present on an intake is not the way that I'm going to present on a day-to-day session, just because it's so much information gathering and we're just rattling through those questions. But there's little space to build rapport and to talk about each other and just get to know each other. So I would also suggest that if the first session feels a little off, feels a little weird to maybe give it some more time just so we can actually get a good read of who the therapist is after that.
I agree wholeheartedly, because that first session really is, yes, it's about rapport building, but it's also about really taking in the client's history, their background, getting to know more about them. It's just a lot more question-based, so it might not be what a typical therapy session looks like. You agree with that Kevin as well?
Absolutely. Absolutely. I think that's a really good point that Haley makes there, that's oftentimes that intake is a very different format than a session or an ongoing appointment might be. I know that I would have presented that way; there's greeting, there's the welcoming and then, "Here's what we're doing today." You'll be given some set-up of what the structure is. Then as you're closing, I know one of the lines that I often give is, I'll talk to them about it's important that they find somebody who is a match, and that if I am not that match, my job is to help you find that match.
I happen to work in a group practice so I say, "I know I've got a lot of friends here on this hallway and I'm sure if we're not somebody, we can help you find somebody," and that's really an obligation that we have together to find that. But in that same breath mention, like what Haley does, is that "Here's what it might be like for us as we move forward, but today it's very important that we just get this stuff together so that I can do a better job of finding out if I'm a good fit for you and if you feel like you're a good fit for me."
That actually really leads us to our next question here of, "How can someone communicate to the therapist that it's not a good match from the first appointment?" Any tips of how one can do that? I guess, Kevin?
Well, that's one of the ways that I introduce that as a topic, and I'll pause there to give them the opportunity to let me know even right to my face, which is a very difficult thing to do. I've had some people say, "Yeah, I don't think this is going to work," which is very empowering. I think that's great. That's them taking one step of control over where they're going. I've been in this situation where I've had an intake on my schedule and never a follow-up. That's disappointing. I always wonder, "What is it that was the issue?" It could be anything. It could be from scheduling the only thing I had available they couldn't fit into, or they just didn't feel a connection there and they wanted to go in another direction, also fine.
I let them know it's not going to hurt my feelings personally either way, because we are there to find that match. The people seeking the help should understand that, that it's not going to be a personal issue either way because the importance is finding somebody that is a good match for them, so they can say that. They could say, "Actually, I was hoping to have a female therapist or a male therapist," or, "Do you know or could find somebody who does CBT or EMDR?" Or, "I've read a lot about this," or, "Do you know somebody who does more systems things?" Or, "Sounds like you're looking for an LCSW and we have several those in the area." That's a way to keep that conversation going and finding that fit.
Yeah, I agree. Haley, your thoughts on this?
Totally agree. I've done intakes before where they will say, "I want someone who's older," and that's totally fine. I think it's our job as therapists once we go into that setting that we try our best to not take anything personally. This is your space, your time, and it's really there so that you feel supported. So if there's something that who I am, what I'm doing that's not allowing you to get that full experience, tell me, because it's our job to help set you up with that. I always try to do the same thing, Kevin, of "Let me know. I would prefer it to be an active conversation so that I can support you in finding someone who can be a better fit," but I also know for some people ghosting me might be easier. They don't want to spend the extra time to tell me that it's not going to be a good fit. That's okay too.
We're not taking it personal, I think that's the biggest thing.
We're not taking that as a personal slight or anything.
Yeah. I think if we do take it personally, then that's on us to do our part outside of therapy.
Yeah. I think it goes back to a little bit of that power dynamic of like, "Well, is it okay to tell my therapist that I don't like them?" At the end of the day, we're all therapists here, but we still have our own personality and approaches and I'm very well aware that that's not going to work for everyone that I meet.
Gotcha. I think what we're all saying here as well is that we're also working to make sure our clients have a good fit. If it's with us, great. If it's not, that's okay too. We can hopefully recommend other people that maybe might be a good fit too. So I think that's helpful for potential clients to recognize that we're all on the same team trying to make sure it's a good therapy fit because when that fit is there, it makes therapy all the better, which I'm sure we'll talk more about that as we go. All right.
Nikki, if I could just share one thing.
In our group, I've got probably three or four clients that I've inherited from some of my colleagues because they just got to a point in their therapy where it wasn't a good fit anymore because both grow, right?
The therapist and the client or after one intake, the client will call the front desk and say, "Is there somebody else that I could see? That wasn't a good fit?" That's a normal and natural thing that the front desk handles, so that's what I would like the person asking that question to understand is that's typical and that's not an unusual thing that they should feel uncomfortable about, so just to ask the question and just say, "I really appreciate your time today, but I don't think that this is exactly what I was looking for. I'm going to see if I can find somebody else. Is there anybody that you recommend?" He says, "Well," and there'll be a list of five, six around that we could try to help you find that direction.
It makes me think for those people who maybe struggle with being assertive here we are, three therapists saying you have permission to do that. You have permission to seek the correct match and good match for you.
Jumping to the next question, does the therapist have a hard time relieving the weight of others' problems from their own mind at the end of the day? Haley, let's have you tackle that one first.
I'm processing. I think it goes back to what we were saying before of if I am having a hard time after a session, that's part of the work of being a therapist, "What came up for me? What's in my history that this is really hard for me," seeking consultation from other therapists, using my coping skills, my self-care. But I do think that it's important to know that therapists care about their clients. So I don't typically just end my day and I never have a thought about a client again. It comes up because they're part of my week, they're part of my days and that's just a normal empathy reaction. Again, it's on me to manage that and do the self-care through that, so I think a little bit of both, you recognize that it comes up for you and then you just navigate it as it comes.
I agree. I know for myself, I am someone who has a lot of physical energy, so sometimes even maybe between sessions, if I have a moment or two I might walk outside. I might just try even sometimes it's shifting gears, because a lot of what we're doing is therapists, we're shifting gears, especially if we have clients back-to-back-to-back, it is a shifting of gears from one client to the next client. I know for me, just getting you and stretching my legs, even if I just need to walk around our office space helps me shift that gears and come back from my next person. Kevin, what are your thoughts?
Absolutely. Right there with Haley on it can be a difficult tightrope between being very present with the client in the room and very much with them and whatever's being shared; whether it's, I'll use the expression light and happy and joyful about whatever they're sharing in a success, and then the next client might be really in the middle of something very challenging and struggling. So you're with them, and you're very interested in them being successful and caring about that. By using the skills that we are aware of, we can cope with that hopefully pretty successfully, but we do believe in our work and so therapists have therapists and it's an important part of what we do because we do believe it works and it works very well for us.
I think it's a balancing of those things. In general, a day goes by that we can manage what comes our way and then there's regular check-ins that we do to make sure that we are keeping that under control. But there are times that you just have to take an extra beat just like humans do with their regular day. You have a good day and you have a more difficult day, so we have the things that we do to manage that. I wouldn't say that every single appointment every day is a problem for a crisis. I think sometimes that's what people might picture, because when they're seeking the help, they may be an extreme, but a lot of what we do can be very rewarding. So that gives us the plus energy to go into the next kind of thing.
I agree. Next question here, "What does the relationship with my therapist look like?" So I think this question is about as you get set up with therapy, what's that therapeutic relationship going to look like? Kevin, let's start with you with this one.
I think it can vary quite a lot, obviously, depending on whatever the issues may be and whatever help you're seeking. I have some clients that I might see once or twice a year because they just want to know that there's somebody out there in case. I have clients that I see maybe multiple times a week because they're really in the middle of something. I think of the most popular things is a holding space. It's just a place that you are heard and understood or comforted. Sometimes it's like a lifeguard, like when you go swimming you might never need it, you might never use it, but just knowing that there's somebody there. So if Tuesday's hard you know you can get through it because on Thursday, "I get to go see Kevin. So now I can manage Tuesday because Thursday I'll be able to process this with Kevin and that helps me get through Tuesday, right?
There's a lot of different uses for therapists, so your relationship can vary just as much as the issue, the person, the frequency, all of this varies.
Yeah. I actually feel like that can really connect to what you're looking for in a therapist. I think that we've talked about this before, us three together, some therapists self-disclose as a way to connect with their clients. For me in my practice, I don't self-disclose very often at all, which can make maybe clients feel disconnected from me or it can really give them more space to talk about themselves. It's really a matter of what's going to work for you and the relationship.
I think that sometimes there's also this misconception of giving advice of, "I'm going to therapy because I need advice on a problem." For me, bottom line, I don't want all that power. I may not have ever been in your situation before or maybe if I have been, it still is probably different, and you don't want to be giving someone else that power either to make a decision over your life. I think there's this idea that, "Well, I'll just get advice and then my problem will be better," but the goal is to empower you to make a decision of what's best for you. I don't know, what do y'all think about that?
I think you're spot on there, Haley. I think one of the issues I think that we're coming across in some of these questions is, what is that preconceived idea of what therapy might be? "I have to go in there and they'll tell me how to fix what's going on." I think some people might actually get frustrated by that when they go and see somebody and they find out that, "Here, take two aspirin and call me in the morning." It's not like we have the answers, that we know everything and then we tell you what to do and then you go and do it. Oftentimes, it's supporting you and finding all those strengths and answers that are within you already, and we may be helpful in the unlocking and the revealing of that. So that's what the relationship is, is actually helping you find those strengths, because there are so-
… because we may know a lot about how humans can find those because there's so many different challenges and issues that we could not possibly be expert in all of the challenges and conflicts and struggles. But the way humans process and respond to those are the things that we are pretty knowledgeable about and can help you navigate through as you share with us what you are an expert on, which is you. Right?
Here's how I chose to respond to that and this is what the challenge turned into, so I think Haley's really spot on on that one.
I think this butts up against the question of, what can a new client expect from therapy? I think we've already made note of, don't expect just advice. That's not our role. We're here to empower you, help. I would just maybe say loosely guide, because what we're doing is reflecting back what we hear you saying about certain decisions you're trying to make and things like that. I think there's a lot of preconceived notions and even maybe how the media might portray what therapy looks like can work against really maybe what actually happens in therapy and stuff. I don't think people expect to get tired after their therapy sessions because it could be really emotionally draining. That is something I share with some of my clients, or even I run intensive outpatient groups and people are often very tired and need to take a nap after those groups because you're emoting, you're navigating through, you're trying to understand yourself, so it could be very emotionally exhausting too. Haley, your thoughts on what people can expect from therapy?
Yeah, I think that's such a great point, Nikki, because I've actually had to provide some recent psychoeducation on that a little bit too of therapy has so many benefits and ultimately, it does empower you and you do learn coping skills, but in the mix of all of that you're learning about yourself and relationships may change and dynamics may change in your life. With that can come grieve of recognizing, "Oh, my gosh I didn't feel empowered before. I didn't advocate for myself before. Why didn't I do that?" So it's a long process of having to almost aggrieve that version of yourself as you learn new skills, and so with that there can be sadness, there can be some anger. I think that that can be really, really hard for clients as they're learning because they anticipate that things will just get better and unfortunately, it doesn't work that way. It's not to say that you're not getting better, you're just going through that life cycle of grieving and learning.
Kevin, anything you'd like to add?
I honestly don't think so. I really appreciate what Haley was sharing there, that it's a process that takes time but it's not just straight up. Sometimes there's a little downshift and then and up because you have to realize those things. Nicely done.
I think that makes me think treatment isn't linear, therapy isn't linear, it's not going to just go in a straight line. Right?
Again, lots of preconceived notions, I think, was what people were thinking that you should be expecting from therapy. It's setting those aside and realizing it's not a linear process. It is a process. There's ups and downs. It can be intense. It's all about, also I'm going to go back to the therapeutic relationship, and a good match, so many different spinning wheels that really make good therapy, I feel. Jumping to the next question, "What are some appropriate things a therapist can share with a client?" We alluded to a little bit of therapists' self-disclosure and we've had these conversations this week before. Kevin, what are your thoughts on things that therapists can share?
As Haley was bringing that up, I started to process that a little bit, and I think a red flag to look for as a client is, to what degree are you comfortable with a therapist's self-disclosure? We as therapists have rules as to how much self-disclosure we're supposed to do. It's supposed to be productive and important to the process of helping the client. I have heard stories and warnings about therapists who all of a sudden make the session about them. If they're going off and on about telling you about their life and what's going on with them, it's now their therapy session and that's not helping you at all, so that would be a glamour don't. So you want to make sure that whatever story or disclosure that the therapist is making is helping you with whatever is going on with you and helps bring you, feel part of your processing.
I find it very hard to believe that whatever Haley is not sharing is making her feel distant from the client. So I'm just put that out there right now. Sometimes being a blank slate if you were, allows the space for them to fill it with what they're doing. It allows them not to feel shut down, because if I were to go on and on and on about all these extreme sports that I participate in and if the client is somebody who prefers to sit home and watch movies, they may not feel comfortable sharing more about themselves because they're not going to appreciate me, because all I like to do is stay home. There's nothing wrong with that. What you'll find is therapists are very open and welcoming of all things regardless. So that's why disclosure can be a double-edged sword. What you share can be a closing of the gap or it can shut down what the client is thinking, so it's a very delicate thing to manage within the session itself.
Good word to use, delicate.
Yeah. I really appreciate what you said, Kevin, because I think in our education as therapists they do teach you to be a blank slate. I'm more so mirroring what you're saying in the session, bring up that you really like movies. "Okay, well, let's talk about a movie that you really like." I'm trying to align with you and it's not to say that it doesn't align with my interest, but this space is for you. I think that that can feel really uncomfortable to new clients because maybe they've never had a space that's about them. So there may be this need of, "I want to know more about you," and as therapists we're pretty much, in my education, they talked about if someone asks you a question like, "Are you married?" Well, then you ask, "Why would that be important for you to know?"
I know that that seems really irritating [inaudible 00:29:45] because it's like, "Just answer the question."
Right. Right, because we don't like a regular human that way, right?
There's a natural discourse of conversation, so if you're just pushing it back on them, it might put be off-putting for the client perhaps.
Totally. Yeah. It's a really fine line for me to walk because I don't want to be annoying, but it's also this moment to empower you of, "What are you aiming at? Are you trying to connect with your therapist or maybe this some resistance? Maybe you're trying to find a reason to not talk about a certain subject. What's really going on here?" So it is often a redirection of, "What's your motive? What's going on with you?" kind of thing, but that can be irritating.
I know for myself in my own gauge of what I'm choosing to disclose about myself or not, my first question to myself is always, if whatever I'm sharing is, "How is this beneficial? How will this be beneficial?" So that tells me if I go through, "Is it for me or is it for them? If I have, "Okay, for me sharing this, this is going to help build a rapport and then this might show them that help deepen the therapeutic connection, then I know it's appropriate," so that's just something I do. I do that little step of, "Is this me disclosing for me or is it a benefit to them?" If I'm saying it's a benefit to them and how that would be, then I disclose.
So that's just a little bit of how I do it, for sure. Jumping to this next question, which sounds like it's from, actually maybe an adolescent, "I want to seek therapy but my parents say that I don't need it. Can I still get therapy?" Let's talk about that. Actually, I think in different states it might be different rules. I work out of Ohio and I think in the laws of the Counselor and Social Worker Board of Ohio, it is something like a client who's underage can have a certain amount of sessions without parents signing off yet, but I don't know. What is your guys' thoughts on this question? Haley, go ahead.
I would say depending on the age, I believe here in Colorado it's 14.
From there, they technically can sign the paperwork for therapy, so I would say if you feel like there's a need for it, go for it. I actually think that that's a really great skill, especially as an adolescent to recognize, "I'm going to advocate for myself. This is something that I feel like I'm interested in," and to do that. I think that's what I would have to say. Kevin, what do you think?
I think Oklahoma, I believe 14 is the age of consent as well for the paperwork. I'm pretty sure the biggest hurdle we're going to have is payment, right?
The adults are going to be the ones that are going to have to pay for it. That's, unfortunately, probably the biggest challenge. I don't want to get off to the whole political and payment of it. If we're in that age of school age, then we want to try to access somebody, perhaps a school counselor or somebody like that that we can bring on board to help advocate to get the counseling to happen. So the first answer is, yes, absolutely. Seek somebody that you can find to counsel. Maybe it might be a pastor or a counselor, church, community, something like that that you can get to help you need, because the one thing we want to do is find the resources so you can then get the help because you deserve it. What happens a lot for me is when I'm dealing with adolescence is the intake paperwork will come in with this issue and then I'll get the client in and we'll get to talk about what actually is bothering the client, right?
Because, "He's a jerk. He's mean. He's disrespectful, blah blah blah." But then once you have the space that's safe and that's his or hers, you get to actually deal with what really is bothering him. It's just that behavior is what it manifests as, and that's why I think it's important, so whatever that might be. Seeking the help is the important thing. I think a lot of what seems to be coming through the thread of what we're talking about is the space is the clients, right?
We have confidentiality agreements with all of our clients. We can't share what they say except for those exceptions of self-harm or abuse or an agent from the court, so that what they get to talk about is protected and that's important.
That's definitely important, for sure. Our next question here, "Can I bring my emotional support animal to office visits?" So my first thought, because I think this is a topic that I know I will get asked specifically, "Can you write me a letter for my dog to be an emotional support animal?" Things like that. I think previously there was a lot of loosey-goosey thinking about this and it is actually a more formalized process to have an emotional support animal. I know I realize I'm not answering this question. I think from my point of view, if it's truly a documented emotional support animal who's trained to emotionally support you and not just your pet, of course, you can bring your emotional support animals to the office. What are guys' thoughts on this? Kevin, what are your thoughts on this?
If I'm understanding the question is, it to the session or are they asking for-
It looks like to the session-
[inaudible 00:35:39] to the session, yeah.
I think that's what we look for is certification that the emotional support animal is a qualified and certified emotional support animal. That would be a threshold that would have to be met first, regardless.
Any service animal, I think, has permission to be in public spaces. If it's a private space, then you can do whatever rules you have. Because I work in a group practice, we have a policy on the service animals or emotional support animals have to be qualified and certified as such.
Assuming the same for you, Haley, as well where you practice?
Yeah. Yeah. I agree with y'all. I was actually thinking whenever I saw that question that I've never had someone bring in an emotional support animal before, so I thought that was a really interesting question, but totally agree with both of y'all. I feel like if the documentation is there then we're good to go.
The issue that I've had to deal with in the past is we've had clients, it was an agency who've had emotional support animals, but I've had other clients who've had fears of dogs and cats, and so we've had to arrange for ways just because the schedule worked out where a 1:00 client had an emotional support animal in the 2:00 had a fear of dogs, and so we had to find some way for them to both occupy space in a safe way. So it gets challenging sometimes.
Yeah, it definitely can. We have about four more questions.
So our next question is, "Why is therapy so expensive?" So this is very much one of these, "Hmm," I'm going to throw you out there first, Haley. What are you thinking? I'm trying to give you some time to process this delicate question here.
I know. I feel like all of the questions, I'm like, "I got a process for a second."
I think one thing to remember in terms of finances is there's the session but there's also the documentation process that happens afterwards. Then most of the time the clinician is not getting 100% of that payment, so it's going to the office space, it's going to administration, it's going to the referral team, whatever else, it's being distributed. I think sometimes there's another misconception that the payment that they're paying for the session, I just get to pocket all of that and that's not the case.
I think that's what I have to say for now.
Yeah. No, that's a good answer. That's a good answer. Kevin?
I just really like caviar, and so it's critical that I get to put a pool in my backyard and I eat caviar in it, so I charge a lot of money for what I do.
So there we have it. Good answer to that question. There we go.
No, it's ridiculously expensive, unfortunately, I don't appreciate that. I'm right there with Haley. All that gets charged for a session does not come into my pocket.
I'd like for more of it to come into my pocket because I like what I do. I would like to paid for what I do, and I don't do it for that. I do it because I really do enjoy the process of what I do. I think there's awful lot of other things that get put into the process of doing it that make it expensive. Whatever the bureaucratic process of insurance is, I think makes it really difficult for people to get the access to what they really should have.
I think it's more expensive to not get the help, unfortunately.
Want to make sure that I know there is a lot of offices and groups and things that'll work things out with clients, whether it's a sliding scale or it's a payment plan or something like that; otherwise, it's the caviar.
Next question here, "Will my family or friends know what I tell the clinician?" We know there's confidentiality and there's limits to the confidentiality. Basically no, unless there's a consent giving us authority to be able to probably talk to loved ones or whatever, so we definitely have to have a consent that's signed saying it is okay for us to talk to whoever is put on that signed consent, but there's a confidentiality to things. We're not just going off and telling your business to whoever. When I mentioned the limits of confidentiality, we got the limits of, especially if you're a child, adolescent, younger person under 18, if you're telling me someone's harming you in a certain way, I have a duty to warn, to tell. If you're telling me you're going to harm yourself, and this isn't just for children and adolescents, but for adults, its anyone at any age. If you're telling me you are going to harm yourself, you're thinking about killing yourself, again, my job is to keep you safe. Kevin, let's have you start with what are your thoughts on this?
Yes, I think the confidentiality is a critical part of what we do because the safety of that space and being able to process things out knowing that it stays there I think is the freedom that allows a lot of this because otherwise, they would just hopefully be able to talk to somebody else about it like a friend or parent or any other adult that they trust. A lot of what can happen in the space is workshopping and just running things by, and "Am I crazy for thinking this?" Or, "Do other people think like I do?"
Sometimes there's a lot of the issues that we deal with that make people feel very isolated, and so just being able to say it out loud can be very freeing and to get validated in those thoughts and those feelings. So you have to be able to share that knowing that won't go beyond there, and especially when I'm dealing with adolescents and children the and I'm going through the confidentiality and limitations thereof, I talk to the parent in that same breath and say, "So you can be at ease about is whatever's not being shared with you is not a threat to your child's health or safety."
That's fair. That's important.
"Anything that is a threat to your child's health and safety will be shared with you, and anything that I think you should know about, we're going to work out a way to let you know about, either he or she will let me tell you or will tell you with me next to them, because anything that is of danger has to be shared in some way."
So I think the parent gets rest a little bit with that and then the child knows that they've safe space in which to work.
Haley, anything you'd like to add to that?
I think that that's a really great mind in that you [inaudible 00:42:56] kids and adolescents. I'm totally going to steal that from you because-
It just seems like super reassuring for the parent and then also validates the confidentiality for the kid, which I think is amazing. There's been some clients that I have that say, "You're the only person that knows about this," and I know that's just due to the space. I don't know these people, I don't have a relationship with these people. Back to our earlier point, we are supposed to be unbiased. I am supposed to be a neutral slate. So I think that because of that confidentiality, it really creates a safe space where you can actually talk about things that may have felt really challenging before with other people.
I agree. Two more questions. The second to last one is, "What do I do if it feels like the clinician is not listening to are validating me?" Haley, what are your thoughts on this one? This is a tough one because if the client is not feeling like the therapist, the clinician is not even listening to them or validating them, I would be thinking that would be really bruising the therapeutic relationship. What are your thoughts, Haley?
Yeah. My first instinct is ditch the therapist.
The ultimate goal was to be heard and to be validated and to be listened to, so I think that's my initial reaction. It might be worth it to bring that up and say, "I'm wondering if you're listening to me. I'm not really feeling validated." It may be a specific intervention that the therapist is trying. It may just be a misunderstanding, but I'm all for if you're feeling uncomfortable and you're feeling like you're not getting the most out of your therapy sessions, find a different therapist, [inaudible 00:44:52] give someone else a go.
I'm with Haley on that one. I think as I was hearing the question, I was thinking of an individual session, but certainly if it continues, that's time to find a new therapist. But if it were one or two sessions, we are humans too, and if we're off our game it would certainly be considerate to let us know, "I feel like you're not hearing me," or, "I feel like you're not listening to me today or the last couple of sessions. I just feel like we're not connecting." Something might be getting in the way there. If you were doing it to us, we would call you out on it, right?
Like, "The last couple like times I just feel like you're being really surface and we're not getting into anything. What do you think about that?" It's fair game for you to call us out on that too if you feel like we're just not filling it in. So maybe it's right after lunch and I have turkey [inaudible 00:45:49] I'm just not fully there for you.
You deserve it and I owe it to you to be present with you in that session if I'm not giving you my all.
I think there's a difference here, if it was one session, that's one thing, because maybe it's just shocking. It was just after lunch, you're little tired yourself as a therapist or whatever. Maybe there's other things going on in your personal life that you're trying to navigate. But if it's a series and a theme and a pattern, then that's, for sure, something to definitely speak up or whatever. That's not to say don't speak up if it was one therapy session because I'd want my own clients to speak up and let me know if they're feeling some way about that, but definitely if you're seeing a pattern of it, for sure, that's an issue.
Previous question of how expensive it is, you deserve 100% of us all the time.
Yes. Yes. I agree. Last question, and I really like this question and I think it's a really interesting question and a very important question too. "Can you do self-therapy on your own?" Kevin, what are your thoughts on this one?
I think the easy question is yes, I think it's challenging because I wouldn't want to take my own kidney out, but I could look that up on the internet too.
There's a YouTube video for it, I'm sure. I don't know if you-
It's just a matter of, it's challenging.
Do you know what you're working on? Do you know what you're getting to?
Do you know if you've gotten there?
Right. How do you objectively observe yourself? At least in the therapy session you have someone, I often use this analogy with my clients. I'm not in the woods with you. You're navigating the woods and you're seeing things through your lenses of struggles with anxiety or depression. I'm not in the woods. I can maybe be at a bigger perspective to be like, "Okay, I see what's going on here to help you process things like that," but I think we know there's so much online, so much on social media, TikTok, TikTok, University, isn't that the new thing?-
… lots of kinds coming in. "I saw this on TikTok. Is this a thing?" and stuff, so there's a lot of information out there. A lot of that information might not be correct, and two, I think sometimes it is hard guiding yourself through it. It is really helpful to have a therapist, to have someone else there to give you their expertise, their knowledge of what we went to school for this. Haley, what are your thoughts on this?
I really like what you said, Nikki. I totally agree with that. I feel so many different things on this question because I think, ultimately, what you can do is you can maintain and you can manage with the skills that you may have learned maybe online or through therapy like coping skills and you can apply them. I think you can gain insight and mindfulness and so you can start to be more aware of your body and the way that you're interacting with others. One thing that I really work on with clients is, "What are triggers for depressive symptoms? How do you know you're feeling depressed? What does it feel like to not feel depressed?" I think the more that you gain insight, the more that you become aware, and so you can help navigate yourself through those things. But I am super weary about TikTok therapy or Googling because not everyone is going to fit into this box.
So I think this could be very defeating if you see something on TikTok, you try it, it's not working. Well, maybe because this person is just different than you and so it's not going to work and that objective piece, Nikki, of it just is really helpful, going off of what Kevin said before, I see a therapist. So even with the education that I have, it's still helpful to have a therapist say, "Did you notice that you did this, though?" and I won't. I won't notice it. I think there's just something really beneficial about having a third party looking in.
I agree. Kevin, anything else you'd like to add to that?
I would say, I say to a lot of my clients, "My job is to put myself out of business with you. It's my job to not have to be there." We do that third person, 10,000 foot kind of guidance, and then once you're able to maintain and do it on your own, as Haley was talking to then you're off. Then you've got those skills to maintain.
One of the challenges I think when people are doing it on their own is when you're a hammer, everything looks like a nail, right?
So, "I'm pretty sure I've got borderline personality disorder," so you'll go research borderline personality disorder and you'll find everything that matches that.
"Well, you've got … " What am I thinking of? "Confirmation bias."
Confirmation bias, right. Yeah.
So now everything's going to fit that, and then you're going to look up all the TikToks these on that and you're going to try all that; whereas, we're coming in with a much broader perspective. You're the expert on you. I keep hitting that, and then we have the unbiased view of that to say, "Well, I think it might actually, from what I'm hearing, be something more like this. We might be able to get you to someplace a little bit quicker or simpler." So yes, it's possible, but I think it might be more efficient to go with one of us.
I agree. With that being said, Haley, Kevin, you both are two amazing therapists. Thank you for sharing your knowledge and answering these questions. These are really great questions and I hope it's this episode-
Those were awesome, yeah.
Right? These were really great, and I hope this episode really does help someone who's maybe still sitting on the fence about attending therapy or not. I think we did a really great job answering some of these key questions, so thank you both again. I'd love to have you both on again, for sure. Okay?
I'd love to do it. I'd love to see it, yeah.