podcasts
Therapy 102: What Does Good Therapy Look Like? – Podcast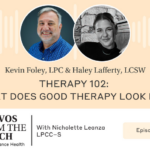 By Jason Clayden on November 30, 2022
A followup to our therapy 101 episode where we talked about what to expect from therapy. On this episode, Haley Lafferty and Kevin Foley help us dig a little deeper and explore what good therapy can look like, as well as answer some other questions about the therapeutic experience.
Listen and Subscribe Here
Welcome to Convos from the Couch from LifeStance Health, where each episode, you'll hear engaging and informative conversations with leading mental health professionals that will help guide you on your journey to leading a healthier, more fulfilling life.
Hello, everyone, and welcome to Convos on the Couch by LifeStance Health. I'm Nicki Leanza, and on this episode I'm excited to have back our guests, Haley Lafferty and Kevin Foley. And we'll be talking about what can good therapy look like. So welcome back, Haley and Kevin.
Yes. Yes. So this is a followup to our therapy 101 episode, where we talked about what to expect from therapy. And so on this episode we're going to go a little deeper and explore what can good therapy look like, as well as answer some other questions just about the therapeutic experience. So thank you again for coming on and having this great conversation with me. All right, let's get started. So even though you guys were on before, let's have you just tell a little bit about yourselves. So Kevin, do you mind just telling us a little bit about you?
Absolutely. This is my second career. I started out as a teacher, middle and high school for 25 years. Did some administration work in there, as well as a principal. So I'm an LPC here in Tulsa, Oklahoma, and happy to be with us today.
Great. Thank you, Kevin. And Haley?
Yeah. Hi, y'all. I'm Haley. I'm a therapist down in Colorado Springs. I'm a licensed clinical social worker. I run women's groups. I work with couples and individuals.
Awesome. Very cool. So let's start our conversation from the point of this first question. You found a good therapist, so now what? Let's have you take us… Take the lead here, Kevin. What do we do now? You found a good therapist, so now what?
Well, I think you found a good therapist means you found somebody you feel comfortable with, and you've done the search work, which is you found somebody that you think you can speak with and explore whatever your concerns were, and you're looking for some assistance in finding some peace or solution that there's a particular problem that you're working on, because there's any number of reason for you to get into the room with somebody to improve your life.
So what's the next thing? Part of what you did when you were interviewing your therapist is one of the words we used the last time we met, I think, because it's a two-way process, is you learned what you were going to expect. So maybe it was there's going to be a certain number of sessions, and that it was going to follow some sort of an arc because of the type of therapy that you were getting involved with. So that process is now going to start, probably with some background information getting taken. There's the intake itself, where you gave a lot of… I do a lot of these. I need all this information, so we kind of figure out what's going on, and then we'll start to narrow things down and focus on what's really interfering with you having your best life. So you could probably get ready for that.
And one thing that happens a lot in my rooms is you're really the one in charge. And there may be other types out there, but I think sometimes people go in thinking, "They're going to tell me this is what I need to do." And I think there's so many more therapeutic approaches where you're being empowered to be the one to understand and to figure out that you actually have a lot of the strengths and controls in that. And that'll come through in the room as well, where the therapist will help you see patterns and see choices that have developed over time or what's gone on there. So I think as you find that, you're going to find that you're going to start to form a relationship in there, and it's not just going to be, "Okay, so now I've chosen a therapist," and the very next session is going to be, "Okay, we're going to get right to the heart of the deepest… And everything's going to get opened up, and it's going to be four boxes of tissues on session two."
Right. It's definitely the building of the relationship for sure. I agree. Haley, your thoughts?
Yeah. I think something that came up for me initially was with the intake process there, the next step to that is creating a treatment plan. And so ideally you want this to be a collaborative effort, not just the therapist thinking what you should work on, but together, what are mutual goals, and having these be measurable goals. So that way, whenever you're working through therapy, you can always turn back to that treatment plan and see the progress that you've made and how much farther you need to go. So I find that to be really helpful. I know that for some clients, that they've never been in therapy before, it can be like, "Where do I even start? Where do I go?" Yeah.
And so I try to encourage that throughout the week, just taking a mental note of, "This feels challenging for me. Work feels challenging. This relationship feels challenging." And that way when you come to therapy, you can pull out that note and be like, "Okay, I remember that this is what I'm noticing as challenges." And that's a good easy first step to build some insight and then carry that over into therapy.
I like that you said that. Analogy that I sometimes use with my clients is I'm helping them… Maybe together, we're coming up with looking at patterns that they're doing and things like that… is that I'm not in the woods with them. The expression, you can't see the forest for the trees. Well, I'm not there in the forest. I'm at a different place where I can maybe take a broader view of looking at patterns that they're sharing with me and everything. And so I think that's a great way to even explain a therapist's role, is to help kind of point out things… Or, "I hear what you're saying," and reflecting back on what they might be expressing, things like that.
So I often use that analogy of not being in the forest… Not being able to see the forest from the trees, and you have someone who can help guide, like I'm looking down in the forest like, "Okay, I see you've done this pattern, and let's see if we can come up with a pattern to work your way out of the forest," if that makes any sense. Let's jump to the next question. What can good therapy look like then? Kevin, what are your thoughts on that?
I'd like to pick up on what Haley was talking about there in that treatment plan process, where you're identifying goals, and that they're measurable, like you can tell that you're making progress towards something. And often that'll be a freeze point for me and a lot of my clients. The word "goal" locks them up, and they'll just like [inaudible 00:07:34] and a lot of what we'll work on is these are changeable, and it doesn't define what you have to talk about in every single session. Whatever you bring in will be the topic that we have to deal with. And they're adjustable as you move, so you'll be constantly readjusting and reshaping those goals as you meet them.
They're not static. They're not… Right. Right.
And that's the important part, is you'll realize that you're making that progress, and that builds your momentum to then identify the next thing, because oftentimes what you'll do is you'll say, "I think this is what's going on," and that'll just really identify the fact that this other thing is really what's getting in the way of you making that progress. And you'll start opening that up and moving forward.
So good therapy can be someone who provides an environment that you feel safe enough to open up and share what your real worries are and your concerns are. I think a lot of people will go through their days putting on the face of, "I got this, and I'm in charge of this, and everything's going fine," but when you're in your holding space that we can provide, they feel comfortable saying, "I really worry about this. I'm really concerned that this is going on." And that could be really normalized with a good relationship. It's like, "Well, of course that would be worrisome. That'd be really scary, so what can't we do about that?"
How can we help is a very big part of what can happen. And sometimes it's just nice to hear that. "Okay, so that's not an unusual thing to be concerned with," and just hearing that or saying that helps. So good therapy is an environment that feels safe, that feels validated, and that you can count on. A lot of the work that I do is with middle school, or sometimes they're a little bit younger than that, and sometimes at that age group, they don't actually have somebody who will literally just sit there and listen. It's unfortunate, and I suppose that's true for a lot of adults. It's such a fast-paced world that we have, just having somebody who will do nothing other than dedicate time to sit and listen, that could be really, really powerful.
Right. I agree. Haley, what are you thinking?
Yeah [inaudible 00:10:06] to combine what you said, Kevin, and then the question that you said, Nicki, I think sometimes asking a client like, "Okay, what are your goals?" I've noticed the same thing, Kevin. I'm like, "What?" And that's understandable. I think I would be feeling the same way as well. So sometimes what I ask is, "How would you know at the end of therapy that this was successful for you, that [inaudible 00:10:31] feel good?" And I think going back to your question, Nicki, that's pretty relative. Every client is going to have something that may be different from your next client. That could be, "I want to be able to make decisions. I really struggle with making decisions," or, "I want changes in my personal relationships."
And so I think good therapy can look like being on the same page as your therapist, and you're both working towards that mutual role. Your therapist is there to support and empower you, and so you want to feel like you have a teammate in that room with you. I do think that sometimes there's this idea that therapy will be, "We're going to be experiencing good feelings." I know feelings kind of have a label with them, and so we're going to be feeling happy, we're going to feel like we're succeeding and we're changing and we're growing. And you probably are doing all of those things, but you may also be experiencing some sadness or grief, as we talked about in the last episode. And so, even if you're experiencing some of those more challenging emotions, it doesn't mean that it's not good therapy. It might mean that that's just where you're at right now.
Fair point. Good point, because I think with putting the adjective there of good therapy, like you said, there is an assumption there of, "I'm going to be feeling a good chunk of the time." But therapy is work, and it is working through uncomfortable emotions. And so there's going to be times where you're not feeling all warm and fuzzy. It might feel very warm and fuzzy coming from your therapist as they're validating you and you have a good therapeutic relationship, but the nuts and bolts of the therapy is working through your trauma or the difficult emotions, or you fill in the blank of what you're trying to work on. So I think you bring up an excellent point with that, Haley. Kevin, I know you were describing some aspects of the therapeutic relationship where a person feels safe and it's validating. Want to ask you that question more specifically. Are there other aspects of a good therapeutic relationship?
I was thinking of that as Haley was talking. There's an expression that I use when we're doing the work, I guess. There are parts where your opening boxes, when you're getting into things, and things are unresolved, maybe where you're getting into something, and then you have the times where you're kind of closing those boxes and things are getting resolved. So sometimes it's a little… I think a lot of people might find that messy when you're getting into those tough things and it's challenging.
So I think a good therapeutic relationship has that aspect of challenge or confrontation from the therapist, but it's not oppositional. It's just you found somebody who you feel comfortable will call you out or challenge you in the appropriate way on something, but it's safe to face those things with that person because you've developed a trustworthy relationship with that person. And that's when you're opening those boxes and looking at yourself in an honest way. And that's what you're asking for in that relationship, but it's not sudden and abrupt, second session, "Okay, let's talk about your scariest feeling."
And then that allows you to reconcile those feelings or manage them in a much more effective way, which is what it looks like when it's better, as you're reaching your goal, if you will, because in my experience, it's been that word "goal" that is the locking point. It's like, we all want things to be better, or what does it look like when you've completed therapy? So I think that's kind of the other aspect of what does good therapy look like. The relationship is strong when you feel comfortable with that challenge. You don't feel like that's an oppositional thing. We are together in this-
… because we're a team on the same page. You don't feel like that's a me versus him or her situation. It's like, "Okay, this person is an ally in my pursuit of this change," and that's a very different feeling. I think you feel strengthened by that instead of opposed by that. So it's not, "What are you doing there?" It's like, "Well, have you ever looked at it like this?" And he's just like, "Oh wow, I've not done that before. You might have something there," as opposed to an oppositional kind of [inaudible 00:15:27].
Or a defensive… feeling defensive [inaudible 00:15:30].
That doesn't bring up the defensiveness. Yeah.
Right. Right. Haley, what are your-
[inaudible 00:15:34] go ahead.
Oh no, go ahead, Kevin. Go ahead.
No, that's exactly what I… I appreciate the word "defensiveness" brought up there. Yeah.
Yeah, I appreciate what you said again, Kevin. I think there's times where I will say to a client… I'll refer back to that treatment plan and I'll say, "When we originally made your treatment plan, this was one of your goals. However, in our sessions, I'm seeing this whenever I bring up this issue. It seems like this subject may feel scary for you. What's going on there?" And that might ultimately be something that we laugh about. Therapy doesn't have to be super serious and it can be like-
… "Yeah, I'm just not ready. My week's been really busy and stressful. I just can't go there." And that still is progress. That's putting in a boundary in your session. And again, your therapist is your teammate. They're there to support you. Cool. Let's not talk about it today. Let's talk about something else. Let's talk about your successes. So you still are the driving force in this, but your therapist is there to hold you accountable and to talk about those goals.
That's a good word, holding you accountable. Right. Awesome. Let me throw out my next question here, because for some people as they're navigating their therapy, maybe we'll say maybe something like the first six months, maybe there's lots of insights, lots of things are being discovered and unpacked, and it's feeling pretty good, the therapeutic relationship. But maybe after a certain amount of time… It doesn't even have to be six months, just a certain amount of time… maybe the therapy feels a little bit like it's evened out or plateaued. Then maybe no specific new insights are coming your way. What should someone do if they feel like their therapy has plateaued, Kevin?
I think one thing that could be done is to acknowledge that, to actually bring that up. I can assure any client that no therapist should feel threatened by that term. "I feel like we're just kind of going through motions here," or, "I don't think we've really addressed anything serious in a while." A good therapist will bring that up to the client as well. It's like, "You know, haven't really touched on anything significant in a while, and how would you like to respond to that?" They may mention changing frequency of meetings or drawing attention to the fact that, "You know, we haven't really addressed anything serious in a while," if that's what's at cause there. Or "significant" might be a better word than "serious", because there could be any number of reasons. Maybe you've hit a lot of the goals, and we don't have any more goals to address, and would we like to identify some new goals at this point?
And that's where Haley's identification of the treatment plan… You'd go back and review that, and you'd go through and identify your progress in each one of those. And if it looks like you've met all the goals you've identified, the following question would be, "Would you like to identify some new goals?" Then that would just cause some reflection and say, "You know, I really can't think of anything I need to work on right now." Okay. Well then, let's talk about how we want to either terminate or maybe meet less frequently and be available for a drop-in or something like that. And that's a cause for celebration, really, for me. Our main job is to put ourselves out of work with that client. If we get to a point where you no longer need us to be there, then we've done the work.
But even in the course of good therapy, there are times where there will be kind of a shallowing or a plateau for any number of reasons, maybe because the outside world becomes so busy we just can't attend to what we're working on. And that may go for a session or two before we pick right back up, because we're listening to each other on that. So if we don't address that this week, is there something else we want to up on, or do we want to pass on to our next session? But as you pick that up on a more extended period of time, then that becomes the focus of what we're doing, and that's a treatment plan conversation in termination or pausing services.
Right. Right. Haley, your thoughts?
Yeah, I think there's a lot of variables that can go into reaching a plateau. It could be some ambivalence on change or, like Kevin said, it's busy and it's hard to focus on those goals. It could also be likely that your therapist will bring this up to you, that you two have plateaued. That is also something that I have done before. "I'm recognizing we've gone a few sessions where we're not talking about these things that you originally wanted to focus on. Is that still a problem for you or a challenge for you?" And so it is likely that this could be a conversation.
I think another aspect of this is terminating with a therapist, even if it means that you have reached all of your goals, can be really hard. This is someone that you have been vulnerable with. You have built that relationship with them. The way that the therapist and client relationship is, that relationship is solely therapist and client. You won't be having outside communication. And so it could be that the client is holding on to that relationship. And so that can be a session in itself of letting go and talking about the relationship and terminating. And so I think that is a challenge that not a lot of people talk about, but it can be very hard to let go of that.
For sure. I agree. I've heard some clients describe no longer seeing their therapist as a breakup, like, "I feel I needed to break up with that therapist," so it was almost like a… Well, it is a therapeutic relationship, but just a complexity to that, no longer seeing that therapist. Which brings us to a good question here of, what are some reasons why therapy may not be working or that the therapist might not be working for you? I think we could put both of those in there. Kevin, your thoughts on this?
I think that's a really great transition, fortunate for us here, because it is a relationship, and what we are looking for in that relationship is growth and change. You're not the same person if you've grown in that relationship, and so the therapist may not be the same person for you as you make that growth.
And so the connections that you have made and what you needed is going to change, and then that brings a challenge of breaking up with that therapist. It's just like, "Wow, what I needed when I met you is not what I need right now, and so I would like to move on and get what I do need next." The advantage is, because it is a professional relationship, even though it feels so personal because of what we're sharing, that the professional side of that is ready for that and wants to help you find what you need and help you find that. I mean, it's the classic, "I just want you to be happy," line, right?
And if this is what it'll take… And a good therapist will suggest finding somebody like that, or, "I think what you're doing is avoiding the work that we need to be doing here." So we can do both. We can say, "I will find you somebody," and, "I think what you're doing is avoiding the work that we were just getting into." But I think that could be a real thing.
It's not uncommon to go seek a therapist when you're in the midst of a major crisis, right? Like, "I just can't take this anymore, and I need somebody to help me through this." And then once that heat dies down, you find out that, "This is just not somebody I really enjoy doing the day to day with, because that habit they have really gets on my nerves." Well, let's work on that, and maybe it's not a tolerable thing, and we need to move on from that. But because it's professional, we can do that in a smooth and healthy way and help you find somebody that you can work better with, because that's the most important thing, is that therapeutic relationship, because if you're going to withhold and not get the most out of it, you're not going to get your better self, and we're not going to use ourselves the best that we can. So you're a different person. You have different needs at this point, so you want to make sure that that matchup is still as strong as it needs to be for you to continue making the progress you're looking for.
Yeah, us three talked before [inaudible 00:24:54] how important is the rapport and how important is the intervention that's being used. And I think that that really speaks to, in my opinion, that the rapport is needed in order for the intervention to be easily accessible for therapy. And so sometimes you may not just click with that therapist. It may be that the rapport just isn't there. It could also be that the specific intervention that they're using isn't working for you, and I think there's opportunity for this to be a conversation, that something's not working, something's not clicking, and that therapist could adjust.
I think another aspect of this too is, depending on your level of insight going into therapy, new things may come up for you as you gain insight. So maybe you realize there's a potential challenge with eating disorder or substance use that you weren't aware of before or you didn't recognize before, and that therapist may not have that specialty. And so then at that point, it may the opportunity to refer out, which still symbolizes progress. You're gaining insight, and then you're advocating for yourself. So really challenging what is, quote unquote, "good or bad," there's a lot of gray there.
You set us up perfectly for the next question, Haley, of what should you do if your therapist doesn't have a specialty in your specific issue? And so you just said in the context of, maybe it's uncovered that maybe there's more of a struggle with an eating disorder, and then maybe your therapist doesn't have that specialty, and that would be an appropriate referral. But I think there's something too, even… We talked before about the match with the therapist, but looking at specialty and making sure it aligns with what you are needing. So actually, Kevin, what are your thoughts on this?
I think that too. Because it's a relationship, relationships are mutual. It goes both ways. In my sessions, if we discover something like that, I might recommend that referral from my side, which is, "Oh, we're getting into an area here where I can continue working with you on these things, but that, I think you would be much better served if you worked with somebody who has that certification or specialty on…" Whether it's traumatic abuse in this area or certification in eating disorders or something like that.
And right there with Haley, you know, you realize that this is something that's really a major portion of why you're in the room. The question might be, "Do you think I need somebody who specializes in this, or can we continue meeting?" That's a valid question. You're not insulting that professional at all, because that person should be able to give you an honest answer, if we've done all the legwork that we've talked about, where you feel like you've made a good connection and you've found somebody who is properly trained to start your relationship. They won't say, "Oh no, we're fine. I can do anything. I'm certified in everything."
So that person should be able to respond to you and let you know of their limitations, and then you can make an informed decision about how far forward you want to go with this, because you've invested quite a bit at this point, haven't you? You've made this relationship. They have all that information about you, so they're now an expert in [inaudible 00:28:28] but maybe not in how to respond to that very specific thing that now you've discovered is an important part of what you're working on.
And I've got a number of clients that may see more than one therapist, and they work on a very specific part of what they're doing with somebody who's trained very specifically in that area, and then the more general, maybe peripheral now things, or just general anxiety with me, and then their very specific things. And we can coordinate care on that, which is kind of nice in some… That's [inaudible 00:29:00] that's not a large part of the population I work with, but it can be done. So advocating to yourself is one of the major things that we work on with just about every client [inaudible 00:29:11] empowering for how to speak up for yourself.
Right. Haley, anything you want to add?
Yeah, Kevin, I feel like you covered a lot of it. Yeah, but I do think that there is a point there of… Just because maybe something were to come up, like a specialty that that therapist isn't aware of or doesn't have the expertise on, doesn't necessarily mean that you are going to be referred out. So let's say, for example, there's a co-occurring depressive symptoms with substance use. We could be working on those depressive symptoms. Even though substance use isn't my specialty, it can roll over into that.
So it kind of just depends on where the client is at and what they're needing at that time, and it could mean that maybe you do have two separate therapists. EMDR is a very specific intervention, so I've seen both of [inaudible 00:30:11] talk therapy and you're doing EMDR at the same time, which then, with your permission, the two therapists can collaborate together, and so now you have a team working with you. So there's some really great opportunity for resources, and just being mindful that it can look different based off each client.
I think you bring up a good point, Haley, that I think people assume you can't have two therapists. Well, you can if it's very specific in what the two therapists are working on. If you have trauma and you're seeing an EMDR specialist for that trauma, so that's maybe one therapist, and then maybe you have your therapist for the other things you're navigating as well… And the two therapists can collaborate too, so it's just being very distinct in what each therapist is working on with the clients. So lots of good conversations here. As we wind down, any other takeaways you guys would like to share? Any other thoughts in just any of the questions we've talked about so far, Kevin?
There are two things that we were just picking up on there, and I appreciate what Haley was saying on what gets shared between people who are working together. I'm a real stickler on what we call the ROIs, the release of information. You know, you have a lot of control over what people can share, and I think I always encourage my clients to be very careful about that. They're like, "Oh, I don't care. I want everybody to share freely." I was just like, "I'd like to tighten those up and say just these things [inaudible 00:31:49] and then we can always expand on that later." And I find that as another opportunity for my clients to be empowered in managing their things.
And then the other thing that we were just talking about it is just because there is a specialty does not mean you require a specialist. So if you feel like you're-
… dealing with anxiety, doesn't mean you have to search for an anxiety specialist to start your issue. There are a lot of very qualified and excellent therapists out there that may appear to be a generalist, if you will, because it's that rapport and that therapeutic relationship that has to be present for anything else to work. And I just really… I think we feel very strongly about that. I know the three of us in our just conversations with each other, and just about anybody else I've ever talked to in the business… And the research absolutely backs that up. It's just what has been present in everything that's been effective therapy. That has been present, is a good therapeutic relationship, and that means there's a positive regard, that you feel safe and validated. And then it's whatever type of therapy there is. It's not whatever the latest buzzword is or whatever the coolest thing is. It's just, if you found somebody who's validating you and makes you feel heard, comfortable, safe, then that is really what has to be… So I just appreciate the opportunity for us to be able to share this with people.
Yeah, for sure. Haley, any takeaways for you or anything else you'd like to speak of in our previous questions?
I agree. I think that as of recently, sometimes there's this really high expectation that new clients should know all the intervention. "What do you need? What's your diagnosis?" And I just don't know if that's necessarily realistic, and I think it can make the process really anxiety-inducing, especially when you're scrolling through therapist profiles and you're looking at the interventions and the expertise. And I think, Kevin, you bring up a good point. Find someone that you feel safe with, and that person will give you psychoeducation on maybe symptoms or diagnosis or interventions that could work best for you. And that good therapist will also be willing to refer you out. So it takes some of this weight off of the client of… This is already a very vulnerable experience of reaching out to someone and getting help, and it should be something that is exciting and should be celebrated. And so, finding someone that you feel safe with and having that teammate so that you don't have to carry this all on your own of finding something that's right for you, someone can help you find that.
Oh my gosh, you summed it up perfectly there, Haley. I want to thank you both for being on and helping us navigate what can good therapy look like. I think the emphasis on a safe and validating relationship… And Haley summed it up so perfectly of even looking at a therapist who will also refer if need be too. So thank you again. I'd love to have you guys back on for further discussion.
And I'd also would like to thank the team behind the Congress from the Couch Podcast, Jason Clayton, Chris Kelman, and Juliana Whedon. Take care, everyone.