podcasts
Time Management for Your Mental Health – Podcast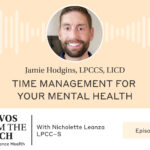 By LifeStance Health on November 9, 2022
Jamie Hodgins, a clinician from one of our LifeStance Columbus, Ohio offices helps us understand how setting up routines and breaks can be helpful to our mental health.
In this episode, we explore how time management creates opportunities that promote socialization, health, wellness, and regulation.
Listen and Subscribe Here
Welcome to Convos from the Couch from LifeStance Health. With each episode, you'll hear engaging and informative conversations with leading mental health professionals that will help guide you on your journey to leading a healthier, more fulfilling life.
Hello everyone and welcome to Convos from the Couch by LifeStance Health. I'm Nicki Leanza, and on today's episode I'll be talking with Jamie Hodgins, a clinician from one of our LifeStance Columbus, Ohio offices, on the topic of time management for your mental health. So welcome back, Jamie.
Great to have you on again. This is such an important topic because I think so many people get stressed out just trying to manage their own time. So, our conversation's going to be you helping us understand how setting up routines and breaks can be helpful to our mental health. It's very cool. Let's start by having you tell us a little bit about yourself again.
So I'm Jamie Hodgins. I'm from Columbus, Ohio, originally from a smaller town north of Columbus called Marion. And I've worked in a variety of programs and roles within the mental health system since 2003. And I have a lot of experience working with adolescents and kids, families, and adults as well.
Great, great, great. And so as you've been such an astoundingly great therapist to probably many, you've probably helped quite a few of your own clients with their own time management. So, to start off our conversation, tell us about why time management is so important for our mental health.
So, as far as time management, it can impact our mental health in a whole host of different ways. It's a common complaint that we hear as therapists and it's a common issue that people just discuss in society at large. So there are a few different ways that I like to kind of look at the spectrum of time management issues. On one hand, you could have somebody who is extremely busy, they have a whole host of things on their plate, but they're also very efficient with their time. They just have no time to move around because they're just maxed out. On the other end of that spectrum, you could have somebody who has a whole range of available time, but they may struggle to effectively use it. And if you look at these individuals, they seem very different on the surface, but they both may feel very overwhelmed by their circumstance and struggle to make changes to their routine.
And so when it comes to time management, the main focus, at least for today, is on how we can use time management as part of our self care and wellness routine. And self care has become increasingly popularized. We see in advertisements, there are books about it, they talk about it at school, in the workplace. And at the same time, we hear about self care and the need to have that a better work life balance, we also hear the conflicting message of increasing how productive we are. People are constantly looking to add things to their plate. And when it comes down to the battle between being productive or focusing on self care, being productive usually wins out.
And so as a therapist, I work with people on managing time to help create opportunity for us to focus on self care. And self care, again, is a very broad spectrum term. But when I use the term self care, I'm mentioning things like hobbies, health, wellness, and socialization opportunities. And so if these things are missing, my goal is help find ways, even in small opportunities, to create ability for people to do self care activities.
You brought up a point I want to comment on because I've seen some of my own clients come from a place of anxiety when they're not feeling like they're being productive. I might be talking with them about the importance of self care and they'll be like, "That's great, Nikki. I love to do hobbies and I love to care for myself and take some time for myself, allow my brain to decompress. However, I feel like I'm not being productive." And so that push for productivity that you mentioned is very much a thing for a lot of people for sure. Tell me about routines. Now for some people, they might have a set routine, others might not have a routine at all, but how can routines be helpful to our mental health?
So routines and time management really go hand in hand. And it's often said humans are creatures of habit and routine. And our brains and bodies, they like to follow a similar or familiar path. And you see this in… A quick anecdote would be if you drive to work the same way every day and you hit a detour, even if you're not stressed going into it, often that detour will add some stress and anxiety because our routine is changing up, the path that we normally would take has been deviated from, and it may take us a little bit of time just to kind of adjust. And after we get back on our normal route, for example, that can help us be at peace. And so people like routine, they like what is familiar and known.
And this is even seen when they identify that their routine is unhealthy or unproductive, and it just becomes that default setting. And so for that time management and kind of establishing helpful routines, we want to look at ways to maybe change patterns and establish a new routine that yields even more positive results, and again, how to create opportunities that promote socialization, health, wellness, and regulation.
Now, you and I had spoken before about a very specific process you use with your own clients to educate them about setting up routines and setting up breaks. And it's something that you've shared with me called the tile and grout process. Can you tell us more about that?
Yes. So hopefully my example will make sense to everybody. Tile and grout is something that really clicks in my brain, and I think it's something that both a professional therapist can help implement and also just any individual listening, I think, is able to take information from this and put it in their practice. And so tile and grout is a process where you look at things that are planned, part of our routine, so work, our morning routine, our evening routine, if we have any classes that we participate in, or if we have activities for your kids or anything like that that is a planned activity, that falls into the tile category. And a grout line, similar to when we think of tile and grout on our floors or our bathroom walls, the grout line is really the buffer or the space in between those tile periods. And so a grout line, for these purposes, serves as an opportunity for a brain break, a brief opportunity for us to manage our stress or promote health and wellness.
And so when I'm doing this with people, I usually start by just taking inventory of what their routine looks like. So what does your daily schedule look like? What does your week look like? What are the components of it? So map out how long does it take you to get ready in the morning? How long are you at work? How long are you at school? Do you do any other planned activities? It could be something associated with a faith community, it could be a yoga class, it could be going to the gym, really doesn't matter what those tiles are, those planned activities are initially.
What we want to do is map it out. And so we list everything down. And then using a grid system, I will kind of take that information and put it into tiles. And the tiles are going to represent that true time that each activity takes. And so for some people, they can get ready in the morning in 15 minutes. Maybe they wake up, they roll out of bed, throw on clothes, and then are out the door. Other people, that morning routine could be an hour and a half. And so it is a very individualized process. But we want to look at what is the true proportion of time each of those things is taking up in somebody's day.
And when you do this, you can see that maybe somebody has a whole abundance of planned activities. So when we look at their tiles, their week schedule may be chalk full of things, and they really may look at like they have no available time to do anything that is not work-related or other stress inducing things. And for other people, when we do their tiles, they may see they have huge swaths of time that they aren't doing something and that may be contributing to depression because they have nothing to do, they have no planned activities. And so just getting started on things is a bit overwhelming.
And so depending on the individual, we may have to look at are there tiles that we can modify the amount of time we're spending on them? Or are we needing to add opportunities for tiles? So for a lot of people, they may have a open period of time, and if we look at what is happening during that time, we then may establish a tile that helps with that. So if somebody works 9:00 to 5:00 and every evening is open and that's where they know their mood starts to dip, that may be a great opportunity for us to look at adding tiles that help promote socialization or other health things. So go to the gym a couple times a week in a planned fashion, so they would be adding a tile by adding that planned time to go to the gym. Or if they participate in a small group activity with their faith organization, again, it would be adding another opportunity for a tile to be established that may provide a positive outlet for them. Go ahead.
What I'm envisioning here is a process where it's actually a visual representation. So if I'm sitting here thinking, "Where even in my home do I have tile?" I actually have some tile in my kitchen behind my stove. And so when I look at that tile, if I'm looking at each tile there and say I actually had a pen and I was writing in the very different activities, planned activities I do throughout my day onto those tiles so I can visually see it, it represents my time, and then looking at that caulking or that grout line in between my tiles are my spaces in between of what I'm doing. Sometimes that's driving from here to there planned activity, or maybe it is some downtime where my break is where I'm doing something more helpful and self care wise and stuff. So I like that this is in my mind how I'm conceptualizing what you're saying, a visual representation. Is that what you're doing for your clients? Are you actually drawing this out for them to physically see it?
Yeah, that is exactly it. I think you're nailing it. Time is a set thing. There's only 24 hours in a day and there's seven days a week. And so if we look at the true amount of time that we're spending on doing everything, we can establish are there opportunities for waste, or are there opportunities to add things? And so you can really go even more in depth by looking at the tiles and color coding them. So for example, work would be blue, for example. Your work tile would be blue. Your morning routine could be green. And you can establish a different color for things that are health activities. So if you're like I do, I walk two nights a week and I do a yoga class one day a week, those could be a health color.
And what you can do after you look at this and examine it is see what is missing from our balance of life. We have a lot of work, but no other health activities, or we have really limited social opportunities, especially maybe people who are working from home, don't see a lot of other individuals. So we may have to look at how to add a socialization tile a few days a week that help kind of promote health and wellness. And you also may see that you have huge periods of time where there are no tiles listed. And so again, that opportunity to plan activities is very helpful.
And the grout lines, what usually throws people because they say, "Well, what would be a grout line?" And a grout line is really a brief opportunity to engage in a brain break activity. It could be a breathing exercise, it could be any number of things. For a lot of people we think of work as being a 9:00 to 5:00 endeavor, or whatever your scheduled work day is. And so when I have people do a tile and grout activity, usually their work is this huge run on tile. And when we explore, "Well, how is work? They may say, "It's extremely stressful. I am under a lot of pressure and I'm just this ball of stress." And so I say, "When you leave work, what happens when you go home?" And they'll talk about how they carry over that stress into their home. And so you see that work life balance is really impacting one another.
And so for that individual, what I want to do is, let's say take that large tile of work and find ways that we can create some grout lines, break that big tile up into smaller tiles. And so the grout line could be a breathing activity that maybe takes a minute, two minutes every hour. And so those two minutes of breathing, it could be box breathing or any number of other skills that we promote as therapists, they can implement that breathing activity into that their routine, but in a planned for manner by saying, "This is a grout line that we're scheduling." So we're going to say every hour, two minutes before the hour, we're going to start doing a box breathing activity.
And the goal in doing that is it helps increase an opportunity for them to remove some stress and trigger that parasympathetic nervous system. We want people to be able to create some level of calmness. And just by establishing that as a new routine, they may feel less stressed at work with the ideal impacting that at home, that they may go home less stressed. And so sometimes it's very subtle things. You can even add a grout line before maybe a high stress meeting. So for example today, I'm not used to being on a podcast, I'm driving to work and I had a lot of thoughts in my head. So I did some breathing and some other things that helped me kind of calm myself and center myself. And so you can have a planned for grout line before something that maybe is outside the norm or something where you know it's going to be a little bit harder activity for you.
You did a great job helping us understand how the use of tiles and grout lines are helpful. And I think one of the key parts here of that balance, that's ultimately what it sounds like to me the purpose of this process is, how do you balance things out in your life a bit more. And so how does this process help you pinpoint, help your clients pinpoint the areas of difficulties in their routines?
Well, we can really drill down this very simple concept and look at ways to expand upon it. So if you have somebody who is saying, "Hey, every weekend I feel depressed," and we look at their routine and their ritual and their schedule, they may have nothing planned during the weekend. And so what they end up doing is they sleep in and they struggle to get going in the day. And so that open spans of time, allows us to say, "Hey, is this helpful to your routine? Is this helpful for your overall health?" And often they'll determine, no, it's not. And so what we want to do is find some ways to establish maybe a small tile. So how about we schedule a walk around the block? Or maybe somebody's a coffee drinker and they can walk to a coffee shop, so they're both doing something that they enjoy, they're getting outside, and they're doing some walking. And creating that tile helps get them started on their day for the weekend. And ideally, when we check in, we're going to see a reduction in stress, maybe feeling more engaged on the weekends. And it allows us to build upon that.
And again, I'm not promoting people being more productive, but what we're trying to do is say, "The time that we have, what are some things we can do that are actually rewarding?" A lot of adults struggle to engage in hobbies or things that they're interested in. And this really will shed light on, "Hey, I guess I never do anything for me. All of my tiles are focused on work or helping other people. So maybe I need to do some things that help me have a peace of mind." And the goal really is to have us use proactive strategies to manage stress, proactive strategies to manage self care rather than reactive. People will plan a massage once a month. Well, that massage once a month is great. It is not going to completely erase all the stress that negatively impacts them over the month.
Right. Good point for sure. I like how you emphasize how sometimes people could be very reactive in it and that you want to be proactive. Again, one of the purposes of this whole tile and grout process is sounds like being very proactive with your time and your time management, for sure. Any other takeaways you'd like to emphasize on this topic?
Yeah, the biggest takeaways that I would give is look at your schedule, look at what is taking up the majority of your time, and look at ways to add some small brain breaks. It could be something like walking to a water cooler that is on the other side of your workplace. It could be doing a two-minute breathing activity. These are things that can be very subtle and small, but if you do them on a regular basis, they can have a big impact. And similar to other things that we navigate, getting our routine to change and adding things are a struggle at first, but after you practice it, we improve. So the hundredth time you do something, you're going to be better at it than the first.
So just really look at what is taking up your time and are there ways to add tiles of outlet and opportunity or small grout lines that promote health and wellbeing.
Great. Thank you so much, Jamie. Really helpful topic, and I'm sure a lot of people out there will be like, "Hey, I like this idea. I'm going to try this for myself." And even hopefully some clinicians as well will be like, "Hey, this is a great idea. I'll use this with my own clients." So, thank you again.