podcasts
TMS: The Therapy That's Making Waves – Podcast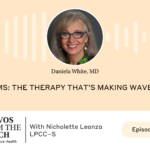 By Jason Clayden on April 5, 2023
Our guest, a licensed psychiatrist and TMS expert, Dr. Daniela White explains how TMS works, the conditions it can treat, and what to expect during a typical TMS session. We'll also discuss the benefits and potential side effects of TMS, as well as the current state of research on this therapy. If you're interested in learning more about TMS Therapy and whether it could be a viable option for you or a loved one, tune in to this informative and thought-provoking episode.
Listen and Subscribe Here
Welcome to Convos from the Couch By LifeStance Health, where leading mental health professionals help guide you on your journey to a healthier, more fulfilling life.
Hello everyone and welcome to Convos from the Couch by LifeStance Health. I'm Nicholette Leanza, and on this episode, I'll be talking with Dr. Daniela White, a psychiatrist from one of our Houston offices, and she'll be telling us all we need to know about transcranial magnetic stimulation, or better known as TMS. Welcome, Dr. White. Great to have you on.
Thank you so much for having me. Thank you very much.
I'm happy to talk… Oh, sorry.
Oh yes, no, I'm glad that you're here and I'm glad, it sounds like you're going to say you're very happy to talk about this because I'm not sure-
To talk about TMS. Exactly.
That's what I want to say.
I don't think a lot of people really understand what it is and how it can be helpful with some treatment-resistant mental health issues. I really look forward to this conversation for us to talk more about it. So thank you again.
Let's jump in. Tell us a little bit about yourself and your experience in using TMS with your patients.
All right. I finished my training at Baylor in General Psychiatry, and later on in Child Psychiatry. And I started my practice. And the TMS started… Well, it started being researched many, many years ago, but in 2008 I got the FDA approval for treating depression. I started using it in 2010. Got a machine at that point, it was the only one on the market, the Neuronetics, and I was excited to offer something to the patients who did not respond or didn't tolerate antidepressants, and that's when I started it. I've been doing it for a few years. Meanwhile, other indications came up, but they are indications based on the machine. So I can talk more about that later.
Got you. Can you give us an overview of what TMS is and how it works?
Yes. Starting with the fact that the brain, it's an electrochemical organ, TMS affects the way the brain functions through electromagnetic waves. Unlike the medications who need to be swallowed, travel through your body, get absorbed from your blood, and be carried to the brain where they actually do whatever they need to be doing to get an antidepressant effect, the TMS is more localized. Basically, the TMS uses a magnet that the intensity is probably as high as an MRI, but a magnetic field pulsates. Based on biophysics laws, when a magnetic pulsate creates small electrical currents that penetrate the skull and stimulate the superficial cortical neurons. Now the neurons are connected to each other like a chain. So the electricity from the surface of the cortex is led to deeper levels of the brain and hypothalamus areas that are responsible for the antidepressive results.
We don't know exactly what happens at the terminal ends, but we also don't know exactly what happens with the medications. But it seems like through that simulation we have a discharge of norepinephrine and dopamine and we get a more localized effect, antidepressant effect, therefore less side effects. And we can talk about that as well.
Yeah, great. Great. What mental health conditions are commonly used to treat regarding TMS?
The most common condition the TMS is used in is major depressive disorder. And that's what the initial approval was. With medications, were successful maybe a third of the cases. Those people who do not respond to medications or experience side effects need alternatives. And that's how the antidepressant effect of the TMS was applied eventually in our practice. Later on, it got an indication for OCD and later on the anxiety associated with… Generalized anxiety. It's one of the mostly researched methods of using electricity and treating mental illnesses and the only one that's not invasive. We all know about ECT and maybe vagus nerve stimulation and deep brain stimulation, but all of those involve surgical procedures. Even if they are minor, they are still surgical intervention. I mean to implant those electrodes, but not TMS.
That was going to be my next question. How does TMS differ from ECT or deep brain stimulation? Are there other ways that it's also different?
Well, the main one, and that's the one that allows such a wide research and use, is the fact that it's not invasive. Basically, you just come to an outpatient office that has a chair and a magnet that delivers the stimulation. You don't have to be on anesthesia like you have with the ECT. All you have to just to relax and allow the machine to deliver the impulses. The other ones that we mentioned, they require either sedation or surgery or other things. Another difference that we really like and allow us to use it so often is the fact that it doesn't have cognitive impairment. For example, with the ECT, that's still considered the goal standard when we have a refractory depression, some people do carry cognitive impairment after the intervention. Well, that's not the case with TMS. The patient comes to the office, spends there 20 minutes, 30 minutes depending on the session, and goes back to work or home, but is able to drive, doesn't need to be driven back and forth,
Which is wonderful because I do know with ECT, I've heard patients previously talk about the cognitive deficits or the memory issues afterwards or needing to be driven back home afterwards, things like that. It definitely sounds like this is a great course to go to with it being so non-evasive. Can you actually walk us through a typical course of TMS treatment from start to finish for patients?
Sure. The TMS was FDA-approved for depression that doesn't respond to one antidepressant up to four. And the response was considered really response on self-reported questionnaires in terms of the improving of symptoms, but also not tolerating antidepressants for different reasons, side effects. Once those conditions are met and major depressive disorder is a condition or met as well based on the DSM, then we schedule the initial appointment for what we call mapping. And, of course, the machines… The machine I used to have in 2008 is much more evolved now. Now I use a different machine, Magstim. And the differences are that it's more guided nowadays. But there are different methods of establishing where you apply the stimuli and that's called the mapping.
And the Magstim I use also has a guided way of finding that spot where you apply the magnetic stimulation, and that's usually in the left frontal lobe, prefrontal lobe. It's a process that maybe lasts 30 minutes. The idea is to stimulate the brain to the point of creating a movement of the thumb or any movement, but we try to locate the area of the brain that's responsible for this movement.
We go around and, of course, some methods are a little bit more guided. And find that spot that create the movement of the thumb. But then the treatment area is about five centimeters frontally from that, and that's where the stimulation will be applied consequently every day of the treatment. The treatment usually requires 30 days, 30-36 sessions, and the results happen through the consecutive stimulation of those neurons. Usually, we do it five days of the week. If we need to take breaks, we take breaks. Obviously, the weekends we take breaks. We could see a response by session 20-21. Some people respond sooner, some people respond later. And through this process, we do self-reported questionnaires measuring the level of depression and also anxiety. What was discovered through this research is that the left hemisphere stimulation of more rapid stimulation has a healing effect of a depression, but stimulating the right side of the cortex has also implications and positive effects on decreasing the anxiety.
A lot of times both depression and anxiety, they are coexistent. I do, and most of us do bilateral stimulation of the brain. We stimulate the left side for one side, right. The good thing is that the hemispheres communicate, so the stimulation on… And they did MRIs and functional MRIs, not in my office, but in research, and they actually see how the stimulation spreads from the left one to the right one and vice versa. So overall stimulating both hemispheres, we increased the number of stimulation the brain gets. Overall it's a better response when we stimulate both, at least in my experience.
I didn't know it was a bilateral, I always thought it was just one side. That's interesting that it does go back and forth and back and forth that you guys will-
Oh, we do it only on the left side and the duration-
Yeah. But now they have an indication, so like I said, there are different machines. The deep stimulation of TMS has more overall stimulation. With my machine, I do both hemispheres.
I see. Oh, that's great. Are there potential side effects of TMS and if so, how are they managed?
It's very well tolerated compared to, for example, medication. They have generalized side effects. We mentioned earlier that the medications travel through your body. So wherever there are receptors for those many… sensitized to those medications, you are going to have side effects. For example, you take a serotonin agent to target anxiety or depression because we have a lot of neurons in a digestive tube, we could have digestive symptoms, we can have sexual side effects because the stimulation, dopamine, serotonin. Because this one is localized, usually you have side effects that might be related to the local area being stimulated and not necessarily the brain. The brain doesn't hurt, but the skin, it's sensitive. Some people have more of a pain of the area because of the stimulation of the nerves that irritate the skin. Usually, the way we go about that is decreasing the initial intensity and gradually increasing it.
The nerves and nerve termination, they penetrate to that stimulation. Really the patient described it like a tapping, a woodpecker tapping. And the motor threshold that we need for stimulation varies individually. Some people are very sensitive to this electrical stimulation. Some people need a higher intensity. Usually, the tapping is stronger when you have a higher intensity. That would be a habitation that we increase gradually the stimulation. Headaches could be common. Sometimes we ask patients to take ibuprofen or Tylenol before. There were some cases of seizures, but apparently, at some point when they kept track of those, were two cases in millions of stimulation, and apparently were resulting from the mis-position of the electrode. Remember we said we find the area of the brain that moves your thumb, but that's not a treatment area. You have to move it from that point-
I think you said like five centimeters.
Yeah, so you avoid the stimulation. Yeah. Those are the main major. And, of course, if you have implants that could be sensitive to the magnetic field, then that's a contraindication. There is an interview that the technician goes through to exclude conditions that would be contraindicated, but otherwise, it's very well tolerated.
Can you tell us more about the research on TMS and what we still might need to learn?
So they tried it in PTSD, they tried it in ADHD, they tried it in Alzheimer, different protocols. The protocol for depression is a little bit different than the one of OCD. It is just something that now it comes in conversation in pretty much every situation with every disorder you can think of. However, there are only a few FDA approvals right now, and that's what we go through.
Can it be used in different combinations of other treatments?
Yes. Remembering initially the FDA approved it for an earlier treatment after one medication or two or three or four medications. But sometimes we use it as add-on. The patient tried two medications, found a second one or third one working, but not working to the remission. We measure those levels of depression. We use the PHQ as an indicator of the severity. If the PHQ is still not in remission range, then we add it on. We use it as an augmenting therapy. And sometimes people respond and then if they have a relapse of depression, we can do it again. Sometimes we can re-stimulate the full treatment maybe six months after or only a few treatments. Even if it's not necessarily of the… that sometimes we use as a maintenance if the patient has a refractory depression.
What should a patient expect in terms of costs and insurance coverage for TMS?
The insurances have picked up on covering it. I think they started in maybe 2011. Yes, if you meet a criteria that each payer has for the therapy, then it would get covered. And most of the time the requirement from the insurances are failed trials to antidepressant three or four. And by failed means either not response or not having a good tolerance or side effect. Some insurances also require combined therapy. Not every insurance requires that. Some insurances do maybe 10 or 12 sessions of therapy. In some ways, it makes sense, but that means that you use this therapy more as a refractory depression therapy that earlier in the treatment as it was designed.
How do you determine if a patient is a good candidate for TMS?
Basically, we look at the criteria for MDD or GAD, so major depressive disorder, anxiety disorder, or CT, depending on what you treat. Then we use the criteria of the approval by the FDA, but then you have to follow the criteria of the payers. If the insurance doesn't pay, then yes, the self-pay alternative is available, but it can be pretty expensive. One session is about $300, so the treatment can be pretty expensive at some point if the insurance doesn't cover. In those situations, for example, a patient had three failures of antidepressant, but they don't want to wait for a fourth one, and they don't think they have the time to engage in therapy for 12 weeks, they might choose to pay out of pocket. However, it's an expensive procedure to do it out of pocket.
Any other takeaways you'd like to share?
Well, I think people have to be aware of this treatment. I think everybody has to have a chance of trying something else than medications. It's always good to inquire if your insurance covers it. Making a phone call to your payer might give you some details and try to advocate for that. Obviously, we support the use of that, but it's the partnership that has the best results when the patient and us work together to get this procedure in the treatment.
My gosh. Thank you, Dr. White, for all your information about transcranial magnetic stimulation. I think our listeners will be listening to this and some might actually be like, wow, maybe this is for me. So thank you again for sharing all your knowledge.
Yes, thank you so much for having me. Thank you.
I'd also like to thank the team behind the podcast, Jason Clayden, Juliana Whidden, and Chris Kelman. Take care, everyone.