podcasts
How to Respond to Tragic Events with Compassion & Empathy – Podcast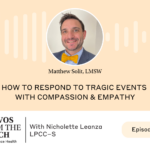 By Jason Clayden on March 22, 2023
Whether it's a natural disaster, a mass shooting, or a personal loss, tragic events can leave us feeling overwhelmed and unsure of how to help.
On this episode, LifeStance therapists Matthew Solit and Nicholette discuss the importance of empathy and active listening, and explore practical ways to offer support to those affected by tragedy.
Listen and Subscribe Here
Welcome to Convos from the Couch by LifeStance Health where leading mental health professionals help guide you on your journey to a healthier, more fulfilling life.
Hello, everyone. This is Convos from the Couch by LifeStance Health. I'm Nicholette Leanza and on this special episode, I'll be talking with Matt Solit from our East Lansing Michigan office on the important topic of how to respond to tragic events with compassion and empathy. So welcome, Matt. Great to have you on.
Thank you so much for having me.
We've already had so many major tragic events happen in 2023. Monterey Park, Half Moon Bay, El Paso, the deadly earthquake in Turkey and Syria, Michigan State, the railroad derailment in my home state of Ohio. It's so hard to not feel overwhelmed in the wake of all these tragic events, so I'm really looking forward to our conversation today, Matt, as we talk about ways to respond to these events with compassion and empathy. So let's begin. Tell us a little bit about you, Matt.
Sure. So again, my name is Matt Solit. I'm originally a Washington D.C. native and transplant to Michigan. I came out here in about 2014. I'm still not quite used to the cold yet. I studied and received my master's in social work after I got a bachelor's in anthropology from the University of Arizona and did my master's work in Washington D.C. I started my career with inpatient psych where I worked in a psych hospital in Washington and then worked outpatient and now I work as both our clinical leadership team and operations leadership team in Michigan now, but still retain quite a few folks that I like to work with. So I've been practicing as a therapist for 12 years now.
Yeah. So it definitely seems like to me with your experience, you carry a lot of compassion and empathy for those who you work with.
And on that note, can you describe to use the difference between empathy and sympathy and why empathy is important when responding to tragic events?
Absolutely. Empathy is the ability to feel what somebody's feeling. To be able to reach back into your own experiences and to actually have that understanding of, "I know how that feels. I truly know how that feels and I've felt it." Sympathy is understanding how somebody feels and really having that sense of compassion for something that you have never gone through yourself. For instance, I have never myself been through a tragic earthquake, but I can have quite a bit of sympathy for those people that are going through that. Whereas maybe somebody that has sustained an athletic injury or has gone through a family crisis or the loss of a loved one, those are things that I have experienced and can provide a sense of empathy for those.
So we want to have a really good sense of balance between the two. We can provide really positive wonderful care for people with sympathy. We can provide wonderful and positive care for somebody with empathy. It's a matter of knowing when to use which and in what levels to both help those that we work with and also make sure that we ourselves don't burn out and don't over pour to the point that we're not able to wind our own ball of yarn back up again.
I love the fact that you point out it's a balance. It's a balance between the two. What are some common reactions people might have when they hear about a tragic event and why do we have these reactions?
People react in many different ways. And it's similar to that fight, flight, freeze response. We all are going to have that first primary reaction and we may, if we've been through one of those events, respond with a level of empathy. Or if not, we want to certainly have that sympathy there. But for many people, we snap into action. They get to that point where they go, "How can I help? How can I jump in? What can I do?" Many people feel frightened, feel afraid or feel hopeless, helpless in their ability to make change as well. So people will experience that in many different ways, but I think that that fight, flight response that many of us have initially releases, "I want to get in there," or, "I need to really pause and take a step back and really feel this for a moment immediately."
That fight or flight within us is so ingrained, so innate in us. So I like how you incorporated that, that that is one of the things that are going to kick in when we're talking about tragic events.
How can we show compassion, empathy towards those effected even if we don't personally know them?
I think it first comes with really stopping for a minute and checking yourself and saying one, "How do I feel about this event? What am I going to carry into my ability to help somebody? How is that going to be perceived?" It comes with just stop for a moment and then understanding how they are feeling. Just really taking stock of that and then being able to reflect, in my case, what the patient needs you to reflect. Some people call for humor and it's a matter of being able to see that. It's a matter of knowing when not to do that as well. So we want to choose the approach and the sense of balance that we want to have and that the client needs in order to meet them where they are with that tragedy, especially in the early moments when people haven't maybe developed a feeling yet about it, that they're still quite confused or quite just jarred by the event.
That key point of meeting them where they're at is so key there.
Now our media can really dig in and we can be bombarded with images of tragic events, so how can we balance a need to stay informed with the need to protect our mental health and wellbeing?
It really comes down to [inaudible 00:06:27]. We are absolutely bombarded with media. We're bombarded with opinions. You can't escape it even if you wanted to. And I mean, for all of us that are working at LifeStance, even if you hover over the little weather thing, it's going to pop up the news feed. It's everywhere. So it comes down to limiting yourself, giving yourself breaks and rather than trying to go so much into the fact, going more into the emotions and going more into the impact that it has rather than the nitty-gritty bits that we can get very caught up in and you realize that as you're helping people through these tragic events, those don't help. Maybe to another point. They're interesting for us to understand, but those points about the background of many who cause the tragedy, or in the case of a natural disaster, what maybe led up to it, those don't help us to feel better. Those don't help our patients to feel better. So just separating those and lay them over and shutting them off.
Great point there. What are some signs that someone might be really struggling to really cope? And when should we encourage them to seek professional help?
Oh, that's a wonderful question. I'm a fan of Maslow's Hierarchy of Needs. I always have been. So I would start out and go, "Where is this person? Where am I?" And anytime you're doing this, especially if you've experienced a tragedy yourself, if you've been close to it, if it's something that's really a part of your sphere, you first want to see where you are and make sure that your needs are being met. And the first thing that comes to my mind is always is that sort of announcement that they make on the airplane. And they say, "In case of rapid cabin depressurization, please place your oxygen mask on before you assist the passenger next to you."
So the first thing we always want to do is put our oxygen mask on and make sure that we're where we need to be. And then once we've checked that, then we look at our person. What are the signs that we look for? Is somebody not able to meet some of those core needs, that they feel as though they're stuck in that safety area, the safety block of the hierarchy. And are they able to talk about it? Are they sleeping properly? Are there physiological symptoms? Are they eating properly? Those are something that is all worrisome. And certainly we don't eat when we're stressed in many cases or our activities in daily living aren't where they need to be. So you can tell a lot by somebody's routine being completely shaken.
You might see some signs of trauma. You might see some staring off into space, some flashbacks. You may see some hyper-vigilance. Those are things we want to look out for and keep an eye on are those early aspects of trauma. And when to send somebody for help. That part of me always wants to say as soon as you see the problem. But really, I always think about this idea of from the DSM of… In order for it to be diagnosed, it has to cause a significant impact to the individual's ability to comfortably live their day to day life. Is their day-to-day life so affected that they can't shift it back? Which of course, that's when it's time to have that external sort of vision, come in and go, "Let's help you through this. Let's give you a guide to walk you through it."
And I think you just stated a really great example there of a gauge of when to be able to tell if someone needs to get help. That's a great way to explain it. Are there any specific therapeutic approaches or techniques that can be helpful for people who experienced a tragic event?
Yeah. I think it's really there are some techniques that really do help, and then there are techniques that you want to avoid as well. And you want to avoid trying to fix it. You want to avoid being fixers in this one because at that point, we can't do… You're not in a long-term state. It's almost like the example of the molten earth, that they haven't set in. Especially early. They haven't set into the traumas-
Great example. Right. Right.
So before that, trust solidifies. And in the case of the earth, we want to look at brief solution focus. We want to look at empathetic listening, sympathetic listening. We want to be there to help them to talk about it just to extricate some of that emotion and feeling and to be able to process just what happened.
Absolutely. And we don't want to start out in trauma methods, but we want to start out in just talking about it. That very core supportive therapy short-term where do we need to get you so you're able to get a foothold to function so that we can then get some good plans in place and see how this is going to sell, how this is going to shake out in your life.
A lot of this is just holding space for the client to have a platform just to share what they've been through. I had jumped in and said to make sense of it. Sometimes some of the tragic events that it seems like what is… How do we make sense of it sometimes? And sometimes just holding that space to be able to process out, that is so important.
Yeah. I'm just always imagining these sort of just almost like motes of dust. These motes of emotion and if somebody goes through these traumatic events, at first they're trying to just find the ones and put them in order and try to get to where they need to go and they're floating around. And sometimes just sort of talking it through and talking it through and talking it through, it allows them to breathe it out and then put it into the order that they need to. And having that space to do that is just critical.
Yeah. I agree. What are some of the emotional impacts on survivors and their families and how can we support them in their healing process?
For the survivors of these events, people will handle it differently. I've seen this happen with so many different events and with so many different types of trauma where you realize that you never know what's going to get weighed down as a traumatic event. You never know how long it's going to get weighed down for. You could be big and strong and tough and it can really hit you. You can be somebody that maybe a lot of people would think would be very easily traumatized. They're able to show incredible resilience.
And sort of Maslow says, "Once you experience something traumatic, you've experienced one thing that was traumatic and you may experience different traumas in different ways as you move forward." One thing that I always remembered is how people manifest and handle these things was years ago there was an interview that I watched. And the interview was with many of the survivors of the Columbine shooting, I mean, 30 years ago.
Yeah. They had all these folks in this room. And I thought it was one of the most brilliant interview questions I ever heard and the interviewer says to this group of probably about 15 or 20 people, "What was the first thing you did when you walked into this room?" And every one of them said the same thing almost in unison. "We looked for the way out. We looked for the exit."
Wow. What a trauma response right there. Right?
It is breathtaking. And to hear that, that is something that we don't even think about. The first thing, and this will exist with Michigan State, with [inaudible 00:14:01], with all of these things, they will look for the way out. But they will always carry that with them, that part of the trauma. So people, their families, they can develop a sense of distrust of their surroundings. They can develop a sense of general feelings of just not feeling safe. And that can carry many, many years. Many years.
Right. And I think that's helpful for people to recognize that and understand that, that this isn't just something when you're trying to heal from a tragic event that you just kind of wrap it all up nice in a nice, neat box and it's filled with care and you're good. No. This is something to navigate for many years. Or for some people, for the rest of their lives.
Absolutely. Look at those patients and I think about the core concept in Buddhism, which is that pain is universal and suffering is not. And as you see how people sort of carry that with them and families carry it with them for years, the pain will never leave. The suffering, the way that we carry that can be altered. But there is no forgetting it. When you cope with it, it isn't done. It just becomes something that we're comfortable with and we're comfortable with the discomfort of it. You will see that a lot with people. You will never see them be comfortable with what happened, but you'll see them become comfortable with the discomfort.
Excellent way to put that. Now, you and I are both clinicians. How can clinicians balance their own emotions when they're working with individuals who've experienced tragic events?
A million times. I could say it a million times it's check yourself always. It's always saying, "Where am I? Have I put my oxygen mask on? How am I feeling about it?" And it always feels selfish in a way to think that, but we have to. We have to do that in order to be able to really provide that care that we need to without ourselves getting buried in the trauma as well. And it's especially important, again, if you were exposed to or you experienced the trauma yourself as well. So for us, it becomes about really intentional self-care. Really positive self-reflection. Understanding deep aspects of the event and how people handle those that we can. Being honest with our patients as well in saying, "I understand how you're feeling. I'm hurting as well." And being able to almost express that as well is important too. Utilizing colleagues. For us as therapists, going to therapy ourselves, getting our medicine.
We can't help others unless we help ourselves.
It becomes utilizing the tools that we want other people to utilize as well, but really doing it unconsciously. Reminding ourselves why we're doing it, and that gives them so much more power.
I love that fact that you brought up the idea of genuineness. I'm hurting as well. I think that's very key. And also self-care for ourselves if we need to go to therapy, if we need to process with our own colleagues, that's so important.
Right. And also remembering just to make sure that we're sleeping and eating.
That we're slowing down as well and making sure we're meeting our own basic needs as well.
Right. Matt, any other takeaways you'd like to share?
As much as I think we always hope that this will never happen again, my thinking we will in many cases we experience these traumas and others experience them. And again, we all want them not to happen again, but having that knowledge and understanding and readiness of if this does happen to one of our communities, gives us a sense of control over the situation such that we can act the way that we need to and in the time that we need to. Being ready allows us to snap into action in terms of getting ready to see folks that might be coming into our office for those or at a high level, being able to reach out to those populations and groups and communities that are affected and being able to pull them in towards the services that we do really given them to help them is important. So always be prepared and emotionally always be prepared.
Oh, key points there. My gosh. Thank you, Matt, for sharing all your insights on this very important topic.
Well, thank you so much for having me.
I'd also like to thank the team behind the podcast, Jason Clayden, Chris Kelman and Juliana Whidden. Take care, everyone.