podcasts
Kicking Into Empowerment: Trauma Informed Martial Arts – Podcast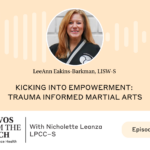 By Jason Clayden on March 28, 2023
On this episode, LeeAnn Eakins-Barkman, LISW-S explores the ways in which martial arts training can be adapted to promote healing and resilience for those who have experienced trauma. Our discussions will cover topics such as understanding trauma, creating safe and inclusive training environments, and adapting techniques for self-healing.
Listen and Subscribe Here
Welcome to Convos from the Couch by LifeStance Health, where leading mental health professionals help guide you on your journey to a healthier, more fulfilling life.
Hello everyone. This is Convos from the Couch by LifeStance Health. I'm Nicholette Leanza, and on today's episode I'll be talking with LeeAnn Eakins-Barkman, a LifeStance Regional Clinical Director, and she'll be telling us more about trauma-informed martial arts. So welcome back, LeeAnn. Great to have you on.
Thank you so much for having me back, Nikki. It's great to be here.
I'm really excited about our conversation today, because I don't think a lot of people know what trauma-informed martial arts is, so I really look forward to you telling us more about what it is, how it can be used as a tool for healing. And even about the program you started, the trauma-informed martial arts program you started. So, I'm really looking forward to this conversation.
Me too. So, when I started looking into trauma-informed martial arts, I couldn't even find a good definition for it. I found very little information about it. I ended up actually studying a lot about trauma-informed yoga and trying to adapt that. And realized that there was a need out there for trauma-informed martial arts and develop the trauma-informed martial arts or TIMA program.
So, with that being said, I hear what you're saying, that when you do a Google search and you're trying to find trauma-informed martial arts, or even trying to define what it is, what's the best definition you can share with us to help us understand what it is?
Well, so simply put, trauma-informed martial arts is a way of teaching martial arts through a trauma-informed lens. That means that we're taking into consideration that a person may have experienced trauma in their life that they are trying to heal from, and that we are making adjustments in our teaching method to avoid triggers or activations, to help people redefine certain words that may first be obstacles to participating in the martial arts. And then, to smoothly transition into the more traditional practice of martial arts.
And so, that's what distinguishes from traditional martial arts, is that you are very aware and informed about a person coming from a place of trauma.
Yes. So for example, martial arts is a self-defense or contact sports. So, we practice things like throwing punches and kicks at each other, and then how to evade or block or counter those. But if a person can't get past the idea of having a punch or kick thrown at them because it activates a trauma-induced response, then that person typically doesn't continue. And I can't say that I blame them, right?
So, TIMA takes a different approach to that in softening, instead of… We don't just start out with, "This is your attacker." And, "Okay. Throw a right punch." We ease into that.
And in a moment, we'll definitely have you share with us more about what a class in TIMA looks like. But first, tell me what got you interested in trauma-informed martial arts? And what led you to start the TIMA program then?
Well, so my interest in this started way before I ever realized it did, as so many things in life go. I started martial arts as a teenager, and then years later, not realizing that these two things would ever collide, I became a therapist who specializes in trauma. As a therapist, the more I read and studied about being trauma-informed and reading studies on trauma-informed yoga, especially those by Bessel van der Kolk and the National Institute for Clinical Application of Behavioral Medicine, I think I got that right, the more obvious it became that an important part of trauma recovery is the mind-body connection, right?
And so, I started observing the many ways that this happens for my patients, and encouraging. And this can happen in many different ways, it doesn't have to be martial arts or yoga. It can be music, it can be dance, it can be anything that we use our body to feel, right? And then, also looking at… I, as many other people, have my own childhood trauma that I have worked very hard to heal, and looked at how martial arts has played a role in that for myself, and thus, TIMA was born.
Gosh. That's great. [inaudible 00:04:53] for giving us that background. So, what does a typical class look like?
So, a typical class might look like… We would bow in, first of all, because martial arts is based on respect, and it's a mutual respect. So, mutual respect for your fellow classmates, respect for your teacher, your teacher respecting your students. Then we circle up and we stretch taking into consideration what poses and positions are appropriate in a trauma-informed class. Then, we would move on to a mindfulness activity and then begin our self-defense moves. All of our self-defense moves and our classes have a theme that are connected with them. I'll talk more about that in a little bit.
We might go into practice stations after that where I break down the self-defense moves and we practice them based on stations. We also use music during class, during our mindfulness moments and during our stations sometimes to help deescalate us, sometimes to help pump us up a little bit, right?
So, it depends on the genre music. It could be more quiet, softer music, or more energetic music, it sounds like-
Depending on what you're trying to do.
I'm very particular about the types of music that we listen to in class. So oftentimes, they're related to the theme of the class. Then, we do some partner work, and we usually incorporate BOB. I don't know if you know who BOB is, Nikki.
So, BOB stands for body opponent bag and-
BOB. That's the… Yeah. He looks really… Yeah.
He looks like a dude, right?
And so, we practice a lot on BOB. BOB is bigger, typically, than most females, or actually, than a lot of people. And it does help you with actually picturing a person there, knowing that that person's not going to react or respond to you and whatnot. So, we do a lot of practice work with BOB. I refer to him as my assistant instructor. And then, we usually deescalate. Before the end of the class, we review the theme and how we can take that into our world this week.
Can you give me just one example of a theme you would have for class?
Yeah. So, one of our classes focuses around the idea of leaning into it, and the theme has to be applicable to both martial arts and trauma recovery. So, leaning into it, in martial arts… Typically, in life, if someone grabs you or they're trying to hurt you, our tendency is to move away from that. In martial arts, though, we learn that we have to actually… If we're trying to gain control of the situation and that person, we actually have to move into that person. We have to lean into it. Otherwise, the further you are away from someone, the less control you have over that being. Does that make sense?
Yes, that makes total sense.
Okay. And so, we work on leaning into. I usually teach that one with a take-down move that the students really enjoy, and there's no way you can do that move without moving into the person.
So, if you're far away from that person, that move is not going to work at all. And then oftentimes, when people are recovering from trauma, there's a lot of avoidance that can occur. If I don't think about it, maybe they'll just disappear. I'll sweep this under the rug. We'll just pretend it didn't happen. And my experience has been, as I think a lot of people's experience has been, that that ends up coming back and showing up in our lives when we least expect it, and it's not usually very welcome. So, there are times when we have to lean into whatever emotions or feelings we have going on in order to move through them and manage those.
Oh, my gosh. I really like that. I like how you have both components of what it looks like in our lives, but also how you demonstrate it through martial arts. Oh, my gosh. To the moves themselves.
So, can you give us some other examples of how martial arts can be used as a tool for healing, recovery and even empowerment?
Most definitely. So, our overall goal at TIMA is to make sure that people are finding their personal power within, their voice, their personal voice, and building a healthy community.
For both martial arts and trauma recovery, right?
So, this is done in several ways. We work through things in martial arts and trauma recovery that are connecting the mind and the body. We actually work on consciously feeling our power through hitting and kicking targets. If you've ever done this, or if you haven't done this, Nikki, I highly recommend it. It's a great stress reliever.
Sounds like it, definitely.
We have a lot of fun in class. Hitting BOB is fun. For a lot of people, though, this is the first time that they've ever been taught to punch or kick, but keep in mind we're utilizing that in a positive manner. It's all about finding our power and then being able to defend ourselves should we need to, right?
Right. I'm curious, too. So, if someone's in class and, obviously, they're still working through their trauma and they do get triggered or there's a flashback that comes up, how do you help them navigate that?
Well, so some of the things we do, we try to be very proactive in the TIMA program. So, developing respect, first of all, introducing ourselves to our partners and each other, recognizing that we're there to help each other, learn, and not there to be opponents or attackers. That no one's out to hurt each other, but we're there, again, to practice and that safety comes first.
Yeah. I was going to say, it sounds like you really emphasize safety. This is a safe space, you're not going to be harmed. Okay.
Correct. And as you know, in any good trauma recovery, we also have to emphasize safety. Where are you developing safety in your life? Do you have it and you don't even realize it? Most people don't walk around in life saying, "Well, where is my safety?" Until they probably go to therapy and then the therapist calls it to their attention, right?
The other thing we do is… And I borrowed this from trauma-informed yoga, looking at the verbiage that we use. And so, there are some words that we avoid in the beginning of trauma-informed martial arts, such as the word attacker.
Now, because the goal here is to help people get ready for a regular martial arts training program, the idea's that we're going to transition into being able to use those words.
I see. Okay. That makes sense. That makes sense to me.
Well, the other idea is if we're out in the world and somebody is attacking us, we can't think of them as our partner anymore.
That's not what's happening here, right?
And so, we have to be ready for that. So, at first, we will begin with using words like, "This is your partner, not your opponent." We, as I said, transition, then, later into words, opponent and attacker. So, we might do things like if the attack is to throw a punch, instead of having the partner throw a punch, I'll just have them stand there with their arm out-
And then, allow the other person, the defender, to work around that, work their moves around that.
And then, as we get more proficient at the moves, and as we feel more comfortable with both each other and within ourselves, then we work on actually throwing the punch.
I like how you take it really slow, probably very much tailoring it to each person, right?
We try to. I also try to keep an eye out on the class just to make sure that nobody's being activated or triggered during class. If they are, we also have a tap in, tap out rule.
There's no shame in saying, "I need to tap out for a minute." And then, I can assist that person as needed. That hasn't happened yet, so I think we're doing a pretty good job of being proactive about it.
Yeah. Sounds like it. Right. I think that's the key, you're so proactive about it. I think that you set the stage for the safety and getting ahead of any potential triggers that could happen by just setting the stage so clearly for safety. So, that's awesome. That's really awesome.
Yes. And then of course, I can also be there… Being a therapist, I can be there to work with a person should they ever need it on deescalating any panic that's going on for the person on fight or flight. One of the really interesting things I wanted to tell you about fight or flight that I learned myself as I was looking back to see how this all happened for me.
I realized, after… When I started looking back on it, when I first got into martial arts again. So, I started martial arts as a teenager, was in it for several years, and then took a break for quite a while, and then returned to martial arts. And when I returned and I started sparring again, I started noticing about myself that if someone would get in a good punch or kick on me, and that's going to happen, okay? Even to some of the best sparrers I know in the United States, that happens. I would feel, within me, an anger, and I would feel myself get hot, and I would feel myself think, "Okay, you're going to get it now." That's not really how I want to be with people, right?
Especially my friends that I'm sparring with.
But I also don't want to have those types of reactions for myself. So, I started working on that with self-talk, with grounding myself while I was still in sparring, because when you're in the middle of sparring, you can't usually just stop.
But sparring, it's about strategy and it's about scoring points. So, forget what we see in Cobra Kai where they're really tearing each other out, that is not what sparring is about.
Okay. I'm glad you're clarifying that, because some people might really look at Cobra Kai and think, "Wow. That's what it is." And you're like, "No, that's not maybe all that accurate."
No. I like Cobra Kai, don't get me wrong. They're very entertaining, but it's not about really kicking each other in the face and making people bleed and things like that.
So, it is about being strategic and scoring points. And so, I developed some little mantras that I would say to myself when I started feeling that fight or flight kick up.
Kick up, Nikki. Yes, thank you. So, I would say, "Strategy, LeeAnn. Strategy." I'm using self-talk to talk to [inaudible 00:16:42] to get myself down from that. "Strategy, LeeAnn." Because if your emotional brain takes over-
Your logical brain starts shutting down, right?
And the emotional brain is not very strategic.
No. As much as we would like it to be, it is not. Right.
Right. It just goes, "I'll do whatever I feel."
In the moment, that's not always the best thing, in both life and sparring. So, I worked on this very hard in order to retrain myself. So now, if you get a good hit on me, I no longer feel that feeling of, "Okay. I'm going to get you."
I don't feel that heat kick up in me anymore. And what that told me was that I was able to reprogram, so to speak, my fight or flight. And it can be done.
Part of what I'm thinking here, too, of the restraint within yourself, the discipline within yourself to be like, "Hold on, emotional brain. I know I'm reacting right now to this. Hold on, let's tap the brakes. Let me reframe this. It's about strategy." So, what a great way just to discipline yourself, and that goes with the rewiring as well.
And it comes naturally with martial arts. Martial arts is very structured. And in TIMA, we're learning sequences of self-defense moves, but we're also learning to follow our body so it just flows naturally.
Yeah. I think one thing I want to make note, and I love the idea of really having someone tune into their body as they're doing this practice. So often, when people have had to navigate trauma in their life and experience trauma, a lot of it's not wanting to be in the body. It's not comfortable to be in the body, for some. And so, you tying it back to the empowerment of being in the body, to feel strong within your body, I think, is so key. What a healing aspect to trauma.
I've had women come back and tell me, "I've only been to a couple of classes, but already I feel so much more confident in myself. I went in to see my therapist today and she noticed a difference in the way I'm carrying myself." Obviously, we're not far enough along in self-defense at that point to feel like we can really take on the world, but it was starting to bring that out in us.
We also really look to help people find their voice.
So, I have to tell you this great story. I was at home the other night and I just ran the first class of a session. And during that class, one of the things we talked about is finding our martial arts voice. So, we kiai in karate when we hit or kick, or strike. So, I always encourage people to do that. It's a very uncomfortable thing to do and people are usually laughing about it. We have a good laugh about it in class.
Somebody even asked me the other day, they were like, "What do you actually say?" I'm like, "Well, you can choose what it is you want to say." The only thing I encourage you not to say is… Because the karate people will make fun of you. I say… When I yell. You can… You can… Whatever feels comfortable to you. You can change it up a little bit.
Well anyway, I was sitting at home and I got a text from one of the ladies in my class and she said, "I have these two dogs that are super cute but they don't always listen. But tonight I used my karate voice. I used my new…."
That is great. That's a great example. Thank you for sharing that. Love that. Any other takeaways you'd like to share?
Well, I wanted to make sure that everybody knows how to get ahold of us at TIMA Cincinnati. You can find us on Facebook at Trauma-Informed Martial Arts. You can find us on Instagram at TIMA, T-I-M-A, Cincinnati. You can always reach us via phone or text at 513 226 2858. And I just want to remind everybody that TIMA is all about finding your power, finding your voice and building community. Yesterday is heavy and we need to put it down.
Great words to end by, LeeAnn. Thank you so much. Thank you for sharing your knowledge about Trauma-Informed Martial Arts. And I think this is going to inspire a lot of listeners to check this out, to check out your website to see what this is about and see if they can find their own power using this practice.
Yes. Thanks for having me, Nikki.
You're welcome. I would also like to thank the team behind the podcast, Jason Clayden, Chris Kelman and Juliana Whidden. Take care, everyone.