podcasts
How Trauma Affects Foster Youth – Podcast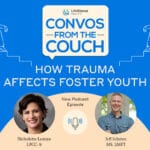 By LifeStance Health on May 16, 2022
As we recognize #NationalFosterCareMonth, Jeff shares the importance of permanency planning with consultation, psychoeducation, and therapy services to support successful out-of-home placements.
Welcome to Convos from the Couch from LifeStance Health. Where each episode, you'll hear engaging, inner formative conversations with leading mental health professionals that will help guide you on your journey to leading a healthier, more fulfilling life.
Hello everyone, and welcome to Convos from the Couch by LifeStance Health. I'm Nikki Lianza. And on today's episode, I'll be talking with Jeff Schewe therapist and director of community based services at our LifeStance Minneapolis office about how trauma affects foster youth. So welcome Jeff. [inaudible 00:00:45].
Thank you so much for the opportunity.
A statistic I found, and this is according to a study by the National Library of Medicine, youth in foster care have high rates of trauma exposure and these exposure rates approach 90%. So we know that foster youth are also significantly more likely than the general population to have directly experienced violence themselves, specifically abuse and or neglect. So I think this is key to why we're having this conversation today as well, just seeing this high rates of trauma exposure, for sure. So again, thank you for being on Jeff and let's kick it off. Tell us a little bit about yourself.
That sounds good. Thank you for giving that stat as well. Just to underline the importance of this. It's something that trauma has kind of moved to the forefront. I'd say in the last… In Minnesota, I'd say in the last 10 years, I've seen that shift or we've seen that shift to focus more on it. So great opportunity. Great topic to speak on today. With regards to myself, so I've been with this company in Minnesota, which formerly was Family Innovations is now LifeStance for the last 16 years and have been in a position of director of community based services for the last two years. Now, just over two years at this point, but have moved to LifeStance, or we transitioned to LifeStance last year. So relatively new to this company, but am enjoying it so far.
Great. And I understand there's a very specific program you have out of your office that is called the intensive treatment foster care program. Can you tell us a little bit about that program?
Yeah, for sure. So the state of Minnesota, I'm going to say five to 10 years ago. I'm a little fuzzy on the dates, but about five to 10 years ago recognized that there were some issues with the foster care system that needed to be addressed. We needed to come at it differently and support the kids, the families, and all involved a little differently than we had before. So they started this program where they're requiring our clinicians that are going into these homes to work with the foster care youth and their families and those, the foster care providers. And even the system as a whole that are providing clinicians that are evidence based. They have solid training behind them.
They have solid experience with them and they can go in there for more than you would typically expect. And so for most of our therapeutic services, it's ranging from one to three hours a week whether that's your 45 minute therapy session on up to in our community based program, a more intense case would typically take maybe three to four hours in a week with this as intensive treatment of foster care program, where I'll say expected, not necessarily allowed or whatever. We're expected to have about six hours of contact with the client or their families in a week. And so that can include being able to work with that client directly. That can include working with the foster parents, because they're obviously going through challenges to just being able to get to know this kiddo, getting to know how they can support them better.
It can be with their biological families and all that they went through in the transition of a child being removed from the home and all that led up to that as there's obviously a story attached to any of those transitions, as well as being able to coordinate better with case managers and child protection and all that are all involved and all have stake in this client doing better and moving towards health, but needing more support from a therapeutic sense to able to make that happen. So the state set up a really good structure to be able to do so. And we've been kind of thankful enough to be able to have that opportunity to engage in that program as well over the last five to 10 years or so.
Great. Give us some idea of what would lead a youth to have to be removed from their home?
Yeah. So typically what we see it's initiated by child protection because there was a report of domestic abuse or safety issues that were involved or neglect issues that were there. And there's a lack of that parent being able to, or that guardian being able to support that child because of their own mental health stuff or their own circumstances, or what have you. Once they're in the system with a child protection worker or a case manager, they can qualify for this program as they move into a foster placement. So as long as they have a representative from case management, as they move into a foster care situation, they can get the support.
Got you. And so since our focus is really looking at how trauma affects foster youth, let's kind of get a better picture of what is considered trauma. Can you talk a little bit about that?
Yeah, for sure. I think for so long, I think we focused primarily on just on the safety aspect of it. And we focused on traumatic events. We'll say, they went through, somebody passed away or somebody was abused or somebody was whatever. And those are certainly traumatic, but different people process those things differently. And so I think instead the focus is on how we process these events that we go through because somebody might go through this, two people can go through the same events and one, maybe won't go through trauma necessarily. They won't perceive it as trauma where somebody else can be their whole life completely changed because of it. And so from my perspective, I think it is the fact that somebody goes through an event that is potentially safety related, potentially just something that's outside of their control. And it goes beyond their skills and abilities that they have to cope with it well, and so they're processing of it, I think is what really makes it a trauma for them is the biggest aspect of it from my side of it.
So looking at specific symptoms that might reflect someone being traumatized, what would that look like?
It's another one of those things. I think trauma is one of those things where it can look so different for different people, similar to the events and how we process it. I think the display of these symptoms and how it impacts functioning for each person can look so different. I think your typical of what you expect like by the letter, we'll say with the DSM is you're going to have flashbacks of the events, nightmares, difficulties processing cues that you're facing on a daily basis, or just memories of those things, mood disturbances. Those types of kind of more by the book or kind of black and white symptoms. But I think so often it can kind of show itself as many other diagnoses, whether that's [inaudible 00:07:21] because the client has those mood disturbances and or anxiety, because they're just so shook and so nervous about kind of facing their day to day because of what they've been through and how they're processing that.
So I think each client, it probably looks a little different in some regards, but it's our duty to obviously dig in and try to find out, okay, where are those roots for this?
Of course. I don't think we can have a conversation about trauma and not bring up PTSD or post-traumatic stress disorder. Can you share a little bit more about your feedback on PTSD?
Yeah, for sure. So I think it's that PTSD is just in… To put it simplistically kind of that diagnosis that we use to try to encapsulate those patterns when those changes in behavior or cognitions come up after we struggle to process an event. PTSD is just that kind of a language that we can use to try to put that label on there. So we can kind of understand this is what's underneath it for other working professionals or whatever. I think for some of my clients, it's also been something where they've appreciated having an answer to what it is, like what's going on. I had a client that I worked with that is in her sixties now that had never been diagnosed with PTSD, but it was very clearly as we worked through some of the symptoms and challenges that were there. It was very clear that's what it was. And so we talked about it to some degree and she came back the next session and she was just thankful.
She said, "I've had 10 different diagnoses over my life." And when we walk through it and actually talk through it, this is what it is, underneath it. And to be able to put some sort of label or some kind of box around it, per se, as best we can.
I agree with you wholeheartedly. I knew I worked with several of my own clients who in first meeting them and getting to know them had so many arrows pointed back to trauma in their life and having that conversation, they too would be like, "Holy, wow. I didn't realize this is so trauma based in what I've been doing and what I've been experiencing." So again, I think there's so much of this misnomer and misunderstanding about trauma and how people will perceive it. Not recognize that some people really have been traumatized and that's what's maybe leading a lot of their symptoms of anxiety and depression. Because as you kind of dig a little deeper, it might be more based in trauma and everything too. So excellent point. So how does trauma look with the foster youth then? So if we're going to look at really, how does trauma affect foster youth? Is there specific key things you are looking at or you can tell with foster youth?
Yeah. I think it is a different challenge, I think, to identify this with foster youth. Because I think working with children in general, I mean, the stereotype is going to be that they're less verbal about some of these things. If I'm working with an adult who is coming into therapy, they have some motivation. I mean, they're coming to my office, they've driven there. They have some insurance or financial gain or financial kind of investment in this. Whereas with a client, especially in our community based program, there's a referral that comes from child protection or comes from case management or what have you. And so this child is not signing up for it, not necessarily willing to do it per se. But so I think being able to dig into that and to take the time, to get to know their story, to understand what's behind it, to take the time to listen to what they're kind of putting out there, what their day to day looks like, to be able to identify what's underneath it, I think is an extra challenge.
I think, as far as that presentation kind of with your question, I think it can look like so many different ways like we alluded to earlier. I think some of the clients that are coming through that foster system that we're starting with are they're depressed and they're really withdrawn within their class environment, at school or what have you, or they're not engaging well at home. They're just kind of, "I'm going to just stay in my room and my mood is pretty flat." Or things like that. I think a common one that we also run into and that has been a huge kind of course correction, I think for a lot of clients within the field that I've seen over the last five to 10 years again, is the children that are acting out, the youth that are acting out. I think in the past historically, it's been so easy to just say, "Okay, this is an oppositional defiance kind of case, or this is a…" Whatever label they want to put on it, official or not.
But a lot of times those kiddos, especially in our foster care system, there's some trauma underneath that's [inaudible 00:11:57] struggling to process. Being able to sit in a desk all day at school, or to be able to follow basic direction at home or go through basic interactions with siblings, friends, peers, whatever. And so I think the importance I think can come down to how much time and effort we put into trying to get that story underneath it. Really dig up those roots a little bit versus just accepting, okay, on the face, this is what it looks like. Looks like an anxiety case, or looks like an ODD case. There's more underneath that. Especially with our foster system, knowing that, like you said, at the outset, the vast majority of kiddos that are going through the foster system have experienced some sort of trauma. You're probably not going to end up in the foster system without going through some sort of trauma. And so being able to understand that going in that there's probably some trauma underneath here in some capacity and taking that time to really dig into that a little bit.
And that makes me think specifically with kids who might be diagnosed or labeled as oppositional defiant disorder is sometimes going to be frustrating working with youth with those struggles, we'll say. But really looking beyond that of what's happened to them for them to manifest a behavior. And I think the key of what your program does, it's working with foster parents to help them understand this might be a kid who's seeming to be just so oppositional and that foster parent might be getting really frustrated with them, but looking at it through the lens of trauma and what's happened to the youth. Can you tell us a little bit more about that?
Yeah, absolutely. I think that's been something that has been a fantastic byproduct of this shift kind of towards recognizing trauma and how that plays out because the schools and the foster parents and so many different systems, I think that we cross paths with, as we're working with youth are recognizing the need for education in this area and wanting that. And so we've had schools request clinicians to come in and do trainings whether it's a couple hours or a half day kind of thing, or more because people want to be trauma informed at this point, knowing that it's crucial to provide their services, whether that's school or whether that's case management support or whatever.
So there's definitely that movement there to try to be better informed with it. Like you said, foster parents, I think are on that front line as you're dealing with kiddos when they come home and maybe they've held it together as best they can at school. And so there's typically some spillover, to say the least, comes out a little sideways maybe once they get home. And so being able to help those foster parents, like you said, just better understand what's going on for them. And that second step of how do we support them through that. So we help them process it differently and then also support them so that they have the space to be able to do so.
And I would think in helping foster parents come from more of a trauma informed perspective, you're also keeping kids from jumping around home to home to home, I'm guessing. Is that fair to say?
It is. I think that's one of the goals that the state kind of moved in this direction was because they wanted to reduce the multiple placement portion. Because we have that initial trauma as they come into a foster system or that leads to them coming into the system. But then if you think about, especially as a child with the skills and abilities that come with that developmental level, "Okay, I'm going to move to a different home, different parents per se or different guardians." Could be after a few weeks, it could be after a few months, it could be longer depending on the placement expectations. And so just the retraumatization that comes with moving from place to place and the multiple placements.
And so they're seeing at this point, there's data that's coming out, that's showing that we're reducing those multiple placements, which is one of those kind of overarching goals of the program from an outside perspective versus focusing obviously on the client moving towards health and the family moving towards health. We're reducing that through this kind of program and this kind of lens [inaudible 00:16:06] focused on this massive. Yep. I would agree.
I like how you're emphasizing. I don't think people really recognize this if they're not all too familiar with foster youth. When it comes to that initial being removed from the home, that in and of itself is traumatizing. Not only are they navigating trauma that's happened to them and the reasons why they're being removed, abuse, neglect. However, the actual removal from the home itself is very traumatizing. For better or for worse, if the home wasn't the best for them, it's still their perception of their home. And being really literally uprooted to a new home is just so traumatizing. So I really liked how you're emphasizing that.
And probably also helping your foster parents understand that as well.
Yeah, yeah, yeah. Recognizing that it's not a clean process. They're not coming in, like in a vacuum, there's lots attached to them. There would be for all of us going through transitions like that.
Very true. And it also makes me think on the other end of… And I'm going to put it out there for some foster parents, how it might be traumatizing for them even, maybe becoming more familiar with the stories of the youth in their home. And what's happened to them there I would think maybe be a byproduct with some vicarious trauma going on. You're learning to care for this child very deeply, and maybe learning what's happened to them could be very upsetting for the foster parents as well. And so even if the biological parents are working on a plan to have the youth come back home, that could be very difficult for the foster parents then too, to have maybe the youth go back to their biological home. Can you tell us a little bit more about that, for that process?
Yeah. I think you're hitting on the complexity of this kind of arrangement or these dynamics that are involved with the foster system. Because there are just so many different layers and everybody brings their own kind of perceptions in there by probably their own struggles that are attached to those perceptions. 100% though, I think no matter where that child goes, whether it is, like you said, back to the bio system after a lot of work and support and changes that need to be made or staying in the foster system or moving towards an adoption at some point in that kind of stream, there's going to be complications. There's going to be transitions that need to be navigated with the support of somebody that, of a therapist, of the whole system, to be honest. It goes beyond the therapist. There's nothing simple about it, is what it feels like. So to be able to have the support, to be able to have the structure put in place to support these, the whole system within this or the family and those around them. I think it's just a fantastic opportunity that we have.
For sure. Jeff, is there any other takeaway or highlights you like to share about how trauma affects foster youth?
Yeah. Yeah. I think you did a great job in kind of walking through the questions and laying stuff out. So I think the biggest thing for me is just emphasizing the importance of a proper diagnosis as we're doing this. That takes being patient, I think, in digging that up, not just accepting the face value. And I think it's hard in our roles because a lot of times that initial assessment is 45 to 60 minutes, and that's not the only thing we need to do during that time. And so it's being able to take that time to dig in as best you can to find that right diagnosis. Because I think as we have that right diagnosis, others will have that right diagnosis as needed or as appropriate. And then that next step of that is we can better determine how do we support them.
How do we provide services and the intensity of services, to be honest, that are appropriate for what's underneath here, not just taking it as, okay, there's an oppositional defiance child here, or a child that's struggling with anxiety or things like that. Because I think our approach is going to be vastly different if we just look at that symptom versus recognizing that there's some deeper and bigger roots underneath this likely. So really being patient in that and making sure that you're coming at it from the right angle, I think is crucial.
Yeah, for sure. Jeff, I want to thank you for the work you do in working with foster youth and foster parents, as well as your program. Sounds like it's amazing. And also doing some really critical work and especially in being able to keep foster youth from jumping from home to home to home, which is such a serious problem within foster care too. So thank you again for sharing all this amazing information. And of course I know the work of foster parents is very difficult, but I'm sure you'd like to encourage people to maybe consider becoming foster parents.
Yeah, absolutely. It's such a need that's there. And I think especially with proper support, so the supports that are allowed to us. I can't think of a better way to do it or a more rewarding kind of opportunity that they can have to not just change one person's life, but to change that system's life, they play a huge role in that. So, that's great.
Thank you so much, Nikki. Appreciate it.