podcasts
Understanding the Gender Continuum – Podcast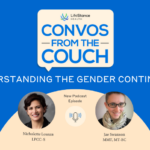 By LifeStance Health on August 24, 2022
Jae Swanson joins us to discuss the the topic of Understanding the Gender Continuum. Listen as we discuss gender expression, the importance of using the correct pronouns and how to be supportive of one's gender identify. 
Welcome to Convos from the Couch from LifeStance Health, where each episode, you'll hear engaging and informative conversations with leading mental health professionals that will help guide you on your journey to leading a healthier, more fulfilling life.
Hello. Welcome to Convos from the Couch by LifeStance Health. I'm Nikki Leanza. My pronouns are she/her. In today's episode, I'll be talking with Jae Swanson, clinician from one of our Philadelphia offices on the topic of understanding the gender continuum. Welcome back, Jae.
Thank you so much for having me again.
Cool, very cool. Excited about this topic. I think it's really important for those not understand the term, gender continuum, to really kind of unpack this a little bit more, help people understand how we're… It's an antiquated view of looking at gender on a binary. We're going to dig into that, for sure. I know you were on not too long ago, and you shared some things about yourself before, but do you mind, just a little bit about yourself, and then we'll jump in?
Yeah, sure. I'm Jae. I use they/them pronouns. I have a background in music therapy and counseling. I have a counseling license in Pennsylvania, and I work in Philadelphia. I have years of experience working with young people who are grieving and who fall in the LGBTQIA community somewhere. Then I myself identify as non-binary and queer.
Thank you. Jumping in from that platform, how we have it set up is we're just going to really dissect the terminology to help people understand from that point of view. I think a great first question is even looking at the difference between sex and gender. Can you help clarify that?
Absolutely. At this point, sex is most commonly referred to what folks are assigned at birth, which is typically just based on anatomy, so female, male, intersex. Then gender is more of a social construct that society has kind of created that has become so ingrained that we associate it with things like traits and expression, as having to do with sex, even though gender could actually be something we think of individually for ourself, if that makes sense.
That makes total sense. This is where we'll kind of continue to dive off from there. Looking at gender on a binary, I think we both agree, it's very antiquated, looking at that. How can that be harmful to people?
There's lots of ways that that is and historically has been harmful for people. Again, gender is really something that has been invented by society and has historically been used to maintain a hierarchy between men and women, right? It kind of has upheld the patriarchy for a very, very long time.
The binary also excludes people who might not fit into the binary, so people who just really don't feel like they are the gender that they have been given at birth or maybe people who feel somewhere, who feel like something else that hasn't been invented by society quite yet.
When we look at gender as a binary, we're assuming that gender is fixed and that gender is related to anatomy, biology. That is, again, something that's kind of been constructed, right? Then the binary doesn't allow for more gray area, and it doesn't allow for fluidity.
It doesn't allow us to just kind of be able to express what we feel every single day. I think of it sometimes, too, as black-and-white thinking, right? We as therapists… We try to help our clients not think in that way, but binary is very black and white.
That's just some of the ways.
You bring up really good points. I think looking at the social construct of it, it might be confusing for some people who maybe never thought of it from that point of view. I think it's really keeping that up, for sure. As we continue to dig a little deeper, talk to us about gender identity. Tell us more about that.
Gender identity is how… Or, how I think of it is how an individual kind of experiences, defines for themself, expresses for themself their personal gender. That may or may not have anything to do with their actual gender assigned at birth or their sex.
Great. Good, concise way of describing it. Personal gender, what it means to us… I think that's another key thing to really focus in on. For those who maybe have a hard time understanding this, really helping people shift their mindset with things too. How personal our view of our own gender is and how we identify, for sure.
How much do we, individually, think that we have to look a certain way because of what we were told.
We all do that up to some extent.
Yes, we do, for sure, which I think is a good lead-in to looking at gender expressions. Tell us a little bit, defining gender expression and what that means.
That is basically just, how do we express our own version of gender? That can be through the clothes we wear or how we wear makeup, our body hair, facial hair, our haircuts, because, again, society has kind given us ideals of what's more masculine and feminine and all these different ways. That's basically, how do we express our gender?
Great. Great. Then how does gender identity differ from sexual orientation?
The two aren't super necessarily related. Sexual orientation is, who are you attracted to, either romantically or kind of any other forms of attraction? If you look at asexuality, there's a whole spectrum of versions of that. It really doesn't necessarily have to do with your gender identity, right, which is just your gender identity.
Now, gender and sexual orientation intersect because we talk about attraction in terms of gender, right, but our own experience of gender and our own sexual orientation may or may not be associated. I wanted to mention, too. There's two really awesome graphics you can find online. The Genderbread Person is one.
The Gender Unicorn is another one. They're both really excellent at delineating all these terms we just talked about, including the gender identity vs sexual orientation. Just Google either one of those things, and it's right there for you. It's a great visual.
I appreciate you mentioning both because that's actually, personally what I'll use with my clients as well as we're navigating things, to help them understand the difference between the terms and stuff like that. Thank you for plugging both of those.
What does it mean to be non-binary?
Non-binary identities are going to be different for every non-binary person, potentially. My experience of being non-binary is kind of not fitting in the binary. The word, woman, has never quite felt right for me, but the word, man, has never quite felt right for me either. I am just somewhere in-between or somewhere that's just neither one of those things.
I tend to dress maybe a little bit more masculine of center as someone who is assigned female at birth, but sometimes I don't. One thing about me that I am aware of when I'm in the world is I haven't shaved my legs in about six or seven years. My own kind of ethnic heritage… I have a lot of dark hair, and it's very obvious. You can see that from a block away.
I live in a part of Philadelphia where that is safe. I'm one of many people who kind of present this way, but it is something I'm very aware of, if I'm maybe somewhere else where I'm not sure how I'll be seen. For some people, some non-binary can mean more like gender fluidity, which is just going with how you feel on a day-to-day or moment-to-moment basis.
Some people might say I'm gender fluid. Some people might say I'm gender non-binary and fluid. It is kind of different for everybody. Part of my non-binaryness is using they/them pronouns. That just has felt right to me from the minute I started using it. Some people, you might hear, use they or she, or they or he, or say, "All the pronouns are good," or use other pronouns like ze/zir, or things like that.
That brings us to, why do pronouns matter then?
There is something very affirming about your pronouns matching your gender experience and very affirming when other people use the correct pronouns that also match your gender experience. It feels like you're being seen.
They/them can be a particularly difficult one for people to get used to. When I talk about the pronoun, they/them, I point out how often we use that. We use the singular they all the time in language, if we don't know exactly who we're talking about, but it's when we can picture an individual person that, suddenly, we don't want to use the singular they, right?
The singular they is in the dictionary now, used to define people who use that as their pronoun. I can speak from personal experience. When someone is having difficulty with it, but they are trying, and they might make a mistake but catch themselves, and apologize quickly, and move on. That's fine. When somebody repeatedly mis-pronouns me and doesn't seem to be trying, I certainly feel a level of disrespect that can be really difficult.
Which brings it back to why it's so important and that pronouns do matter.
For you, if you see someone who's at least trying and maybe catches themselves, that's great. For someone who's maybe very, very specifically not using it, then it can be very hurtful.
Exactly. It's another kind of harmful thing.
I do want to highlight the-
If you make a mistake, it is okay. It's important to not spend too much time apologizing because most non-binary people are dealing with that on a regular basis. Apologize, move on. Keep it flowing, very important.
Got you. What else can we do to be more supportive of people's gender identity?
In preparation for this question, I made a big list. Any one of these things could be a whole podcast, so I'm going to try to be concise as I can.
I think the biggest one is kind of what we've already talked about, right, so an attitude of respect towards people, being open to whatever someone's experience of their gender is, not making any assumptions about that experience. Even if you've worked with five trans clients, your sixth one is going to be completely different from each individual, one person, of those five, right?
It's important to never make assumptions. Then at the same time, it's important to refrain from asking too many questions. As a therapist, it's important to be careful that when you are asking questions about your client's gender, especially if you're working with a trans or non-binary client, that you pay attention to why you're asking it.
If you ever find yourself asking it because you're just curious, that feels very voyeuristic. We can kind of sense it, and it doesn't feel appropriate. Trust that your trans and non-binary clients will share stuff with you as they feel comfortable.
If you have to ask a question because maybe you're more of a medical professional, or prescriber, or something, just preface it with, "I know this is a personal question. I have to ask for these reasons." Some of those types of questions… Never ask anybody for their dead name, and the dead name is the name that they were given at birth.
If they haven't yet legally changed their name, that is the name that will probably show up in the chart, which brings me to another point, which is when you're starting up with any new client, ask what they want to be called. That's anybody, across the board, right?
Then it's also important to… Unless you really need to know the answer, you don't need to ask what treatment they've done and what surgery they've done, if any. Don't ever make assumptions that they have or have not. Only ask that if you need to know. If your client thinks you need to know, they'll probably just share it with you, right?
I wanted to point to another really awesome thing online. There's an interview that Katie Couric did a few years ago with two trans women. She asks one of them if they've had surgery, or she asked something about their body part. Very personal, invasive question. She responds… Her name's Carmen Carrera.
She responds with, "Can you not ask me that? That's a little personal." She explains why. Then Laverne Cox comes on, who's another trans woman who many people might know. She really digs into why that's inappropriate in terms of, if we are just thinking about that, what are we not seeing?
I strongly recommend looking that up. Look up Katie Couric, Carmen Carrera, Laverne Cox interview. There's a really good video where you see that. Laverne Cox just really explains it well. Another resource for you.
Another thing is learn about transness, right, learn about nonbinaryness. There's so much to learn. Some of the things that I thought of… What barriers do trans and non-binary people experience in day-to-day life or just in their experience of being trans?
Learn more about gender dysphoria, and what that is, and when it matters. Learn about health disparities of trans people compared with not-trans people, cis people, especially because that might be impacting your ability to do therapy with people.
Part of why health disparities exist is that a lot of the medical world still don't know how to competently treat trans people. A lot of trans people have been mistreated and, thus, avoid-
Any medical setting altogether, right? It's important to learn about the history of discrimination against trans people and common concerns that trans and non-binary people face, like safety. Or, right now, there's so much anti anti-trans legislation coming out in different states, so learning about that.
The more you know about trans experience, the better you'll be able to serve trans people and the more you can avoid needing your clients to teach you things, which we don't want to… It's nice to empower clients to teach you things, but it's also… We don't want them doing too much work for us, right.
Just a couple other things… Best to generally avoid gendered titles like Ms., or Mr., or ladies until you know what the preferences is, right? You can just ask, again.
Better more gender-neutral terms. If you're working with a group in group therapy, just use the word, folks or people, rather than you guys, or anything gender. Then another really good thing is to disclose your pronouns when you're talking with people or working with people and ask people theirs. I don't always remember to do that. It's just so not common practice that… Kids are doing it more often in schools now, so it's becoming more common practice.
That it is, which is great. Sure.
Then I just wanted to name a very depressing fact, which is that we still are dealing, in our country, with trans women, mostly, being murdered. The Human Rights Campaign tracks how many people are killed every year. So far, in 2022, it's 25, and that's just people they know of.
Then it's typically, highly majority, black trans women. 25 trans people, high majority are black trans women. 2021, it was about 50.
All over the country. An important thing to know, especially when you're thinking about the experience of being trans in the world and thinking about how safe people are and are not.
Got you. Thank you for sharing that fact because it's very sobering, especially as we're seeing black trans women, especially, being targeted and killed.
Exactly. Sometimes by partners, by family members, by random strangers, I mean.
It's such a shame. It's such a shame. Can you share with us other takeaways you may have for us?
Yeah. Well, I wanted to share that I think the LGBTQ community is one of the most joyful, resilient communities that there are. We'll never stop fighting for rights. Even as they continue to kind of get stripped away, we also are gaining them at the same time in different ways.
I want to point out that Stonewall, which was one of the biggest queer, the first, kind of beginning of public civil rights movements for queer people where it was led by two trans women of color, often not gets covered.
Even though that's always commonly known.
Right. Marsha P. Johnson and, I think, Daisy Rivera… Something Rivera. I should have looked that up before this, but those were the two big names. Then I wanted to offer a short excerpt, short-ish, maybe one minute, excerpt from a poem.
Love that. Please. Please share it.
The reason I love this poem is that it kind of goes into some of the really hard thing, right, about being queer and trans. Then it ends on this, also, really beautiful note that can… Gives you chills.
The poem is by Andrea Gibson. Andrea Gibson is a white non-binary queer person. This poem book is called You Better Be Lightning. It's their most recent one. The poem is called Queer Youth Are Five Times More Likely to Die by Suicide. Hard truth at the beginning of the book.
All right. Queer youth are five times more likely to die by suicide means you lived five times harder than you should have had to to still have a body when you graduated high school. Means hate worked five times harder to make your spirit its wishbone.
Means when your mother asked what was wrong, you were five times more likely to believe you'd lose her if you spoke the truth. Means that you were told five times more often, you'd go to hell when you died.
It means burning for eternity seemed five times more doable than another day in the school lunch room. Means you were five times more inclined to triple padlock your diary. Means you were five times more likely to stop writing your story down. Means, I write my heart out now.
Means there are many days I thirst for my own silence but walk through the desert screaming instead because I, like most of my queer friends, don't have a child. I have millions from Nebraska to Chechnya to the Baptist church where I grew up.
My pride in them is a parade I know won't keep all of them alive, but I keep cutting my diary into confetti to throw at their hopes when they float by, scared, or furious, or laughing, or in love and desperate.
For the headline to say youth are five times more likely to offer to walk their younger siblings home from school, to notice the different accents of sparrows, to find an eyelash and spend 20 minutes trying to pick what to wish for, five times more likely to never outgrow blanket forts, to know there is a word for the scent in the air after it rains, to see lifelines look like telephone wires and call a friend who's having a bad day.
Five times more likely to adore the last man who walked on the moon, just because he wrote his daughter's initials there, to know there is no universe in which they would not be proud of their own children.
Queer youth are five times more likely to see you, how you dream of seeing yourself, to write something in your yearbook that will get you through the next decade, to spot a stranger crying and ask if there's anything they can do to help, five times more likely to need us to do the same.
Jae, wow. That is so moving. I'm finding myself to be pretty emotional right now. Talk about chills. Thank you so much for sharing that. Wow.
Thank you. I was just going to ask for her name again. Thank you. I appreciate it. Thank you for everything you shared today with us. Was there anything else you wanted to share with us?
I don't think so. Thank you so much for having me on.
You shared so much today. I appreciate this conversation. Very moving conversation, very educating conversation as well for those who really didn't understand the continuum. I think you did a great job, concisely explaining each of the terminology. Part of this, of breaking the stigma to things in everything, is to educate about it.
You did a great job educating today. Thank you, again, for sharing your knowledge. Who knows? There might be another future episode talking about music therapy or something like that at Convos-
All right. Thank you, Jae.