podcasts
Her Mind Matters: The Importance of Women's Mental Health – Podcast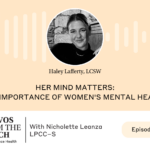 By Jason Clayden on March 8, 2023
Welcome to our special episode of in honor of International Women's Day.
Haley Lafferty, LCSW highlights the importance of promoting women's mental health and wellbeing through access to resources and support. Tune in as we celebrate the strength and resilience of women, and advocate for a more inclusive and equitable world for all.
Listen and Subscribe Here
Welcome to Convos From The Couch By LifeStance Health, where leading mental health professionals help guide you on your journey to a healthier more fulfilling life.
Hello, everyone, and welcome to Convos from the Couch By LifeStance Health. I'm Nicholette Leanza, and on this episode I'll be talking with Haley Lafferty, a clinician from one of our LifeStance Colorado offices, and we'll be talking about the importance of women's mental health. So welcome back, Haley.
Hi. Thank you for having me back.
I know you've been on our podcast a few times and I always enjoy talking with you. And for this month of March, we celebrate International Women's Day, so this is a great conversation to be having with you.
Yes, absolutely. I am happy to be here.
And I also want to make note that this conversation is for all individuals who identify as female. So as we jump in, Haley, even though you've been on, let's just have you kind of tell us a little bit more about yourself.
Yeah. I am a therapist down in Colorado Springs. I run a women's group. I have been for a little while now, and I see couples and individuals.
Great, great. One of your specialties are also working with women?
Absolutely, yeah. It's definitely one of my passions.
Great, great. So as we talk about this topic, you're going to share your knowledge of this focus in specialty with us. So to start us off, what do you believe are the biggest challenges facing women when it comes to the mental health?
Yeah, I think that I'm going to reference a lot to the women's group that I run and I think that's something that is very powerful in that dynamic is you take a lot of different women from a lot of different backgrounds, a lot of different struggles and challenges, but they're all able to connect over this universal message that of maybe who they should be or what they should look like, how they should be in relationships. And so I think this binary, or this message to about gender, definitely impacts women and how they show up. And so I think it's really important to allow space for that in women to speak on that.
Excellent points of being able to show up and speak on that, which also makes me think of looking at societal expectations, and even stereotypes surrounding femininity, and even if we want to go to the point of motherhood, how does that all impact women's mental health?
I think it can be very isolating and maybe even suffocating in some ways. I think that I often see a core belief of feeling like they're failing, maybe if you choose not to have kids, maybe if you're not in a heteronormative relationship.
Anything that's outside of that, that message or that expectation, for women, there's a lot of shame around that, which then increases isolation. There's this need to maybe not speak about that because it is different and it is outside that norm. And so you see a lot higher levels of depression or even anxiety around that. I've noticed the impact of just giving women space to be like, "Oh, you feel that way too?" automatically decreases that isolation for them.
So I would think in your group that that space is being held for them, where they're connecting with other women who are like, "Wow, I feel that too. I relate to that." And to be able to have the space that's so sacred to be able to feel like you can just share how isolated you might feel.
Absolutely, yeah. One of the biggest topics that I've seen is people pleasing. I mean, there's such a big message around women of being a mother and a caretaker and kind of selflessly giving yourself to everything around you. And the reality of that is that it's exhausting and it leads to you not identifying your own needs or taking care of yourself, but that's just kind of the message that's sent to women that you should be doing that. And so when women are together and you're talking about that, it kind of opens that door for empowerment of, "Oh, wait, do we need to be doing that? Can we take up space for ourselves?" So it's something that's really cool to see.
I'm sure. And I'm guessing another aspect that comes out to your groups of if women are identifying themselves as people pleasers, and they're giving and giving and giving, despite even their own needs and they're still giving, of probably showing them boundaries, of how to set boundaries for themselves with that?
Absolutely, yes. And there's layers to boundaries, as we know, that going straight into putting in a boundary can often feel very overwhelming. And so working through why does it feel scary to put in that boundary? Is it that you're working up against those expectations of who you should be? Is that you're worried while people stick around if I take up space for my own needs? So there's a lot more steps prior to that boundary setting, but it's definitely a conversation of how do we start to shift this dynamic.
Which leads me to thinking about other strategies that women can do to help promote and maintain their positive mental health. Setting boundaries are so key. Are there other strategies you also promote?
Yeah, I think with that shame, shame is one of the worst feelings that we could experience of, "I am not good. I am failing," really holding that. And I think being aware of how we're speaking to ourselves, how we're identifying in those core beliefs, and also working to fight up against that. It takes a lot of energy. It takes a lot of time. But giving yourself the opportunity to really challenge that. Is that your own voice of who you are, or is it the world that's telling you that?
And that could be a hard thing to discern of, "Is this me or is this the world?" And really kind of digging in. I think those messages that women often carry within themselves of, "I'm not good enough. I'm not thin enough, I'm not pretty enough," or whatever blank enough, or, "I'm not worthy," I mean, those really cling to women. And so being able to discern, "Is this coming from society? Is this how I feel?" I think this also kind of interplays with giving yourself compassion and grace and gentleness.
Yes, yes. There's always, in therapy, there's a layer of accountability there of how we're showing up in our relationships, how we're talking to ourselves. But I think specifically with any situation, there has to be some self-compassion there for all of the messages women see daily on social media, in movies, on shows.
It is such a hard thing to break away from. And, again, it takes energy, it takes intentionality, which a lot of us are exhausted. And so it's hard to do. And I think that self-compassion is a huge part of it, of giving yourself grace that it's okay to be feeling this way, and we can also get you out of this.
What a key. We can also get you out of that. I think instilling that hope is so integral to know that there's a way out as well.
So how do intersectional identities such as race, sexuality, how can that affect women's experiences with mental health and even access to care?
Yeah. I think that that could be a whole podcast in itself.
Oppressed populations and privilege and how that plays a role in it. I think it's important that on International Women's Day we recognize that empowering women is also empowering every other identity that there is.
Every identity that has felt like there's an expectation or assumption of who you have been or who you are going to be, is now empowered. So I think there is this idea that if we focus on one population, "Well, how is there space for my story and where I'm coming from?" But there's an endless amount of space and it starts with reflecting on ourselves and our own identities and how this does or does not impact the way that we are showing up.
I love the key of just showing up. Showing up. But sometimes that seems like that's the easiest piece of just showing up, but that's also a really hard thing to do just to show up. Can you expand on that idea of showing up a little bit more?
Yeah. I think that's another really long process of figuring out-
-how does my own specific identity impact my perception of others, my communication with others, how I walk through the world on a day-to-day basis? And I believe that when you start to do that, you also create space for other people to share their stories with you and how they're showing up in their world. It really allows you to start to give yourself that compassion, that grace for how you've been impacted by this, and then also allows you to give others that grace as well.
Yeah, give it to yourself as well as be able to give it to others, very key.
What message do you have for women who may be struggling with their mental health but are hesitant to seek help?
My message would be that you are absolutely not alone. As a therapist who identifies as female, I am there with you. I mean, I think it is an ongoing continued growth process. And through my work with women, I have seen it as well, that you are not alone in that process, you are not alone in feeling scared to get help, but help is absolutely there. And there are people that will meet you exactly where you're at.
Any other takeaways you'd like to share?
I think that's about it, Nikki. I think that, yeah, I just want to touch up more on that for International Women's Day of really being inclusive to all of the identities, to men, non-binary, trans folks.
It all starts with just a reflection on our own identities and really empowering ourselves to see how these messages have altered the way that we show up.
And I think that's, again, another key piece. You've made so many key points here, Haley, of empowering ourselves, looking at those messages. It makes me think of an essay that was written by Audrey Lorde, I think, probably back in the '70s. And she starts off that essay, "There's no hierarchy to oppression," and that we all come to the table. There's no hierarchy to it, that we all recognize our intersectionalities and how we all come to the table with it. We're all showing up. We're all doing our best to be empowered and to realign, reframe, those messages that society might be telling us.
So solid key points there.
Yeah, I think there's a lot of power in empowering a specific group of people or population of people, but I also don't think that that takes away from every unique story that we all hold. And I think that there is commonality and there's power in connecting, and there's also a lot of power in listening and validating someone else's story.
And that's another key point there. Being empowered by listening, empowering them by listening to them, hearing them validating, those are all so important points. So thank you again, Haley, for sharing your knowledge with us.
I'd also like to thank the team behind the podcast, Juliana Whidden, Jason Clayden, and Chris Kelman. Take care, everyone.