podcasts
The Couch and the Screen: American Horror Story (Asylum) – Podcast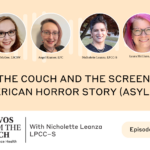 By Jason Clayden on October 25, 2023
On this spooky episode of "The Couch and the Screen", we are joined by Angel Kramer, Laura McClure and Mikka McGee. We'll be diving into the second season of American Horror Story: Asylum.
Join us as we discuss the accuracy of the portrayal of mental health treatment in the 1960s, the types of patients admitted to institutions like Briarcliff, and the chilling depiction of treatments such as electroconvulsive therapy, lobotomies, and more.
So, if you're a fan of American Horror Story or simply intrigued by the intersection of mental health and pop culture, don't miss this episode.
Listen and Subscribe Here