podcasts
The Importance of Suicide Prevention – Podcast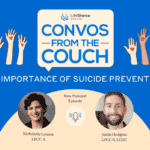 By LifeStance Health on September 7, 2022
September is Suicide Prevention Month. Jamie Hodgins joins us to discuss why people consider suicide, identifying warning signs and risk factors and the importance of speaking up.
The more we can do to help make people feel comfortable in situations to help offer support, the more likely we're able to prevent suicides from occurring.
This September, LifeStance Health Foundation has pledged to match dollar for dollar to the American Foundation for Suicide Prevention and its life-saving mission, up to $50,000.
Welcome to Convos from the Couch from LifeStance Health, where each episode you'll hear engaging and informative conversations with leading mental health professionals that will help guide you on your journey to leading a healthier, more fulfilling life. Hello and welcome back to Convos from the Couch by LifeStance Health. I'm Nikki Leanza. On this episode, I'll be talking with Jamie Hodgins, a clinician from one of our Columbus, Ohio offices on the important topic of suicide prevention. So welcome Jamie, great to have you on.
Thank you. Happy to be here.
Thank you. This is such an important topic for us to be talking about. September is Suicide Prevention Month. One of the statistics that I want to share is according to the CDC, someone dies by suicide every 11 minutes. That's crazy to think of just how prevalent this is. I appreciate you being on, Jamie, to talk about this topic. Why don't we begin our conversation. Let's have you tell us a little bit about yourself?
I don't know how in depth you want me to be, but I grew up in Marion, Ohio, which is a smaller town in North Central Ohio. My parents, my dad was an engineer, my mother was a social worker. Both my parents really encouraged me to do volunteer work, and those was a big part of our life. And so I always knew that I wanted to work with people. I graduated with a bachelor's degree in education and got my master's degree in clinical counseling. I started my career in 2003 doing substance abuse prevention work with adolescent schools and a variety of other community organizations. In 2006, I started doing intensive home-based counseling. I did that for a number of years. I transitioned into a role at a partial hospitalization program and then worked for a number of years as a clinical supervisor in a residential program for adolescence. So I've been with LifeStance Health for the past year.
And so it sounds like to me, with all your experience, you've definitely probably had to navigate individuals who struggle with depression as well as probably suicidal thinking as well. Right?
That is correct. Yes. Worked with many people suffering from depression, suicidal ideation. Suicide has touched my family, and so this is an important topic to me.
Got you. As we were opening the episode, I was sharing one of the statistics. And so we know suicide is one of the leading causes of death in the U.S. Can you share with us your thoughts on the reasons why people may consider suicide?
So your statistic is pretty alarming when people hear that, and it's important to examine statistics to help identify trends and identify populations that are more at risk as well as additional drivers. Here's some additional statistics. I'll get to some of my thoughts. But the CDC reports from 2018 that suicide rates in the United States increased by 30%. And if you look at the graph, it's a steady increase pretty much every year. By 2020, suicide ranked in the top nine leading causes of death for ages 10 to 64, and so it really impacts people, variety of age groups and populations. The 46,000 people that complete suicide every year, as large as that number is the percentage of people who contemplate suicide is even larger.
There's an estimated 12.2 million people that consider or think about suicide every year. And so while there are a number of factors to consider, when you break down why people can consider suicide, some of the trends are gender-related, profession-related, age groups, minority groups. Some of these factors include things like lived life experience, trauma, mental illness, isolation, and lack of resources. Obviously the most common reason is severe depression and people experiencing emotional pain, feeling helpless, and they struggle to see any other options outside of suicide to remove that emotional pain.
Got you. As we're digging in a little bit more deep about this, what are some of the warning signs that someone may be thinking about suicide?
So warning signs, one of the ways to look at this is breaking it into a few different categories, and so that's situational, emotional, behavioral, and verbal indicators. And so a situational indicator, something like abuse, loss of financial security, loss of a relationship. Emotional indicators, warning signs would be somebody experiencing depression, feeling helpless or hopeless. Common behavioral indicators would be somebody acquiring weapons, checking on insurance policies, giving away personal belongings, or hoarding medication. There's some verbal indicators and they could be a straightforward remark like, "I wish I were dead," or "I wish I could die in my sleep." Sometimes they're even more subtle like, "I hate life" or "Nothing matters anymore." And so these are just a few of the different warning signs or things to look at that may indicate somebody is at a greater risk for considering suicide.
Speaking about that greater risk, can you share with us more some of the risk factors for people?
So the risk factors would include variety of mental health diagnosis such as depression, bipolar disorder, schizophrenia, eating disorders, and trauma, substance abuse, past attempts, legal issues, feeling helpless helpless, terminal illness, and bullying. And if you look at some of the different risk factors indicates kind of how prevalent or how likely some of those areas are for somebody to consider suicide.
I think one of the key points here too, even looking at their warning signs with someone [inaudible 00:07:39] there's a good chance that they might not be sharing what their thoughts are. And so even for loved ones, they might not be aware someone might be thinking about suicide and maybe won't see the signs, which is very scary thought. And I know in my experience too, sometimes families have been really shocked when a completed suicide happens because they maybe didn't have any idea. Would you like to speak more about that?
Yeah, that's correct. It's important for people to become aware of warning signs, and that way we can as a society and community better identify them. If you have a loved one or a close friend who is maybe considering suicide, one of the things we look at is changes in behavior. And if you're worried but you can't really put your finger on it, I just encourage everybody to speak up and ask questions. For a long time, people had a thought that if by asking somebody if they were thinking about harming themself, that it would somehow implant an idea or that it would increase a likelihood that they would do it. That has been disproven over the years. It's really shown that by asking direct questions often has a positive impact.
And specifically with adolescence, we see a reduction in likelihood. So it's very important for people to ask if they have a concern and use empathetic, supportive statements kind of throughout. And if there is more immediate concern, accessing emergency services such as 911 or taking a person directly to an emergency room is needed. We want to encourage people never to leave somebody alone if the concern is high and make sure that we help prevent them from accessing weapons, medications and other means.
This sounds like what you're sharing there are some things we can do to help our loved ones, friends who might be contemplating suicide for sure. Any other resources you'd like to share?
Some additional resources would include SAMHSA. SAMHSA has myriad of information, a lot of helpful tools, both for individuals and community organizations. You mentioned some statistics from the CDC. They have a tremendous amount of data, as well as resources for preventative work. Definitely would encourage people to utilize the National Suicide Prevention Lifeline, which is 988. And so that is something that people can utilize. You can either call or even text 988 for assistance. They even have additional work for different groups such as veterans, there are different areas that they can access resources through that hotline.
Now what can someone do if they themselves have suicidal thoughts?
Part of that is accessing support and encourage people to reach out to friends, loved ones, neighbors, anyone they're able to. We can encourage people to use 911, and they themselves can utilize the National Suicide Prevention Lifeline. I really encourage people to avoid being alone and talk about it. There is high trends in certain populations where people avoid seeking support. And so there's been a lot of movement within the mental health community on destigmatizing seeking support. The more efforts we can make to encourage men and other groups of people to access supports, the more we can reduce the likelihood of suicide.
So the key point I'm really hearing you saying and the theme as we're having this conversation is to talk about it, bring it up. If you're concerned about a loved one or a friend who might be thinking about it, ask them directly, talk to them about it. If you're thinking about it, speak up, seek out that support. Talk to someone, tell someone about it. I think those are such the key points right there, and that as you share, there's resources too, for people to reach out and help them with, for sure.
There are a lot of resources that various community organizations have been putting into place. We live or I live in the state of Ohio and they have a suicide prevention foundation. They're doing a lot of work and trying to provide a lot of resources to help prevent, resources working with schools and military organizations and a variety of other groups to see what we can do to have a large impact on preventing suicides.
Very important. Can you share some other takeaways regarding suicide prevention?
Some of the biggest takeaways, I would encourage people to speak up, ask questions of loved ones. As you've kind of mentioned, during the COVID pandemic, we saw an increased number of people accessing the mental health system. And while that becomes frustrating for people accessing those services because of the sheer volume, it's important that people are accessing those services. The more we can do to help make people feel comfortable in situations to help offer support, the more likely we're able to prevent suicides from occurring. So I think it's important for everybody to educate themselves on warning signs, risk factors, and to just pay attention to those around you, and speak up rather than just keeping it inside.
And if you are feeling pain and struggling with depression, definitely encourage you to talk about it. Just speaking about it helps externalize a problem a little bit, and you may kind of find that you have more supports than you previously thought and helps empower somebody to address things that they're struggling with.
Thank you, Jamie. Again, speaking up, reaching out for support, very, very important features here. I want to thank you. Thank you for sharing your information and knowledge on this topic, this very important topic. As we all continue to work together to help prevent suicide, it's so crucial in our society today, so thank you again. Appreciate you being on.
No problem. Thank you for having me.