podcasts
Stoic Wisdom for Modern Minds – Podcast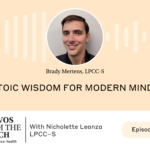 By Jason Clayden on September 13, 2023
Discover how understanding and applying Stoicism can help you navigate life's challenges. From managing emotions to finding peace in acceptance, this ancient wisdom remains remarkably relevant in today's world. Tune in for insights from Brady Mertens, LPCC-S that could reshape your mental well-being.
Listen and Subscribe Here
Welcome to Convos from the Couch by LifeStance Health, where leading mental health professionals help guide you on your journey to a healthier, more fulfilling life. Hello everyone and welcome to Convos from the Couch by LifeStance Health. I'm Nicholette Leanza and on this episode I'll be talking with my colleague Brady Mertens from one of our LifeStance Columbus, Ohio offices, and I'll be sharing with us how understanding, so stoic philosophy could help with your mental health. So welcome Brady. Great to have you on.
Thank you. Good to be on.
Research has shown that by practicing the ancient philosophy of stoicism can help reduce negative and difficult emotions. I'm really looking forward to our conversation today, Brady, as you tell us more about this philosophy and how it can help people improve their mental health. As we get started, why don't you first tell us a little bit about yourself?
Well, I am three days to 31. Birthday this week. Awesome.
Hey, so do I. When's your birthday?
Mine's June 10th. Very cool.
We're celebrating this weekend.
I am a supervisor, independently licensed counselor in Ohio, site director at our Hilliard office. I've been with LifeStance for three and a half years, roughly, if I'm remembering my time correctly. I've been doing therapy for eight years. I've got a background in DPT certification there. I started out really doing domestic violence intervention programs, working with minority populations in eastern Ohio, in the Ohio Valley and up in Toledo as well. I got my master's in clinical mental health counseling from Franciscan University of Steubenville and a bachelor's in psychology and minor in theology from Ohio Dominican University. I'm a husband and father of three kids, a three and a half year old and two twins who are 16 months old. And fun fact about me is that I like to go down the rabbit hole with learning about a lot of things that I find interesting, be it neuropsychology, astrophysics, stoicism or most recently it's probably going to be how the bios and ram on a computer work since that's the problem I've been having with my computer in the last 24 hours.
Got you. And since we're going to be talking about stoicism, let me ask even before we talk about what it is, what was it that clipped your interest about stoicism to go down that rabbit hole?
My cognitive papal therapy professor is, as he would say, a street smart therapist in rational emotive behavioral therapy.
And that stems from Epictetus and pretty much his first entry and his fifth entry in his Enchiridion, which is Greek for the manual. And as I was going through my years of therapy, I had been on my list to get the book and actually look through it. COVID hit. Had some time, so I grabbed it and it's a surprisingly short read and it's something I use enough that I can pretty much quote the first page and people are pretty shocked when I do that, but it's almost annoyingly applicable even 2000 years after when he wrote it. It has common themes through pretty much any therapy because of how foundational it is. One of those, let's go there, let's figure out kind of things.
Which takes us to tell us more about what it actually is.
Let's start by saying what it's not. It is not being absent of emotions. Stoicism when it's first brought up, those who do know it think no emotions.
It makes me think of someone being stoic where they're just not showing any emotions. I can see where people would link it to that.
And typically, and I think the Roman busts of the people in the Senate, those stoics, Seneca and Cicero are some of the better known. I think a lot of times people think of Spock from Star Trek, no emotions and on a nerd tangent there, he does actually have emotions, but we'll get to that. Stoicism is more the balance of emotions, keeping them in control, but still as an information source. When I bring this up in therapy, what? I'm just not supposed to have emotions be on moving like a Buddhist, be the emotionless green blooded inhuman as McCoy might say? But what it is actually about is listening to your emotions, being in control of them and not your emotions being in control of you.
That's it. That's the key right there, right?
Got you. With that being said, I often will tell my own clients, "Don't allow your emotions to slap you around. You want to be the one to be able to manage your own emotions." I think this is why going deeper into talking about stoicism could be helpful with that. How can stoicism help people cope with stress, anxiety, depression, and their overall mental health?
Let's see. Let me go a little bit deeper into stoicism and a bit of its philosophy because that'll help paint the picture as to how it is best applied there. It started out 2,500 years ago as a practice of philosophy and back then it wasn't ,"What is the meaning of life?" It's, "How do we live life? How do we live a good life? How do we live life?" And Zeno 2,500 years ago was focusing on virtue. He said, "The thing that makes us as people and humans special is that we come from virtue. We can exercise prudence and temperance and fortitude and justice."
To quote some of the virtues that Thomas Aquinas would talk about later. And I think he was in 1200 AD, so he could say that we could live a life of keep his advice and we'll probably have a fun time, but we'll also probably have a lot more conflict and problem in the long run, or we could live a more virtuous life and have less conflict and more satisfaction and cohesion in our life overall. Good and bad don't really exist. There are some fundamental absolutes, but good and bad are more functionally used in conditions. It is good to do this thing if I want to achieve X, Y or Z. It is bad to do this thing. It's helpful or not helpful. We may be more virtuous or less virtuous.
When we fast-forward a little bit to Epictetus who was born around 50AD and died 135 AD, he added in the layer of desire versus dislike. Think about eating a cheeseburger. Eating a cheeseburger by itself isn't necessarily virtuous. If I'm eating 12 cheeseburgers after having eaten two large pizzas, that's a little bit vice-ridden. Might be really good, might taste really good. We might have some problems later in the short term or the long term or if I say, "Hey, is this burger being something that's going to be used to satisfy a need that I have the want that I have? Is it well constructed? Is it humanely farmed beef? Is it locally raised sources as virtuous as we can in that sense?" But eating the burger itself isn't good or bad. More the context. And what happens if I don't like burgers?
Then you don't have to eat the burger. We go then to dislike and like. Anchovy pizzas. Are anchovy pizzas bad? By their nature? No, by preference, perhaps. Not everyone likes them so we don't have to eat them. And that's pretty much the basis of this once it starts to connect to therapy. I don't have to do those things. I don't have to get an A on a test. This other person doesn't have to never cut me off. My parents don't have to do X, Y, Z for me and vice versa, but I might want to and they might want me to.
Epictetus adds that sense of desire and dislike and let's say if I'm vegan, if I want to eat more then, I want to uphold my vegan position because my body's in need and this is what I have right now, then I'll eat the burger, or if I am hungry but it means more to me to abstain from this food due to my vegan values, then I don't want to eat this and I won't eat it. Preference and desire become very foundational.
His first entry here, I'm going to go ahead and read it here real quick. "There are things in our power and things that fall outside of our power. Within our power are our own thoughts, opinions, desires, dislikes, and some our own thoughts and actions outside of our power are our physical characteristics, the class in which we're born, our reputation in the eyes of others and honors and offices that may be bestowed upon us. Working within our sphere of control, we're naturally free, independent and strong. Beyond that sphere, we are weak, limited, and dependent. If you pin your hopes on things outside of your control, taking upon yourself things which rightfully belong to others, you are liable to stumble, fall, suffer and blame both gods and men. But if you focus your attention only on what is truly your own concern, lead to others what concerns them, then you'll be in charge of your interior life. No one will be able to harm or hinder you. You'll blame no one and have no enemies," meaning I have no enemies. Other people may not like me, but I'll not have enemies myself.
"If you wish to have peace and contentment, release your attachment to all things outside of your control. This is the path to freedom and happiness. If you want, not just peace and contentment, but power and wealth too, you may forfeit the former in seeking the latter and you will lose your freedom and happiness along the way. Whenever distress or displeasure arises in your mind, remind yourself this is only my interpretation, not reality itself. Then ask whether it falls within or outside your spirit power. And if it is beyond your spirit power, let it go."
That's fascinating. That was I think you said 1200 years ago or so that it gave that message of just basically if you can't control it, let it go. And we know when it comes to issues of control, that definitely fuels anxiety and everything. This feedback it's giving 1200 years ago, we are still struggling now with, so I can see where this all comes into play.
If we were all practicing now, we wouldn't have as many problems now, but it was more fun to step in the dionisium parties and get drunk. Passion, like Romeo and Juliet, it's a common theme. There's actually, jumping back to Spock, I know it's fiction, so it's not fully transferable, but Gene Roddenberry modeled Spock after the stoics.
And when they fleshed out the backstory of that species, they almost destroyed themselves by nuclear war 3000 years before they came into contact with humans. We got to change something or we are not going to survive. And that's where they said, "We got to get these emotions under control." In Star Trek: Voyager, season five, episode 13 titled Gravity, the episode starts out with a young Vulcan, which is the race that Spock is, and he's in this cave, it looks like it has all these religious ritual things in there, and he's just tossing stuff around vehemently. I think of a kid that my wife might've worked with at the Buckeye Ranch and there's this elder just standing there watching.
After a time after the young Vulcan calms down, the elder says, "Do you want to learn from me or not?" The young Vulcan storms out, "I don't need any of this." And the elder stands there. After a minute, the young Vulcan comes back in and says that he's ready to learn. It's actually a process in their culture to learn here's how we deal with our emotions. Again, that's something I know as therapists that wouldn't it be nice if we were actually taught this stuff as kids? And even as a therapist trying to teach us to my own kids, I fail a lot. They fail a lot. It's generally not within our nature to be easy to do this.
Epictetus had another quote in his book, The Philosophy of Epictetus and Other Golden Things. When I read it was more flabbergasting than that first entry because he starts to talk about things which modern sciences just now validated in the last 10 to 20 years. He says, "If you've given away to anger, be sure that over and above the evil involved leering, you've strengthened the habit and added fuel to the fire. If overcome by a temptation of the flesh, do not reckon it a single defeat, but you've also strengthened your dissolute habits." He's talking about neuroplasticity, repetition, strengthening neuro-connections.
I love the fact that anger is a habit. It's true. We get wired to be angry and we can also rewire and manage anger better.
He says, "Habits and faculties are necessarily affected by the corresponding apps. Those that were not there before spring up and the rest gain and strengthen extent. This is the account which philosophers give of the origin of diseases of the mind," even that language he's using 2000 years ago. "Suppose you've once lusted that after money, if reason sufficient to produce a sense of evil, be of hide, then the lust is checked in the mind at once, it regains its original authority." And here we're talking about a mindfulness awareness for activating prefrontal cortex by paying attention to and taking control of actions. "Whereas if you have recourse to no remedy, you could no longer look for this return, on the contrary, the next time it's excited by the corresponding object the flame of desire leaps up more quickly than before." And when he says this, I'm thinking of the safety behavior and anxiety dynamic, that when we do the safety behavior, it increases our anxiety and the likeliness that we're going to have that safety behavior happen again.
"By frequent repetition, the mind in the long run becomes callous and thus mental disease produces confirmed virus. Once one is at a fever, even when its left him, it's not in the same condition of health as before unless indeed the cure is complete. Something of the same sort is true of diseases of the bind. Behind there remains a legacy of traces and of blisters, unless these are affectionately erased, subsequent blows on the same spot will no longer produce mere blisters but sores. If you do not wish to be prone to anger, do not feed the habit. Give it nothing which may tend to its increase. At first, keep quiet and count the days you were not angry. I used to be angry every day and every other and every two and every three. And if you succeed in passing 30 days sacrifice to the gods and Thanksgiving." And mic dropped from 2000 years ago.
I like that. Wow. Thank you for sharing that. I'm assuming you recommend these to your clients, the books?
Definitely, and these ones aren't expensive. This one's maybe five or six, maybe $7.
You're showing The Philosophy of… Just for those who can't see.
Philosophy of Epictetus and Other Golden Sayings. There's a little grumpy picture of him. And then The Manual or here's the Dover edition version by Epictetus. This one's edited by Sam Terro. It's in more modern day language and less clunky when you're reading it. I think the MIT Classics library also has some free versions out there that are on computer, so you don't have to pay to find this stuff. Just for those nicer translated versions. But even that funky colored one, it's only nine bucks.
Great. Now give us some specific examples of how you use it in your own practice with your clients. You recommend the books for them to read. How else do you relate it to them?
This taps in with rational emotive behavioral therapy and some other therapies that look at shoulds or demands. Any spot where there's that, "I have to, or it should be this way," gets flipped to, "I wish it were this way," but it also encourages us to align our thinking with reality. And that's pretty much underlying of any type of therapy. What reality, acceptance and commitment, dialectical behavioral therapy. Even if we go back to Freud's psychoanalysis, bringing that which we weren't aware of to the present.
When we actually know what's going on, we can do something and we realize, "Oh, maybe I'm not actually vibing with the universe." It's funny because even the vibe with the universe, there are themes of this across all major religions everywhere. This goes even Christianity, Islam, Judaism, Buddhism. There's themes of it within Paganism, Wicca, and there's even themes of it within I think Satanism that you align yourself with reality have fewer problems. You're still going to have some problems, but if you feel like you're banging your head against a wall, reality's not working, that's a sign that you're suffering from a dogmatic demand and that you are trying to control something that is not in your control.
Let's see. Some examples I have here. There was one person I've been working with. She had been working with me for maybe a year or so, and then recently had a miscarriage. And while she was going through it, she was worried she was going to be a mess. She was pretty rough, but she felt relatively at peace with it. And she had noted there was a lot of the, "Here's what reality is, here's what my emotions are and I don't like that it's that way, but this is how it is," and not in a dismissive way, "It is how it is."
Other people tell us that it's okay to shut up. But when we're able to get to that point within ourself, it opens up doors to acceptance. We lower those barriers and those walls to reality and then we can actually be in harmony with reality. And reality does have some negativity to it. Whether it's kids or adults, "My parents are annoying me. I wish they were different. That's how they are though. They don't have to be different. I wish they were." I can ask them to do things differently that is within my control, but I ultimately don't control what they think, say or do. What do I control?
I love that it's a reframe for it. I really wish they'd be like this. And then what you're helping them to do is reframe it around to think about it in a different way. Got you.
I have a lot of notes written down, looking through them here and the entirety of his in stems off of that path. How do I stay focused on those things in my control? How do I not stick on the things that are not in my control? That's a common complaint I get too is everything versus that stuff that's in my control. But if we look at our actual ability to control those things, when we look at that big thing, we have zero control, but that little bit there, we have incident control. Whether it's the things I say, when I say them, how I say them, what I do to calm myself down after this conversation, when I have this conversation, where I have this conversation, what I tell myself about the conversation. It's not things that disturb us, but it's our perception of things that disturbs us.
And that's the key right there. It's our perceptions of things that disturb us. Yes.
Epictetus said that as well.
I have to go Battlestar Galactica. It's all been done before and it'll all be done again.
What are some challenges people might face when trying to apply stoicism to their lives?
I'm going to grossly oversimplify it. We have two parts of our brain that are reacting. We've got the gut reaction program. It's designed naturally to keep us alive, so it's fast reacting. It sometimes doesn't always react to reality, but is reacting off of shortcuts and assumptions, which are natural. Now we can't ever be free of those. Then we've got our thinking part of the brain, which is the one that actually sits there and says, "Wait a minute." Take driving, for example. Somebody cuts us off new, we're shaking heads and shouting obscenities. And then someone says, "No, you can't stop you from cutting you off." And you're like, "Yeah, I know." Two different parts of the brain. The most common problem I run into this is I never think of it in the moment. How am I supposed to do this if I never think of it in the moment?
Repetition, annoyingly is the solution there, and it doesn't have to be in the moment when you think of it. And I think this is a general with any therapy skill, there's themes of it with REBT as well as with DPT that practiced after the fact still counts as practiced. If you're on a football team and we have a really bad game, coach is all like, "All right, we're staying up until 12 o'clock tonight watching the films because we got stuff we got to work on." You're not actively doing anything but you've already messed up, but you're looking back at how you messed up so you can learn what to do better. And by doing that, you actually are activating those pathways used for those skills. Maybe not in the moment, but you are still strengthening those.
I love how you're linking this all back to neuroscience here and how our brain works.
That's neuropsychology. I've actually got a ChatGPT thread open that I just asked questions about this and it pulls up all the information and it's wild how a lot of this stuff is connecting. Even with emotional regulation skills, how they work and why they work. We've been doing this for thousands of years. Here's actually why it works. Albert Ellis in the forties, fifties, maybe sixties, I don't remember exactly when was looking at Epictetus's work and it was like, "We can do something with that." It's pretty much entirely based off of that we're not disturbed by things, but our perception of things and controlling control. He did that. We have all the other therapies which have their effectiveness and even some of the medications, it works. We don't really know why it works, but it works. I've been finding some of the eastern practices, like some components of Reiki. Even if you look past the spiritual components, you are paying attention. You're taking control of biological and cognitive functions, and that is the basis of that neurological change, which they've just started to validate in the last 10 to 20 years.
It's like we know what we're talking about.
Oh my gosh, love this. Any other takeaways you'd like to share?
Let me see. There was something that I was going on before I got on that neuroplasticity deal. Using the football examples, we probably aren't going to jump into a SuperBowl game or whatever right off the bat. Your coach would probably be nuts, and I don't think they fare very well if you just got in there with no training whatsoever. You start by doing that conditioning. You start by doing that, learning the skills, learning your teammates, getting your body familiar with it, so when you're out there playing, you don't think about it, you just do it. The Inner Game of Tennis is another book that illustrates the same dynamic. We don't want our thinking brain to be doing stuff when we're actually trying to use these skills after we've mastered them. We want them just to be fluid. Somebody says something and it's popping off, and a year ago we would've popped off right back versus now we don't even think about it. Whatever. You keep on going.
The person cuts you off and you don't even think about it. You're just like, "Okay, I'm just driving." You don't even think, "What the heck?" At that point, you know that the skills and concepts have trickled down from the thinking brain to your reaction brain, and we're not born with a lot of these reactions. We don't think, "People shouldn't cut me off," as soon as we come out crying. That's trained to us. Just as we learn these things and we train that anger, for example, from what Epictetus had said there, we can also train those new behaviors. They take a lot of time to learn those things overnight so we don't unlearn them overnight so that you're conditioning or you're doing training, watching films or whatever. That's maybe zero, one or two, stressful out of 10, not really stressful. That might be like I'm waking up in the morning.
It's a good morning, but I'm still going to look over these things I want to practice and I'm going to do a mindfulness meditation. Don't really need it. There's nothing really going on. But it's good practice because it gets our body familiar with those skills. And then we have the three, fours and fives. Football wise, that might be what scrimmages, preseason games, not really that big of a deal, but we're actually using the skills in context dependent situations. In a similar sense, this thing is bugging me, it's annoying me. It's not really that big of a deal, but still good to remind myself why it's not that big of a deal and still good to remind myself of these things and maybe do some thought exercises or breathing exercises, whatever grounding tools we might have to get our body used to using them in the actual situation.
Then our brain starts to connect, "This is what it's like to use these skills when I'm actually feeling these feelings." And then the six, sevens and eights, that's really where we want all of these things to kick in. Any of the therapy skills, whether it be DPT or REBT, Epictetus, that's when you want your therapist in the back of your head piping up, "Oh, remember those skills?" That's the tipping point when we're either able to bring it back and manage well, or we go into a crisis mode and our distressed tolerance totally tanks. And then if we're at a nine or a 10, that's a bowl game. You're doing your best. If you've got the skills, the best you can, this is the big old stressor. It's hit or miss. No one's going to blame you if you end up having a panic attack right after a car accident.
You might walk out there and be like, "That sucked. I'm okay. Let me calm myself down. All right, now let's get stuff done and get these pictures and the police report and the entrance information and get the EMS to look at my arm because it really hurts. Wow. I really use those skills really awesome in that moment. Cool." But nines and tens are hit or misses. We're not really looking at those things to kick in there. If they do, awesome. It's the extent where we really want a lot of those skills to kick in where we want the mindsets to kick in, where we hope Epictetus is speaking to us from wherever he is.
Oh my gosh. Thank you so much Brady, for all your knowledge on stoicism, and I think listeners are going to maybe want to check this out more if they aren't familiar with this ancient philosophy. Thank you for sharing everything that you know about it and your interpretation of it.
Definitely. Happy to share.
I would also like to thank the team behind the podcast, Jason Clayden, Juliana Whidden, and Chris Kelman. With a special thanks to Jason Clayden for editing our episodes. Take care everyone.