podcasts
Geeking Out Over Geek Therapy – Podcast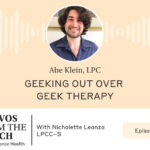 By Jason Clayden on December 30, 2022
Abe Klein, a clinician from one of our LifeStance Philadelphia breaks down geek therapy, how different type of interactive media can be used in therapy sessions and how it offers an opportunity to embrace clients' passions.
Listen and Subscribe Here
Welcome to Convos from the Couch by LifeStance Health where leading mental health professionals help guide you on your journey to a healthier, more fulfilling life. Hello, everyone, and welcome to Convos from the Couch by LifeStance Health. I'm Nicki Leanza and, on this episode, I'm really excited to talk with Abe Klein, a clinician from one of our LifeStance Philadelphia offices and he'll be telling us all about what is geek therapy. So, welcome, Abe, great to have you on.
Hi, it's great to be here. This is an absolute honor and a pleasure to be a part of this.
Well, I know we're going to have a great conversation because I recently came across geek therapy and was like, "Wow, this is actually a thing." And so, I know you're going to tell us all about it and probably many of our listeners will be like, "Whoa, this is pretty awesome." So, let's get started with our conversation and have you tell us a little bit about yourself.
So, first and foremost, as previously stated, my name is Abe. I work in the LifeStance Wayne, Pennsylvania office just outside of Philadelphia. I've been practicing, if we include internship, since 2014. If we don't include internship, since 2016. I just had my six-year career anniversary this past March.
Thank you. It's funny, a friend of mine and I were talking about this the other day. I love the work I do, I love my career, I love being a therapist and she and I were talking and she turned to me at one point and she said, "Abe, you're one of the few people I know who actually enjoys what they do," and I consider it such a gift. There's a term in Japanese culture called ikigai. It's basically, when you have something in your life is an ikigai, it is something that you love doing, something that you're good at, something that the world needs and something that can support your financial needs.
Great term. So, it sounds like that hits a sweet spot for you with your career, huh?
Absolutely. And it's something that I have known I've wanted to do for quite a while and I would argue that achieving this has been one of the greatest achievements I've ever experienced in my life.
Nice, Abe. That's a big thing to say, that's awesome. That was really awesome.
So, as we jump into our topic about what is geek therapy, I think it's important that we first define the term geek. So, do that for us. How would you define the term geek?
So, it's very interesting that you say that because, ever since you and I started planning this out the other day, I have found myself challenging the concept because the definition that I tend to hold is the definition I held when I was younger that I'm starting to find may deserve to be challenged and adjusted. And this is something, actually, as I think about this, I need to have a discussion with some of my contemporaries on this. But to go with what I've been operating on, someone who is a geek, who is geeky, is somebody who is very … So, at its core, it is someone who is very passionate about something. We colloquially, in this area of things, talk about geeky media and geeky things that are considered geeky.
However, at its core, someone can be a geek for anything. They can be super passionate and knowledge about anything. You can be a geek for sports, everything and anything about football, be able to quote statistics from every single team in the league to be able to look at the draft and say, "Ah, yes, this team is taking on this person and, based on how this person is with their stats and their particular abilities, that will mesh well with this person, this person, that person. And then, this team, ba, ba, ba, ba, ba, ba, they're making a terrible decision," yeah.
However, bringing it back around into how we look at this colloquially within the culture is looking at geeky media and people who are very passionate about this geeky media. Now, expanding on the definition of geeky media is, as I have come to observe it, media that is a little bit more outside of the main street that has particularly passionate followings that one might consider as alternative. So, prime example, anime, Japanese animation. So, when I was young and when I first got into it, it was very much on the down low, very underground, at least from what I had experienced and what I was exposed to, very few people knew about it. Whenever I, as a young boy, would say that I like anime to someone, it would either be met with what's that or, oh, you watch those Chinese cartoons and it was very-
Yeah. Now, today, flash forward over 20-ish years, now it is significantly more mainstream. I can't tell you how many times I'll go on a walk in the city and I'll see people of varying ages, children, teenagers, young adults, older adult adults walking around with t-shirts with stuff from various anime that has become very popular over here. And this brings me to that challenging of these things because stuff that had been, throughout my life, considered as alternative and geeky such as anime, Japanese video games, role playing games such as, I don't know, Fable or EverQuest and Dungeons and Dragons were once considered very much on the down low that, over the years, with the internet, with shifts in popular culture, these things have become more mainstream.
Dungeons and Dragons now is considered a lot more mainstream than it was when I was young. We could do a whole episode on the how all of this media came to be more in the forefront, especially in the context of Dungeons and Dragons, but that's not what we're here to [inaudible 00:07:07].
Right. So, I think what you're saying about the term geek, it's really anyone who's a huge fan of, you name it, of something. Sports, Dungeon and Dragon, anime, Harry Potter, Star Wars, it could be anything, right?
And so, you mentioned geeky media, is that interchangeable to how we would say also geek culture?
Obviously, I think there's probably a little bit of a difference but tell us a little bit about what geek culture is then.
That's a good question. I would say that a lot of that comes down to how we within the culture interact and connect over these things. On the micro level, it's meeting somebody who also shares this thing and the two of you as one, say, geek out over this. So, for instance, prime example, the other day I was talking with someone and it came up that we were both a big fan of Star Wars but, more particularly, we're a big fan of more obscure areas of the Star Wars universe. How knowledgeable about Star Wars are you?
I would say probably not as much as you are wherever you're taking it. Back in the 1900s when I was a wee girl, yes. Was I all about Star Wars in that original trilogy? Heck to the yes, even played on Hans Solo whenever we'd played Star Wars, you name it.
But wherever you are going to go with this, I'm guessing I'm probably not as nuanced.
So, as you are likely aware, over the years, a lot of Star Wars media has come to be a thing beyond just the original trilogy as well as the trilogies that have come since it. And their particular animated series, Star Wars Clone Wars that takes place in episodes two and three which is, in my opinion, an absolute masterpiece of storytelling and goes into such depth that the movies don't. And so, I was talking with someone and this came up and, the moment we started talking about, we both got extremely excited, passionate, talking about it, the aspects of it, the scenes, what we liked about it.
We spent a good five minutes talking about, mild spoiler, a light saber battle between Emperor Palpatine and Darth Maul that occurs towards the end of that series which, side note, okay, spoiler for some people and, for the rest of you, if you don't mind the spoiler, go watch Clone Wars. If you did not watch Clone Wars, please go watch Clone Wars. It is on Disney plus, it'll take a while and it is entirely worth it.
So, I think you're doing a great job emulating geek culture. The excitement, the passion for something, right?
I think you're hitting it right there.
And that is only the micro level. When we look at the macro level, the larger scale, we see gatherings, we see online communities, we see conventions as a prime example of this larger scale. We see these formalized gatherings that harness this passion, this excitement for this deep appreciation of this media bringing people together for the appreciation of and sharing of the joy of this media.
So, it would be like the Comic-Cons that you hear about and the different forms of those?
Absolutely, yes. Comic-Cons are a prime example, there are a lot of anime conventions, video game conventions, all sorts of stuff like that.
So, then this is where we filter down more into what is geek therapy then.
So, generally speaking, I'm still getting my head around the concept and looking at more and more of how I can utilize it. But a lot of it comes down to, at its core, how do we use people's passion for this media as well as how do we use this media itself as therapeutic tools. How can I use mine and someone else's love of Star Wars, for example, as therapeutic tools?
Perfect, right. That gets me excited right there. And so, to get more in the weeds with it, it sounds like what you're sharing is that you're using interactive media such as movies, video games, anime into your therapy sessions with clients. So, can you give us an example of that?
Absolutely. Let's see here. So, one of my favorites, we're going to move over into Dungeons and Dragons for this. So, I assume a large amount of people listening do not know much about Dungeons and Dragons or D&D as it is often referred. So, D&D is basically, I hesitate to call it a board game, it is what's known as a tabletop role playing game. The best way it was described to me was collaborative storytelling. Basically, you have one person who is the game master who basically sets the stage then you have a couple people who are players who will play characters within it. And basically, the GM or, in the context of D&D, the DM, dungeon master, will basically say, "All right, here's going on, what do you want to do?"
And what's great about tabletop roleplaying games like D&D is you are not confined to certain options. You are within reason but, the more creative and imaginative you can be with it, the more options you have. Whereas, in a video game, for instance, or in a board game, it's you can do X, Y or Z. Here it's pretty much, if your character is capable of doing it, there's a likelihood you can do it which brings me to one thing that I will do to explain this. So, in D&D, pretty much anything you try to do, anytime you try to do anything, you have to roll a 20-sided dice to determine whether or not you are successful and how successful you are.
So, how I use this in the context of therapy is I use it to explain the chaotic, random and unstable nature of our existence. Because we as, humans, often try to rationalize things, we take control of things especially in the context of when we want to have an answer for something.
I've seen people who will go through these mental acrobatics to blame themself for something or blame someone else for something when, at the end of the day, it's just a roll of the dice.
They didn't roll well and that's not because there's something wrong with them, it's just the dice fell how they did. Now, expanding on that, looking at how we can control these things or how we can exert some control over these things because imagining our existence as completely out of our control is terrifying. To expand on this metaphor further, so in D&D, how you build your character, you have a variety of statistics. You have strength, how strong you are, constitution, how hardy you are, dexterity, how dexterous and nimble you are, intelligence, how smart you are, wisdom, how understanding and able to assess situations you are, how aware you are, charisma, how good at talking you are and those statistics and more will impact your roles, they will give you what's called modifiers.
So, let's say you have a very high strength stat. Now, in game, let's say you say, "I want to try to kick down this door." Now, the DM will then say, "All right, make a strength check." So, you will then roll a 20-side dice, you'll roll it and then you will add your positive strength modifier to it. So, the flip side of that, let's say you have a very low intelligence score and you say, "Hmm, do I know about this? Does my character know about this thing?" Okay, you need to roll a knowledge history check. You roll it, let's say you rolled a 10 but you've got a negative two modifier because your intelligence is so low, you take a negative two from them or you take two off of that 10 that you have rolled.
Now, bringing this into real life, as previously stated, pretty much anything is a dice roll. Furthermore, we have these modifiers. So, let's say you have a test tomorrow. If you study for this test, that gives you a positive modifier to your role. If you don't get a good night's sleep the night before, that will give you a negative modifier to your role. If you are experiencing a strong sense of grief connected to something else in your life, that's going to give you a negative modifier.
I see. I see where this pulls together.
And one of the most important aspects of this, at any given point when you roll, you can either roll a one or a 20. If you roll a one, that is an automatic failure. Whereas, if you roll a 20, that is an automatic success. So, no matter what your modifiers are, you have that failure or success. You can have all the positive modifiers in the world and still roll a one. Whereas, you can have all the negative modifiers in the world and roll a 20 and still succeed. You can have not studied for that test at all, gotten no sleep the night before, not paid attention in class at all and just guess on all your answers and still get A. [inaudible 00:18:05] study your butt off and then roll in there after a good night's sleep and a hefty cup of coffee that morning and still get a D.
Very true. So, that was a great example of using D&D with a client. I'm assuming there's some sharing of the knowledge of D&D as you're using that as an example.
So, then, how do you determine what type of media will resonate with your clients?
So, the simple answer is we talk about it. Well, as a lot of us clinicians will do, we'll ask about our clients' hobbies and I personally will screen for particular things, I will look for if they say video games. Because very often, when I ask about hobbies and interests in people, they will go to the general which means [inaudible 00:18:59]. Someone says video games, at which point, that sets off something in my head to which I say, "Okay, what video games do you play?" Now, if they say something more mainstream that I don't as much connect with, that's not to say that I don't enjoy mainstream video games, but Call of Duty, for instance, there's not a lot that I can do with that personally but also because I don't play first person shooter games as often. I personally don't play Call of Duty, just not my thing, and that says one thing to me.
Now, if someone says, if I want to get referential of something more recent, Elden Ring, that, for those who don't know, is a large open world role-playing game that to me is a little bit further out there and that … We only have so much time so, unless this becomes relevant, I've got a whole metaphor in the context of the series that Elden Ring comes from that I can work with with a client.
Minecraft is really popular among kids and adults. So, how would you use something like Minecraft?
You're asking the wrong person because Minecraft is one of those things that I never really got into. But, that being said … Oh, actually, you know what? Now that you mentioned it, I do have something that I can do with that. So, I will regularly talk with clients about where this becomes relevant. Now, this isn't Minecraft alone, what I will say is, "Are you familiar with the concept of a crafting mechanic in games?"
No, but is that similar to what Minecraft does?
How familiar are you with Minecraft?
I watched my kids plenty of times and I've played it but, usually, I'm just trailing behind, say, my daughter who's the one building things and creating things and she'll just tell me go dig over there and then I would dig over there. So, that's how familiar I am with it.
So, something you probably noticed is that, as you go through the game, you mine and you dig and you [inaudible 00:21:11] raw materials to build. Now, furthermore, in the context of Minecraft, you have, there's a term for it and I always forget because I'm not as entrenched in Minecraft as some people are, you get a crafting bench, a work bench, a craft bench, I don't know, to make stuff. You want to make a bow, you need to get X amount of wood and some other things. And then you go to your crafting station, you beep, beep, beep, beep, beep and then bow.
And I particularly bring this up when clients come into therapy and they don't want to talk about anything or they don't know what to talk about. There's only so much we, as therapists, can bring up but I know, for me, I really rely on my clientele to come to me and say, "Abe, this is what I want to talk about." Within reason, of course, sometimes you got to pull stuff out. But what I say to them is, "Listen, therapy is your crafting bench. If you go out into the world outside of here and you need to be gathering materials, if you find materials, you pick it up, you look at it and say, 'Ah, this is a nice material,' and you drop it and don't take it with you, you're not going to be able to make anything. I've got a couple of materials I can bring in here but the majority of it can only be found on your adventures and, if you don't make a concerted effort to manage your inventory and actually bring materials to the crafting station, we can't really do that much."
It makes me think of the inventory, I'm thinking it from the point of view too of coping skills in navigating emotions or anxiety or you name it. The inventory of these are your tools, these are your materials that you can use in order to navigate when you're having a panic attack or something like that. And I think this is just an alternative way that we can use something like Minecraft with an adult or a kid who have that interest. And I think this is why I love this topic so much because you can take these different places. Even though I don't know a lot about Minecraft but I know enough about what you just said that you can tailor it back to the therapy that you're doing with a client.
Absolutely. A lot of it, for me, is about metaphor. I use a ton of metaphor in my work with clientele and the thing about this geek therapy concept is I find that what metaphor you use can affect different clients in different ways. And when you use a metaphor connected to something that someone is really passionate about, it connects on a deeper level. [inaudible 00:24:04] ever worked with a client who's very much into sports and you can explain things in sports terminology.
Whereas, for me, have I absolutely explained stuff in sports or other stuff terminology? Absolutely. And, with my geeky clientele, that is the area that I personally excel in connecting the dots here. So, it goes back to that concept we throw around in our field of you got to speak their language, quote, unquote and this is a language I speak fluently and with great knowledge of the nuance inherent to the language.
One thing I find fascinating, many things I find fascinating about geek therapy is that there's actually a certification a therapist can go through to be able to specialize in geek therapy. Can you tell us a little bit about that certification?
Absolutely. So, in the context of geek therapy as a whole, there is an organization based out of Texas called Geek Therapeutics. Shout out to Geek Therapeutics, shout out to Dr. Anthony Bean, thank you very much for changing my life. And so, what Geek Therapeutics aims to do from multiple angles is to teach people and spread the knowledge of this concept of geek therapy of using what they refer to as geek cultural artifacts, media, these concepts for therapeutic purposes. They have a multitude of different certifications. There is a geek culture competence certification then, furthermore, there is a geek therapist specialization. I'm currently working towards my cultural competency certification now and, once I'm done with that, I intend to pursue that geek therapist certification.
Furthermore, they have a certification, I believe, in addressing problematic video gaming. I don't know enough about that to be able to say anything about it beyond I have heard of it. And furthermore, they also run something that I have attended and loved, they run a training, a 13-week, I believe, training on certification as a therapeutic game master to run games of Dungeons and Dragons for therapeutic purposes. And one of my next major professional goals, I have gotten this certification and now I don't have enough experience running D&D games and I am in the process of gaining that.
I said to myself back this summer, "I need experience, I need something formal in my life to get me experience," and I marched into my local library and I said, "Give me space to run D&D." And they said, "Sir, please calm down," and I said, "Oh, yes," and they gave me space. They were very generous with me. They said, "Yeah, what do you need?" And I said, "Books," and they said, "Okay, what books do you want?" You're asking me? I get to choose? They're giving me too much power.
And they ordered the books that I needed for the library and I said I specialize in working with adolescents, teens and young adults to reference a, once again, geek cultural artifact from my childhood, "Bring me six teenagers with attitude." I don't know if you ever watched Power Rangers and they indeed brought me six teenagers.
And we've been playing together since August and it's one of the highlights of my week.
Wow, that's cool. So, what is your favorite type of interactive media to use in your sessions?
That's like asking me to choose my favorite child. All parents have a favorite child but we don't acknowledge that. I say this as someone who has a child. But that being said, that being said, it vacillates between anime and video games based on what I am currently consuming. If something comes along within either that particularly strikes me, I will lean more towards that. So, for instance, right now I am in the process of watching through a series called One Piece. Are you at all familiar with it?
It is often referred to in the community as a modern epic. This is a series that has been going on as a single story since the late '90s.
[inaudible 00:28:55] as a comic and then it expanded to be also an anime, it's been going on for years and years and years. One concerted story about this guy named Monkey D. Luffy who sets off to build a pirate crew and then, from that point, become king of the pirates, so to speak, and find this particular great treasure left by the former king of the pirates and it's his adventure as well as the adventure of his crew mates. And as of late, as I've been rewatching it, I've been looking at, okay, what can I take from this series to use in my work? Mostly, up until this point, it's been metaphor and, well, not metaphor, I'm sorry, representation.
Because we talk in the context of media about the importance of representation and I love to look at representation of mental illness in media. And one aspect of representation I have come to find in One Piece, one of the characters is a spot on portrayal of PTSD, better than most portrayals I've seen. This character, Nico Robin, has experienced incredible trauma followed by … Well, first of all, you can make the argument that, whether or not it is PTSD or CPTSD is … First of all, can the two be comorbid? I'm not entirely sure.
All right. Let me just clarify for the listeners who don't know.
You're saying chronic or complex post-traumatic stress disorder, when there's multiple traumas going on instead of just one.
Yes. Because this character, we see one major trauma in childhood followed by a subsequent lifetime of trauma.
Leading up to the point where she is, we see this person who is avoidant of deep connection due to her trauma. We see this person who, in the arc of the series I'm watching right now, anytime this one thing is mentioned, she breaks down, literally goes into flashbacks and has a panic attack anytime anyone mentions this one event.
So, it's a specific trauma trigger she has when this event is mentioned to her?
Just like you see with someone who struggle with trauma that they're going to have a flashback like that. Yeah, trauma trigger.
Exactly, exactly. And anytime this trauma trigger is referenced, we see the results of this trigger to different extents. We see it just, somebody mentions it and she freezes up. We see somebody say, "Hey, I'm going to invoke this thing again." So, in the context of it, there's this thing called the Buster Call. This military organization could say, "All right, we're going to initiate a Buster Call where a bunch of ships come along and just bombard a place with cannon fire."
Nico Robin, her home was destroyed in a Buster Call. She watched it get initiated and then she watched the subsequent carnage. And then, at the point in the series where it is happening, they're dealing with this military force and the main villain of that arc says, "I'm going to initiate a Buster Call. I have the ability to initiate a Buster Call." And constantly, anytime he says this, she starts to panic. She says, "No, no, no, no. Do not do this, you do not understand," and she's panicking. She goes through flashbacks, you see these images in her life going on anytime it is mentioned.
And across this arc, you see her challenging this, you see her fighting against this and you see her, through the connection with her friends and her own efforts, overcoming that. And bringing this back around to how to use, I am looking for an opportunity to use this because this is at the forefront of my mind and [inaudible 00:32:56] I get a client with PTSD, CPTSD, this can be a prime example of, "Hey, look at this, look at this analogous story, [inaudible 00:33:07], here's the thing."
Oh, my gosh, great. I love the fact that, when you come across something yourself that you're already thinking, the wheels are spinning a leg, how can I use this in my therapy with my clients. That's really awesome, Abe, it really is.
Thank you, absolutely. The moment that that aspect of her arc came back up, I said, "Ah, there's a diagnosis in here."
We're going to wind down our conversation with one last question.
Any other takeaways you'd like to share about geek therapy?
So, the biggest thing that I would say and I've had this conversation with a variety of people both in my field and outside of my field. If you have preconceived notions about anything in life but, especially in the context of media, I urge you to take a dive into it. Don't just dip your toe in it, take a dive into it especially if those preconceived notions are, in some way, affecting an area of your life because often our preconceived notions have some aspect of incorrectness to them. There have been a lot of people I've met who have preconceived notions about video games. They think, "Ah, yes, all video games are about mindless killing or it's pixels on a screen," to which I say, "No, it is a legitimate storytelling medium."
And are there video games that are just carnage or pixels on the screen? Absolutely. However, that's like saying, "Well, I watched Rambo one time, therefore, I don't like movies because all movies are carnage." So, please, if you have a client, a child, a person in your life who's passionate about something, explore it, seek to understand what it is that they are passionate about it. You don't have to agree with it, be understanding, do your best to be accepting and, furthermore, be validating.
I got no validation [inaudible 00:35:23], I didn't get much validation until college when I connected with a peer group who were deeply passionate about this. And I am confident when I say, if I had gotten more validation in my childhood, it would've done immense good for me on this. Things would be a lot different and that validation is one of the reasons why I specifically say I specialize in working with geeky clientele, I want to be that validation for them.
That is great, Abe. I'm sure you've served many a client with your validation of them and their interest. So, thank you so much for being on this episode, I really appreciate it.
Thank you for having me. I cherish any opportunity to talk.
Right. And I also would like to thank the team behind the Convos from the Couch Podcast, Jason Clayden, Chris Kelman and Juliana Whidden. Take care, everyone.