podcasts
Breaking Barriers through OBIE: A Discussion with LifeStance Health's Chief Digital Officer – Podcast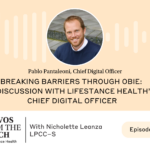 By Jason Clayden on October 26, 2023
Nicholette sits down with Pablo Pantaleoni, Chief Digital Officer at LifeStance Health. They explore how LifeStance developed a groundbreaking tool to enhance access to mental health services. Pablo sheds light on the importance of patient-clinician matching and introduces the Online Booking and Intake Experience (OBIE) tool.
Discover how OBIE is revolutionizing mental health care access and hear about the insights gained from its data. Join us for a deep dive into this innovative approach that's reshaping the landscape of mental health support.
Listen and Subscribe Here
Welcome to Convos from the Couch, by LifeStance Health, where leading mental health professionals help guide you on your journey to a healthier, more fulfilling life.
Hello everyone, I'm Nicolette Leanza, and on today's episode of Convos from the Couch, I'll be talking with Pablo Pantaleoni on how LifeStance created a tool that helps bring greater access to mental health services. So great to have you on, Pablo, thank you.
Thank you so much for the invitation, Nicki. Very excited.
We know that access to mental healthcare is so important to enable people to get the help they need, so, Pablo, I'm really glad that we're having this conversation today.
Yeah, me too. Again, I think it's so important for me, right? That whatever we do, we can provide the technology to improve access to affordable mental healthcare.
And that's the key right there, so as we jump in, tell us a little bit about yourself and your role at LifeStance.
Sure. I'm the Chief Digital Officer, and I oversee everything technology, meaning IT and cybersecurity, and then the Digital Team, which means product, design, engineering, data, the team that we have in-house to build all the new products, new services, to make sure that we can improve the patient and clinician experience, as well as helping all our team members here.
Big job there, Pablo, lots that that entails, for sure.
I'm just the one coordinating all the efforts, it's just the amazing team that we have here.
I agree. Tell us what your thoughts are on the importance of patient and clinician matching.
Look, Nicki, we've done so much research, mapping the whole patient journey, and truly trying to understand where are the different gaps in the whole journey, and where are the most important needs. As we map this journey, talking with so many patients, as well as clinicians and team members, we identified the patient and clinician matching moment to be one of the key ones, for many different reasons. There are so many people that they don't know what they need [inaudible 00:02:20] in this search. So to be able to provide as much information as possible, to make sure that they feel comfortable seeking this care, it's really important. And on the other side as well, there are so many clinicians that come here because they want to serve as many patients as possible, but also based on their expertise, and we want to make sure that we can represent them the best way we can so that they can serve the kind of patients they want to serve and they want to support during the journey.
And we know research has shown the importance of a good clinical match, so I think this leads us to a tool that your team had produced to really help with that. So, let's talk a little bit about that. What is the Online Booking and Intake experience, or otherwise known as OBIE, what's that tool and how does it work?
Yeah, this is a tool that we built in-house from the ground up, based on all this research, and what this is, just, you go online onto our website, you're seeking care, you click Find a Provider, and then, based on a few questions, based on locations, your insurance, and then most importantly, the kind of care that you're seeking, you can get matched with one of our awesome clinicians. And as I said, this is both ways. It's very important that we can represent our clinicians' experience and expertise the best way we can. So that's it, we developed this algorithm in-house, and what we try to do, it's of course, achieve this great matching, because as you were saying, we found, again, even there are some patients that if they don't find the right match, they're afraid of a second match.
So we want to avoid this, and even if it's not perfect, the good thing is, since it's built in-house, we're all the time learning from all these matches. And I can tell you since we launched the product, we've improved a lot, we can see that in the number of matches, and seeing also the number of cancellations getting reduced, so that's why we built that.
Tell us a little bit of, what was the inspiration behind it?
It's funny that you ask me that, right? Because there are so many tools out there, and of course, when we were building this, we tried all, not all, but a lot of these tools. I remember sitting with the team and listing all the different websites that we could think of that have some kind of matching, and we just divided and conquered, went through the whole experience. We learned a lot. But on top of this, we said, what can we learn out of mental health, out of healthcare, in other areas? And I remember somebody said, "Why don't we try dating sites?"
Oh, my gosh, that's brilliant. That's absolutely very brilliant.
Yeah, because look, we just want to replicate this key matching, again, not just based on expertise, based on insurance, but also based on this connection. There needs to be a magic connection that patients are looking for, and we just were looking at dating sites for inspiration.
I love that. I do think that's so brilliant, because it is, the therapeutic relationship, in a lot of ways there's an intimacy there, and you want it to be a good match. So it seems to make sense that you'd want to look outside of mental health and see what else replicates, what other area replicates that?
It was not my idea, but definitely we were trying to just think-
Outside of the box there.
Outside the box, right? Yes.
Yeah. How was it rolled out?
Again, since we have this presence in so many different states, and again, every clinician and every patient has different needs, we just went through a slow rollout. We started with one specific region. We tested, we learned so much, it wasn't perfect at all. I don't think it's perfect today, but I think it's way better than when we launched the product. I'm a big fan of launching as soon as you can, and learning, and continuing to iterate.
The part that I'm extremely grateful for is all our clinicians, we were extremely upfront about the process, and they were giving us feedback, right? "I don't think this is the right way to do it, here's how I'm thinking about this." As well as team members, and this co-creation together with our clinicians and team members allowed us to have this product that I'm very proud of. As well as talking with patients, right?
And patients reach out to us, and it's very easy, if you go through the process, to send us a comment, to rate the experience, and we're checking every single comment, every single experience on a daily basis.
I love the fact that, in developing this, you did take in their account clinician's feedback and client feedback, and it was a co-creation. I love that you did that. And then, it also sounds like you rolled it out in steps, but you didn't wait. You didn't hold back to wait until it was absolutely perfect and then try to. I love that it was very much co-created. I really respect that, Pablo, that you guys did that.
Thank you for saying that. I've done it in the past, right? Trying to build something perfect, then launch it, it was a big failure. So, this is why I do believe that launching as soon as you can, but being very upfront, right? And get all the feedback, as much and as early as possible, it helps everybody, right? It helps the product, but also helps the people that are really using it.
I agree. So what insights did you gain from OBIE's data?
That's a great question. We're always trying to learn, as I said, and one of the biggest insights is, people go online, they try to get as much information as possible, and the beauty of OBIE is, they can book when they're ready. They can book on their own terms, if and when they're ready for it. It's very interesting that, again, people go online and then search, look for bios, the experience, and maybe when they go online the first time, they're not ready. And the beauty is they can go back, and just decide when they're ready, because like I was saying, the biggest thing that we learned is, as I said earlier, it's not just about if my insurance will cover this and what kind of experience the clinician has, but also, I need to feel some kind of connection.
So, this is why really helps to see the picture of the clinician, see the experience, some kind of information where I can say, "Yes, I can connect with this person and I'm ready to book an appointment."
I love that. I think you're hitting it on the head, that sometimes people aren't ready, and sometimes that happens in phases, so this allows for that.
That's great. And connecting that back to mental healthcare and access to it, how does OBIE improve that access to mental health care for people?
Sure. Historically, people are used to calling to get an appointment, and that's fine. There are many people, that they prefer that. I'm a big fan of providing an experience that it's equal across different channels. This allows you to, for people that prefer to call, you can call, or if they want to do it online, they can do it online. But most importantly, you know this better than I do, but what we've heard, that there are some people, especially if they're dealing with anxiety [inaudible 00:10:00]. It's so hard to pick up the phone-
… and call to book an appointment. So this is why I do believe offering this self-serve channel allows for at least this group of people, and others that prefer to go online versus call, to do it online. And that's the way, how I'm thinking, so it helps with access, definitely.
And I do agree that if people want to call, they can call, but for those who really struggle with a lot of social anxiety, or just general anxiety, or even we're seeing higher rates among the younger generations of the anxiety related to making phone calls or things like that, that this does provide access that way. If they just want to do it self-service, like online, that's perfect for them, which then gives them more access that maybe they wouldn't have if it was only just having to call. But yes, I agree.
How does OBI benefit the LifeStance providers, and improve the work experience for the administrative staff too?
I love this question, thank you, Nicki, because when people think about these kind of tools, they think the patient is the main user, and that's true. But, I do believe that whatever we do here at LifeStance, and specifically my team, we need to serve both patients, clinicians, as well as team members, because there's always the other side of the coin.
When we built OBIE, of course, we went through the whole experience for patients, but also, again, we interviewed many clinicians. So we understand when you're booking online, or what kind of information that you want to share, and what kind of experience, and how you want to articulate it so you have control of your bio, the information, what's out there. As well as, most importantly, tell us what kind of patients do you want to serve? And we'll do our best to represent that and make sure that you get matched with the patients that you want to see. That's very important for us, since day one. And then, on the other side, of course, if we build a tool that helps with collecting as much information upfront, it reduces the number of phone calls to collect information, all kinds of stuff that you'll imagine, before the appointment. That's a goal with OBI, and we've seen that, right? We've seen that you can do almost everything online through the process, and if you want to just do everything online, you don't need to call.
And here's the takeaways you'd like to share.
For me it's, again, the process, right? The process is, I'm a big fan of continuous iteration and learning, although now it's fully rolled out and we're seeing the benefits for patients, clinicians, and team members. I think there is so much that we can do, and definitely we're learning all the time, all these matches. And more important, we want to serve as many people as possible, and as we know, unfortunately, there are so many people out there, they're seeking care and they're not even ready to find a provider. So, what can we do in the future to offer some kind of self-serve tools, or just this handholding even before being ready to see somebody? I think it's important, and that's how we're thinking about this.
And I love that you're thinking of it that way because it could be a very intimidating process, so I love the fact that the handholding through it to help, for sure. Thank you, Pablo, for spending time with us today and sharing about the LifeStance OBI system. It really has helped improve access to mental health services for so many of our clients, so thank you again.
Thank you so much for the opportunity, Nicki.
I'd also like to thank the team behind the podcast, Jason Clayden, Juliana Whidden, and Chris Kelman, with a special thanks to Jason Clayden who edits our episode.
Thank you for listening to Convos from the Couch. Take care, everyone.